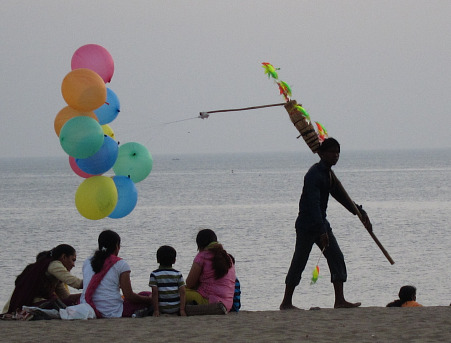 First impressions of a buzzing metropolis
I arrived in Mumbai (Bombay) badly. I bought a ticket in Goa for an overnight "luxury" bus from Madgao to Bandra, leaving at 8 pm. Instead, I was bussed from Madgao to Panjim, shifted to a dirty, run-down bus that left at 10 pm and told the bus would not stop at Bandra after all. No explanation given.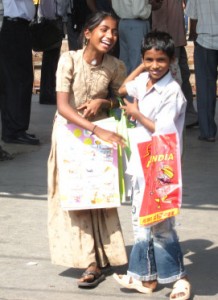 The only reason I decided to take an overnight bus – and not a train – was because it was going directly to Bandra, my destination in Mumbai. When this advantage was removed all the disadvantages of overnight bus travel seemed exaggerated and very hard to bear: a tiny, rather horrible sleeper that featured tattered- filthy curtains and a sticky wall; being tossed and jolted all night; and stops at the worst bathrooms I have yet experienced in India. And to make matters worse, the bus did not stop at a restroom until 4:30 am (it had earlier stopped by the side of the road so the men could relieve themselves). By that time several of us ladies on the bus were ready to burst in more ways than one.
The whole thing was a travel nightmare. I felt angry at being fleeced by an obviously well-oiled machine. This is one of the reasons I tend to stay away from "traveler's haunts" (commercial and touristy spots that attract the backpacking crowd). They seem to breed this kind of unscrupulous activity designed to dupe foreigners and part them from their rupees. (One weary-looking English couple said they had taken lots of buses in India and they were used to it. But this is not the kind of thing I am interested in getting used to. I know better. I know service in India can be a lot better and lots of Indians would not put up with being treated like so much baggage. From now on, I take the train – the Shatabdis and Rajdhanis – or I fly. I just cannot stand being targeted as a dupe because I am a foreigner in India. Okay, I will get down off my soapbox and arrive in Mumbai.)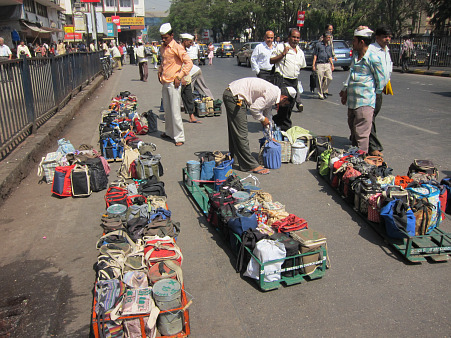 So, two hours later than scheduled, I arrived in Mumbai feeling tired and unkempt and in sore need of food and shower. I found both at the spotless apartment of my friend Jasmine's gracious Mother, one of the loveliest ladies I have ever met. Jasmine and her Mother and their live-in helper Kumari made me a welcome guest in their home for the next week, without giving any hint or sign that I was causing inconvenience, though I know I must have as the apartment is small; and my rice-based vegetarian diet required a change in menu.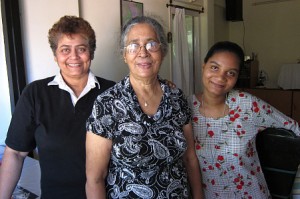 (NOTE: My host Jasmine is the writer Jasmine D'Costa whose wonderful book of short stories, Curry is Thicker than Water, was just released in India. It has been available in Canada for some time. I highly recommend this exceptionally well-written book, especially for people interested in Indian culture. It would also make a great gift.)
These charming people demonstrated the hospitality that India is famous for and that lives up to the "athiti devo bhawa" (guest is god) slogan that the Indian government is promoting. It's the flip side of the bus scam in Goa. And so my week in Mumbai started, in Bandra, an area known as "the queen of the suburbs." Once a quaint fishing village, Bandra has grown up to house some of the city's most illustrious residents, such as Bollywood superstar (and hottie) Shahrukh Khan.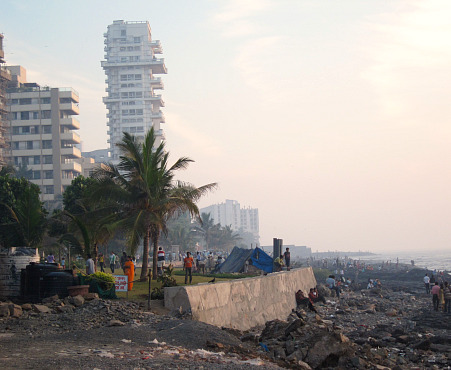 On my first evening in Mumbai, Jasmine and I took an autorickshaw a relatively short distance to Bandstand, the western rim of Bandra that runs along the Arabian Sea. We walked the Bandstand promenade, along with other Mumbaikers and food sellers, and watched the orange-red ball of the sun drop into the sea, passing Shahrukh's heavily fortified house along the way.
I had finally arrived in Mumbai, a city I had long wanted to visit, but had always found intimidatingly expensive and socially forbidding. Mumbai has always struck me as the kind of city that opens up to you if you are rich, famous or part of the in crowd. It never appealed to me to go there alone, especially because decent affordable accommodation is even harder to find than in Delhi. Which is saying a lot. So I am very grateful to Jasmine and her Mother for housing me and giving me a safe, comfortable home to live in as I experienced Mumbai for the first time.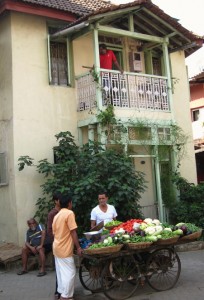 I especially enjoyed staying in Bandra, which is nowadays considered one of the prime areas of Mumbai. Real estate prices are said to be astronomical and the area's appeal is obvious: it is charming and well-located, with only the fabulous and fast-moving new Sea Link causeway between it and south Mumbai. I spent about a day-and-a-half in total exploring Bandra, from the sea front drives such as Bandstand and Carter Road to Chembai, where the remains of the original fishing village can be detected, to shopping on Hill Road and Linking Road. I found chic cafes, excellent bookstores and modern holistic spas; as well as road-side fish stalls, 500-year-old Catholic churches and old bungalows – though most of these have been sold to developers who are throwing up high-end apartment blocks and fancy condominiums as fast as they can.
(I am writing this on the train from Mumbai to Aurangabad, and outside the window the mauve tinged dusk is proving a backdrop to strange dark mountains with odd shaped peaks.)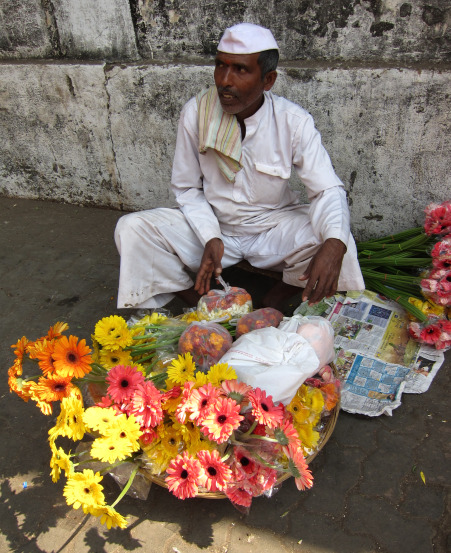 My first full day in Mumbai I took the train into town, from Bandra station to Churchgate, the terminus of the line. I was very relieved, and pleased, to discover that first class bogies (cars) are provided for Ladies only. The other bogies were packed with men, and I would probably not feel safe or comfortable traveling in them. I also noticed, on some trains, bogies for handicapped people, cancer patients and senior citizens. Apparently, the municipal government in Mumbai is well aware of the hazards of local train travel due to the intense crush of the populace. To say Mumbai is over-crowded seems like a banal commonplace, but it is my overwhelming impression of the city. Even in Delhi and Bangalore I have never felt so crammed and crowded in by people.
People are everywhere, and most of them in a hurry. Mumbai is a city in a hurry. It has a buzz, in the way New York City buzzes. Things happen here and people are in a hurry – to survive, to make money, to achieve their ambition, to become famous or perhaps simply to get home. There is a dog-eat-dog quality to Mumbai that I have never felt so intensely elsewhere in India. People are out for number one. I never felt unsafe; but I never felt safe either.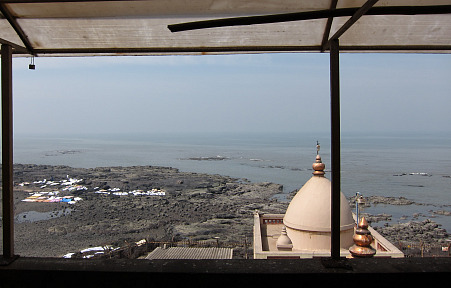 In all the many months I have traveled in India, I have never experienced an "incident," but I am sad to say that I did in Mumbai. On the Sunday I was there, I went to Mahalaxmi Temple to give thanks for the abundance in my life and while I was crushed in with a crowd of women in the temple, several of them "swarmed" me and tried to grab at my purse. I grabbed and pulled back, but they made off with my phone. Unfortunately I never noticed the phone was missing until sometime later. It was just a cheap phone that I only use in India, but it is a lifeline, a link to my friends and family, and I feel less safe without it. Also, many people have this number and may be trying to call me!
So that's the bad news. The good news is that I loved seeing all the old colonial buildings and appreciated being able to get to the seaside, to clear my head, and fell some expansion of my psyche. One day, I walked all along Marine Drive, from Nariman Point to Chowpatty Beach, arriving just before sunset. It was great to walk unimpeded for several kilometres along the coast, and see the families at Chowpatty Beach eating Mumbai's famous street food and enjoying themselves.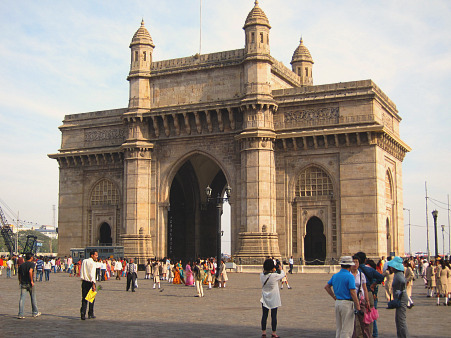 Also really enjoyed having my picture taken at the Gateway to India and having lunch at the Taj Mahal Palace Hotel. I have wanted to visit this iconic hotel for many years, long before I saw it under attack in November 2008. Nikhila, the PR Manager, hosted me, and took me on a tour and we had a great talk about the significance and symbolism of this hotel. It really does occupy a special place in the hearts of Mumbaikers, and to see it under attack must have hit people very hard.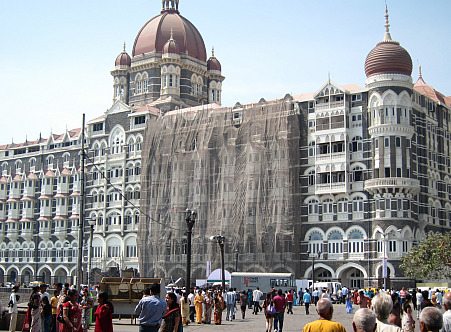 There are so many legends about this hotel, from its founding by JR Tata in 1903: he built it because he was turned away from the British-run Grand Hotel, the pre-eminent hotel in Bombay at that time. Indians were not allowed in as guests – only as employees. So it stands, among other things, as a symbol of Indian pride and independence. Nikhila showed me all the many restaurants, each outdoing the last in magnificence. The Taj Group, which owns the hotel, decided to upgrade while repairing damage to the hotel after the attack. Much of it has re-opened – in fact, the hotel made a huge effort to re-open 21 days after the attack to demonstrate the city's resilience and unwillingness to let the terrorist's win – but the hotel rooms in the original building are still closed.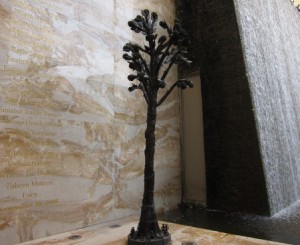 The most moving part of the tour was the final stop, when Nikhila showed me the very tasteful and under-stated memorial to the 31 people, staff and guests, who lost their lives during the attack. It is simply a list of their names carved into marble in a quiet outdoor atrium near the lobby. Seating is placed nearby for contemplation and the only decoration is a wrought-iron "tree of life," which, in spite of holding a prominent place in the staircase of the old building, miraculously escaped damage during the attack. The hotel placed the sculpture beside the memorial as a symbol of the resilience of the human spirit. I felt very moved, and Nikhila and I spent a quiet moment there. From there I went out to join the crowds milling around the Gateway to India.
I have seen this famous arch in so many photographs and it was exciting to finally be standing in front of it. Lots of other people obviosuly feel the same way as both foreigners and Indians congregate here in happy groups to have their pictures taken. The Gateway is one of those special places in India that seems to span modern Indian history and symbolize both the British Raj and independent India.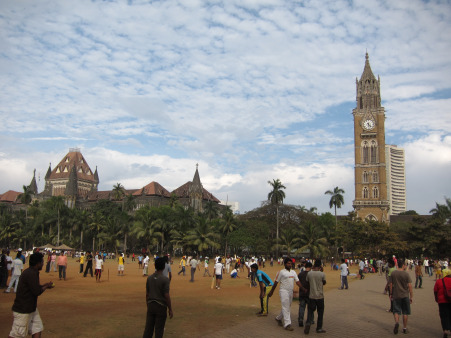 So much of Bombay (and Delhi and Calcutta) is a mix of the British colonial past and the resurgence of modern independent India. There are so many gorgeous old crumbling colonial buildings, English place names and traditons thrown into the city's pulsating culture.
I will write more about some of the places I visited in a separate post. They include the areas Churchgate and Colaba; the Banganga Tank and Hanging Gardens in Malabar Hill; Mahalaxmi Temple (where I was "swarmed" and had my phone stolen while I was thanking the goddess for the abundance in my life), Nariman Point, Chowpatty beach, Bandra and Lower Parel.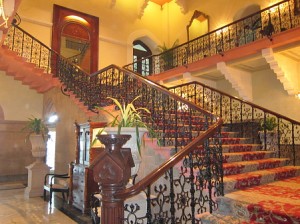 I thought about touring Dharavi, the slum area made famous by the film Slumdog Millionaire, but I just didn't feel sure about whether to go or not. Also, the tour was very expensive at 2,000 rupees. Which seems ironic.
Maybe next time. I am sure I will be back in Mumbai. I met an editor with a publishing company there, so I hope to do some writing for them. A lot happens in Mumbai; it is the economic engine of the country. And while I appreciate the city, I felt quite battered by the crowds and fast pace; and felt coated with humid grime by the end of each day. In the end, I think Delhi suits me much more.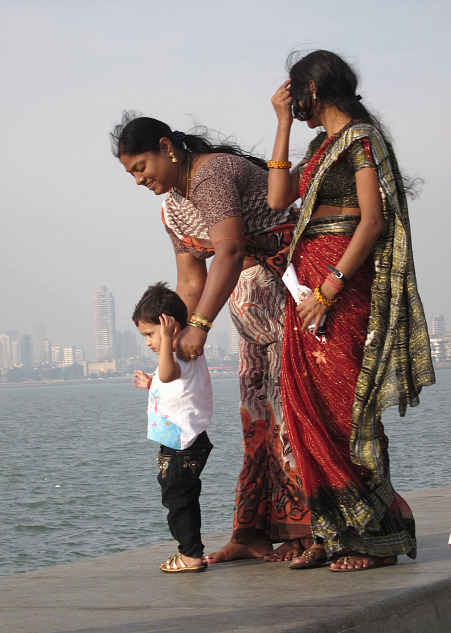 If you enjoyed this post, you can….
Get updates and read additional stories on the Breathedreamgo Facebook page.
Follow Breathedreamgo on Instagram.
Follow Breathedreamgo on Twitter.