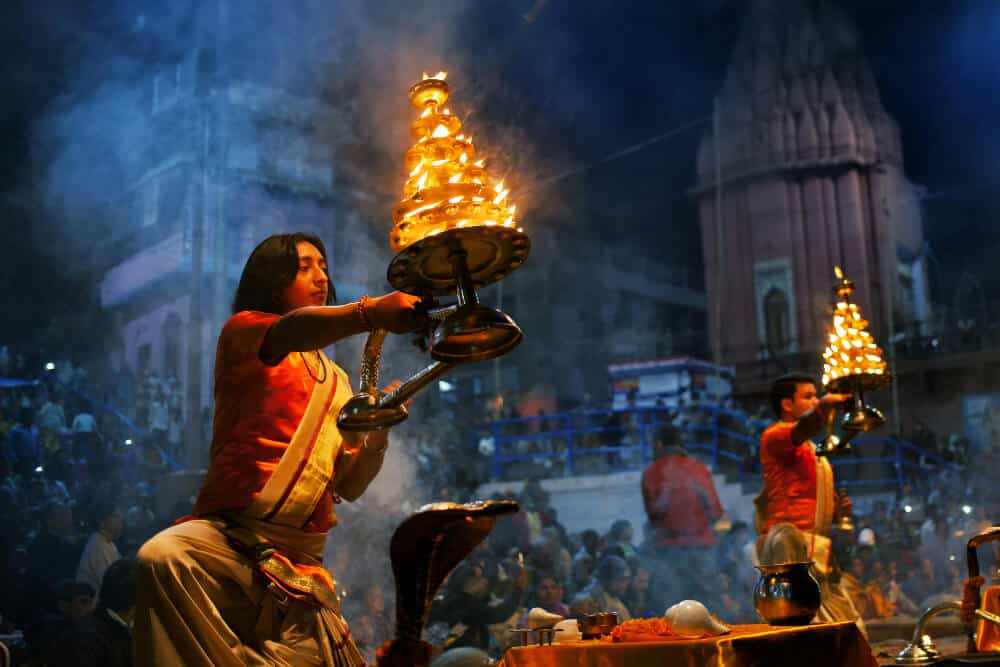 Prayer around the world
Prayer is a powerful human activity that can take the form of ritual, festival, ceremony, meditation, volunteer activity — the forms of prayer are endless. Prayer is also uniquely expressed in cultures around the world. All humans have an instinct to pray, but we do it in vastly different ways around the world and across the globe. To pray means something very different to devout Hindus in India than it does to Buddhists in Thailand or Catholics in Europe. There's also prayer that is not bound by religion, prayer in the form of mediation, for example, or karma Yoga (service to others).
Visiting churches, temples, mosques, and other houses of worship while travelling is a great way to immerse more deeply in the culture. Likewise attending spiritual or religious festivals and rituals. You can learn a lot about people by observing them in prayer. So, for this post, I asked travellers and travel bloggers to write about their most significant experiences with prayer and rituals — and we will be taking a fascinating trip around the world, from the fiery and spectacular Ganga Aarti in Varanasi to the life-changing Ayahuasca ceremony in the South American Andes.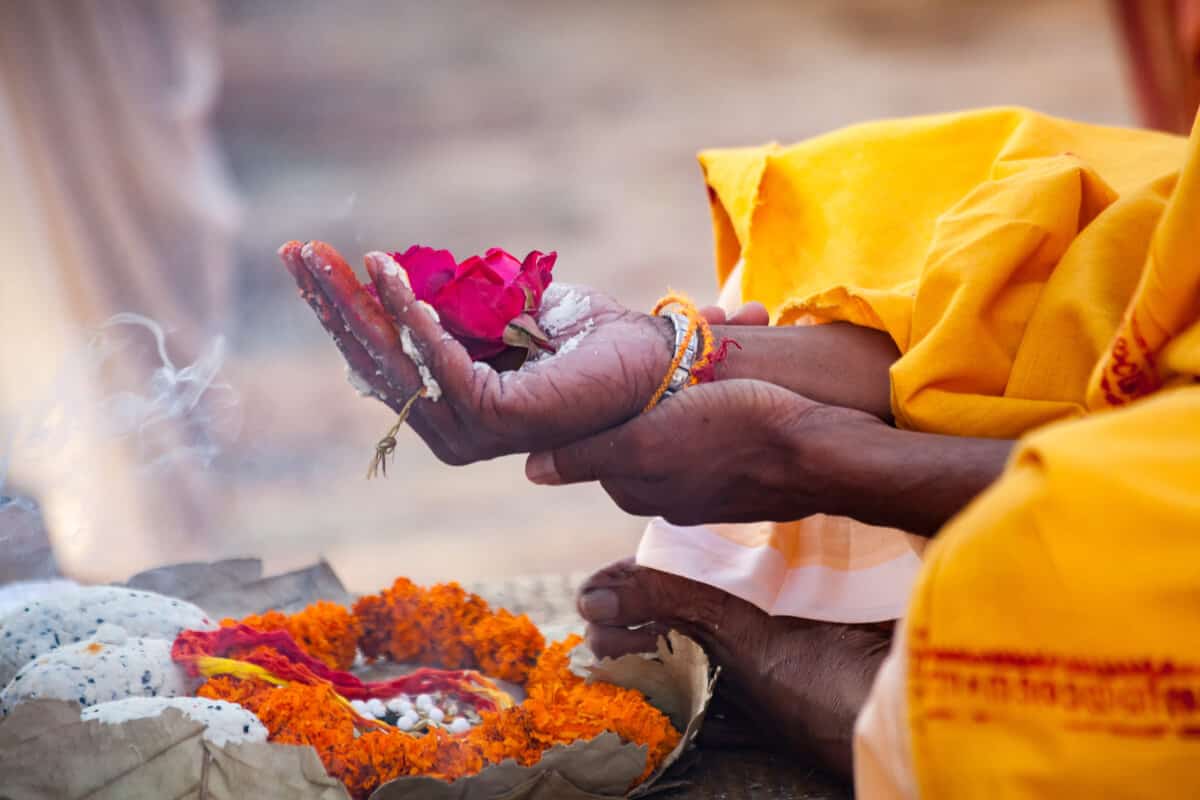 INDIA
Yoga in India
Prayer is an important activity to me, though I call it Yoga. To me, my Yoga practise and beliefs are a form of prayer. In my Yoga practise, I cultivate a feeling of the underlying oneness that unites all things — a philosophy known as Advaita. The word advaita means "non-duality." We cannot be separated from source. This practise is the most fortifying, calming, invigorating form of prayer I have found, and I have been devoted to it for almost 30 years. In fact, I was born with a feeling of connection to the oneness of the universe and when I discovered Advaita and Yoga, I knew I had found my spiritual home
Over the years I have been practising Yoga and especially Yoga in India, I have had many meaningful experiences of prayer — Yoga meditation — both spontaneously and also in classes, collective meditations, festivals, and rituals. During the Kumbh Mela in Haridwar in 2010, I had a very powerful experience that I wrote about in A story of transformation at the Kumbh Mela. I have had transcendent experiences while in Yoga class with Yogrishi Vishvketu in Rishikesh and also while meditating at Aurovalley Ashram — a place of profound peaceful of energy. I've really had too many experiences to count.
Yoga was one of the primary reasons I travelled to India in the first place. Yoga gave me a window into the India culture, it helped me understand the culture better, and was a strong point of connection. At the end of my first trip to India, six months of criss-crossing the country in 2005 and 2006, I spent a few days at Aurovalley Ashram. I knew almost immediately upon arrival that I had found my spiritual home. I plugged into the deeply serene energy and felt more rested, more at home, than ever before. Now, I live just 14 kilometres away in the peaceful Rishikesh valley. I can't imagine living anywhere else.
Note: I would like to recognize the origins of Yoga as a school of Hinduism, an art and science that has been fostered from time immemorial in India. As someone who is not from this culture, I owe respect and gratitude to the Yoga teachers and traditions that I have learned and benefitted from. Pranam to all.
Mariellen, Breathedreamgo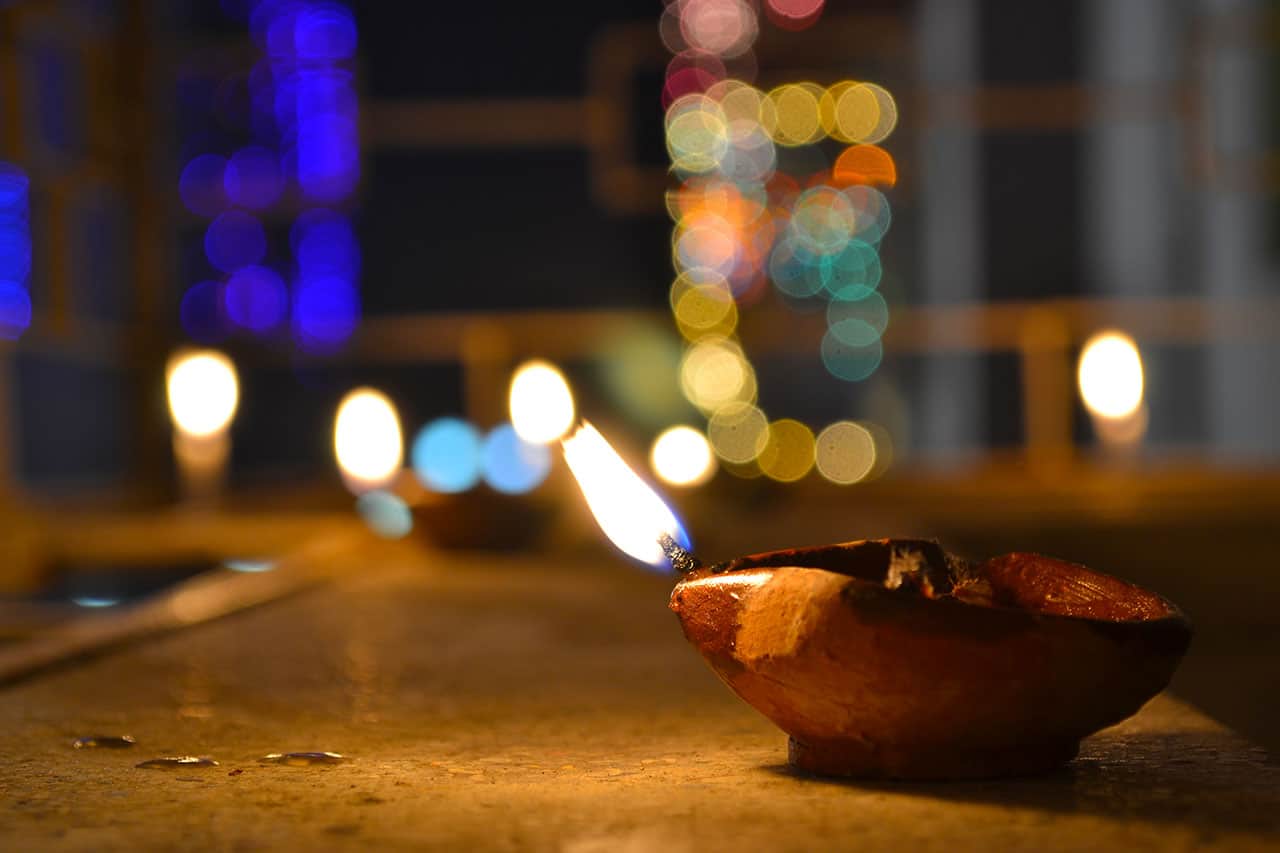 Kali Puja, West Bengal
Growing up in a culturally influential family, I was introduced to prayers, festivals, and cultural rituals since childhood. I still remember the grand way Kali Puja and Durga Puja was celebrated in our ancestral houses. While the celebration of Durga Puja in Kolkata is a mild affair, but festivities of Kali Puja were in a much grander way in our ancestral village of Dighre near Arambagh.
We call it Kali Puja, and not Diwali, and I remember celebrating it from my childhood days. Almost 25 years back, our house was the only brick house in the entire village and the only place where Kali Puja was celebrated. Kali Puja was the time for the extended family to return to the village from the city. The work of decorating the temple, applying rangoli, and lighting the lamps was given to me and my cousins. And together, we happily did it. The elders cleaned the house, and prepared the prasad and bhog. It seemed it was as much a fun time for them as it was for us!
Goddess Kali is considered to be the most powerful form of Shakti, and in our house she is worshipped in tantric form, one of her most fearful and destructive forms. Previously, animal sacrifices were also prevalent in the village and it was believed that the Goddess could only be pleased by offering blood. With time, animal sacrifices have stopped and now vegetables are put on the sacrificial altar.
The Kali Temple is inside the courtyard of our house, it's where we pray to the goddess every day. The villagers also come to the temple to offer their prayers. It is during the Kali Puja when the celebration reaches a crescendo. The entire village gets together and the courtyard is full of people. The house is lit up and a feast is arranged for the entire village.
The magnificence of the Kali Puja celebration in our house has dimmed over the years. But the villagers still venerate and worship the Goddess as their own. The present generation is trying to keep the traditions alive, and hoping that the blessings of the Goddess are always there with the family and the village, which is also our family now.
Amrita is an adventurer by heart who finds joy in the unexpectedness of life. A writer by passion and an SEO expert by choice, she runs the blog Tale of 2 Backpackers along with her partner Agni.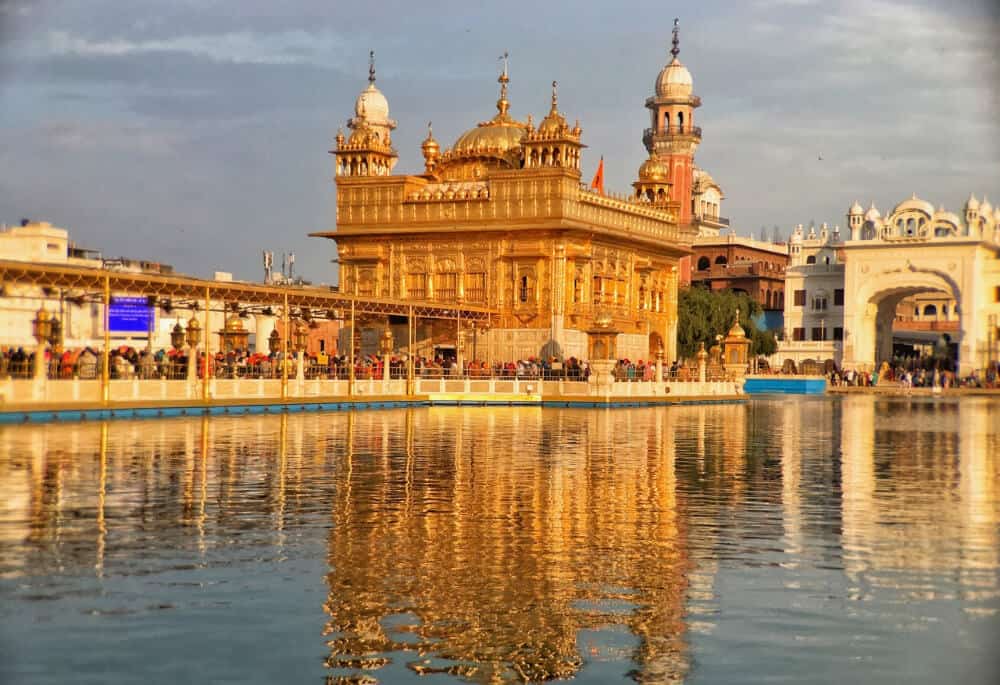 Harmandir Sahib / Golden Temple, Amritsar
The Harmandir Sahib, or Golden Temple in Amritsar, India is the most important pilgrimage site of Sikhism. Many non-Sikh visitors also visit because the temple complex is quite simply stunning. This complex is the spiritual and cultural centre for the Sikh faith and receives more annual visitors than the Taj Mahal.
All are welcome here, that is a key and important tenet of the Sikh faith — that all humans are equal, that there should be no discrimination by gender or caste. All must remove their footwear and wash their feet before entering, and both men and women must wear a head covering in the temple complex. You wouldn't know from the air of pervading peace that more than 100,000 people visit here each day to pray, to eat, and to give service.
The community-run kitchen — called langar — provides free vegetarian food to all who visit, and everything is provided by volunteers and donations. All are treated the same, we sit on the floor together as equals.
It is a combination of all these tenets that make this, for me, the most spiritual religious place I've visited. There is a feeling here of peace and inclusion. Plus, there is also a feeling of a commonality, of acceptance. The Golden Temple is architecturally beautiful, but it is the spirituality and the spirit of inclusion remained with me long after visiting. Hopefully, this spirit inspires some change in everyone who visits, just a little for the better.
Sarah from A Social Nomad.
Ganga Aarti, Varanasi
Varanasi, on the banks of the Ganga river, is one of the holiest cities on the planet earth. As Mark Twain proclaimed, Varanasi is "older than history!" No wonder her traditions, rituals, and spirituality interweaves various forms of mysticism.
The Ganga Aarti is an intense spiritual practice that is held on the ghats of Varanasi (or Benaras or Kashi) each day, at the onset of dusk. Priests assemble with Deepdaan, Jhalar by the ghat and worship the river. At the end of it, they immerse flowers and candles in the water. The Deepdaan has at least 100 slots for holding the light. The Ganga Aarti is a live Bhajan performance coupled with Hindu rituals. There are elaborate rituals of using water and fire alongside Pushpabrishti and blowing the conch shell, Shonkho.
There's always a large number of tourists visiting the Dashashwamedh ghat for the Ganga Aarti, which takes at least 45 minutes. Each ghat has its own aarti ceremony taking place almost simultaneously. If you want to experience a more serene and calm ambiance, head towards the Harishchandra Ghat. Here, Ganga Aarti takes place at around 8 pm.
I visited Varanasi and extended my stay to witness this beautiful ceremony. This is a phenomenal tribute to the Ganga — a sacred river that has shaped and formed a vast part of India. The experience evoked in me myriad emotions and goosebumps.
Madhurima writes about sustainable cultural travel at Orange Wayfarer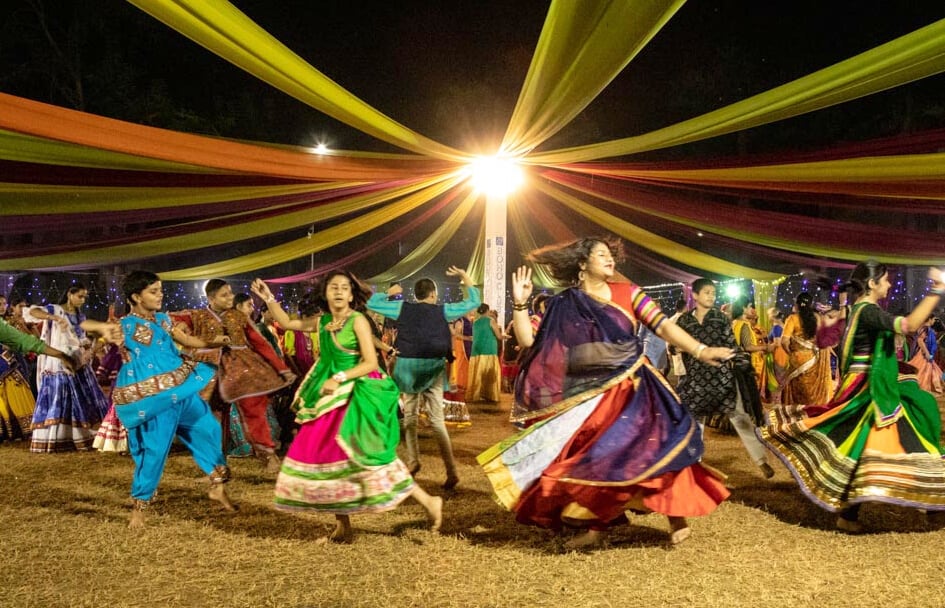 Navratri : A prayer in dance form
Navratri, where nav means nine and ratri means night, is a 9-day festival celebrated in India, primarily across the state of Gujarat, in October or November based on the Hindu calendar. The festival celebrates nine different forms of feminine divinity. While most people associate Navratri festival with colors and lights, the Gujaratis associate this festival with devotion in the form of dance, popularly known as 'Garba'. Prayers are offered to different forms of Goddess Shakti by dancing to the rhythmic beats of local folk songs.
The dance form of Garba is said to have originated during times when Gopis used to dance around Lord Krishna (Hindu God) as a form of worship. Garba is organised in large communal gathering spaces in each town where the entire community participates. The dance is performed in concentric circles and each member matches the dance steps in sync with the others. The worshippers dance barefoot to offer respect to the earth which is believed to impart positive vital energy that permeates into one's body through the feet. The colorful traditional attire, decorations and lights adds to the extravaganza of the festival.
The Garba costumes are bright, heavily embroidered and decorated with mirrors, beads and shells. These are paired with sparkling jewellery. While Garba is performed during the nights, the days are filled with sacred rituals and holy chants which are believed to imbibe qualities such as penance and good conduct.
Fairytale Studios is at the crossroads of photography & travel. It is an attempt by a writer and photographer couple to bring a shift in the culture of travel where travellers are empowered by information, aspire for authentic experiences, and act more responsibly.
Saraswati Puja, West Bengal
Saraswati is the goddess of knowledge and art in the Hindu pantheon. She is annually worshipped during autumn in Southern Indian. But in the eastern state of West Bengal, Saraswati Puja (or worship) takes place in spring, on the auspicious day of Vasant Panchami. This festival is celebrated with gaiety and fanfare in Kolkata. Since Saraswati is the reigning deity for knowledge, students participate enthusiastically, be it in schools, or home or neighbourhood. The clay idol of the goddess is depicted as a fair lady playing the Indian string instrument veena. She is clad in a white or light yellow sari and is accompanied by her vehicle, the swan. The image is of simplicity and devotion, two attributes needed for pursuing any branch of knowledge.
Devotees decorate the worship area artistically with flowers, colourful fabrics, or paper and make ornate floor paintings known as alpona the previous night. The rituals start early morning and the faithful fast till they have offered prayers. Thereafter it is time for feasting on fruits, sweets and vegetarian cooked items like Khichuri (rice and lentil dish), Luchi (inflated fried bread) and Payesh (rice pudding). Traditionally, girls wear yellow saris and men wear yellow long shirts or kurta and pajama, yellow symbolizing spring. There is festivity in the air and people visit different worship centres to view the idol and decoration. Cultural performances are common in the evening. Parental discipline is somewhat relaxed this day allowing youngsters to interact freely just this one day. No wonder Saraswati Puja is the de facto Valentine's Day of Kolkata.
This year, Saraswati Puja was celebrated on 29th January, 2020. However, given the lockdown thereafter, students have not been able to attend school. Examinations are pending and new sessions have been put on hold. Learning has taken a back seat in this fight for survival. Praying that the Goddess heals the world and we can walk on the path of knowledge once again.
Written by Sundeep and Bedabrata, a travel blogger duo from India. Through their website Delhi-Fun-Dos.com and social media channels, they aim to provide a travel guide to a fun way of life.
Chhath Puja, North India
Chhath Puja is a Hindu vedic festival celebrated across north Indian states (including Bihar, Uttar Pradesh, and Jharkhand) and in Nepal. It involves the worship of Shashti Devi, a Hindu folk goddess, and Sun God along with his two wives for showering their blessings on earth in the form of good harvest and good weather. It is one of the most eco-friendly festivals in India and also one of the few gender neutral festivals — as both men and women are equally welcome to do the puja.
However, it also involves the most rigorous rituals among all festivals in India, spanning four days. The devotees eat only one time on the first two days and observe a complete fast on the next two, without even water. They sleep on bare ground, and offer seasonal harvests to the rising and setting sun while standing inside a water body, no matter how cold the weather.
Traditionally the puja is performed on river banks and in ponds, but now, many do perform it at home also by making temporary pools to stand in. After the evening puja during sunset, diyas are lit around the puja items and women sing folk songs associated with the puja. The puja is concluded the next morning after offerings are made to the rising sun. Afterwards, the devotional offerings are distributed as prasad, and folks known and unknown from around gather to have it as it is considered highly auspicious. Also, throughout the rituals, there is no place to make mistakes as the repercussions are believed to follow immediately — and harshly.
Chhath Puja is performed twice a year: during the Hindu calendar months of Karthik and Chaitra. I grew up observing the Karthik Chatth Puja performed six days after Diwali in my own home, performed first by my grandmother and now by my mother. I have personally seen a lot of wishes made during the festival come true and hold a deep faith in the rituals.
Neha & her husband Abhishek are a couple travel blogger, traveling the world with their kid and toddler and capturing the moments in their travelogue Revolving Compass.
Jain Sāmāyika, India
Sāmāyika is an essential practice for all Jains. In simple terms, Sāmāyika is the practice of meditation. The goal is to develop equanimity and oneness with simply being.
During Sāmāyika, the practitioner sits on a small mat in one spot for 48 minutes, usually with eyes closed. During that 48 minutes, they do not interact with anyone, verbally, visually, by touch or any other method. The practitioner's space is restricted to the mat, which is about three to four feet square, just enough to sit comfortably. While in Sāmāyika, one may quietly recite navkaar mantra, logas, or other mantras, or one may read literature for spiritual development or use any meditation technique.
As Jains, Sāmāyika meditation is as engrained in life as food or sleep. We grow up seeing elders meditate two to three times a day. We wake up to grandparents or parents in Sāmāyika. At an early age many kids start meditating with the grandparents.
Meditation or Sāmāyika is also an important part of Jain festivals and community life. Most Jains meditate in group settings during Jain festivals such as Samvatsree, Paryushan, Daslakshna, Pratikaman, Mahavir Jayanti etc. It's also common to do a full Sāmāyika or an abridged version, a mala, when visiting a temple. If you've visited a Jain temple, you'll notice that the idols are in Sāmāyika position.
One of my favorite memories of Sāmāyika is doing a mala in the Jain temples of Jaisalmer before the temple opened up for tourists. It was a quiet and peaceful morning in the otherwise popular attraction. The priests were doing their morning rituals and the staff was quietly getting the temple ready. The calm and stillness of the morning in a temple is a memory, I'll never forget.
Jyoti and Nirmal love to travel to share stories of places, people, cultures, food and all things fascinating on their blog Story At Every Corner. Their goal is to inspire all to be inquisitive and see the goodness around the world.
Karni Mata Temple, Bikaner, Rajasthan
In India it is not a surprise to see people praying to a lot of unusual things. A tree, snake, frog, and so on. They even have temples or festivals or both dedicated to them. There are two main reasons for worshipping these unusual things. People wish for something or they worship for the fear of losing something.
One such creature that is worshipped with a lot of reverence is the rat! Visiting Karni Mata Temple in Deshnok near Bikaner — also known as The Rat Temple of Rajasthan — is one of the top things to do in Bikaner. The temple is home to thousands of rats, and attracts tourists from across the world.
The temple is dedicated to Goddess Karni, a reincarnation of Ma Durga, who led a virtuous life for the service of the poor and the oppressed. According to a legend, her son drowned and she asked the God of Death, Yama, to bring him back to life — but he could not. What he could bring back was a rat. Since then rats are worshipped here. No one kills them. It is believed if a rat gets killed by you even accidentally, it's a bad omen. And you are supposed to donate a rat made of silver of equal weight.
The temple opens every day at 4 AM to the public. The priests perform rituals followed by an aarti. After this, the devotees who come to worship these rats feed them, and take home their half-eaten leftover sweets as prasadam. The rats mostly feed off of milk in huge containers, sweets, and grains.
It is considered auspicious if a rat runs across one's feet or sits on your shoulder or head. Be grateful! You have been blessed by a rat! Twice a year, a festival is celebrated in honor of Karni Mata.
Nisha & Vasu are Mumbai based couple travel bloggers, blogging at Lemonicks.com since more than a decade. Counting memories, not countries is their mantra and they vouch for responsible tourism, look for untold stories from their slow & deep travels.
Gangaur Puja, Rajasthan
I observed my first Gangaur in March this year (2020), immediately after my marriage, but just around the time the pandemic struck. Every day, starting from the following day of Holi, for the next 18 days, I devotedly offered my prayers to Goddess Gauri, the wife of Lord Shiva after whom the festival has come to be celebrated — as do many married women folk across the desert state of Rajasthan in India. Mornings would begin by singing traditional songs, offering green grass and flowers freshly picked from my backyard, and praying for the conjugal happiness of our married life.
On the seventh day after Holi, the central characters of Gangaur — Isar and Gauri, signifying the divine couple Shiva and Parvati — come to life in the form of Ghudliyas. Made of mud and clay and dressed in colourful Rajasthani attire, the Ghudliyas are pampered until the last day of the festival. Jaware (wheat and jowar) is sown alongside the clay images as a metaphor for marital peace and prosperity. The festival culminates in bidding goodbye to the divine couple Isar and Gauri by lovingly immersing them in a water tank.
The lockdown meant that most of the pomp and grandeur usually accompanying the festival was missing. What remained intact though was the faith and belief intricately woven in the songs sung, the stories read, and the love of Gauri and Isar that we celebrated over the course of the festival. What also remained was something delicate… something that strengthened my heart for every season to come.
Arti is a wanderer at heart and a wonderer in spirit; discovering, creating and simply being present for the gift called life. Her blog, My Yatra Diary, focuses on her spiritual journeys, and is all about her love of exploring and learning.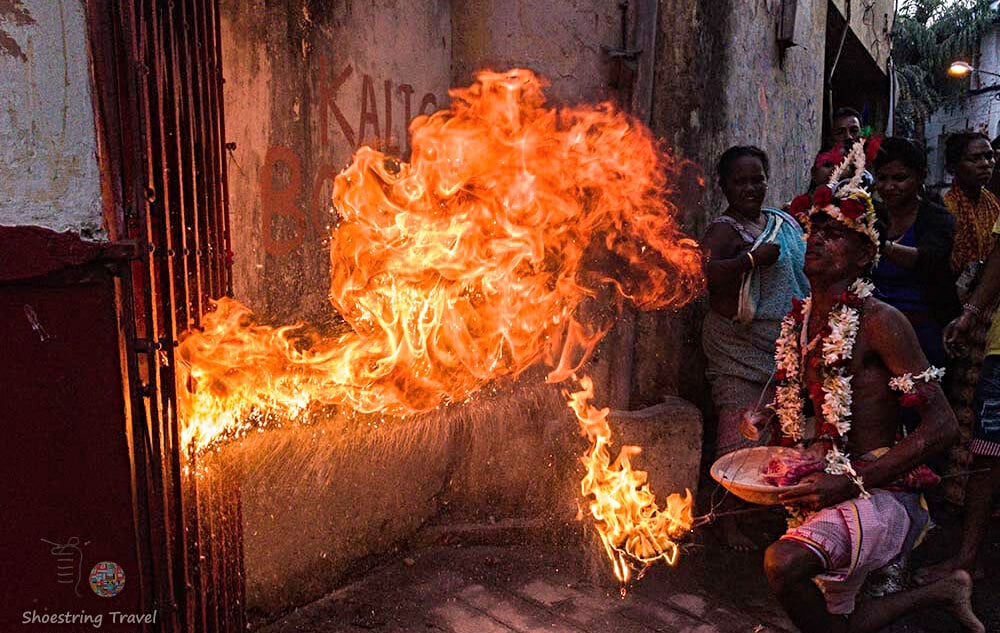 Charak Gajan, West Bengal
Charak Gajan Festival in West Bengal, India is a special folk festival celebrated widely in the rural areas. Hindus celebrate this festival mainly on the last two days of the month of Chaitra, before the Bengali New Year, which falls around mid-April. This festival consists of three parts, namely Charak Puja, Neel Puja, and Charak Gajan. When the Sun enters the sign of Pisces, the time period is known as Chaitra Sankranti. People fast during this period and devote themselves to their god.
Charak Gajan is linked to the agricultural community — people pray for the rains and better harvest — and also to Lord Shiva. It's believed that the origin and nature of these festivals are connected to the conversion of Buddhist monks to Hinduism. The Buddhist community celebrated a festival called Dharmer Gajan. Later, this festival was adopted by Hindus and named Shiber Gajan. The rituals of Tantric Buddhism got absorbed into the festivities, such as acts of penance, dances performed with human skulls, body piercing, and fire rituals. Over time, it gradually transformed into a festival honouring Lord Shiva.
Charak Gajan is a festival that is full of energy. I go every year to shoot it and absorb the immense energy. There are many activities during this festival that keep you entranced.
The night of Charak Gajan includes many acts of sacrifice. You can see games played with fire, various traditional dances, and a person dressed like Goddess Kali walking on hot coals. The Gajan sanyasis' devotion towards Lord Shiva during this period is unmatched, and the rituals they perform can make you feel weak in the knees. Attending Charak Gajan is a must if you want to witness a powerful ritual.
Tanayesh Talukdar is a travel blogger from India who writes about traveling across the world on a budget and also documents unique culture, food & rituals in India at Shoestringtravel.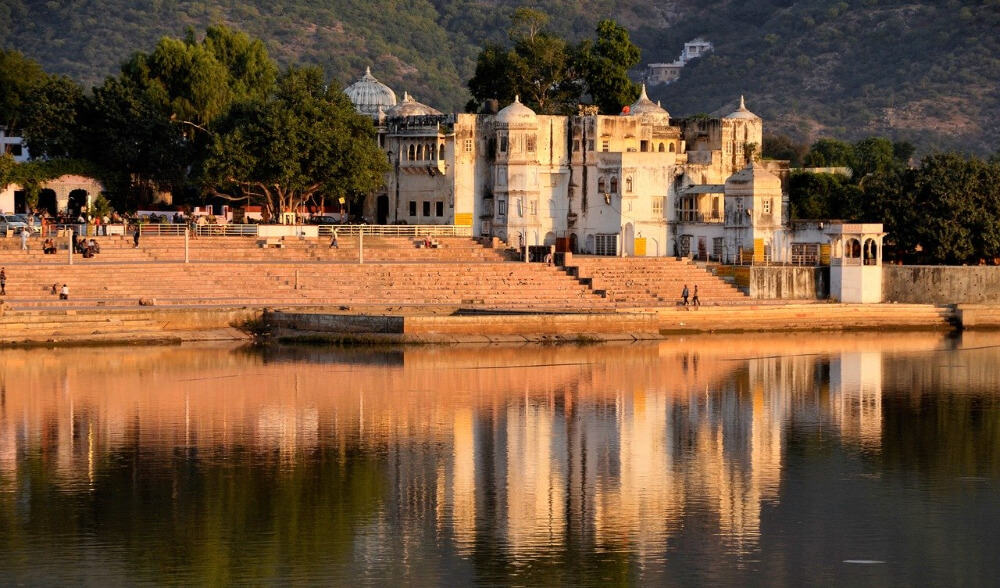 Puja in Pushkar
In 2019 I had the spiritual experience of a puja ceremony at Lake Pushkar in India. I'm not a religious person, but I am open to all cultures and beliefs. I was drawn to the ceremony when I learned that it focused on energy balancing. The morning puja ceremony took place with a small group, our guide and a pandit or Hindu scholar. The pandit led us in chants and meditation which was done on the ghats of the sacred lake.
Pushkar Lake is said to affect the energy levels around it and you could feel the importance of the sacred waters. We were each marked with a bindi or tilaka using sandalwood paste on our foreheads. We meditated, chanted and repeated prayers focusing on our ancestors, our hopes for the world. I loved how the pandit explained that we were to pray for unselfish things and through our own acts others would pray for us in return. We also prayed for our ancestors and for them to guide us and look out for us through our lives. The hour of ceremonial prayer was extremely moving and the philosophy explained by the pandit has stayed with me to this day.
The ceremony was organized through the private tour guide I was traveling with and that's the only way to go about such an experience. Reputable hotels and private guides can connect you with a knowledgeable pandit, but they are the only sources to trust. Many fraudulent individuals prey on tourists by approaching them and offering a free blessing or placing flowers in their hands. They then demand payment through harassment and even threats. It's of the utmost to ignore solicitation from people posing as pandits and don't let anyone place something in your hands, especially around Lake Pushkar.
[EDITOR'S NOTE: I concur, Pushkar is a serene and sacred place, one of my favourite low-key spots in India, but the "fake pandits" can ruin the experience for foreign tourists. They can become aggressive and rude if you do not agree to their terms. I have found that wearing a red thread around my wrist protects me from them — as the sacred, red thread used in Hindu rituals is their marker, their way of knowing who's paid up. Mariellen]
Derek of Robe Trotting and author of places to visit in Pushkar.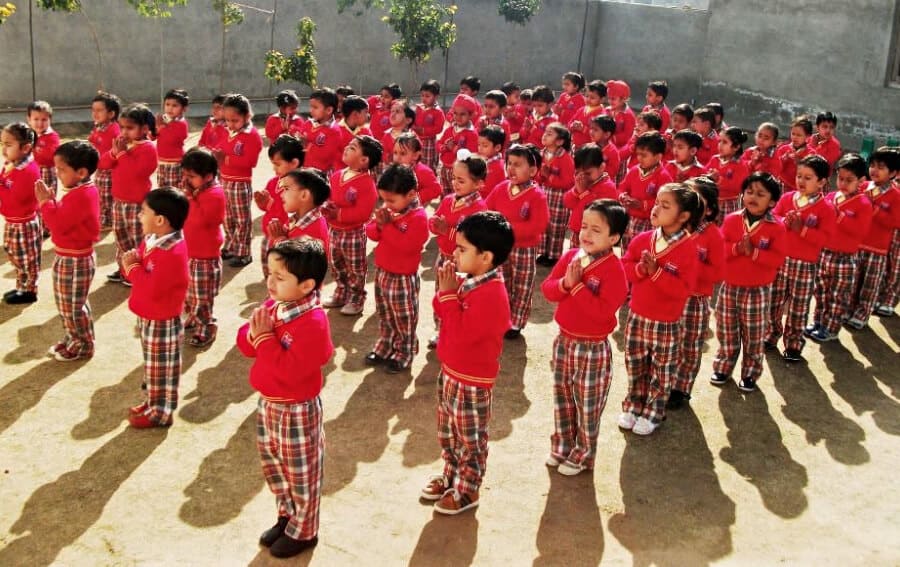 The power of school prayer
Prayers in school are often a sweet memory. In my childhood, we gathered for prayers in the morning, on the school ground, which was energizing and refreshing. We had to stand in a proper manner and recite Jana Gana Mana (the national anthem of India). It was a time for students and teachers to meet each other, and wish each other good morning.
For many children, joining in prayer is their first introduction to a cultural event. At my school, we had weekly quizzes and meditations, as well as dancing, singing, and elocution classes and contests. We also celebrated special occasions such as an Environmental Week and Literacy Week with special programs.
One of my most profound memories from school involved the magic of prayer. One day, I had a chance to conduct an assembly and give a speech. Even though I was afraid of public speaking, I was excited and wanted to give it a try. I prepared a speech with great effort. But on the day of assembly, unfortunately I forgot to bring it with me to school.
I did not tell anyone, but faced the problem alone. Somehow, I gathered courage, said a silent prayer, and went up onto the stage. I was holding the microphone when a miracle happened. I felt an inner power and gave a great speech. I even got a prize from the Principal for it. God, and the magic of prayer, helped me that day.
Ruma from TheHolidayStory.
EUROPE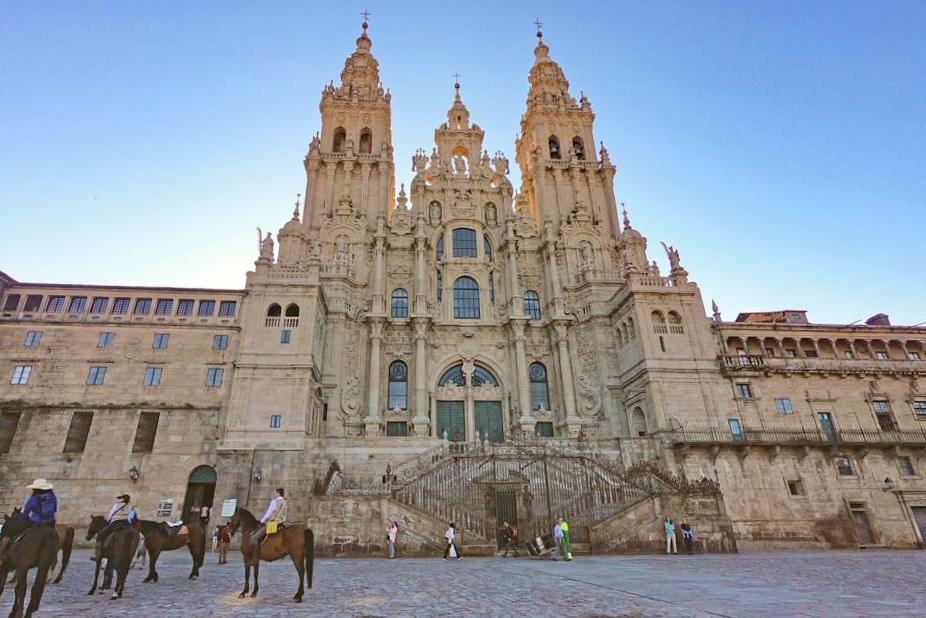 Pilgrim's Mass in the Cathedral of Santiago de Compostela
The Pilgrim's Mass in the Cathedral of Santiago de Compostela, Spain is a very special spiritual experience. The Cathedral contains the remains of Apostle St. James, whose body was transferred here from Jerusalem. Santiago de Compostela, together with Rome, Jerusalem, and Canterbury, is one of the major Christian pilgrimage sites in the world.
The mass takes place every day at midday. Most of the people attending are pilgrims from all over the world that arrived in Santiago by walking different routes of the Camino de Santiago across Europe. At the end of the mass, the priest mentions how many pilgrims from different countries arrived in Santiago on foot the previous day. The main mass is in Spanish. There are masses in English, French, Italian, and German that take place in different churches in Santiago de Compostela.
After the main mass there is a ritual prayer in the sepulchre of St. James. There is not much room in the chamber, only a couple of people and a priest can fit. I was very lucky to be able to experience the prayer after my first Pilgrim's Mass in the Cathedral. I didn't actually know about the ritual in advance; I just happened to be close by. One of the local ladies who was following the priest invited me to join them. I didn't know any words of the prayer in Spanish but it didn't affect my experience. The time we spent there felt like a second — but in fact we were in the sepulchre for about 15 minutes. I've attended many masses since then, but that one is still my most memorable prayer experience.
Alya from Stingy Nomads is a passionate hiker, together with her husband Campbell has done many treks and long-distance walks all over the world. The Camino de Santiago is one of their favourite routes. In the last two years they've walked more than 3000km across Spain, Portugal and France following the Camino.
Gregorian Chants, Belgium
Before I visited Brussels, I had only heard medieval religious music and Gregorian chanting in movies and series such as The Tudors. I didn't even know the name of this type of music. But when I finally got to Brussels, I visited Koekelberg Basilica, one of the splendid Art Deco buildings in Brussels, during a wedding and heard this type of devotional music live for the first time.
The acoustics of the basilica was fantastic, and I literally had a transformative experience while attending a stranger's wedding. That's when Gregorian chanting first grabbed me, and I started to read up on it and learn more.
Gregorian chants are Latin songs written in the 9th and 10th centuries in western Europe. The chants were sung in the abbeys and cathedrals by male choirs. The music is monophonic (very plain) and, as a consequence, very meditative. In recent years, a Gregorian chanting revival is underway. Nowadays, both boys and girls are encouraged to learn and perform — and there's an annual International Festival of Gregorian Chant at Watou, Belgium.
Since moving to Belgium, I've heard Gregorian chanting live in many churches, cathedrals, and basilicas. And every time, it has thoroughly enchanted me, and kept me wrapt in a profound and soulful trance — even though I'm not a Christian. This is truly powerful music. Here's a snippet I recorded at Kaizerberg Abbey.
Bhushavali is a history-buff and loves to visit UNESCO World Heritage Sites as well as other historic sites. She's an Indian, currently living in Belgium.
Christmas in Kiev
The spirit of Christmas is one that awakens my inner soul. The joyous celebrations, and the different spiritual practices and prayers, fill my heart. Last year, my husband and I spent Christmas in Kiev, Ukraine. We visited the Christmas markets and attended Orthodox Christian Christmas services inside churches with shiny, gold domes that lit up the cold, dark sky. The interiors of the churches were decorated with rich paintings and trimmed in gold, to match the exteriors. Christmas in Ukraine is celebrated on January 7, as per the Orthodox tradition.
It was my first time attending this type of service, and I found it unlike any Christmas service I've attended in the U.S. After entering the church in Kiev, I quickly searched for a place to sit, but there were no seats — the place was crowded. I stood among the silent people, huddled together waiting for the bells to chime and the head priest to enter the dimly lit room. Finally, the procession started, with priests flanking the elderly patriarch in two rows.
He softly prayed in Ukrainian, then walked around the room reciting scripted prayers while the audience calmly joined in on cue. The prayers of the masses subtly illuminated the room, and the dimness ebbed. My heart felt lighter as I exited the sacred space.
Ciara Turner-Ewert is a freelance wellness travel writer and content creator, with a degree in Psychology, who's passionate about creating a life focused on growing the mind-body connection through travel, and personal development. You can find her adventure traveling with her husband, and blogging these stories at Wellness Travel Diaries.
ASIA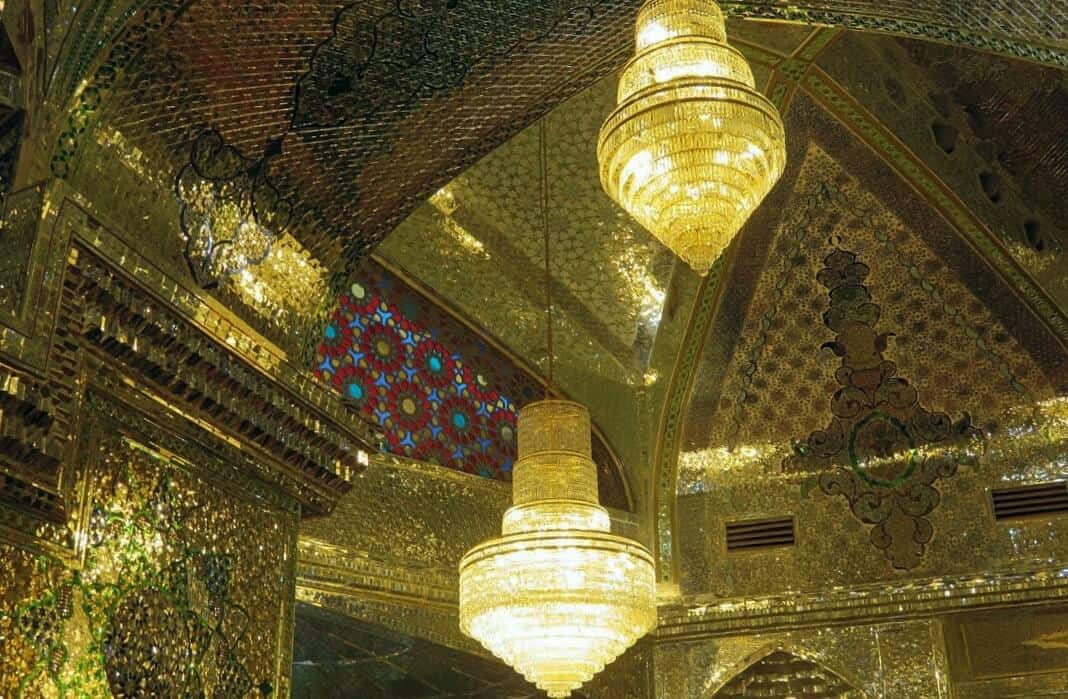 Shah e Cheragh shrine in Shiraz Iran
Iran is probably one of the most misunderstood countries of the world with lots of stereotypes that float around. That is maybe one of the reasons why I wanted to go to Iran. To see things for myself. As an anthropologist I was aware that traveling around the country for one month is by far not enough to really understand it, but I did learn some interesting and surprising things.
Coming from the Netherlands I always read that mosques are at the center of religious life for muslims. Iran is full of beautiful mosques, but I soon figured out that this is not the only place where they go to pray. There are also hundreds of shrines that are just as important for the Shia Muslims.
One of the most important shrines in the country is the Shah e Cheragh shrine in Shiraz. It is where two brothers of Imam Ali, one of the 12 Shiite Imams, are buried. Since the 14th century it has attracted hundreds of pilgrims a day. As a foreigner you are more than welcome to visit and you even get a free guide that shows you around.
For me it was a very unique experience. My guide was a young woman. She not only shared the historical facts, but also why this shrine was so important to her. The shrine itself is beautiful with its mirror works and colourful domes. It was buzzing with activity. From families taking selfies outside to people praying inside.
You could feel that it was a very emotional place for most people. It touched me that as a foreigner they allowed me to see these intimate moments of their devotion. I might have felt out of place, but all I received were welcoming and friendly smiles. It changed my view on Iran forever. If it comes to hospitality there is a lot we can learn from Iran.
Ellis is a cultural anthropologist from the Netherlands who has travelled for more than 20 years to over 50 countries along the ancient Silk Road with a special love for India and Nepal. This geeky and introvert travel blogger is a lover of good food, mountains, nature, wildlife and everything that lightens up the night sky.
Hinduism in Bali
Prayers and religious ceremonies are an integral part of the Balinese culture and day to day life. While the large majority of Indonesia practices Islam, people in Bali practice Balinese Hinduism. Religious activity is present in almost every aspect of Balinese life; it is intricately woven in Balinese traditions.
As soon as you step foot on Bali, you will feel an incredibly strong spiritual energy. You will also immediately notice the colourful and fragrant Balinese offerings, which you can see almost everywhere. The Balinese make these beautiful offerings every single day. The canang sari are an essential part of daily prayers for the Balinese: it is a way to express gratitude to the gods while appeasing the demons.
When our Balinese driver initially invited us to attend part of a cremation ceremony, we were very hesitant as we felt we might be intruding on a private family moment. But a Balinese cremation is a celebration that involves the entire community and if you wish to attend — quietly and respectfully of course — the Balinese will be honoured. It is the most important right of passage in the life of a Balinese, when the soul is set free of its ties to earth.
Witnessing a Balinese ceremony in person was a truly profound experience, one which I will remember forever.
Julie is a French/American traveler who visited Bali for a few weeks in 2015. She was profoundly touched by the spirituality of Bali and the kindness of the Balinese people. She has vowed to return to the island with her children one day. She blogs at WanderingSunsets.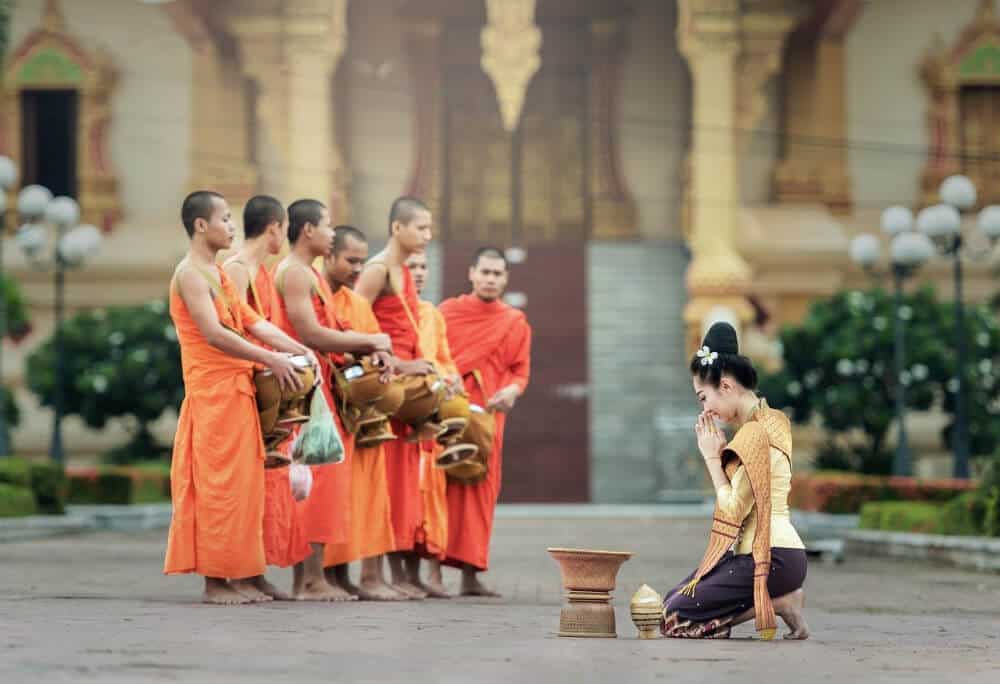 Buddhism in Thailand
Life in the rice fields of rural Thailand revolve around prayers and ceremonies at our local Buddhist temple. Theravāda Buddhism is practised here, which originated in India in 543 B.C. Amazingly, the scriptures and prayers continue to be recited in the ancient Pali language.
Here, ceremonies are woven throughout daily life, such as the blessings we receive during almsgiving. The local monks circle the village collecting food and other things they need for to sustain the temple, and in return offer blessings. This is when the recipient, who must be bare foot at the time, kneels in prayer before the monks who then pray for their health, wealth and a prosperous future.
However, it is on Holy Days, determined by the lunar candle, that you can experience the full panoply of ceremonies and prayers. Alms — offerings of incense, candles, and flowers — are given to the monks before prayer at the central shrine or altar. Then, there are prayers with the monks sitting cross-legged at the front of the temple hall. A final ritual takes place where water is blessed, and people can take this water home — although many use it to nourish the trees of the compound.
I was once given the honour of of helping the abbot to lead a ceremony at our local temple here in Thailand. At this ceremony, the congregation made offerings of local Thai foods and requisites (such as food and drink, medicines, candles, incense and coffee) to the monks, before scooping rice into their alms bowls and making offerings of candles, incense, and flowers to the central shrine. During the ceremony, I was signalled to the front by the abbot and asked to light the candles of the main shrine and was then led to join the monks at the front of the temple hall to conduct prayers.
In a Buddhist ceremony, prayers always start with the congregation praying to the Buddhist trinity: they pray in reverence to Buddha (Phra Put), the teachings of Buddha (Phra Tam), and the community of practising Buddhists (Phra Song). Then, in return, the monks bless the congregation with prayers. Similar ceremonies take place year-round.
I do have a close bond to the temple and I help with their photography and media (video included), although I do prefer to visit the temple alone around sunset to listen to prayer and switch my brain off a bit. I have been invited as well to ordain as a monk on various occasions, but, personally, I am not overly spiritual or religious. I don't see Buddhism as being a religion however, in its purest form, but these ceremonies can not be taken lightly, and it's not something I can fully commit to wholeheartedly, yet.
Allan Wilson from Live Less Ordinary.
Praying as part of ancestor worship in Vietnam
Stepping into any Vietnamese home, you will likely find an altar on which offerings are displayed for the deceased family members. In front of the altar is where the majority of Vietnamese people's ancestor worship activities take place: People pray to relatives who have passed away while also offering food and burning incense to show their respect.
Indeed, praying plays a crucial role in the Vietnamese's ancestor worship tradition. It is a deeply held belief in Vietnam that after passing away, ancestors are not exactly "gone," but rather are still around to bless those alive. Through their prayers, Vietnamese people seek an emotional connection with their ancestors in times of trouble, show their gratitude to family members who have passed away, as well as ask to be blessed with health, success and love in their current life. Praying can be practiced at any time, but most regularly on special occasions such as Lunar New Year, full-moon days and the death day of the ancestor.
A time-honoured tradition, praying to ancestors is also a way for the Vietnamese to practice gratitude, develop positive relationships with family members and sustain emotional health. It is also a practice that binds Vietnamese people together and reminds them of their ancestral roots wherever they live.
For someone who travels frequently like myself, praying to my ancestors before the altar every time I come home evokes in me a strong sense of belonging and calmness, as I feel surrounded by the protective power of my family no matter where I go.
A 20-something Vietnamese girl, Fiona Mai has lived in six different cities and traveled to 21 countries around the world. Her most favorite country so far is still her beloved Vietnam, where every mile she travels to has given her tons of sweet surprises. She blogs at Fiona Travels From Asia.
Black Nazarene, Philippines
Black Nazarene of Quiapo Church in Manila, Philippines is a powerful replica of Jesus Christ that heals and performs miracles to those who believe. On Black Nazarene feast day, the replica is placed on a sturdy vehicle and pulled by the devotees.
Literally millions of devotees climb on the vehicle as it is pulled through the streets of Manila. There are two ropes attached to the vehicle, and everyone jostles for the opportunity to grab the ropes and pull the vehicle forward. Meanwhile, as the vehicle moves forward, devotees need to run out of the way to prevent them from getting hurt. When the vehicle stops, everyone again runs for the ropes, in a chance to grab on to them.
At the same time, millions dare to climb up onto the vehicle, and kiss the Black Nazarene. In order to climb up, you need to step on others' heads and shoulders from the sea of swelling bodies surrounding the replica.
This ritual is a kind of sport! It requires intense contact with others. You have to prepare for it, you can't bring your phone or bag, and you cannot even wear footwear for you would only lose it.
This ritual is a kind of prayer that shows our love to the Black Nazarene. Only those who have experienced the miracle of the Black Nazarene would understand the culture of the devotees, and the religious culture of the Philippines. Even at this time of the worldwide pandemic, we believe that God protects us in a very special way.
As a woman in her 40s, I never tried to climb the Nazarene, I prayed from a safe distance! However, I witnessed the persistence of the devotees as they ran to grab the rope, and saw the pain they went through trying to survive the climb. My male friend got a black eye from the climb — a devotees knee bashed him. I took my part by thanking the Nazarene through my whispered prayers. I knew He would hear even from within the chaotic crowd.
Elsa Jose is a content writer on the website TravellingQuote.com. She is a Filipina who plans her travels based on inspiration from quotes.
NORTH / SOUTH AMERICA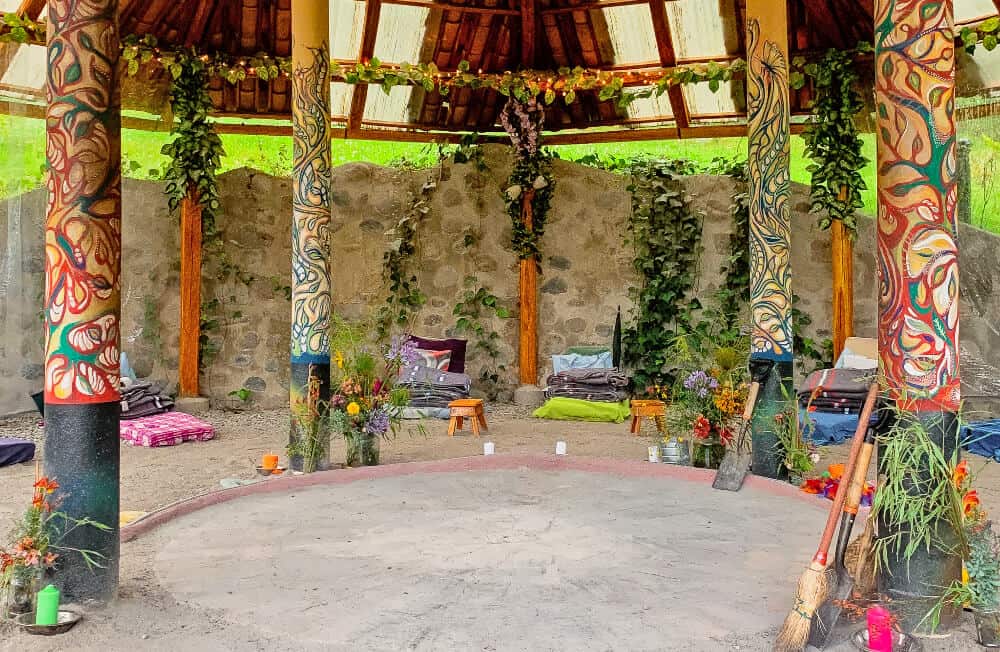 Ayahuasca Ceremony in the Andes
I have been journeying all across the globe, moving constantly for 10 years, but one of my most profound journeys was the one I took inside of myself. I connected with my inner self and found bliss, enlightenment, and faced my demons in the magical Andes Mountains with the guidance of the plant medicines of Ayahuasca and San Pedro. These sacred medicines are natural hallucinogens and some say they have traveled to other dimensions, worlds, healed past lives, and have had a meaningful conversation with god.
When I took the plunge to seek the wisdom of these ancient vines, I had no idea I was about to embark on an enlightening spiritual experience, one filled with ancient traditions and rituals that have been passed down by the wise indigenous people.
These ceremonies are held in a maloka or sometimes a sweat lodge. Both are sacred spaces that have been blessed and built with love. The ceremony is a beautiful mixture of prayers, chants, breath work, gratitude, music, and song. The rituals include smoking sacred tobacco and inviting in the wisdom of our ancestors. There are prayers of thanks to Mother Earth, or pachamama, the sacred elements, and the four cardinal directions of earth. The powerful ceremony is led by a Shaman, or Maestro, who conducts the energy and guides each person through states of enlightenment, forgiveness, and most importantly self-love. The beating drums and delicate lyrics of the songs help keep the participants grounded in the present moment.
The ceremony finishes with water, food, tears, and hugs. Most importantly was the transformation I felt. I left with a clarity of purpose, was able to finally let go of some things that no longer served me, and had a profound realization of connectedness, that we are all in this together.
Megan has been traveling the world slowly for over 10 years. Find her seeking out authentic adventures, eating with the locals, or her favourite, hiking independently in the mountains. Experiences are better than things. She blogs at Packing Up the Pieces.
---
Pin it on Pinterest
---
Photo credits
Pushkar image by Richard Mcall from Pixabay
Buddhist image on PIN by S. Hermann & F. Richter from Pixabay
Asian woman image on PIN by Sasin Tipchai from Pixabay
Hands with candle image on PIN by Myriam Zilles from Pixabay
Bali fruit image by jo vanel from Pixabay
---
If you enjoyed this post, you can….
Sign up to The Travel Newsletter in the sidebar and follow Breathedreamgo on all social media platforms including Instagram, TripAdvisor, Facebook, Pinterest, and Twitter. Thank you!