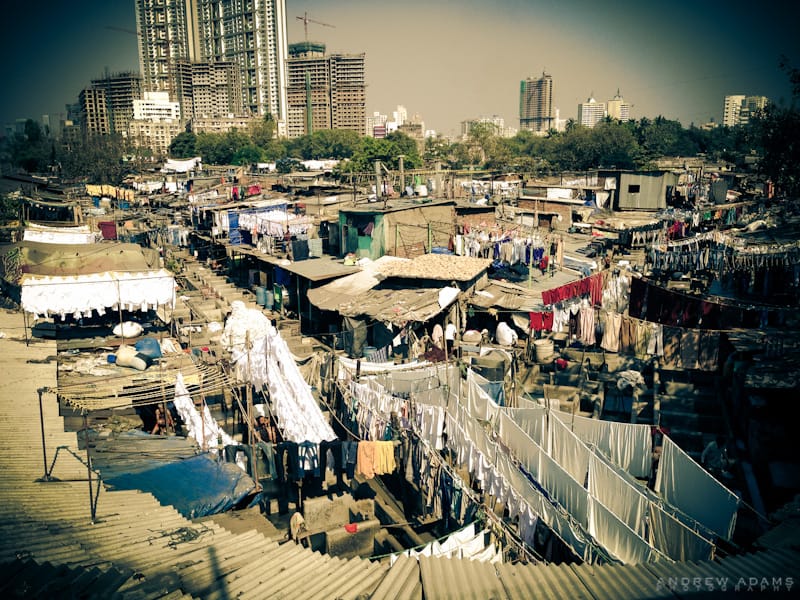 Experiencing Mumbai on a "local tour"
Mumbai (Bombay) is a frenetic city, a city that never sleeps, never even really slows down. It is liquid reality, hot and humid most of the year, built on a series of connected islands that jut into the Arabian Sea. Mumbai is India's economic engine and its glamour factory. It is also home to Asia's largest slum. Mumbai is a poet drunk on life and howling at the moon. It seduces you with a promise of dreams and romance and then its mood shifts and you tumble from hopeful to heartbroken. Mumbai is a grand place, there is nowhere else remotely like it. And Mumbai's citizens know it. Through tragedy and triumph they stick together in their own unique way and show an unmatched resilience of spirit. Though I live in Delhi when I am in India, I have a soft spot for the maximum city, and try to vist every time I am in India.
Last winter, when I was staying in Mumbai with my friend, photographer Andrew Adams (who specializes in Indian wedding photography), we went on a very unique tour called Mumbai Local with Mumbai Magic. The two things unique about this tour are: it is guided by students and it takes you around Mumbai "like a local," on buses, trains and taxis.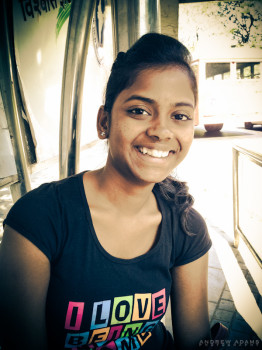 Living local in the maximum city
Our tour was guided by a student named Eshwari, who wants to be a professional guide. She was delightful — warm, knowledgeable and very personable — and I am sure she will make a great professional guide when she graduates.
Andrew was living in Mumbai at the time of the tour, and I have lived in Delhi, so we were actually two "locals" going on the tour. Yet we both found it fascinating. We went to a few places we had never been and learned a lot about the city we never knew. Altogether a wonderful day in an exciting city. Note: All the photos on this blog are by Andrew Adams (using an iPhone 5).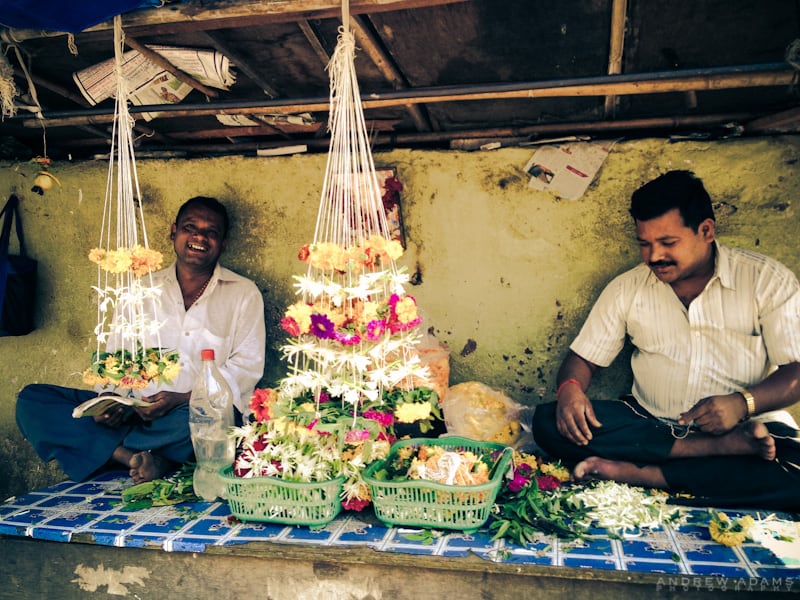 Mumbai Local Tour itinerary
Met guide (Eshwari) at Gateway of India, where she gave us a brief history of Mumbai/Bombay, the Gateway of India, the Taj Mahal Palace Hotel and the statue of Shivaji Chatrapati
Walked by many of Mumbai's most historical buildings, such as the Yacht Club, Police Headquarters, Prince of Wales Museum, Victoria Terminus, Watson's Hotel, the High Court, the Clock Tower and the Oval Maiden
Took a bus to Mani Bhavan, Gandhi's home in Bombay
Took a taxi to Swati Snacks where we feasted on delicious and top-quality Bombay street food in a hygienic environment. We ate: baked masala kichidi (spicy lentils and rice), panki chatni (rice pancakes in banana leaf) and dahi sev puri (potatoes mashed with onions and spices) and more
Walked through a bustling vegetable market to the Grant Street train station
Took the train to Mahalaxmi Station where we watched the men doing laundry at the famous Dhobi Ghats (top photo)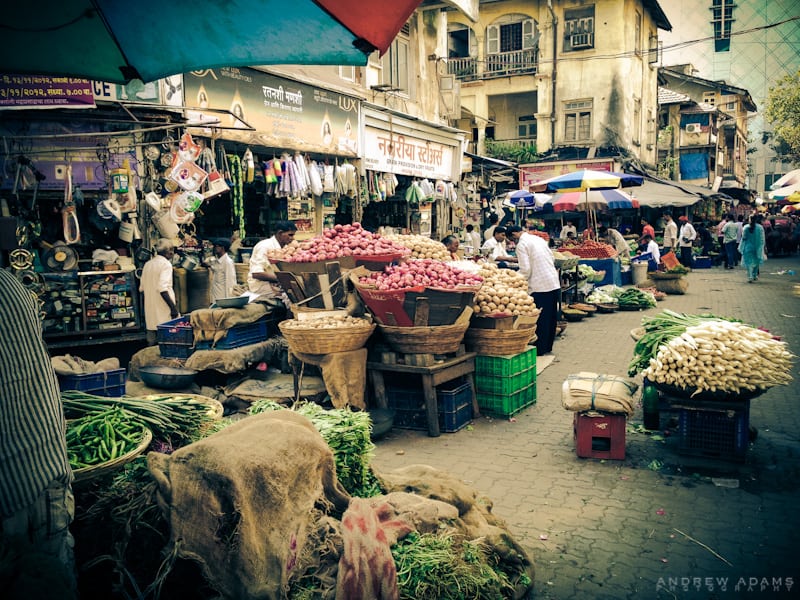 Street scenes and landmarks
The Mumbai Local tour takes you past both scenes of everyday life unfolding on the busy streets as well as momentous landmarks. Mumbai's rich history is told in buildings both frayed and modern, and so many stories are born at the intersection of cultures. Watson's Hotel was the grand old hotel of Bombay — named after its original owner, John Watson. It's India's oldest surviving cast iron building: it was fabricated in England and constructed onsite between 1860 and 1863. As legend has it, this was the hotel that Jamsetji Tata was barred from entering, as only British were allowed. In 1898, in retaliation, he built the Taj Mahal Palace Hotel, which still stands in magnificence on the seafront, while Watson's is sorely dilapidated.
Many luminaries stayed at Watson's during its heydey including Mark Twain, in 1896. His book Following the Equator describes the scene at Watson's. "The lobbies and halls were full of turbaned, and fez'd and embroidered, cap'd, and barefooted, and cotton-clad dark natives … in the diningroom every man's own private native servant standing behind his chair, and dressed for a part in Arabian Nights."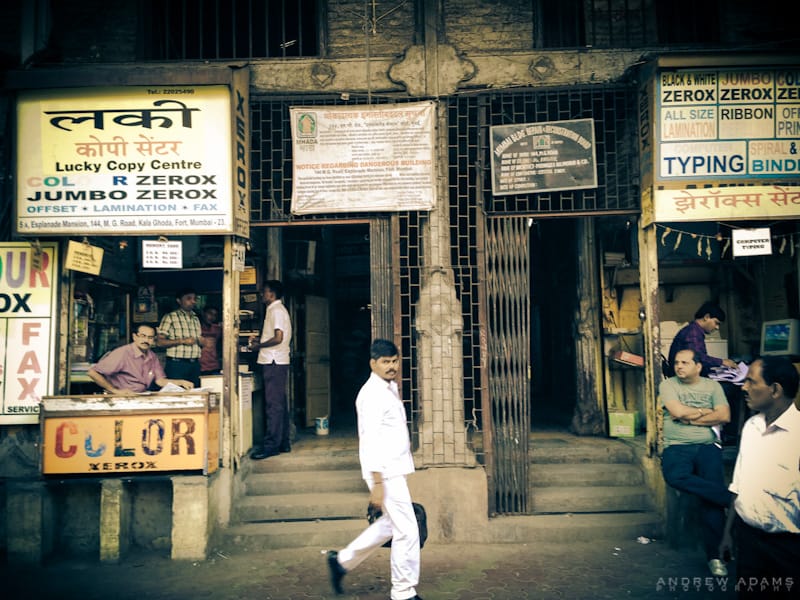 The freedom fighters
Jamsetji Tata was an early advocate for home rule in India. But the subcontinent's most famous freedom fighter, Mahatma Gandhi, also lived in the city — and was famously arrested from his home in Bombay, Mani Bhavan. It was from here that Gandhi initiated the Non-Cooperation, Satyagraha, Swadeshi, Khadi and Khilafat movements.
Mani Bhavan is located on a relatively quiet, leafy side street and is now a museum and memorial to the father of independent India. We were moved to quiet introspection as we toured the building's exhibits, library and especially his room, it's stark yet elegant simplicity preserved behind glass. Both Andrew and I walked out onto the balcony outside this room, and for a moment just watched the street scene below in silence together, thinking about how Gandhi stood on this very balcony. The home is a testimonial to the power of one man's convictions, which changed the course of history and have lived on and on.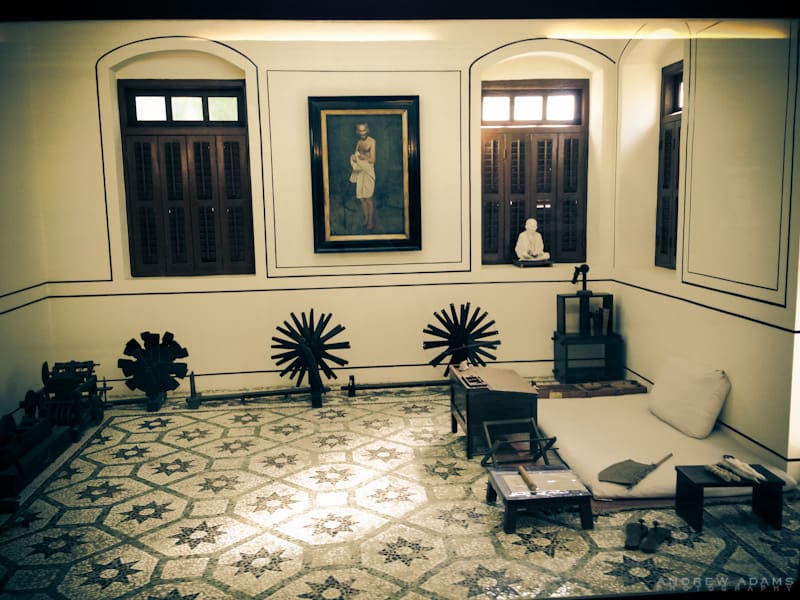 A city of foot-path poets
And of course, Mumbai is not just all about five-star hotels, famous landmarks and saintly heroes. It is in fact a city of "foot-path poets," to paraphrase Suketu Mehta who wrote one of my favourite books about Mumbai, Maximum City. Everywhere Mumbai swirls with people on the go. The dhobi wallahs (laundry men) of Dhobi Ghat, pictured above (top photo), have become a tourist attraction for the way they laboriously wash and dry laundry in open pens — an urban concession to the traditional method of washing clothes in the river and beating them on rocks. Only the dhobi wallahs of Mumbai are all men, whereas laundry as a chore is traditionally done by women.
But everywhere you go in Mumbai you will see people in various stages of industry, from the prosaic and traditional Bombay wallahs to the ultra-modern Mumbaikers. And the Mumbai Local tour gives you a taste of the spectrum of life in Mumbai.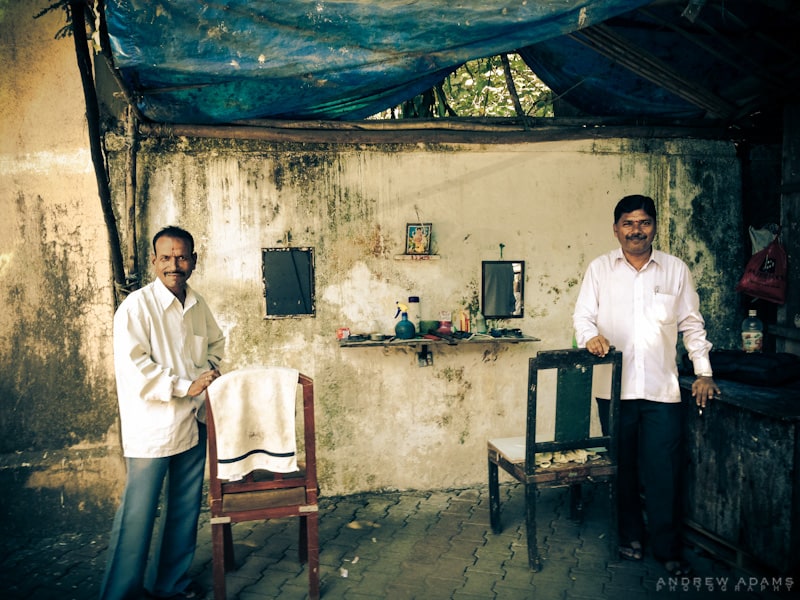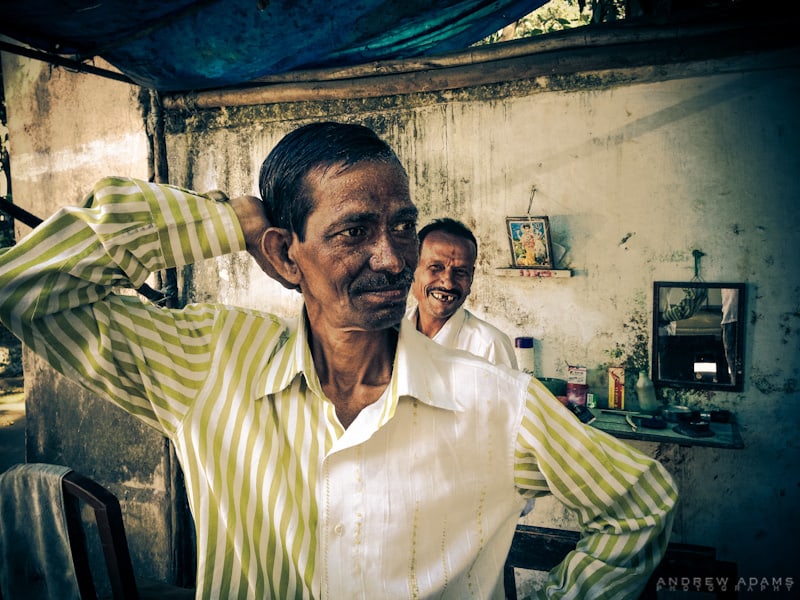 ---
If you enjoyed this post, please sign up to The Travel Newsletter in the sidebar and follow Breathedreamgo on all social media platforms including Instagram, TripAdvisor, Facebook, Pinterest, and Twitter. Thank you!