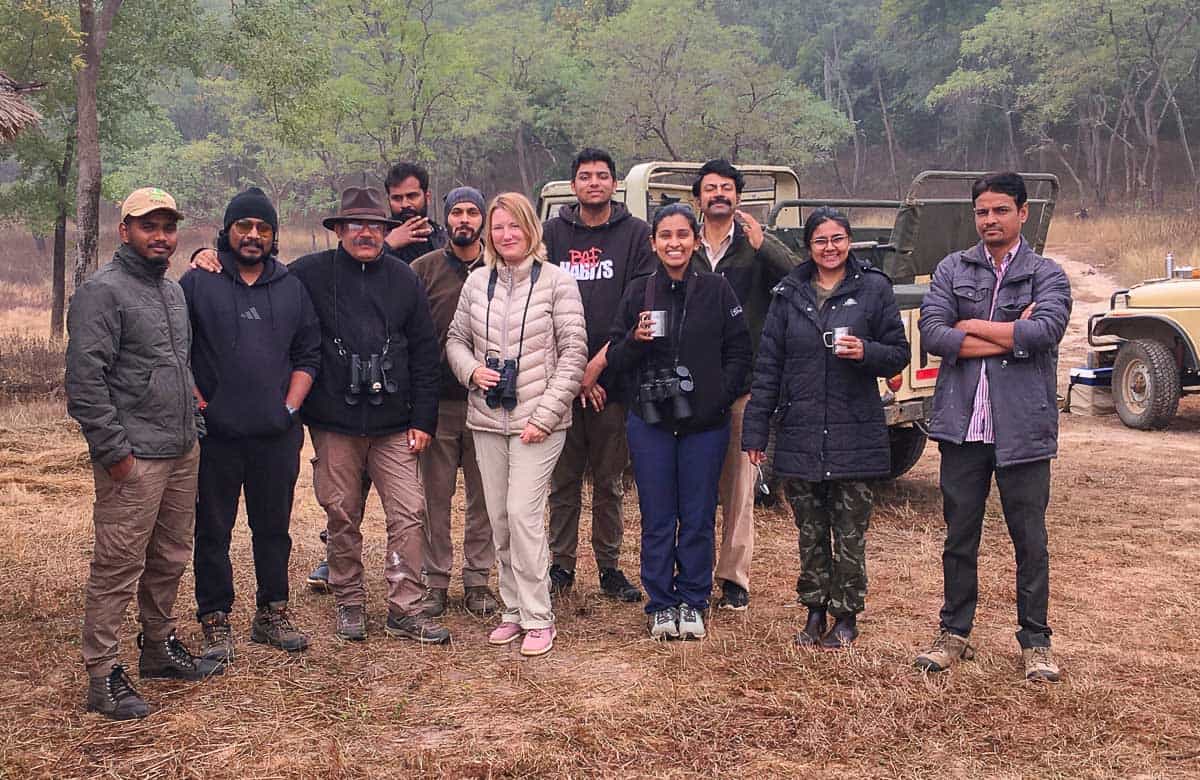 PRONAT 2020: Naturalist Training course at Satpura Tiger Reserve, Madhya Pradesh, India
In November and December 2020, I undertook a Professional Naturalist (PRONAT) Training course at Denwa Backwater Escape, Satpura Tiger Reserve, in Madhya Pradesh, India. It was the third time the annual PRONAT course was offered — a partnership between Pugdundee Safaris and Wildlife and Forestry Services of India.
The driving force behind PRONAT is Kartikeya Singh, a wildlife researcher who has trained more than 500 naturalists. Among many accomplishments, Kartikeya founded Wildlife and Forestry Services of India to offer his expertise in wildlife management. But I also want to acknowledge the invaluable support given by Manav Khanduja and Pugdundee Safaris in offering this naturalist training course. It's just one of the many ways Pugdundee gives back, and supports wildlife conservation in India.
From the very first time PRONAT was offered, I wanted to take the course … but it was one of those things that felt like an impossible dream. Somehow, during the year of the pandemic, the stars lined up and I had the time and money, and found the timing absolutely perfect. Taking the course during monsoon would have been a struggle for me, to be honest, but taking it when the days were warm and dry, was truly a stroke of good luck. We were all required to take a COVID test just before arrival, and the location and activities are naturally socially distanced, so I also knew it was a low-risk experience.
The location
The previous two PRONAT naturalist training courses were offered in August and September, at the end of the monsoon when Denwa Backwater Escape, a wildlife lodge on the Denwa river, was closed. This year, because of the pandemic, the course was shifted to November and December and the lodge was open. Overall, I think it made for a better experience because the weather was perfect, we were able to go into the core zone of Satpura Tiger Reserve, we enjoyed the amenities of the lodge with a full staff — and many other reasons. But I also know it was challenging from an operations standpoint, so again I thank Pugdundee Safaris for this incredible experience — and especially the manager Kshtij Gambhir, in-house naturalists Harendra, Himani, and Mugdha, and staff.
Denwa Backwater Escape is a fabulous wildlife lodge in every way. It occupies a 10-acre property right on the Denwa River. Like all Pugdundee Safaris lodges, it was made with an enormous attention to detail and to sustainability. The cottages are extremely comfortable and luxurious, designed for privacy with terraces facing the meadow and forest. The main lodge building has a spacious dining hall and large wood balcony that overlooks the river — it's a great place for bird and wildlife sightings, including crocodiles. There's even a pool and outdoor bar for socializing under the stars.
The location of the lodge is brilliant — only about one kilometre from the Satpura Tiger Reserve Madhai gate (where you can catch a boat to take you across the river to the core zone), and surrounded by buffer zones (as well as villages and farm land). The buffer zones here are as good as the core zone in many ways, especially Parsapani and Sehra.
Read my Guide to Satpura National Park and Tiger Reserve.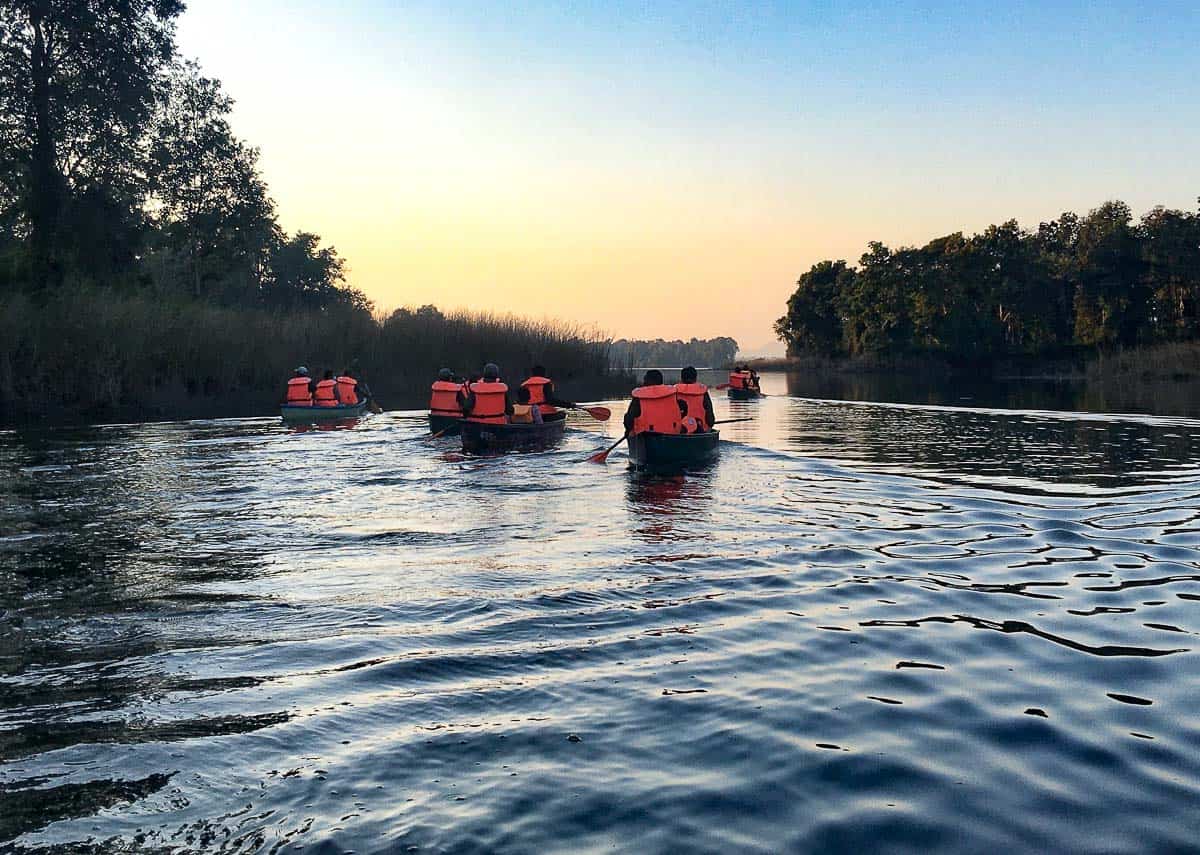 Satpura Tiger Reserve is named after the Satpura (sapta=seven and pura=mountain) mountain range and encompasses three nature reserves, including Bori and Pachmarhi, for a total area of about 1,400 square kilometres.
Satpura has become one of my favourite tiger reserves — even though it's not one of the more popular ones. It is extremely scenic and bio-diverse, and still pristine because of its lack of popularity.Tigers are not as easy to see here, but leopard and sloth bear sightings are quite common. I have seen both in Satpura. Plus, there's a huge array of flora and fauna, including water birds and migratory birds because of the river. If I made a list of every animal, bird, and reptile we saw in three-and-a-half weeks, it would number in the hundreds.
Satpura also offers experiences you can't get in most tiger reserves, such as walking safaris, boat safaris, and the opportunity to stay inside the core zone. I camped in the core zone of Satpura with Pugdundee Safaris while leading a small group tour, it was a wonderful experience. The spacious tents, with cots, are highly comfortable and each comes with its own private washroom tent.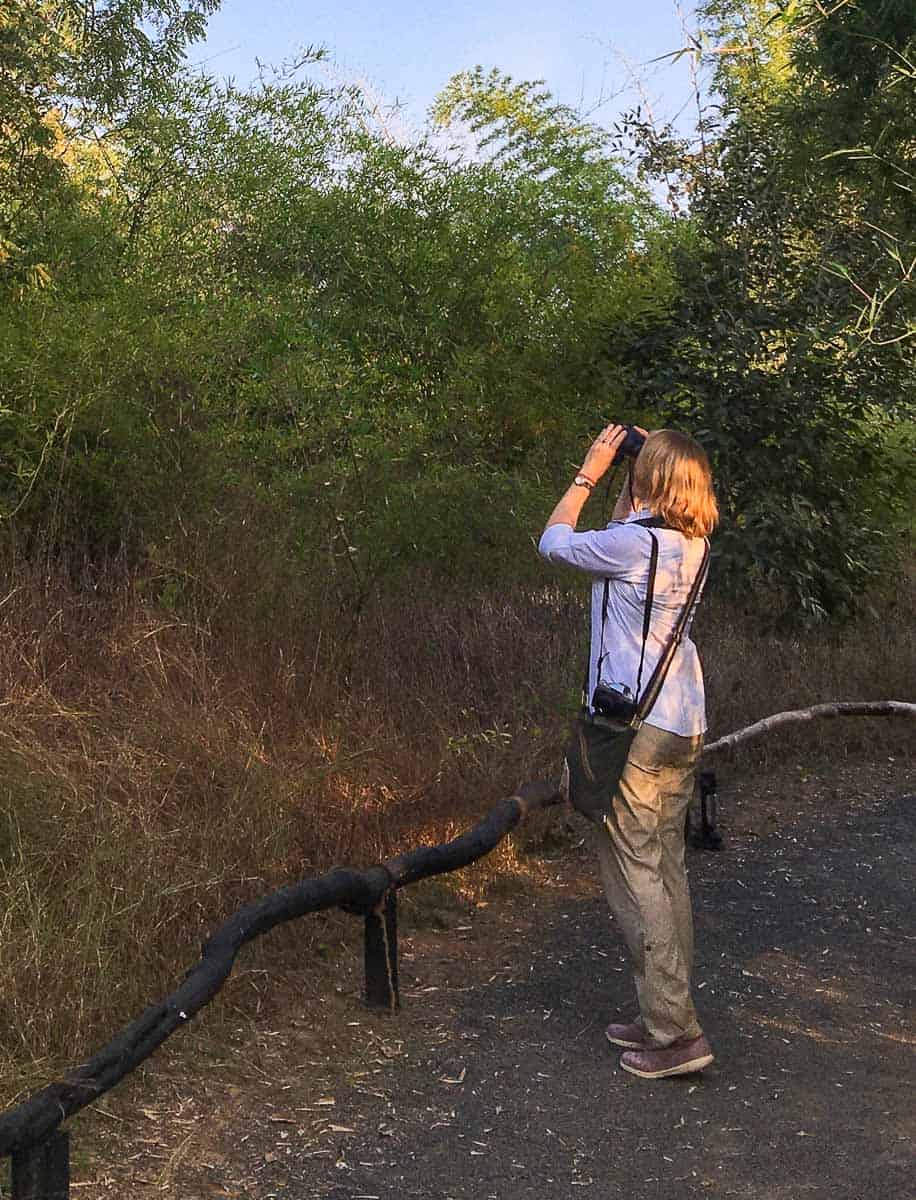 The highlights
There are so many highlights to the PRONAT naturalist training course, I can't list them all, but here are the top five.
Outdoors. Just being able to be outdoors, in a natural environment, almost all day, every day, was incredible. And especially during the pandemic when I spent so much time cooped up at home. It felt like a one-month break from the pandemic, which was incredibly rejuvenating.
Location. The location — a luxury wildlife lodge on the Denwa River, directly across from beautiful Satpura Tiger Reserve — can't be beat. Satpura is known for scenic beauty, and to see the park's hills in the distance every day was enchanting. Satpura is also a bio-diversity hotspot due to the river and the varied terrain. We saw an astonishing range of birds, mammals, reptiles, and other flora and fauna, and enjoyed a wide range of activities too that included canoeing on the river and a walking safari in the core zone.
Teachers. The teachers and Pugdundee Safaris staff really made the course a valuable experience. They were all good, all equally knowledgeable and passionate in their respective fields. However, I have to single out Kartikeya Singh — we called him Kartikeya Sir out of respect. Which he deserved. Sometimes we are lucky to find a teacher who is extremely knowledgeable AS WELL AS inspiring, kind, and patient — a born teacher.
Group. The PRONAT group is normally about 20+ in number, but there were just 11 of us. We were an extremely diverse group in terms of age and profession, and almost equally divided by gender. I was the lone foreigner. Along with the diversity, the best thing about this group was they were FUN. There were many times during activities — and especially the first-aid scenarios — when we were all laughing so hard, it felt like we were children playing.
Dream. For me, taking this course was achieving a long-held dream. It was one of those rare times in life when I couldn't believe I was actually doing it. Like getting my BA in Journalism, going on my first trip to India, seeing a tiger in the wild. I have loved animals and nature since childhood, and taking PRONAT made me feel like a girl again, running around outdoors at our family cottage all summer. I felt like ME, like the ME I was supposed to be.
The learning and the purpose of the naturalist training course
Below I will outline the course modules and what we covered and learned, but first I want to talk about why this course was important.
According to Kartikeya Singh, the purpose of PRONAT is to:
Extend knowledge of India's flora and fauna beyond tigers

Teach pupils the PROCESS of identification

Help nature lovers learn to be the storytellers of the forest
One of the most exciting moments for me was during the introductions on the first day, when Kartikeya Sir explained we are ultimately training to be STORYTELLERS. in fact, we started the course by each telling a story of how we became introduced to nature, and how we fell in love with nature.
"We tell stories of the natural environment to spark interest and raise awareness." Kartikeya Singh
During PRONAT, we learned to be observers of nature, to see beyond the obvious, to cease speculation … and ultimately uncover a new world. We unlearned what we thought we knew, and learned to SEE. It was like being given a key to nature, to unlock the natural world and truly see the wonders that lie beneath the surface.
The course was only three-and-half-weeks, so it was really an introduction to becoming a naturalist. One of the most valuable things we gained from it was the PROCESS of identification, and the PROCESS of guiding. The program was a solid foundation to begin learning … which will lead to our work as nature guides.
In essence, we were learning to be advocates for nature, awareness warriors who can help people understand why we need to protect and conserve habitat, wildlife, and the environment. When people experience the natural world, and that sense of magic and wonder that nature lovers know so well, they will be more inclined to join the movement to protect it. And our job as naturalists is to be guides in this process — to elevate the MOD (moment of discovery) to something that can almost be described as a mystical experience … and that has a lasting, positive impact.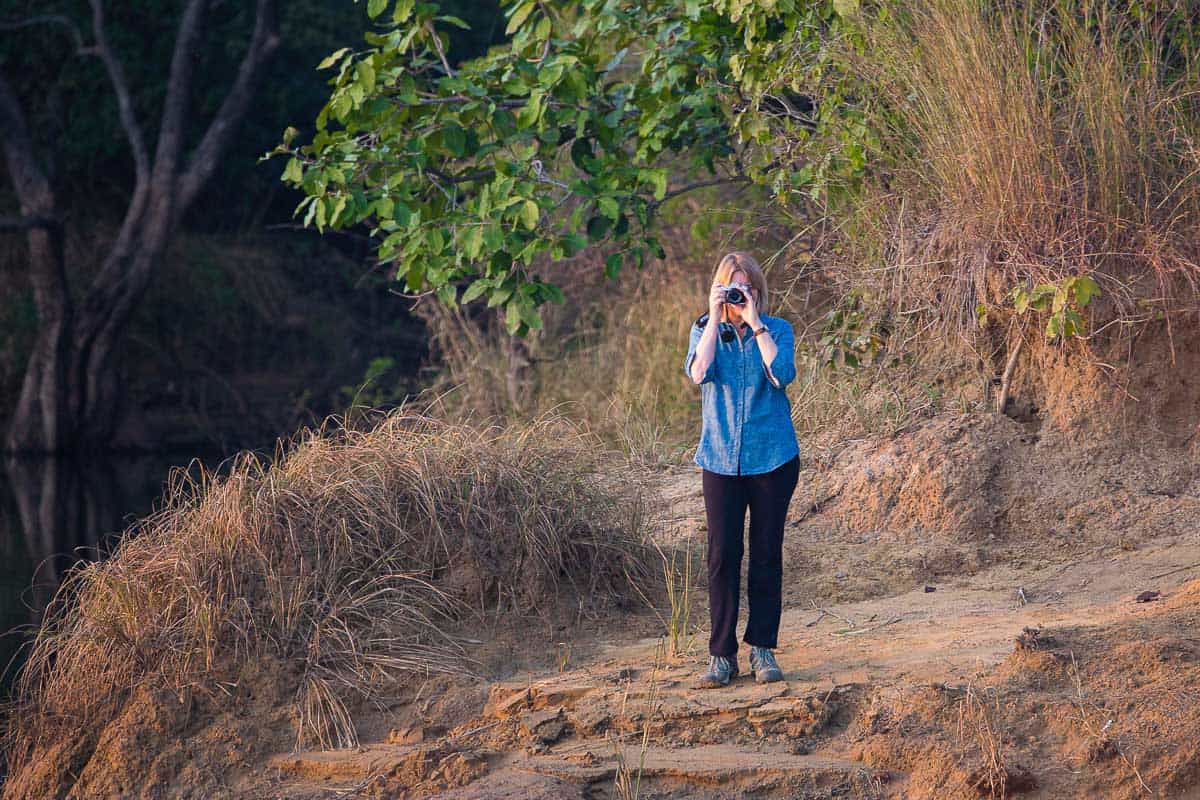 The naturalist training course modules
The course was divided into six modules over three weeks, plus a three-day Guiding extension for those who were seriously considering becoming professional naturalists. Nine out of the 11 people in our group stayed on for the Guiding extension, and for me it was almost the best part of the entire course.
Introduction (Day 1)
Many of the group members arrived in the morning and we met in the afternoon for introductions — including the staff of Pugdundee Safaris Denwa Backwater Escape. During the introductions, Kartikeya explained that, ultimately, naturalists are storytellers, and that we tell stories of the natural environment to spark interest and raise awareness in our guests.
We were each invited to tell a story about how we were introduced to nature and how we fell in love with nature. I told the story of spending a month in the jungles of Madhya Pradesh in December 2016, and how it awoke in me a yearning to learn more, to spend more time in the jungle, to advocate for wildlife conservation, and to help raise awareness of nature and the need to protect the environment.
Kartikeya also introduced us to the WeNaturalists platform and invited us to join and create a profile.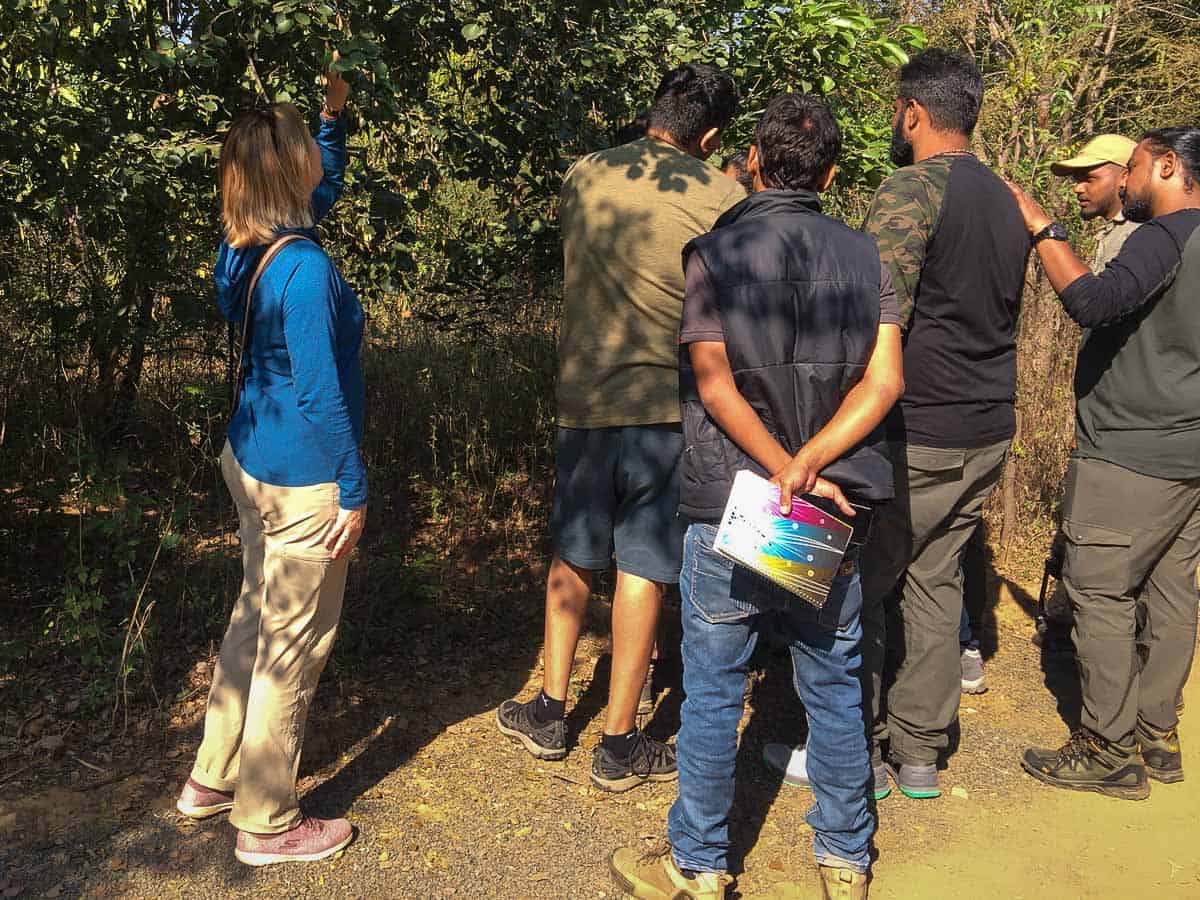 Trees (Day 2 and 3)
On our first full day, we met at 7 am for chai on the wood deck (in the main lodge building) overlooking the Denwa River, a magical place from where you can watch birds, animals — even crocodiles — and beautiful sunsets. We all spent a lot of time here!
Then we started. Following our teacher Karitkeya, we walked around the forested property looking at trees and learning how to identify them. We used a book called The Trees of Central India by Pradip Krishen that is absolutely brilliant.
In the afternoon we took turns presenting — I did a presentation on the Palash tree, the flame of the forest. Presentation skills are very important to naturalists, they help you hone your storytelling, and we did a lot of them throughout the course. I enjoyed the presentations a lot, as of course I am a storyteller at heart.
Day 3 was November 24, my Mother's birthday. My Mother loved nature, animals, and adventure, so I know she would have been thrilled about my attendance at PRONAT in India. We divided into groups and had to identify as many trees as possible. I was with two local guys, Anshuman and Justin — and we won the competition by correctly identifying 11 trees. Everyone got the Pahadi Sheesham wrong, which led to a lot of jokes throughout the course.
It was only two days, but I learned to identify about 10-15 trees and MUCH MORE importantly, I learned the process of HOW to identify trees.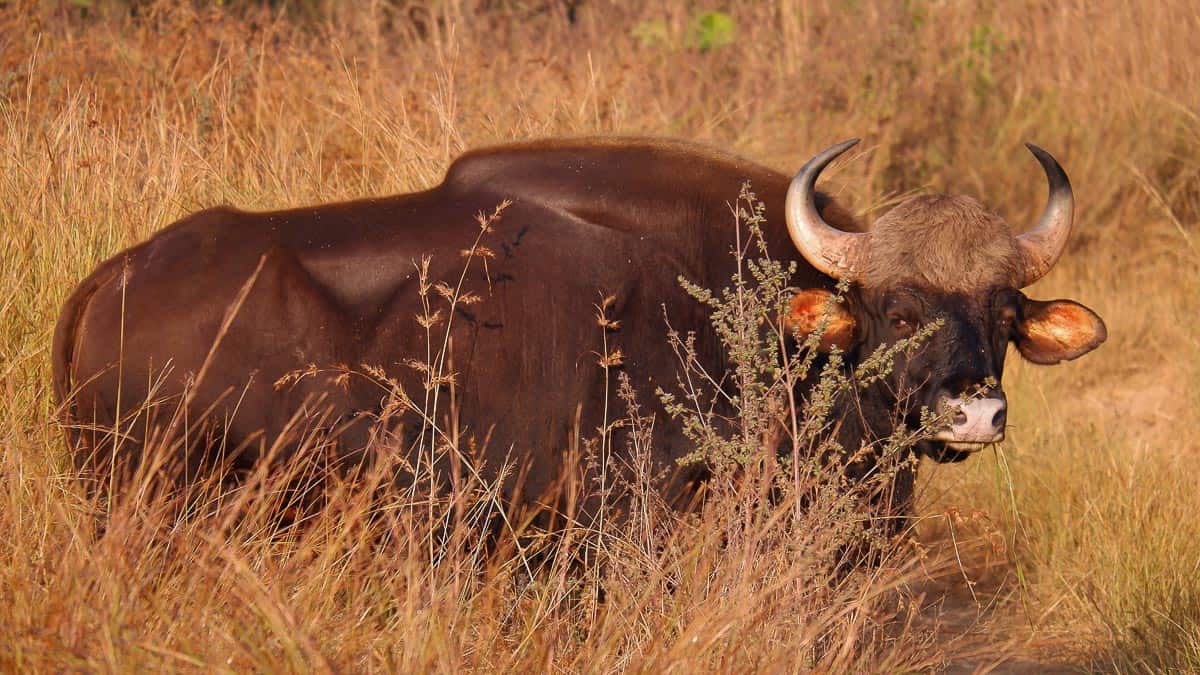 Mammals (Day 4 and 5)
On Day 4, we met at 6:30 am and walked through the nearby buffer zone, led by Kartikeya who is a mammal expert (having studied lions and wolves, and worked on several large mammal relocation projects). It was a beautiful morning, just a touch misty and cool, and we saw lots of pugmarks (tigers and leopards), animal tracks, tree scratches (sloth bears), birds, insects, trees … and much more. We made a checklist later — Kartikeya encouraged us to make a checklist every day — and it was LONG.
"The Jungle is always talking. Wait and listen. You may be rewarded." Kartikey Singh
In the afternoon, Kartikeya gave a lecture on mammals and how they are classified. I learned that India's Wildlife Protection Act is actually one of the most stringent in the world (enforcement unfortunately is another issue). Later, we divided into groups to learn how to set camera traps, and watched the sun set on the river, with a perfect view of a large mugger (crocodile) catching the last rays of the sun. Finally, we watched a film called The Truth About Tigers, about how challenging tiger protection is given poaching and human encroachment. This was particularly interesting for me as I love tiger safaris and visiting tiger reserves such as Kanha and Bandhavgarh and learning about all of the animals of India.
It was a very full day, very long, and I feel asleep satisfied and tired. In fact, almost every day was like this!
Day 5 was the earliest yet: we met at 5:30 am at the welcome area and went on a wildlife safari by jeep into Parsapani buffer zone, a particularly scenic and beautiful area. We had lots of great sightings, from gaur, to chinkara, to crested serpent eagle … and a hoopoe who followed us down the road.
In the afternoon we gave presentations (to no one's surprise, I chose the cats of Satpura — tigers, leopards, jungle cats, and the rusty spotted cat). Then, we moved our camera traps, watched a film about wolves in India (starring our teacher Kartikeya) and had a very inspiring meeting with Mr Krishnamurthy, the field director of Satpura Tiger Reserve. He spoke at length about his role and responsibilities, but stressed that protection is the most important part of his job.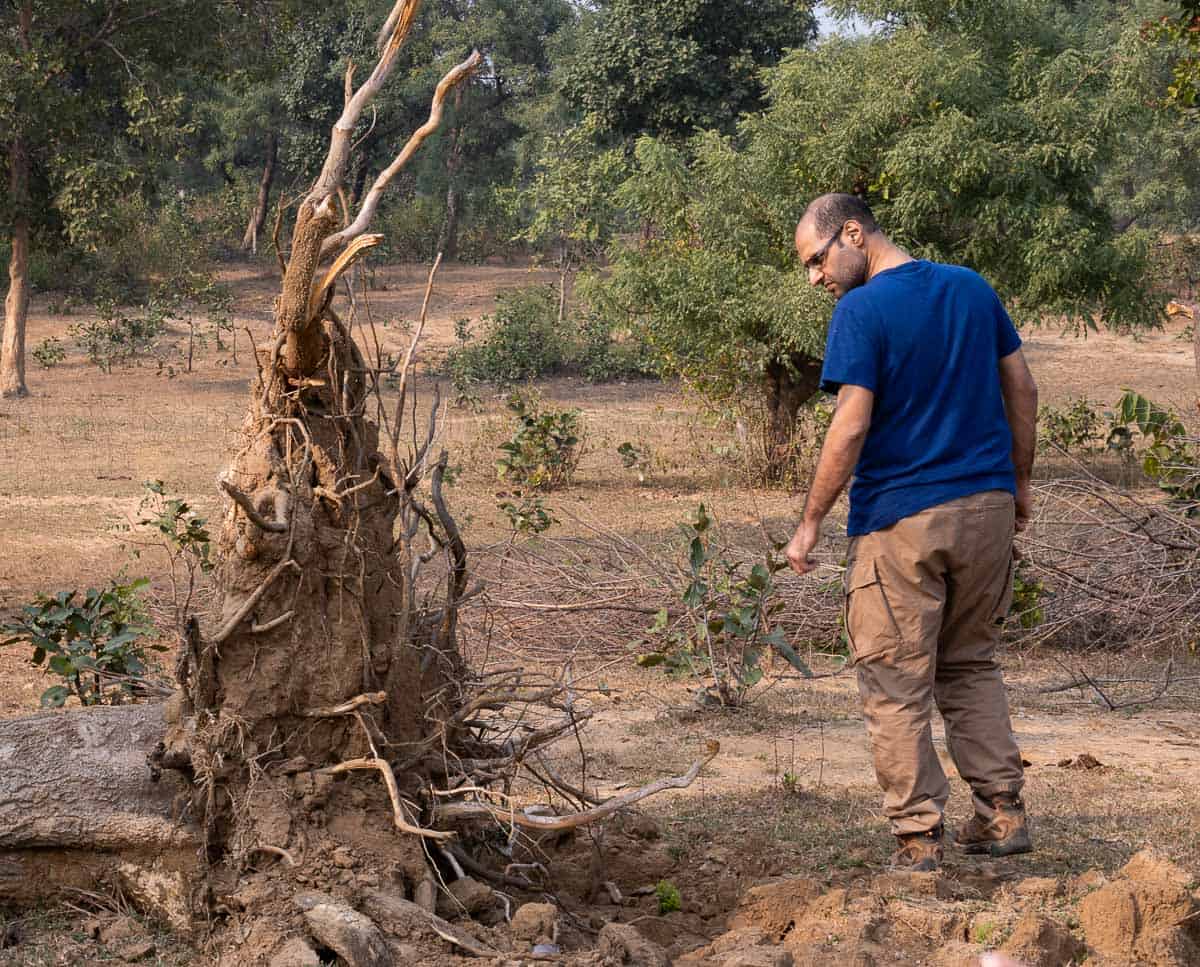 Reptiles (Day 6 to 9)
Today, we started four days of learning about reptiles with our teacher Nariman Vazifdar. On these four days, we were often indoors, in the library, listening to lectures. We went out every evening for a night walk, however, which was fascinating, and several other walks, too. The routine was the same each morning, 8 am breakfast and 8:30 lecture.
Nari is an extremely knowledgeable and passionate teacher — he loves snakes, spiders, scorpions, and other reptiles and insects — and he was very popular with the group. We started with snakes, and talked about the many myths about them. Snakes probably have more myths about them than any other animal. One of the many things I learned is that it is wrong to say reptiles and amphibians are cold blooded: they are ectothermic, which means they need to regulate their temperature through external sources, such as by basking in the sun.
In India, the "big four" venomous snakes are spectacled cobra, saw-scale viper, Russell's viper, and common krait. Together, they account for the majority of snake-bite deaths in India, and are also the four snakes that contribute to anti-venom.
We spent a lot of time on snake identification, which I found challenging — some of the differences seemed so elusive to me! Personally, I am not overly fearful of snakes, nor am I fascinated by them. However, I really enjoyed learning about snakes, venoms, and snake bites because knowledge is power. If I am going to live in India or spend time here, I would rather know about snake behaviour, how to treat snake bites, and other similarly useful information.
Over the next few days, we also learned about testudines (turtles, tortoises, and terrapins), crocodiles, lizards, amphibians (frogs and toads), scorpions, etc. We saw many of these animals while on our walks around the property and the nearby buffer zone. I particularly loved walking in the forest on the full moon night — everything was bathed in a silvery glow.
On our last day, we had a reptile quiz, walked around the property looking at reptile habitats, and in the afternoon went for a canoe ride on the Denwa River. This activity was offered by Satpura Tiger Reserve, and it's a wonderful way to see water birds up close. Of course, as an outdoorsy Canadian gal, I have been canoeing since I was a child, so for me it was particularly joyful (although the canoes we used were very small and very tippy compared to Canadian canoes that I'm used to).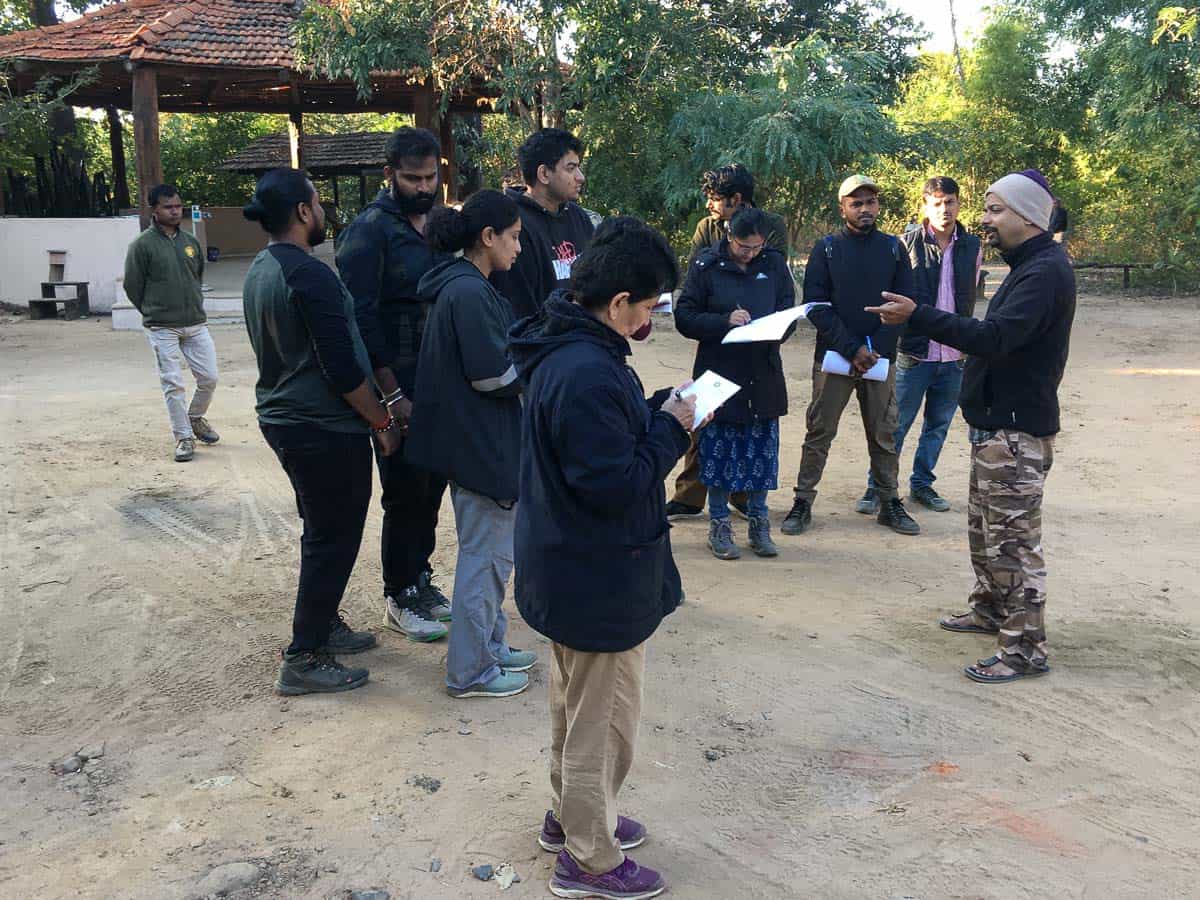 Birds (Day 10 to 13)
Along with mammals, this was the module I was most looking forward to. I only recently became an avid bird watcher and all I can say is — I don't know what took me so long (though having really good binoculars helps A LOT!). Our teacher Nikhil Bhopale started us off at 7 am with an interesting assignment: we were to go around the property and LOOk at birds — actually SEE them, rather than rush to identify them. He encouraged us to NOT use binoculars at first, but to observe flight patterns, shapes, and behaviour.
Nikhil taught us to learn the PROCESS of birding and identification, which includes not speculating about behaviour. He taught us to see, observe, and describe. It was a very inspiring approach. We had a bird identification workshop on the first day, and what to look for — such as sitting position and sociability and other aspects of birds I had never really thought about.
For most of the bird module days, we spent a lot of time outside. I made a joke about how we went from looking down during the reptile module to looking up during birding. My neck was relieved, haha. We went on numerous walks and drives to see birds in various habitats including forest, grassland, and river side. We also played outdoor games related to birding, which we all loved. It was absolutely glorious to be outdoors so much of the day, and the weather was ideal.
We also learned about bird families, classification, how to use the book Birds of the Indian Subcontinent, and topics related to bird conservation. I felt overloaded with information, and at the end could only confidently identify about 20-30% of the birds we saw. By the end of the birding module, we had spotted literally hundreds of birds, which of course was very exciting. (But I wonder if I will EVER be able to tell swallows, swifts, and martins apart from a distance!)
Butterflies (Day 14 and 15)
During the PRONAT naturalist training course, I fell in love with butterflies. Like everyone, I have always thought they are delightful, but never gave them a lot of thought. During our module on butterflies with Nikhil Bhopale, we learned there are six butterfly families — skippers, swallowtails, blues and whites, yellows, brush-footed, and metalmarks — and each have unique characteristics.
As we walked around the property looking for butterflies, I found myself very interested in them — and discovered I love photographing them. They are truly fascinating creatures that go through an incredible process of egg-caterpillar-pupa-butterfly.
On the first night of the butterfly module, I went with executive chef Michael Swamy — who also helped out as an assistant naturalist to our group — to look at the milky way from the river side, and learn to photograph the night sky.
On the last afternoon of butterflies, we had our exam … which was a super-fun, interactive, and outdoor activity. In the evening we had a party to say goodbye to Nikhil.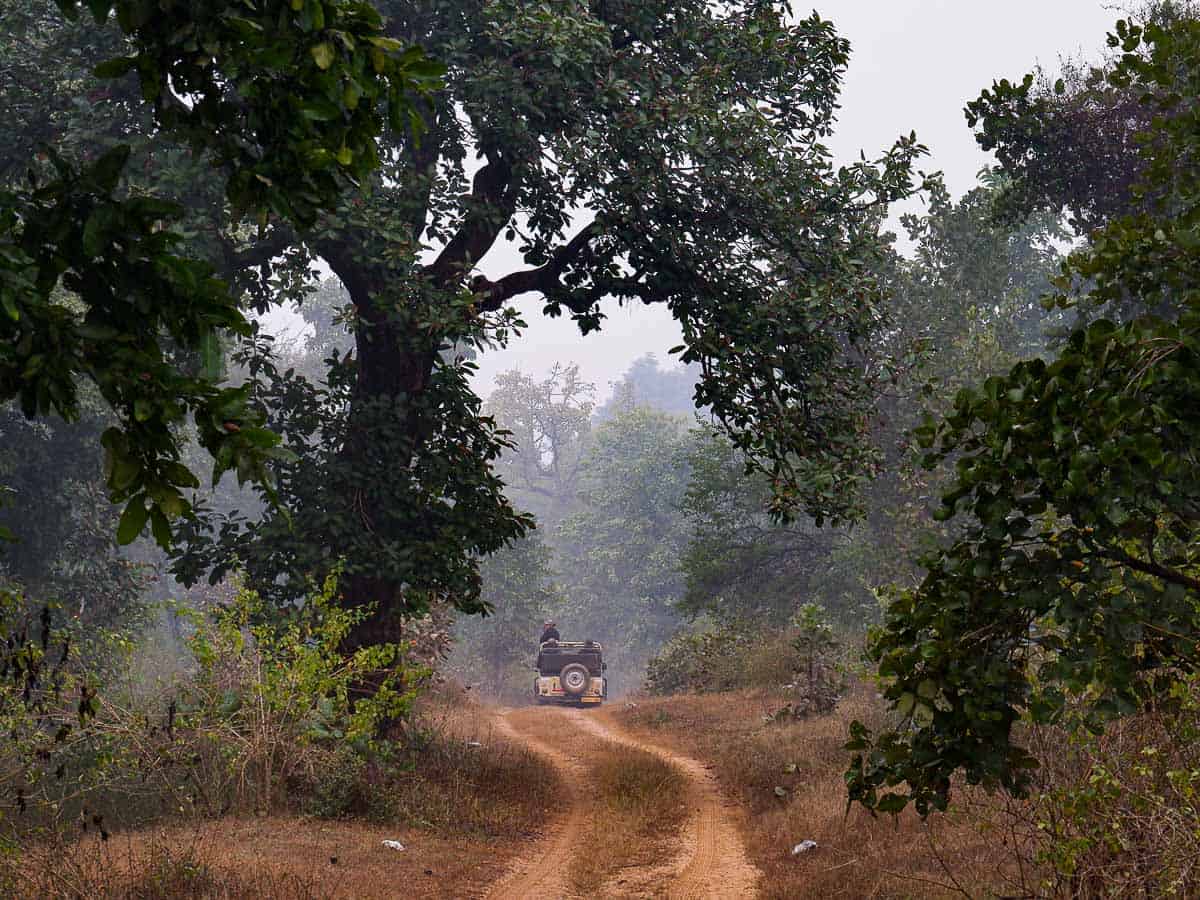 Satpura core zone safari (Day 16)
This was an exciting day for us, as we had our first core zone safari, by jeep, in the afternoon. It was also the only day that afforded us a bit of time off — I went into the local town Sohagpur for supplies with Rakesh and Prithvi, but everything was closed due to a farmer's protest and bandh.
The core zone drive was very exciting as we had many animal sightings — such as gaur, sambar, wild dogs — and followed some very urgent alarm calls near a kill. We felt certain a leopard or tiger was in the vicinity, but we never saw one.
A safari in Satpura is extra-special because you have to cross the Denwa River by boat to get to the gate where you pick up your jeep and driver and because it's a very scenic park with varied terrain.
Later, in the evening, we were all called to the main lodge to see a large Indian rock python — about 10 feet long and very thick. Altogether, our group members saw at least seven snakes on the property during PRONAT including three chequered keelbacks, two pythons, one cat snake, and one Russell's viper.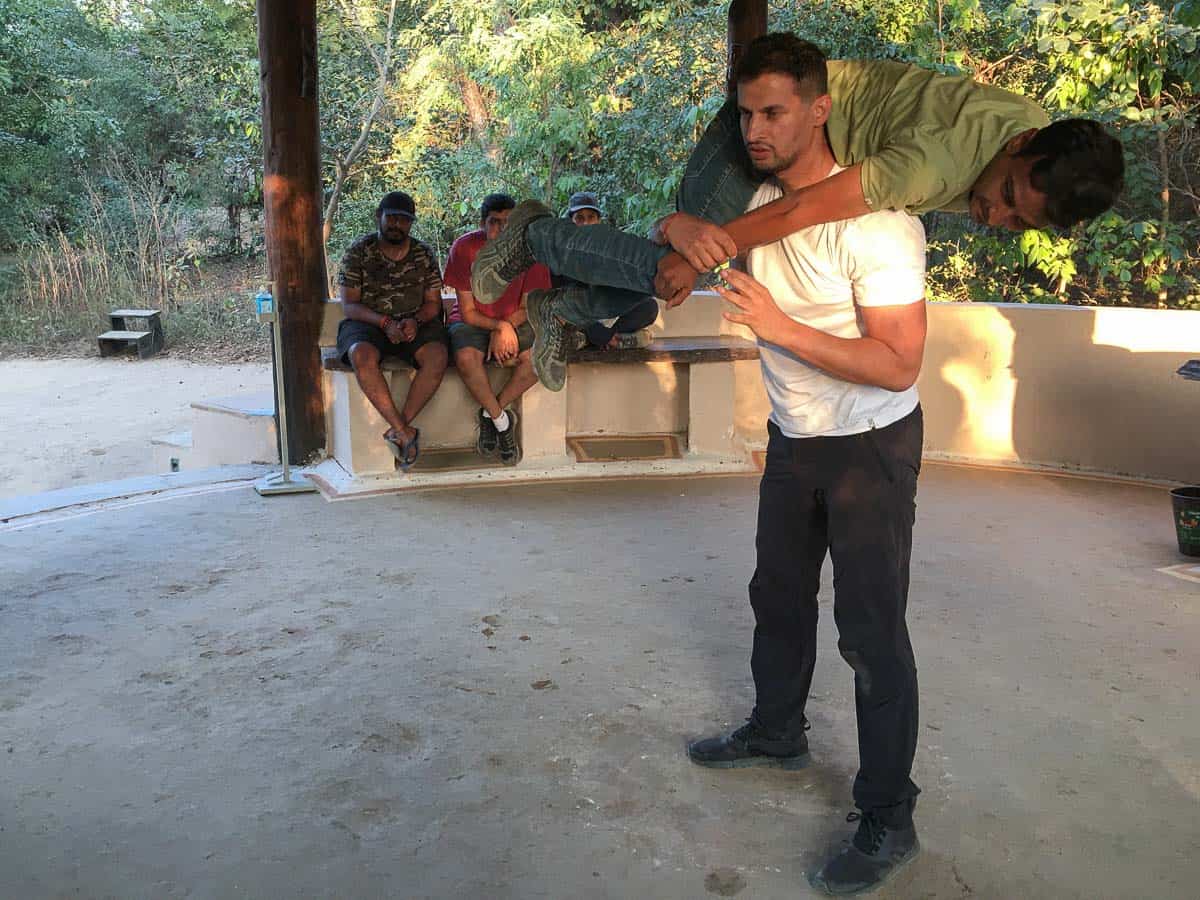 First Aid (Day 17 to 20)
Four full days of first aid was a smart addition to the course, and we learned a lot under the guidance of our teacher Vikram Ahlawat. He is knowledgeable, skilled, a great teacher, and a lot of fun, too. He was able to teach us a serious subject in an engaging and fun way, which is really quite a skill.
We focused on learning how to respond as a "first aider" to accidents and injuries — situations you might actually encounter in your role as a naturalist. This included giving CPR to people who are not breathing, stopping bleeding, treating snake bites, making splints and bandages, learning carriages and making stretchers, etc.
We practised what we learned in class by going outdoors, where we split into groups and made up accident scenarios. Half the group pretended to be injured, and the other half had to perform first aid. These were serious exercises of course … but we also had a lot of fun, too.
During our first aid module, we had a presentation on photography by our group member Vikram Gopi. Chef Michael Swamy also presented on wildlife photography. And Dipali Meher showed us a presentation about her artwork. All very talented people.
On the last day, we had a special guest, Rajnish Kumar Singh from the Madhya Pradesh Forest Department in Bhopal. He was a very inspiring speaker who gave a presentation called The Kingdom of Tigers, which was all about the 2018 tiger census and the innovations that Madhya Pradesh provided. He also told us about the MP Tiger Foundation Society.
The last night of the module, we had a party in the welcome area. The night ended with Kartikeya leading us in Gujarati dancing around a fire. Another great day!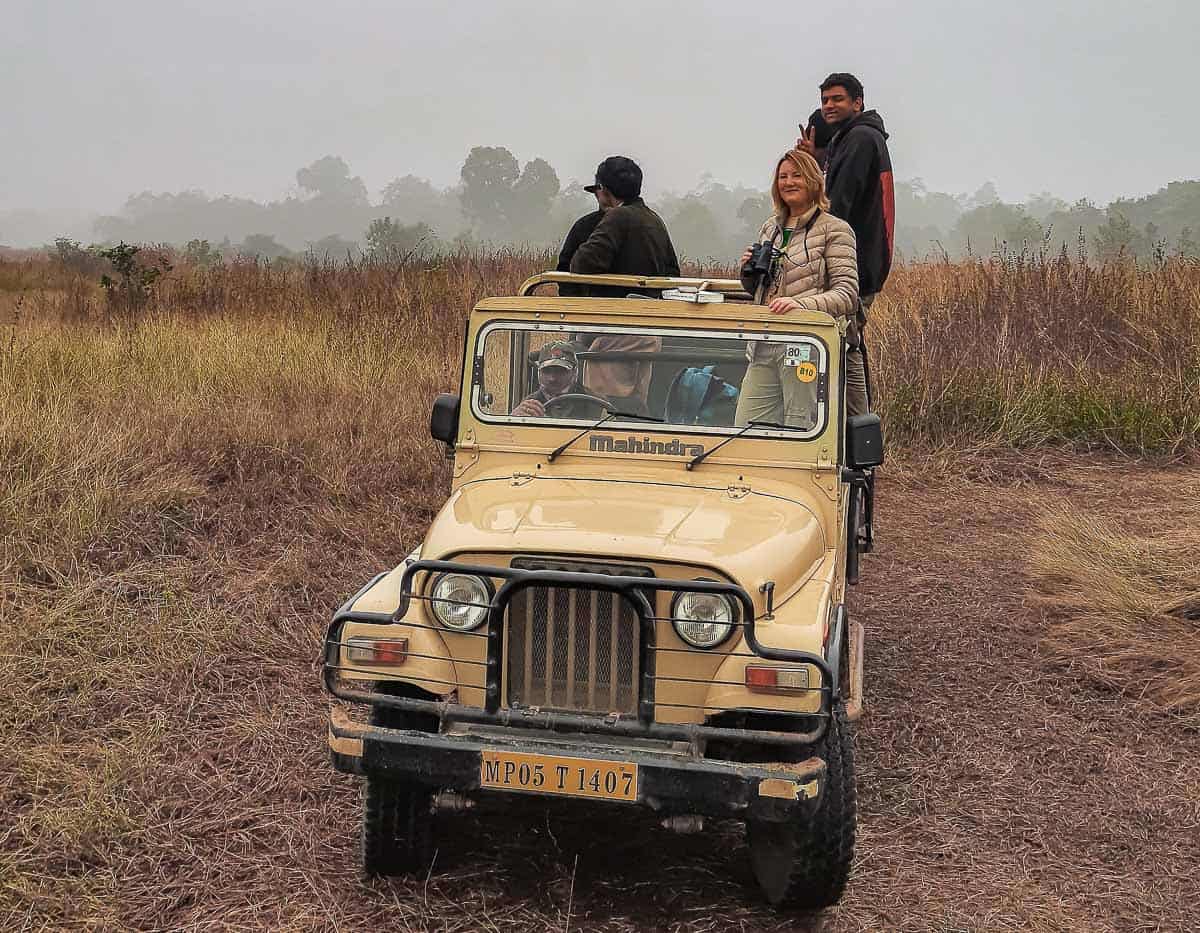 Guiding and conclusion (Day 21 to 24)
Guiding turned out to be my favourite module … because of the joy I felt during the jeep safari I led into the Parsapani buffer zone. It was taught by Kartikeya, a highly experienced naturalist and guide — who provided both solid information and inspiration-by-example.
We started the module in the afternoon (I gave a presentation on blogging in the morning, and two of our group members left — Sampada and Vineeta).
Kartikeya gave us a lecture on the PROCESS of guiding, all the steps to follow, and stressed the importance of communication and attitude. You need to find out guest expectations and put the guest first — while putting aside your ego and personal preferences and feelings.
For the next two days, we took turns guiding members of our group on wildlife drives into the buffer zones of Satpura. On the second morning, it was my turn. I got up at 4:30 am, and was at the lodge to greet my guests at about 5:15 am. After tea and orientation, off we went to the beautiful Parsapani buffer zone. Kartikeya was in my jeep, assessing me, and I could really feel his support and encouragement.
It was probably the BEST DAY OF 2020 for me, and one of the best days ever. From the moment I stood up in the front seat of the jeep, as we entered the buffer zone gates, I felt pure joy. I loved all of it. The ambience of the jungle, the sightings, the camaraderie (we had a lot of fun), the breakfast at a lookout point, and the overall experience. My colleague Chandrashekar took over from me after breakfast and within minutes we saw two leopards staring at us through long grass (spotted by Prithvi, who almost jumped out of his seat!).
After this I felt euphoric, and the high carried me through to the end of the year. I would not have missed this experience for anything. It was worth every effort, every rupee, every risk, every early morning, and every moment out of my comfort zone.
On the last day of the course, we went on a walking safari in the core zone at dawn — which was a highly instructive experience as we saw a lot of animal markings. In the afternoon we gathered in the lodge to give feedback and get our certificates. Afterwards, we had tea on the wooden deck overlooking the river, and there was a sudden rush of Racket-tailed drongos, one of my favourite birds, and one of my group members, Justin, too. Justin and I ran to the water's edge to see them, and it seemed like a blessing.
Summary and challenges
There is no question that I would give this course a solid A in everything, from the curriculum, to the teachers, to the experiences and activities, etc. However, nothing is perfect and I do want to mention spots where there is room for improvement.
Overall, I loved the curriculum, but only two days for mammals was a bit heart-breaking. I was really thrilled that we were able to have a core zone safari (we had one walking and one jeep safari), but would have been happier with a couple more, including a morning jeep safari in the core zone. Personally, I would have paid extra for this opportunity.
As one of the older students, I found the reptile and bird modules seemed to be geared to younger — and quicker — students. I had no trouble keeping up physically, but the information was at times overwhelming. I know the short timespan of the course played a part in this, but personally I would rather know less birds and snakes well, than to feel they are all shooting past in a blur. I'm just not as quick as I once was, and my eyesight is also not as good. I needed binoculars to see details the younger students could see with the naked eye.
Finally, I would say this course is a fantastic foundation for both nature lovers and those who want to pursue a professional career in the field. We were given the information, tools, and resources to continue learning and growing, which met and exceeded my expectations. I am now actively looking for opportunities and I keep my skills honed by watching and reading. In the feedback we gave on the final day, I said I hoped there would be an advanced version of the course one day.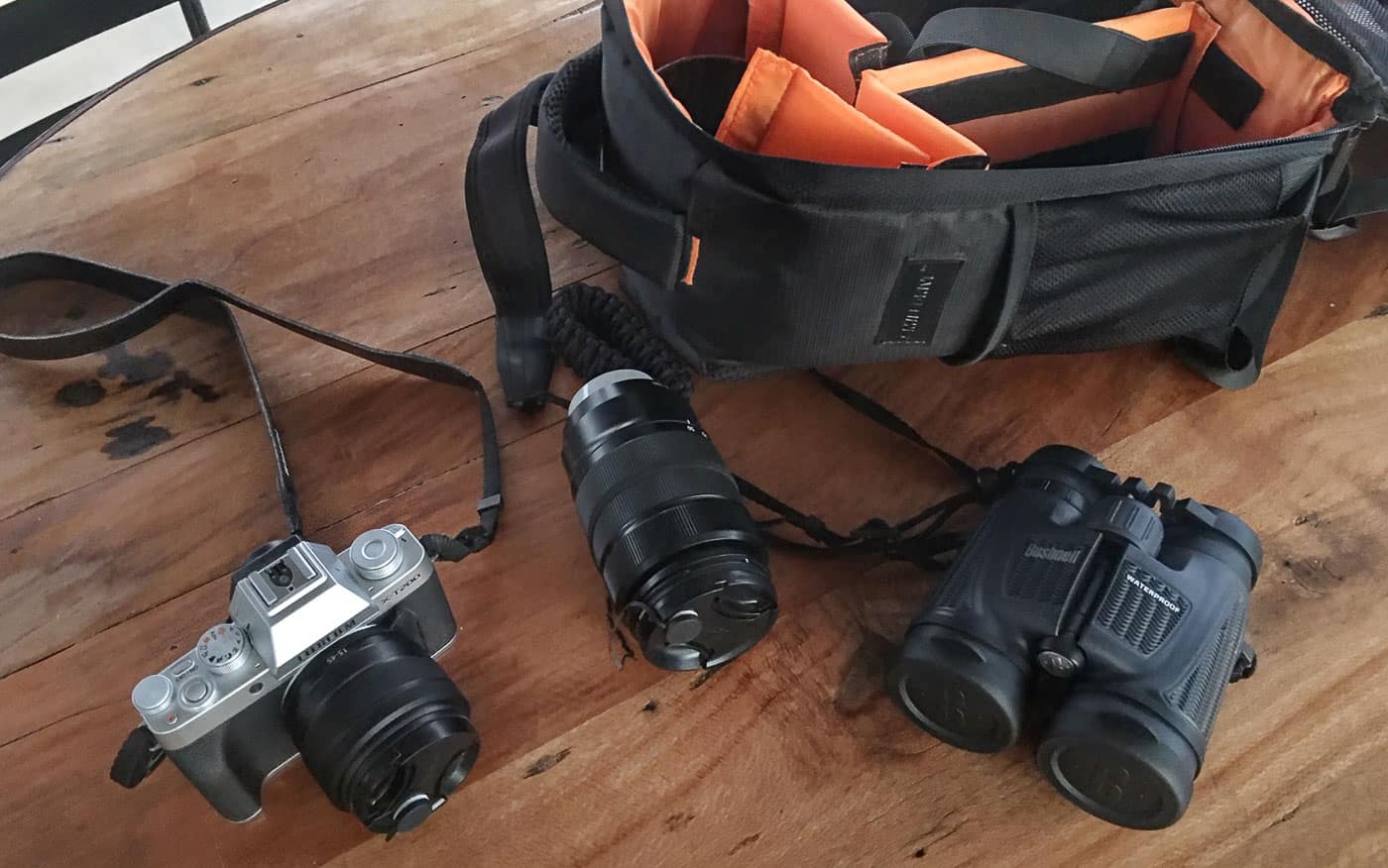 Gear recommendations
For those interested, here is a list of some of the gear I used for the training course.
Binoculars. I did research and asked several naturalists for their recommendations, and settled on Bushnell H2O Waterproof/Fogproof Roof Prism Binocular, 8 x 42-mm. These are great birding binoculars, also ideal for Indian jungle, and lightweight.
Camera. I needed a camera, and wanted a light-weight mirrorless. I found a great deal on Fujifilm XT200, which has had great reviews. It's a small camera with a big sensor and I was delighted with the camera's very sharp and finely detailed photos. I was lucky to buy a special kit, which came with a 50-250 telephoto lens as well as the kit lens.
Backpack. This was way more useful than my camera backpack, as I could stuff my water bottle, extra jacket, binoculars, and other accessories and clothes in it. I used my very lightweight Swissgear backpack.
Water bottle and thermos.
Hiking shoes.
Sandals. My Keen waterproof "floaters" really came in handy when we were walking on muddy river banks and mudflats.
Notebooks. I brought a stack of small-ish notebooks with stiff plastic covers, and filled all of them.
Layers. It was cool in the morning and then really warmed up, so layering clothing was the way to go.
Merino wool buffer, cotton scarf, sunhat, fleece cap. I carried these with me in my backpack at all times.
Books
These were the books I bought, there are many more that our teachers recommended.
Jungle Trees of Central India by Pradip Krishen
Birds of the Indian Subcontinent
The Book of Indian Birds by Salim Ali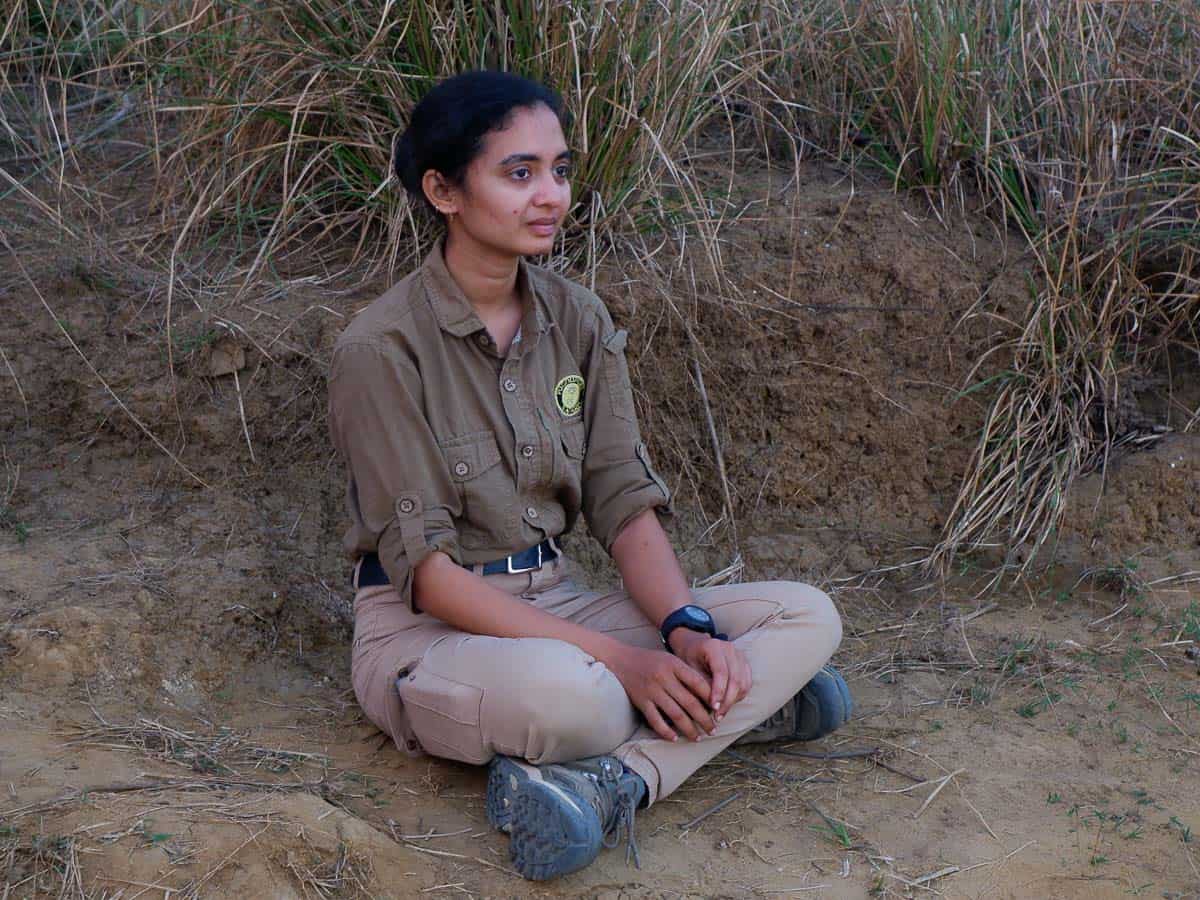 Thank you for an amazing experience
Thank you to everyone who made this experience possible. The lengthy list includes the Canadian government, for giving me a professional development grant at exactly the moment I needed it, and Manav and Sangeeta of Pugdundee Safaris for ongoing support … and the lovely cottage at Denwa I called home during the course.
Huge thanks to Kartikeya Singh for creating and running the program, and also being one of the best teachers ever! Also huge thanks to Kshtij Gambhir, manager of Denwa Backwater Escape, plus everyone's favourite birder-and-chef Michael Swamy, the in-house naturalists Hirendra, Himani, and Mugdha, and the entire staff — especially the kitchen team for handling my gluten free diet.
Thanks to our teachers for both knowledge and inspiration Nari, Nikhil, and Vikram — and lots of fun, too. And speaking of fun, thanks for being a great group Anshuman, Chandrashekar, Dipali, Greetika, Justin, Prithvi, Rakesh, Sampada, Vikram, and Vineeta.
---
Photo Gallery
---
PIN it on Pinterest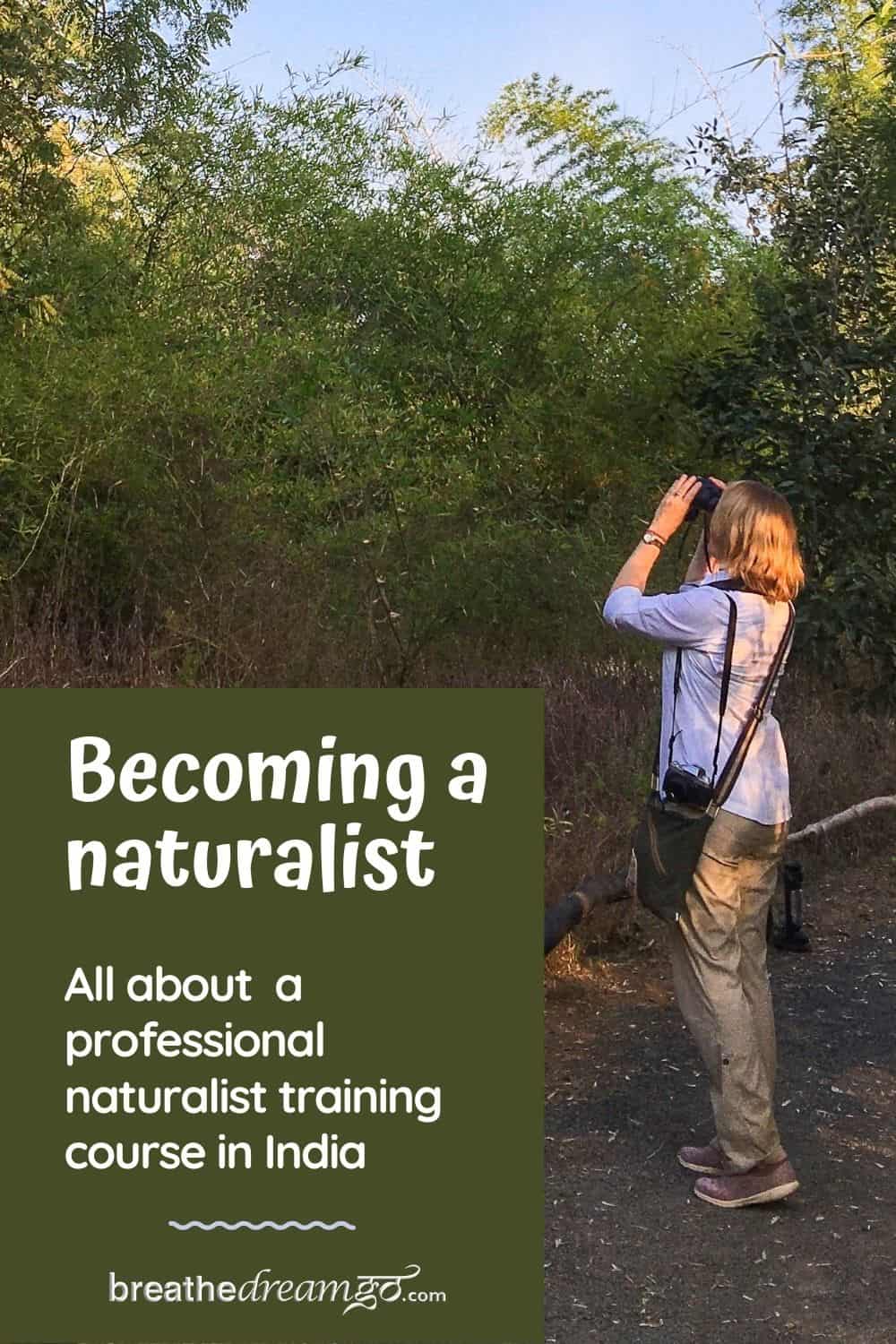 ---
If you enjoyed this post, you can….
Sign up to The Travel Newsletter in the sidebar and follow Breathedreamgo on all social media platforms including Instagram, TripAdvisor, Facebook, Pinterest, and Twitter. Thank you!