Try a small group tour with Intrepid Travel
Travel in India is not easy, especially if you're a first time visitor to India. I am the first to admit it. I have said many times: you need someone to hold your hand. I want to help you travel safely, reliably and well in India so the you can experience more of the magic, and less of the madness. That's why I have partnered with Intrepid Travel.
Travel with the world's best small group company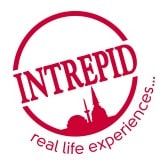 Over the past few years, I have been actively searching for travel partners, companies who I knew I could recommend without hesitation. In the category "small group, affordable" I could find no better company than Intrepid Travel. What do I like about them, aside from the great people I know who work for Intrepid? I like their philosophy, style of travel, commitment to local communities and the very compelling range of tours they offer. Intrepid Travel and Breathedreamgo have something very important in common, a commitment to an authentic style of travel that immerses you into the culture.
Visit the  Intrepid Travel website to see a complete list of tours offered. Or browse or download the Intrepid Travel Asia brochure.
With Intrepid, you can choose from three styles of travel:
Basix: For travellers on a budget, Intrepid Basix trips keep inclusions to a minimum. They're about value and lots of free time to choose the activities and extras that you want to do
Original: The classic Intrepid style. These trips come with some included activities and stay at more hotels than Basix trips. The perfect choice for those who want a taste of everything.
Comfort: Designed for those who want more inclusions, Intrepid Comfort trips offer a higher standard of accommodation, larger, roomier vehicles and more included activities.
Contact me about an Intrepid Travel tour at:  travels @ breathedreamgo . com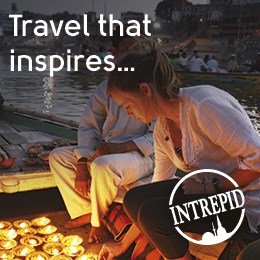 Personalized service … and a bit of hand-holding
I know India. I have travelled from one end of the country to the other and I have lived in Delhi. I have gained a lot of knowledge and skill about where and how to travel in India — and yes, travelling in India is a skill!
I am also a certified travel agent and authorized to sell Intrepid Travel tours. So, I can help you choose the right tour, book it and provide you with a wealth of knowledge and advice about travel in India. Think of me as a "one stop shop" for travel in India and Asia.
Contact me about an Intrepid Travel tour at:  travels @ breathedreamgo . com
Travel safety for women
A small group tour is an ideal solution for women, and solo travellers, who are concerned about safe travel in India. You will be met at the airport, escorted by a professional guide and joined by other like-minded people. If you feel secure and want some time alone during the day to do your own thing, you are welcome. If you would prefer to stay with the group throughout the trip, you are welcome to do that, too.
An ideal option is to get your feet wet by taking a small group tour when you first arrive in India, and then go travelling alone afterwards. By the end of the tour, you will likely feel much more knowledgeable and confident about travelling in India.
Contact me about an Intrepid Travel tour at:  travels @ breathedreamgo . com