Help for first time visitors: New India tours and travel services
Travel in India is not easy, especially if you're a first time visitor to India. I am the first to admit it. I have said many times: you need someone to hold your hand. And Breathedreamgo India tours and travel services are the ideal solution.
More of the magic, and less of the madness
This is why I am partnering with several reputable travel & tour companies to offer:
small group tours
custom tours
travel services
personalized one-on-one advice
I want to help you travel safely, reliably and well in India.
Travel safety for women
Women are also understandably concerned about safe travel in India, and so are solo travellers. These tours and travel services are for you. I encourage you to read My top tips for women travelling in India and to reach out for a helping hand. I have spent the past several years travelling in India, studying to become a certified travel agent, and looking for the right companies to recommend. I feel confident the companies and services I am recommending will help ensure you have a hassle-free trip.
Choose from three types of travel services
1. Travel with the world's best small group company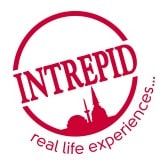 Over the past few years, I have been actively searching for travel partners, companies who I knew I could recommend without hesitation. In the category "small group, affordable" I could find no better company than Intrepid Travel. What do I like about them, aside from hanging out with a great group of people in their Toronto office? I like their philosophy, style of travel, commitment to local communities and the very compelling range of tours they offer! Intrepid Travel and Breathedreamgo have something very important in common, a commitment to an authentic style of travel that immerses you into the culture.
With Intrepid, you can choose from three styles of travel:
Basix: For travellers on a budget, Intrepid Basix trips keep inclusions to a minimum. They're about value and lots of free time to choose the activities and extras that you want to do
Original: The classic Intrepid style. These trips come with some included activities and stay at more hotels than Basix trips. The perfect choice for those who want a taste of everything.
Comfort: Designed for those who want more inclusions, Intrepid Comfort trips offer a higher standard of accommodation, larger, roomier vehicles and more included activities.
2. Choose a fully customized tour with all the bells and whistles
3. Pick and choose the travel services you need in India and South Asia — and especially Delhi
If you only need specific services — such as airport pickup or a car-and-driver or a hotel booking –I can arrange that, too. I am working directly with a travel company based in Delhi, and I can help arrange your specific request.
4. Get help with itinerary planning or travel advice
If you just want a one-on-one consultation, check out my PivotPlanet bio and book a conference call.
Whichever you choose, you will get personal service … from me!
I know India. I have travelled from one end of the country to the other, mostly by myself, on six trips totalling 17 months, over the last seven years. I have gained a lot of knowledge and skill about where and how to travel in India — and yes, travelling in India is a skill!
If you book a tour, you get an orientation package from me; and also either 30 or 60 minutes of my time (depending on which tour you book). You can use the time for itinerary consultation or to get advice and tips on what to bring, what to wear, and where to go, what to eat, etc.
So, if you are longing or planning to go to India, contact me at travels [@] breathedreamgo . com to find out more. To get on the mailing list for announcements, please sign up in the side bar.
If you enjoyed this post, you can….
Get updates and read additional stories on the Breathedreamgo Facebook page.
Buy Song of India, a collection of 10 feature stories about my travels in India. E-book version is now only $1.99.
Subscribe to the free — and inspiring! — e-newsletter, Travel That Changes You.