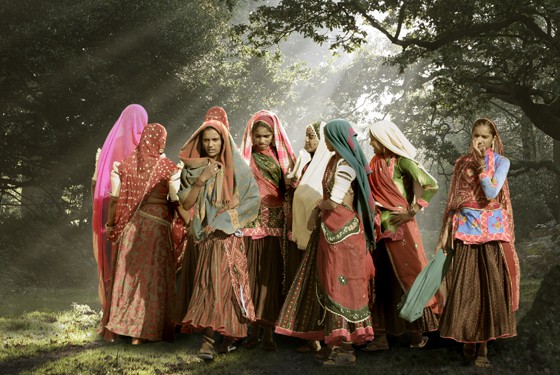 Come with me on a women-only tour to India!
Have you always wanted to go to India, but didn't know where to start? Are you a woman; and does a women-only tour appeal to you? Join me on an Indus Travels WOW (Women Only Worldwide) Tour called the Southern Jewels of India. We will learn about henna hand painting, cooking indian food and wearing a sari; we will visit a spice plantation, tea garden and tiger reserve; and we will see many of the glorious sites of South India such as the magnificent Sri Meenakshi Temple in Madurai, the delicate Shore Temple in Mamallapuram, the historic trading port of Cochin and the famous backwaters of Kerala. To find out more about the tour, including dates and prices — and to find out how to get the Breathedreamgo discount, continue reading.
I will be joining the Southern Jewels of India Tour that begins in Chennai on February 17, 2013 and runs for 11 days, ending in Cochin, Kerala on February 28, 2013. To find out other dates, prices and itinerary details, visit the Indus Travels website. Join me on the tour and get a 5% discount by downloading this Breathedreamgo Discount Coupon.
Interview with Indus Travels about WOW (Women Only Worldwide) Tours
1. Why did you decided to offer Women Only trips? And how long have they been running?
Over the last few years we have been getting requests from a lot of our female clients about women-only tours. A lot of the time women want to explore destinations like India, but they do not have companions. They want a trip in which they feel secure that also include activities to their liking. We started with two trips to India and they were a huge success. We have been running these tours for last two years now.
2. How do you think women will benefit / have benefitted from travelling together?
The WOW program enhances the travel experience for women because it concentrates only on what appeals to women. It provides for women the uninhibited pleasure of travelling their way, doing what they enjoy most without compromise and in the company of like-minded friends.
3. How are the itineraries or travel experiences different for women only trips?
All of our trips are lead by local female guides and includes activities that are women friendly. We also include at least one activity where you can interact with local women and get to know day-today life in that country. The trips also include optional volunteer opportunities.
4. What are the destinations that you offer? How did you choose the destinations and itineraries?
– We pick destinations that are perceived as difficult destinations for women travelling alone. By offering trips to these destinations, women can travel in a safe and nurturing environment and enjoy the activities they like. At present we are offering tours to India, Egypt, Morocco, China, Vietnam, Peru, Italy, Iran. We are working on trips to Russia and Japan also.
Women only tours to India are popular!
Indus Travels is an excellent company, with offices in India and Canada. I know them well and feel very confident travelling with them and recommending them. And I also know other top-notch companies that offer women-only tours. To get another perspective and find out more about the benefits, I asked my friend and colleague Beth Whitman of Wanderlust and Lipstick about her women-only WanderTours to India and beyond.
1. How do you think women benefit from travelling together? What feedback have you had?
Personally, I had no idea how much fun it would be to travel with a group of women. I grew up with three brothers and to be able to share travel experiences with like-minded women has been like having an instant family of every-changing sisters. I've developed some wonderful friendships out of it and have seen women bond and develop their own very close friendships, too.
Many of the women on our tours say that they have never been on a group trip before but because they are to such off the beaten path destinations, sometimes it's the only way to see that country. They end up loving the experience and we have a very high return rate – women who are coming back tour after tour.
2. How are the itineraries or travel experiences different for women only trips?
Well, I think there's a lot more personal talk on women-only tours compared with our co-ed trips. There's also more shopping! Seriously though, the women are always so interested in the culture and they want to visit homes (which we do) and really get to know the locals. Some men are interested in that to a lesser degree, but often it's the women who are driving those sorts of interactions.
We have tours to India, Bhutan, Vietnam & Cambodia, Burma, Papua New Guinea and are now running culinary tours to Santa Fe and Seattle. Oh, and we have a fantastic river rafting trip down the Rogue River in Oregon.
I generally choose the destinations based on my personal interests. I figure if it's a place that I'm passionate about, I can get others to be passionate about it, too. I work very closely with local tour operators on the itineraries. It's a mixture of their suggestions and what I think our participants will really enjoy. We generally don't announce the following year's tour until after we've completed the current year. This allows us to change the itinerary based on feedback from the most recent participants.
Feedback from a guide
And finally, I asked Dianne Sharma-Winter, who lives in India and leads tours. She said, "I think that people who pick women only tours to India are doing so because they want to step into the story of India and not be bussed from one attraction to another. I focus my tours on understanding that women want to meet other women, go to beauty parlours, be spoiled and charmed and shop. I watched one client text up a storm when I took her to my local salon, telling friends in Canada about her mani pedi and I never see them do that from a museum for instance."
So, what are you waiting for? Download the Discount Coupon and click here to book your WOW Southern Jewels of India tour. If you have any questions or comments, please leave them in the comments below or contact me at mariellen  [@] breathedreamgo. com
[DISCLOSURE NOTE: I will be the guest of Indus Travels on this trip and paid to write about it. But as always, views expressed are my own and are in no way influenced by accepting a hosted trip. I will not compromise the editorial integrity of Breathedreamgo. I am in partnership with Indus Travels because I know, trust and recommend this company.]
If you enjoyed this post, you can….
Get updates and read additional stories on the Breathedreamgo Facebook page.
Buy Song of India, a collection of 10 feature stories about my travels in India. E-book version is now only $1.99.
Subscribe to the free — and inspiring! — e-newsletter, Travel That Changes You.