Donate and win $500 towards an Indus Travels tour
Donate $10 or more to help build a village in south India and you could be going to India with Indus Travels! Award-winning tour operator Indus Travels has generously donated a $500 gift certificate towards any of their tours as a prize for making a donation in the annual Passports with Purpose fund raising drive. To enter the contest, visit the Passports with Purpose website and make a donation, which will go to Land for Tillers' Freedom (LAFTI), a non-profit organization that is focused on changing the conditions of the Dalit caste or India's "untouchables." The video explains how a tragic event inspired the founder of LAFTI to help save Dalit's from double slavery.
Created by four Seattle-based travel bloggers who act on the power of travel to make change, Passports with Purposes goal is to raise $50,000 to build a village in Tamil Nadu, India through the Friends of LAFTI Foundation. Passports with Purpose will begin on November 15 and end on December 13. Many travel bloggers are participating in this fund raiser, and there are loads of great prizes to be won. See the Passports with Purpose website for the complete list.
About LAFTI, this year's recipient
Each year, Passports with Purpose chooses a beneficiary for their annual fund raising efforts. Last year, 2009, they raised $30,000 USD and built a school in Cambodia. This year, 2010, they are looking to raise $50,000 USD for Land for Tillers' Freedom (LAFTI) and their non-profit branch based in the U.S., Friends of LAFTI Foundation.

With its home office in the village of Kuthur (Tamil Nadu), LAFTI's mission is to liberate Dalit women and their families through projects such as land distribution and cultivation, housing construction, adult training and youth housing and education.
For more than 50 years, LAFTI's founders – Krishnammal Jagannathan and S. Jagannathan – have been committed to helping Dalits (India's untouchables). For less than $2,000, LAFTI can build a home, for which the land title is given to the woman of the household. Passports with Purpose aims to raise enough money to build approximately 25 homes to create the Passports Village in Karunganni, located in the state of Tamil Nadu.
According to Krishnammal, "Orathur villagers are firmly determined to build new houses. They are very eager to contribute their labor towards house building."
Help Passports with Purpose raise funds to help these determined villagers create a better life for themselves and their families.
About Indus Travels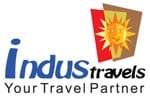 Indus Travels is devoted to bringing the best in both quality and value to custom tours to India, Nepal, Sri Lanka, Maldives, Turkey, Egypt, Jordan and Dubai. The company concentrates on designing tours that introduce travelers to the amazing complexity of culture and environment, and they strive to offer these tours at unbeatable prices and with unparalleled comfort.
While most tour operators specialize in packaged group tours, Indus Travels' itineraries cater to travelers looking for a highly personalized, flexible travel experience. Most of their tours are private and can be customized, so you can spend as long as you like at sights and places you want to visit.
About Passports with Purpose
Passports with Purpose is a collaborative online fundraiser created in 2008 by four Seattle-based travel bloggers: Debbie Dubrow, Pam Mandel, Michelle Duffy and Beth Whitman, the bloggers behind Delicious Baby, Nerd's Eye View, WanderMom, and Wanderlust and Lipstick.

Passports with Purpose initiatives have benefited Heifer International and American Assistance for Cambodia. For more information visit the Passports with Purpose website.
To enter the contest to win this prize and many others, just make donations in on the Passports with Purpose website. Donations go directly to Friends of LAFTI.
If you enjoyed this post, you can….
Get updates and read additional stories on the Breathedreamgo Facebook page.
Buy Song of India, a collection of 10 feature stories about my travels in India. E-book version is now only $1.99.
Subscribe to the free — and inspiring! — e-newsletter, Travel That Changes You.