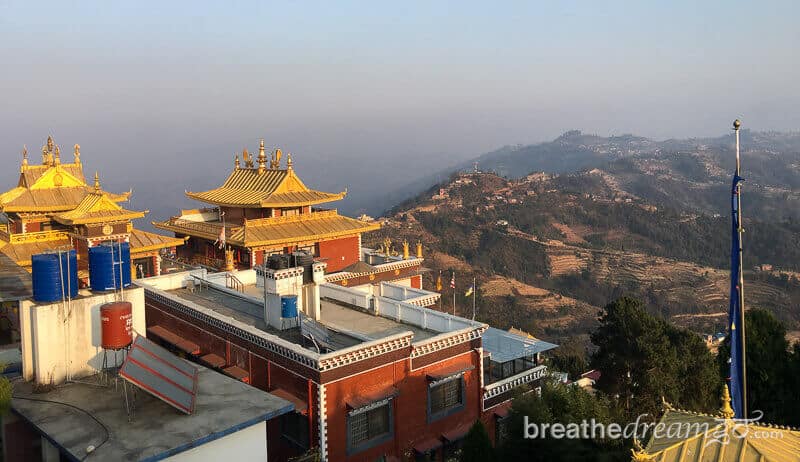 A multi-day, low altitude Nepal trekking tour
If trekking in Nepal is on your radar, but images of hikers sweating their way up steep ascents and over high altitude passes puts you off, there is an answer. There are much easier multi-day treks, at lower altitudes and with cushier accommodation, available throughout Nepal that still offer stunning views of the Himalayas, friendly people, travel adventure, exposure to a rich culture, and the beauty of the great outdoors. Thanks to Better Places Travel for hosting me in Nepal — and helping me discover this country for the first time.
Like many travellers, I was mostly aware of Nepal as one of the world's best trekking destinations. Trekking in Nepal is on many people's travel bucket lists, and treks to Everest Base Camp and the Annapurna circuit are legendary, and attract many Himalayan hikers. But I wanted to start with a shorter, and lower altitude trek.
I went to Nepal with Better Places Travel, a responsible travel company that arranges custom tours and travel services in a number of countries, including Nepal. My itinerary included several days in Patan, one day in Thamel, Kathmandu and a short, low-altitude Nepal trekking tour in the Kathmandu Valley. I was both there for both trekking in Nepal and also to visit Nepal tourist places.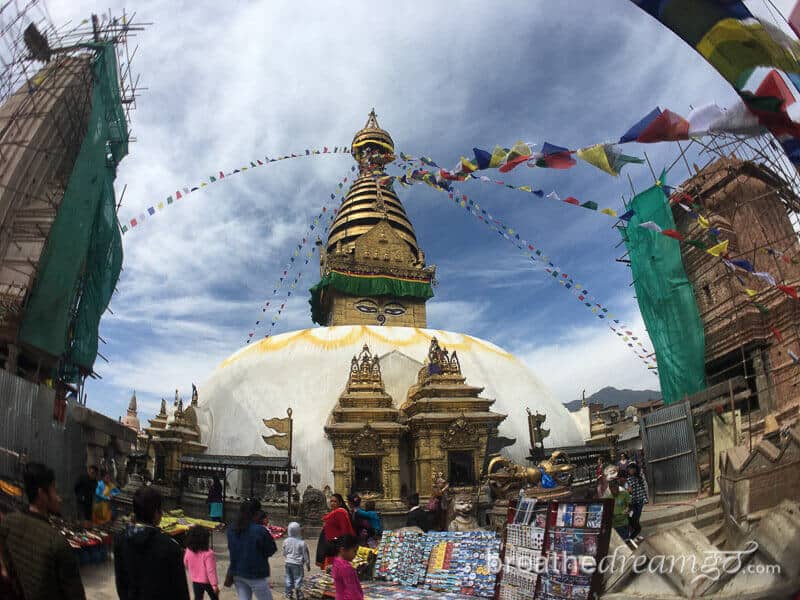 Like most travellers to Nepal, I started my journey in Kathmandu. I stayed in both Patan and Thamel, so I was able to get a feel for the city from two different vantage points. In Patan, I stayed at Swotha Traditional Homes, a small inn that I absolutely loved. Patan is a city just south of Kathmandu, known for heritage buildings, a centre for Newari culture, and a thriving local artisan's community. It was badly damaged by the 2015 earthquake, but is rebuilding.
Swotha Traditional Homes is in a red-brick and wood-trimmed heritage building that is more than 90 years old. But it has been stylishly and artfully updated to make it attractive and comfortable for modern travellers – while not losing any of the charm or significance of the original structure.
I liked my room immediately, and found it charming, warm, and spacious. Sun streamed in through four floor-to-ceiling shuttered windows and cast the wooden trim, polished stone floor, and raw cotton curtains and bedspreads with a warm glow. With only seven rooms, Swotha Traditional Homes is a small and cosy place, but it has everything a traveller could need. The location, right in the heart of Patan between Patan Durbar Square and the Golden Temple, is also ideal. You can walk most of Patan right from there.
Read more about this fascinating city in my Guide to Best Places to Visit in Kathmandu.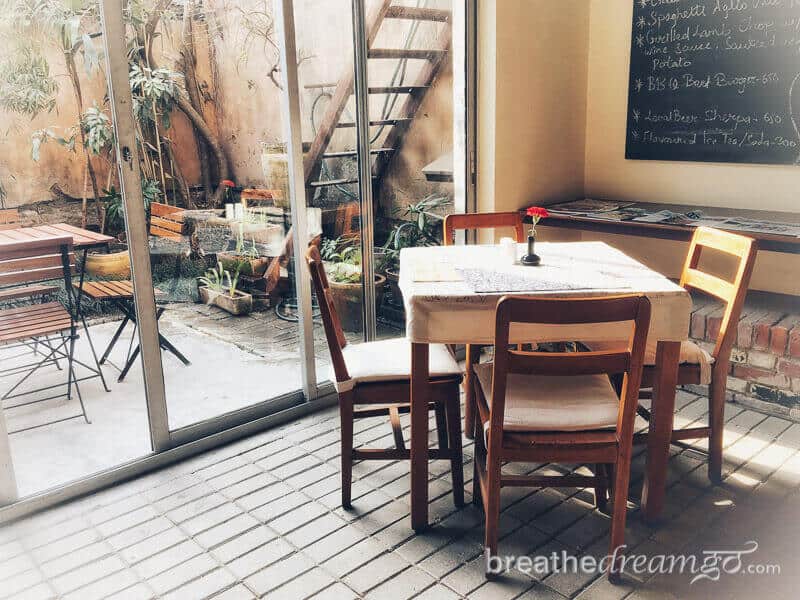 After a few blissful days at Swotha Traditional Homes, I left on a three-day Nepal trekking tour in the Kathmandu Valley. I met my guide Chuda Mainari and our porter Rupesh Lama and together we took a bus from the Kathmandu central bus stand. We could have taken a taxi, but to save money, experience local life, and reduce our consumption, we decided on the bus.
We left Kathmandu at about 9 am and were well out of the city by 10:30 am. After passing a few large towns, we changed buses at Panauti, where we felt we had left the city far behind. We noticed the air was noticeably fresher – a bit cooler and a lot cleaner – and the pace of life seemed to slow down, while the vistas opened up. From the bus, we could see the white peaks of the Everest range silhouetted against the bright blue sky.
After bumping along a dirt road for about 20 minutes, we got off the bus at Kopasi and started walking. We crossed a pedestrian suspension bridge and immediately entered a pine forest. For the next hour or two, we walked alongside farmer's fields and up mountain tracks until we reached the village of Balthali.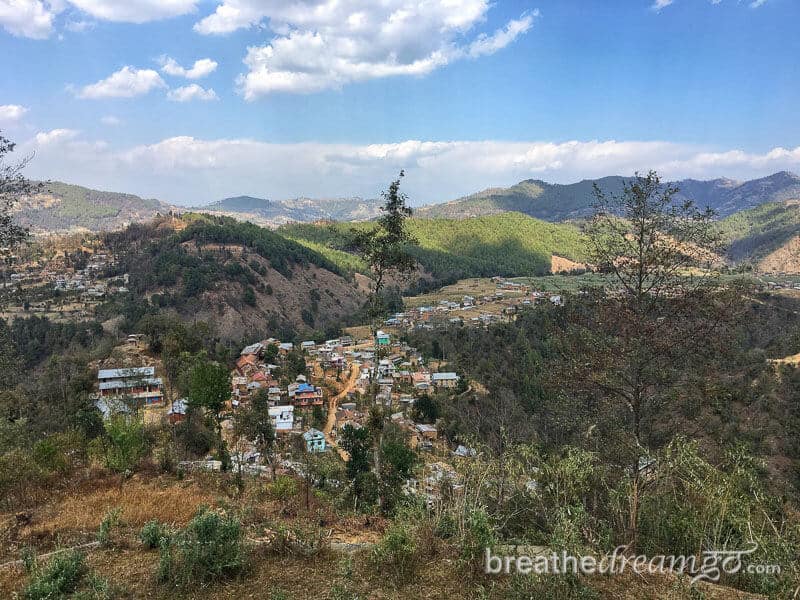 Like most Nepali villages, the people of Balthali subsist largely on agriculture. We saw people working in potato, mustard, and rice fields around the village, and saw how they live closely with their animals – chickens, cows, goats, and buffalo. Balthali was hit by the April 2015 earthquake, and many homes were damaged, but luckily no one was killed. We saw several new houses, in various stages of completion – and the new houses are a lot bigger and more modern than those they replaced.
From Balthali village, we hiked up a steep hill, to get to Balthali Village Resort. This sprawling resort is enviably located on a hill with great views, and is a popular stop for trekkers and families. While the original resort is about 20 years old, some newer room blocks are fresher and built to offer panoramic views. My room had two windows facing west, and an entire glass wall facing towards the snow-capped mountains, plus a small patio. It was amazing to wake up and see the mountain views Nepal is famous for without even getting out of bed.
Balthali Village Resort has several outdoor and indoor dining options, depending on the weather. The food is simple and basic, but very fresh. I saw a man delivering a big bundle of fresh, organic mustard leaves from the village in the afternoon, and ate them sautéed that evening at dinner. Rice, dal, chicken curry and a very yummy dessert – apple fritters cooked in custard powder – rounded out dinner.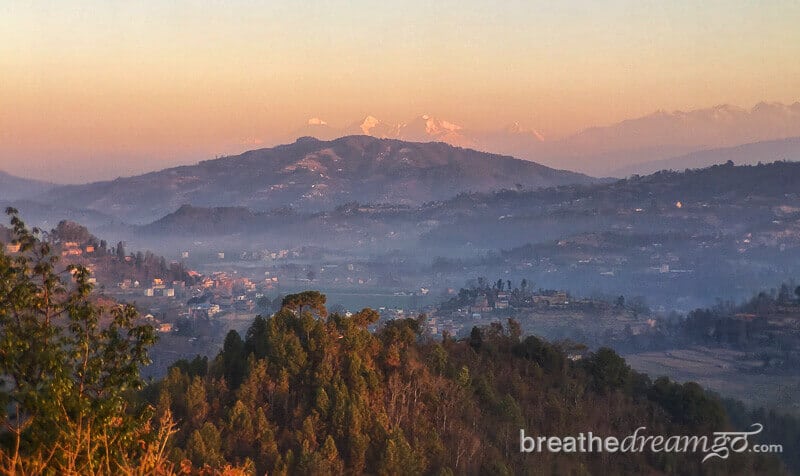 After dinner, I stood on the edge of the property and peered into the darkness. I saw scattered lights glittering across the mountains around me, and stars above glittering in the pitch-black sky. The boundary between heaven and earth seemed to dissolve for a moment and I felt a flickering of joy inside. It was the joy of the moment, the joy of existence. No need for anything else.
For so many years I chased a symbolic star around India. I had an idea that I was looking for something and that the star signaled I was on the right path. This star, and this search, made life meaningful and worthwhile to me, and helped me get through some of the worst times. I was floundering and I had hung all my hopes, dreams, and reasons to live on this search for meaning. But in this moment, the magic of the Himalayan foothills shone down on me, and I realized I am not searching anymore. Life is made up of significant moments. That's it. There is no "there." There is here. Here is now. If you miss the eternity in the flicker of a star, you will never find it.
As I wrote this in bed in Balthali, I could hear the strains of local music coming up from the village below. Plaintive voices singing to melodies that sounded a bit Indian to my untrained ear. A flute traced ornate oriental patterns in the air, and the female voice was high-pitched and sweet. Maybe Krishna and Radha were singing love songs to each other.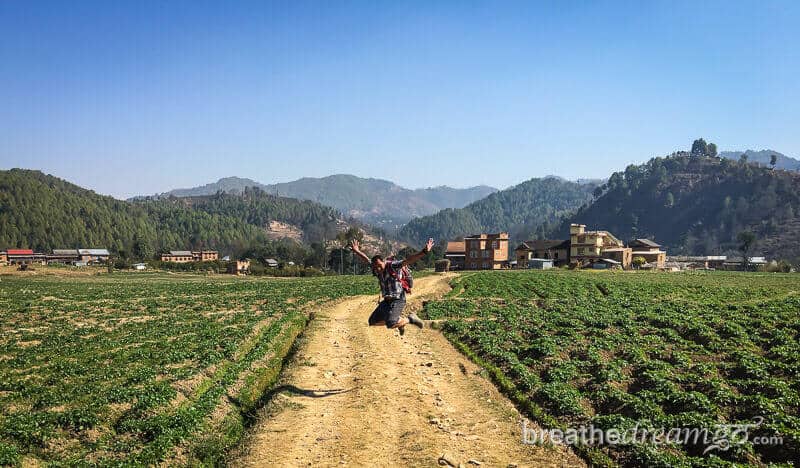 The next morning, the sun came up to the right of my panoramic view, and the white peaks appeared like ghosts lined up against the horizon. They didn't seem real, they seemed more like apparitions floating across the skyline, presiding over the villages splashed across the face of the foothills. It was an enthralling site to wake up to, completely mesmerizing. I kept looking away and looking back, surprised they were still there as the sun made its ascent.
After a hearty breakfast, which we ate outdoors as the sun warmed the air, we left at 9 am for our trek to Namo Buddha. It was a bit arduous for me, but for a more seasoned hiker in better shape, it would not be that difficult. It was more than twice as long as the one from Kopasi to Balthali, at four hours, and required two very steep ascents up sizable hills, plus a hot and very dusty walk along a dirt road.
As we got closer, we could see the prayer flags of Namo Buddha covering the hill just below the monastery. I kept those prayer flags in site as I huffed and puffed my way up the steep hill. Finally, we reached the top where a large and elaborate Tibetan Buddhist monastery, Thrangu Tashi Yangtse Monastery, is located.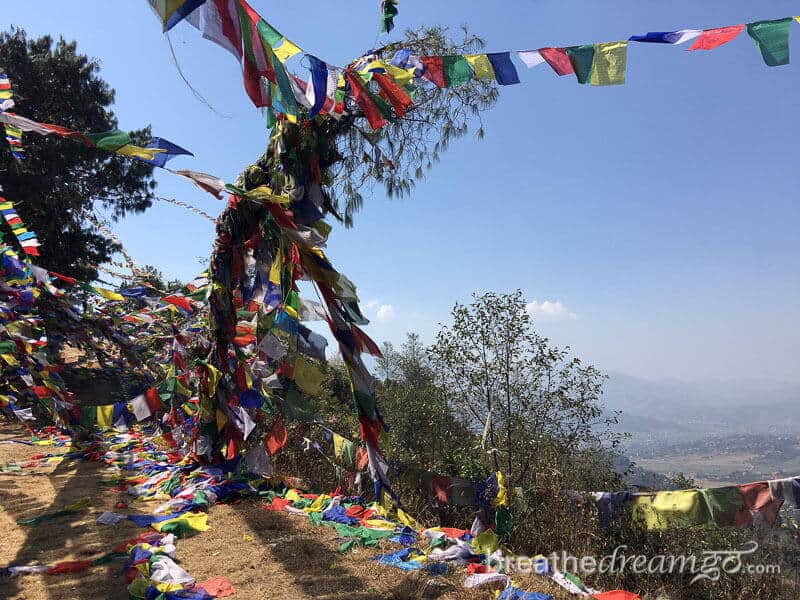 Namo Buddha is a sacred mountain, revered by Buddhists. It is said that Buddha, in a previous life as a prince, encountered a starving tigress here, with three small cubs. Out of compassion, he gave his life to feed the tiger and cubs. Henceforth, Namo Buddha is known to be a place of great compassion.
The views from Namo Buddha, which is at a higher elevation than Balthali (1,800 metres), are stunning. When we arrived, we could see a long range of white-capped Himalayas, before the afternoon haze set in. The air here was a bit cooler too, and a fresh breeze kept the many prayer flags briskly flapping. Along with the experience of visiting the Tibetan Buddhist monastery, I really did feel I was in the Himalayas.
The monastery has a guest house for visitors, and many trekkers stay there. The rooms are simple but comfortable, and the bathroom is shared. You can eat a simple meal with the monks (momos and Tibetan tea) or buy meals at a café near the guest house. The monastery also offers education, nutritious meals, and, potentially, a vocation as a monk to hundreds of underprivileged local boys. Watching them in their red robes – identical to those worn by His Holiness, the Dalai Lama – they seemed like fit, healthy, and typically playful boys.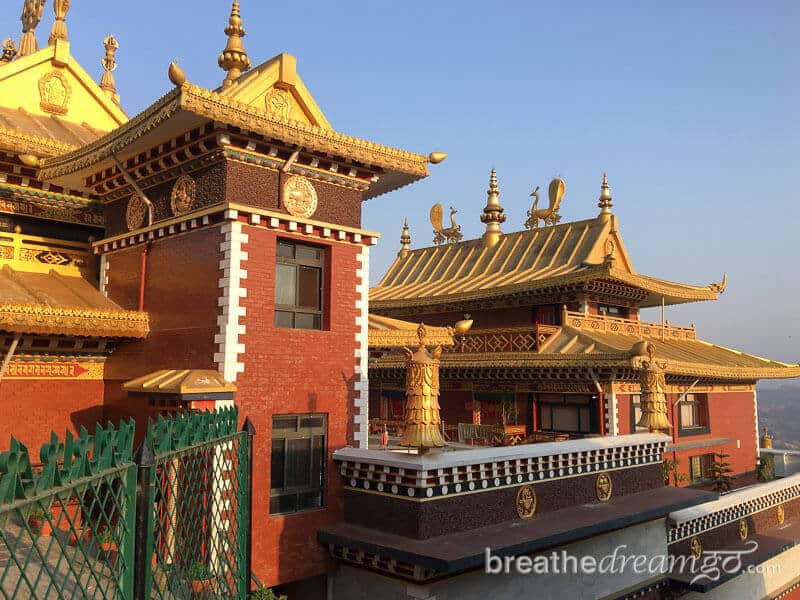 The highlight of staying at Namo Buddha was joining the monks for prayers, which they do in the temple twice a day, 6 am and 6 pm. We sat on rug-covered benches at the back and watched the young monks recite their prayers to the accompaniment of loud vibrating gongs, bellowing conch shells and shimmering cymbals. The sound resembles a celestial thunderstorm. It's a sound I associate with the Himalayas, and it always makes my spine shiver.
In the large room where prayers are held, virtually every surface is covered with brightly coloured silk, red-and-gold wood carvings, Thangka paintings, and other elaborate and ornate designs. The walls are covered in fantastic murals, Oriental scenes of celestial kings, blue multi-armed demons, and beautiful women playing stringed instruments and floating among opulent clouds. It is a sumptuous room designed to look and sound like a heavenly abode and to impress you into thinking higher thoughts.
On our last morning, I woke just before dawn to take photos of the sunrise from the rooftop of the guest house, and to take in deep draughts of the fresh, clean, mountain air. It's absolutely pristine, and just as valuable as the billion-rupee view.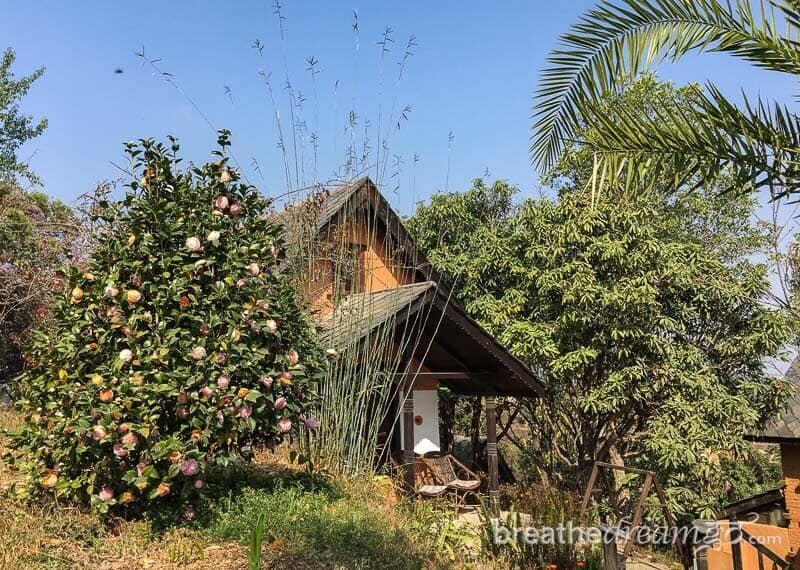 Then we began to walk down the road from the monastery, stopping for breakfast at nearby Namo Buddha Resort. Ideally situated on a hilltop with great panoramic views, Namo Buddha Resort is a very special place. Created by a German couple about 10 years ago, the resort is more like a small, charming village – virtually out of a fairy tale. Cobblestone paths lead through gardens bursting with colourful flowers that sway in the Himalayan breeze. Houses of various sizes, made of wood and plastered brick, with slate roofs, verandahs, and shuttered windows, are scattered throughout the property, offering 15 rooms in total. Inside, the rooms are cosy and décor is of Nepali origin, including woven bedspreads and drapes and hand-made tiles in the washrooms.
The centre of the resort is the dining building, with indoor and outdoor seating areas, and even a slightly whimsical rooftop, created during earthquake repairs. Next door is the kitchen building, which is impressively spacious, seems much more like a European kitchen and features a wood burning stove, an ice cream maker, a massive fridge, an espresso machine, and many other cutting-edge amenities. Needless to say, the vegetarian food that comes out of the kitchen – some of it grown in vegetable gardens on the property – is fresh, artful, and delicious.
Owner Ingrid Schneider gave me a tour. She was proud to proclaim they do not use plastic water bottles at all – instead they refill glass wine bottles and place them on all the tables and in the rooms.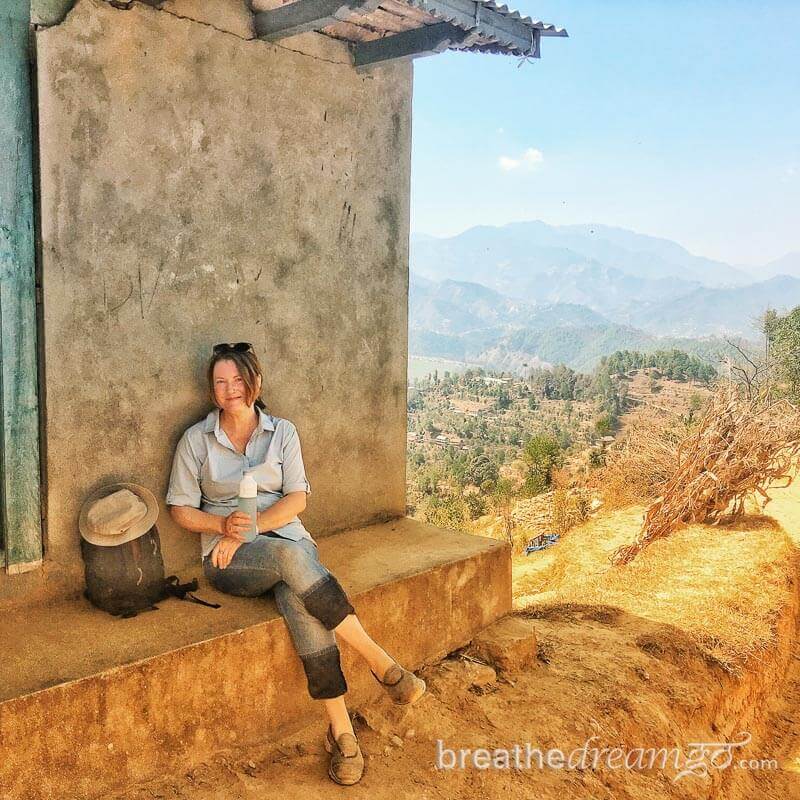 After breakfast we walked for about 30 minutes along a new road that's in the process of being built until we flagged down a local bus. We jammed ourselves in, standing with others in the centre aisle, as we careened down a winding mountain road. A bus change at Dhulikhel and we were on our way back to Kathmandu.
The entire trip back to bustling Kathmandu took just over two hours, which isn't long at all, but it seemed like a different world. The peace and beauty of rural Nepal is a treasure, and you don't have to travel far to find it. A multi-day, low altitude trek in the Kathmandu Valley is a great option for those with time constraints or who want a less arduous Himalayan trekking experience.
My final stop was where it all began. The Kathmandu Guest House is one of those iconic hotels, legendary for both its place in local history and folklore, and for the people who have stayed there. Celebrating 50 years in 2018, it opened in Thamel in 1968 when the area was just farmer's fields. The Thamel we know today, as the tourist hub of Kathmandu, grew up around the Kathmandu Guest House, and this was the place many writers, explorers, mountaineers, and celebrities stayed.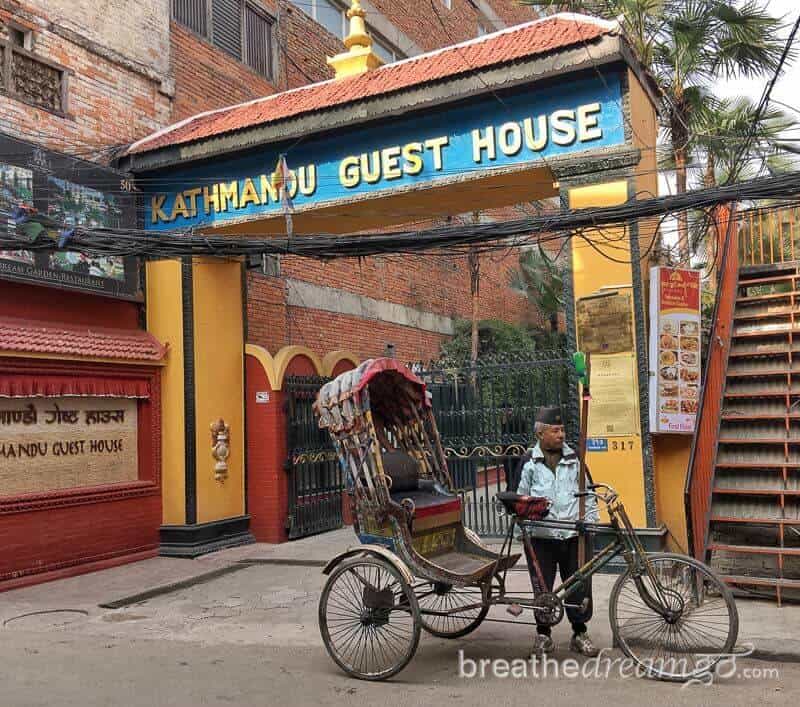 Throughout the public areas, the Kathmandu Guest House pays homage to its many famous guests, with plaques and even a walk of fame. The Beatles Café honours the fab four, and a suite is named after Japanese mountaineer Yuichiro Miura, who summited Everest at the age of 80. Writer Peter Matthiessen wrote The Snow Leopard in the garden, and the Wheelers reviewed it in the first Lonely Planet. More than a hotel, the Kathmandu Guest House is living history.
As I travelled around Kathmandu, and in the Kathmandu Valley, I started to learn about other communities in Nepal. Though only about 10% of Nepalis are Buddhist, and the majority are Hindu, Buddhism and Hinduism in Nepali seem to effortlessly meld. You might see elements of Buddhism at a Hindu temple, and elements of Hinduism at a Buddhist shrine, for example. There's even a ceremony where people are paired with someone from one of the other religions in Nepal – to bond, and learn about each other's customs and traditions.
After only a week in Nepal, I had just enough time to scratch the surface of the culture and learn a little about the patchwork quilt of ethnicities that make up the unique nature of this Himalayan country.
---
More resources
You can find out more about trekking in Nepal from this site, Great Himalayan Trails.
And to read up on Nepal, lots of great articles in Inside Himalayas, an online magazine.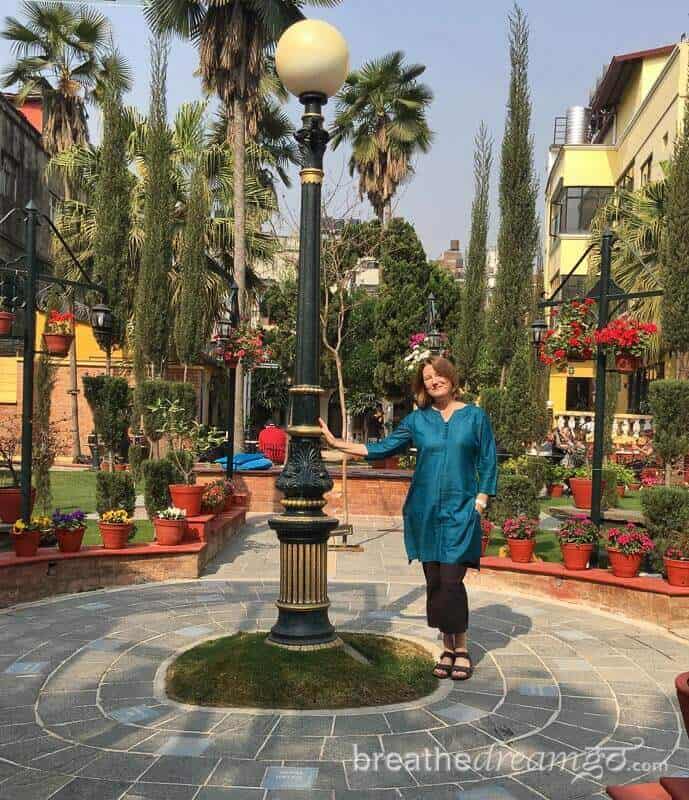 ---
Thanks to Better Places Travel for hosting me in Nepal and taking care of all travel arrangements, guides, and accommodation.
---
Please PIN on Pinterest

---
If you enjoyed this post, you can….
Sign up for Dispatches in the sidebar and follow Breathedreamgo on all social media platforms including Instagram, Facebook, Pinterest, and Twitter. Thank you!