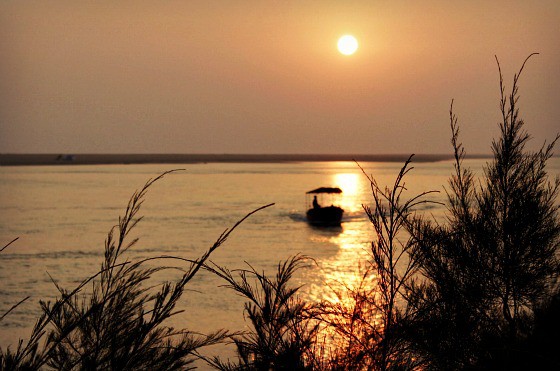 On the beach in Odisha from sunrise to sunset
I feel like The Little Prince sitting here, watching the sunset from the beach on the Bay of Bengal in Odisha; and tomorrow morning I will be able to see the sunrise from the same beach. It's a strange twist of geography that you can see the sun rise and set on the same beach in Odisha.
I am back at the Lotus Eco Resort in Konark after about 10 days in Odisha, relaxing before I move on (read my first Odisha blog: Here comes the sun.). When I was here last week, it was for the Konark Festival. I went three nights and then moved on to Puri. That was a mistake. I should have stayed for the entire festival, not just three days; and I hope to come back another year for the entire festival. But luckily there is lots more to do and see than just this world-class festival!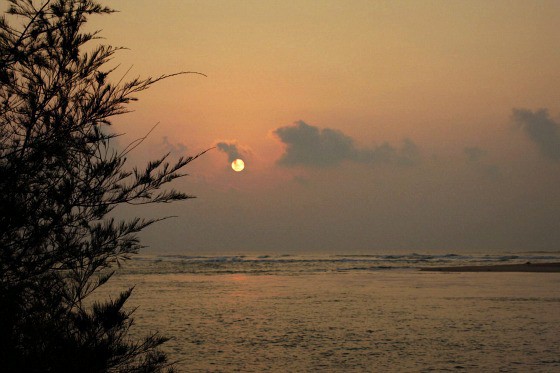 From Konark, it's a short drive along, or near, the coast to Puri. On the way we stopped at the Hariharananda Ashram. I didn't know anything about this place until I arrived, and was given a tour by an ashramite, a woman of Indian origin named Bibi, who lives In Australia. Turns out it's a kriya yoga ashram — Paramahansa Yogananda, author of the spectacular Autobiography of a Yogi, is in this lineage — and this ashram is the primary campus in India. I was really thrilled to see his picture in the yoga hall, as I love that book.
Follow my South Asia Sojourn from October 2012 to May 2013 — a six-month blogging trip through India, followed by a search for my family roots in Ireland. Subscribe to Breathedreamgo in the "Get updates by email" box to the right.
The ashram is spread out over extensive grounds, deep in the jungle. "In the monsoon, many snakes and turtles appear," Bibi said. Presumably she meant cobras, though she didn't say it. My favourite part of the ashram was the nature walk past memorials to all the world's "great" religions, among them Hindu, Christian, Muslin, Jain, Sikh, Jewish, etc. I saw several foreigners and met one Canadian (from a city near Toronto), who is there taking a course.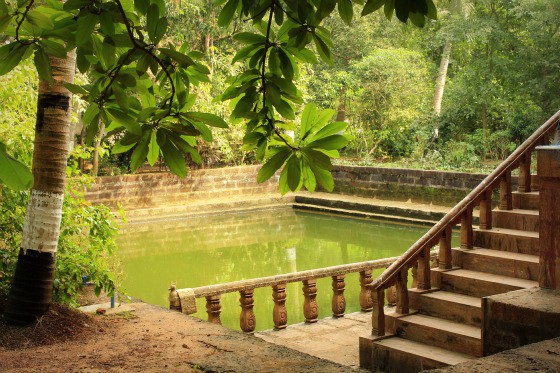 I didn't stay long, just long enough to ascertain that although I loved the grounds, and appreciate the work they do, the ashram was not for me. I didn't like the way they treat the guru: everyone stops, in silence, while he walks by, as if he is royalty. I much prefer my gurus to be more down-to-earth, like Yogi Vishvektu of Anand Prakash Yoga Ashram, Rishikesh and Swami Brahmdev of Aurovalley Ashram, Rishidwar. They wouldn't let you put them on a pedestal, no matter how hard you tried.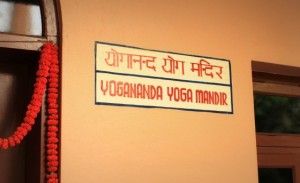 I respect my teachers of course, but I think it's the teachings that deserve extreme reverence; not the humans. Humans are fallible. And it is my inner guru, my consciousness, that deserves the most respect; the part of me that is divine in nature.
Then we drove into Puri, and it was a long drive through town, along the seaside, to get to my hotel. Puri reminds me of Niagara Falls, but with an ocean and Hindu temples. The beach is long and wide — but shadeless and dirty. The hotels that line the coastal road are garish and shabby. And right in the middle is Swargdwar — a very active cremation grounds, across the street from the night market. Apparently about 40 bodies are cremated here every day, out in the open, and anyone can walk in, as long as you are respectful and don't take photos. Even with my extensive Indian travel experience, it was jarring to see families dressed up in sparkly synthetic clothes, eating ice cream, and walking past the cremation grounds — which do smell, as you can imagine. Unsettling is the word that comes to mind. But that's India for you. "All life is here."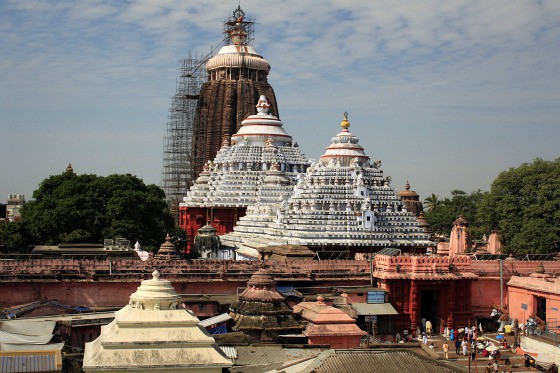 By far, the highlight of my stay in Puri was taking photos from the roof of the library across the street from Jagganath Temple. According to Hindu mythology, Lord Jagganath is the creator of the universe, and his mighty temple in Puri is a major pilgrimage centre. Each summer, during the car festival, a massive chariot bearing Jagganath's image is hauled out of the temple by hundreds of pilgrims and paraded down the very wide street in front. In times past, some in the frenzied mob would throw themselves in front of the gigantic, unstoppable wheels — much to the horror of the British Raj, who coined the term "juggernaut."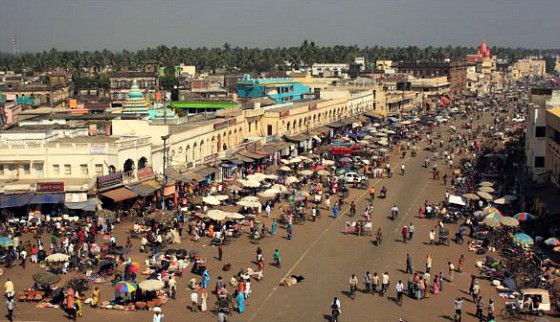 Jagganath Temple does not allow anyone who is not born Hindu to enter, so I had to make a 200 rupee donation to ascend a crumbling library across the street, to take photos from about four stories above. Rather than resent this exclusion (which seems counter to the Vedantic ideology of "oneness" upon which Hinduism rests), I loved watching the unfolding scenes below, and shooting them with my telephoto lens. I thought of the Canterbury Tales as I watched the passing parade of pilgrims.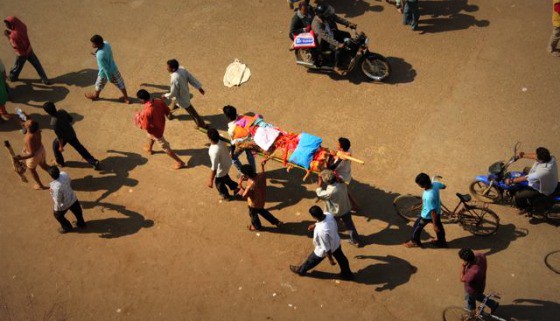 On the street below, I saw a marriage procession with live musicians sitting in a train-like vehicle, a musician in each small box-like coach. I saw two funeral processions walk past, the bodies wrapped in colourful shrouds and lying on stretchers, held aloft on the shoulders of mourners. I saw families dressed in finery, buying sweet pastries (up close, I knew the sweets were swarming with flies). I saw beggars pouncing like panthers on passing targets.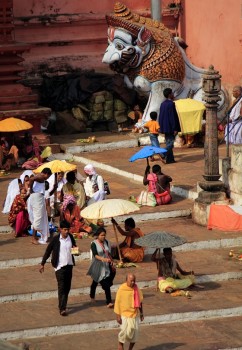 And in the temple itself, I could see a swarm of workers, men in white lungis (loin cloths), carrying earthenware vessels. In the first courtyard, in front of the huge entry doors, I could see families assembling to go inside the temple, and pandits greeting them, no doubt to encourage donations. The temple employs 6,000 people — a lot of mouths to feed. It was a fascinating spectacle and just about worth the trip to Puri.
But aside from lunch at the Mayfair Hotel, my day-and-a-half in Puri was a let down. I stopped at the Mayfair because I know this small hotel chain — I toured their lovely property in Darjeeling, and also when I was in Bhubeneswar I toured their flagship Mayfair Lagoon, a very special (and very unique) hotel. I was surprised to learn Mayfair is a local company, and obviously very reputable. And I was right. My lunch at the Mayfair in Puri was probably the best food I have had in Odisha.
I met the chef, his name is Michael though he is a native of the state, and he made me a traditional thali lunch consisting of regional specialties: bekti (ocean fish) grilled in mustard and spices; vegetables like eggplant / brinjal cooked in sauce; roasted lentils — it was all light, flavourful, fresh and delicious.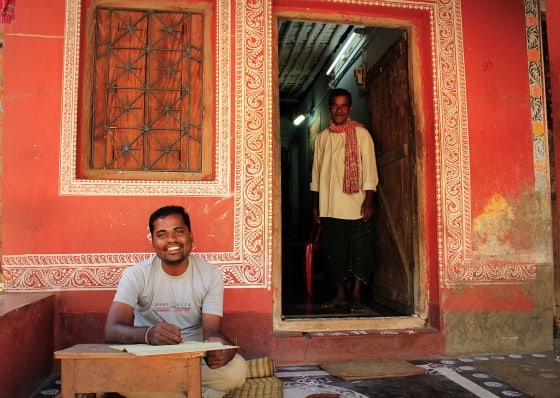 From Puri I drove back to Bhubaneswar stopping at Raghurajpur, an artists' village; Pipli, a town known for handicrafts; and the very powerful Temple of 64 Yoginis in Haripur. I enjoyed sipping tea at the home of the Baral family — everyone in the family seem to be artists; and I bought a small painting. It's a peaceful place, a little bit like a story book; and part of a community of three villages that house 1,000 artists and artisans, making palm leaves and etching palm leaves; and making the paints and supplies for a distinctive type of painting.
I don't know the truth of what it's like to live there, but for a casual person, a creative professional, I was very impressed with the amount of support these artists seem to have — mind you, I have no illusions about how hard they work. It takes months to make one of the larger palm leaf etchings and the work is painstaking. It requires great patience as well as skill, and good eyesight.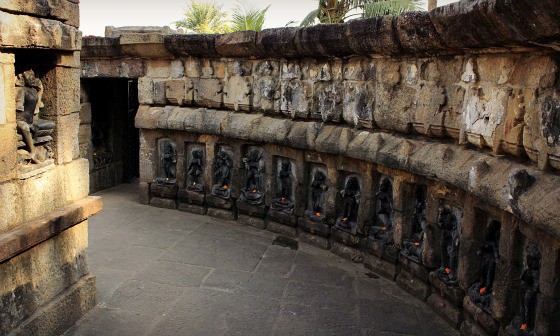 Finally, our last stop was the Temple of 64 Yoginis, a small and ancient shrine that sits in the middle of nowhere, at the end of a dirt road, beside a farmer's field, a pond and a few modest houses. But wow, what a place! It's small and very, very old-looking. The black chlorite statues of the yoginis (goddesses) are only about two feet in height, and they line the inner wall of the circular, roofless chamber. Each is beautiful, completely unique, representing a different goddess with a different animal "vehicle" — like Lakshmi and her swan, or Durga and her tiger. It has a bit of a Celtic feel to it, I thought as I ducked to enter the dark, rough-hewn stone entrance.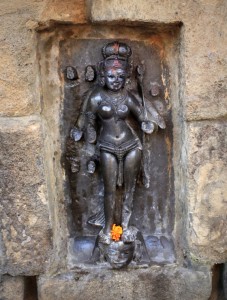 Inside, I asked the guide and the pandit to let me meditate alone. Then they proceeded to sit right outside the entrance and chat loudly until I asked them to please let me have five minutes of silence — an eternity in noisy in India!. Immediately when I entered the chamber I felt the top of my head vibrating, about two inches back of my hairline. It was the strangest feeling, not at all subtle, and I didn't know what to make of it until a friend on Facebook told me it was shakti energy. It continued to throb gently until the next day.
Back to Bhubaneswar where I was scheduled to leave the next day for Satkosia wildlife reserve — but I didn't go because I found out about the Think Literature Festival happening right at my hotel, the Swosti Premium. Instead of elephants and tigers, I saw writer Manoj Das, and actresses Nandita Das and Shabana Azmi; and I met short story writer Annie Zaidi and bought her book "The Good Indian Girl" — which I am enjoying immensely. Annie impressed me on stage by not taking any bunk from the moderator of her session, who seemed to equate bullying with moderating; and because she said she didn't agree with the tendency of Indian women to see themselves as victims.
Manoj Das, who is a disciple of Sri Aurobindo's teachings, gave the most entertaining and enlightening key note speech I have ever heard. He told stories — stories that held within them a crystal of uplifting wisdom. I felt my consciousness expand as he talked! And Shabana Azmi was also inspiring, in a different way. It's just so great to see strong, confident Indian women who take their power. She is a social activist and politician as well as an actress; and in spite of all, has retained her femininity and innate sweetness. A great role model, if you ask me.
Also in Bhubaneswar I stayed one night at the Mayfair Lagoon — but it is such a special and unique hotel, it deserves it's own blog post. Also getting it's own blog post is my interview with Odissi dancer Meera Das — whose company, the Gunjan Dance Academy, impressed me so much at the Konark Festival. And a blog about the temples of Bhubaneswar — lots of blogs to come from my two weeks in Odisha!
More thanks to Mr and Mrs Mohanty of Swosti Travels who hosted me in Odisha; the entire staff of the Swosti Premium Hotel, who worked hard to make my stay as comfortable as possible and who put up with my demands for the quietest room in the hotel; Sailaxmi, who arranged everything and has graciously put up with my whims and changes to the itinerary; and my driver Manas, an elegant, refined and good-natured man — who I would like to heap praise upon, but he is dignified and modest and wouldn't like it. So instead I will say that his little daughter Rani is lucky indeed. And finally, Manisha, who showed up like an angel when I needed you.
Swosti Travels are Odisha specialists and I highly recommend them to help make your travel plans in this state (and elsewhere).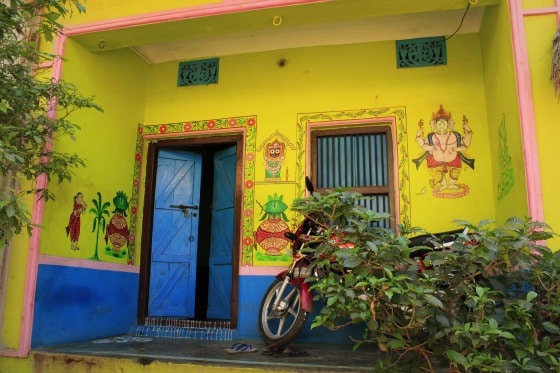 ---
If you enjoyed this post, please sign up to The Travel Newsletter in the sidebar and follow Breathedreamgo on all social media platforms including Instagram, TripAdvisor, Facebook, Pinterest, and Twitter. Thank you!