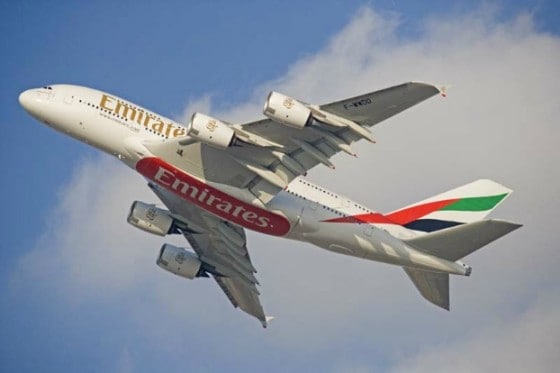 Leaving on a jet plane, don't know when I'll be back again …
Regular readers of Breathedreamgo will know that I was thrilled to be flown to India as a guest of Emirates back in October 2012. I wrote about my travel adventure in Flying Emirates to India.
On that flight, I was very lucky to have been treated to a business class seat — which was a first-class experience — but I understand that service aboard Emirates is stellar no matter where you sit, and that is largely because of the cabin crew. So I interviewed Senior Flight Stewardess Robbina Gurung (who is from India), and who has been with Emirates for nearly four years. I wanted to know from her point of view, as cabin crew, what makes Emirates special?
Senior flight stewardess talks about working for one of the world's great airlines
Q1. What's special about Emirates service?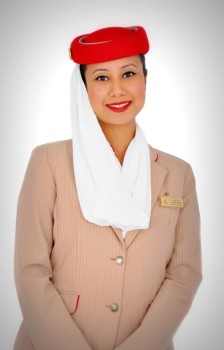 Robbina: I believe that one of the elements that makes service on Emirates so special is our tailor-made approach to suit the diverse tastes of our cosmopolitan customers. From the food we serve on-board that is designed with the destination in mind, to the in-flight entertainment, there's something to appeal to everyone. You will especially see this is the many languages spoken by crew who come from over 130 different nationalities. This is what really sets Emirates' service apart and makes it so memorable.
An example of this would be on recent flight from Rio de Janeiro to Dubai, I noticed we had a customer from India who was travelling onwards to Mumbai, and I started chatting with him in Hindi, and he was so delighted to hear his language spoken so far away from home, that I think we really made his day.
Q2. What are the most rewarding experiences you've had? 
Robbina: No two flights are ever the same, and my experience as a crew member is broad and diverse. It's particularly gratifying at the end of a flight to know you have delivered great service. On a recent flight from Bangladesh, we had an elderly customer who was also visually impaired, travelling alone to New York. She was daunted by the idea of travelling and more so, because she only spoke Bengali. I speak a little Bengali and was able to brief her on the safety aspects of the flight, helped her get comfortable and looked after her for the rest of her flight. She was greatly appreciative of being cared for and spoken to in her own language. She grasped my hands in gratitude – and this to me was extremely rewarding.
Another incident that sticks out in my memory was assisting a mother with her two kids on their flight to Glasgow. The kids were not settling in so we tried to make them feel a bit more comfortable by offering them toys, puzzles, and other things a child might enjoy, to make their flight a bit more enjoyable. We also took a photograph of the kids with the First Officer, wearing a hat, and that really made their day. We later learned that they had lost their father a month before and their mother really appreciated how much care the crew took care of her kids. We even got invited to the little girl's birthday party the following week!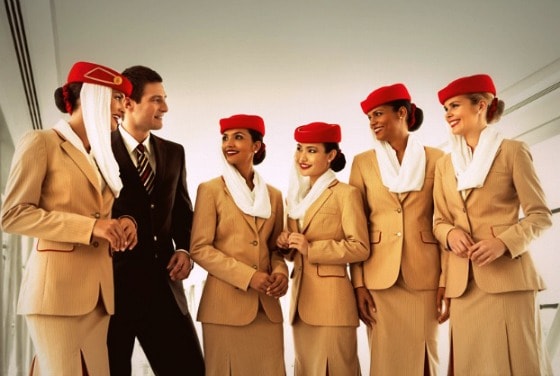 Q3. Why do you enjoy working for Emirates?
Robbina: There are many things I enjoy about my job and working at Emirates – what I like most is that each day is different. I could wake up in one country and go to sleep in another! I've always liked the idea of travel, even as a little girl. Geography was my favourite subject and I would look at my atlas imagining all the wonderful places I could visit. And now, I have the opportunity to discover these places that had once only been dots on a globe, from Brazil to Argentina and Australia. I also like the fact that I work with people from all over the world — it makes my 'office' so much more interesting!
Q4. How can people get the most out of their Emirates flight? What do they need to know?
Robbina: We have great in-flight entertainment with over 1,400 channels so that's a great way to enjoy your flight. We have a diverse menu so if you have specific tastes or health requirements, you should definitely request your meal ahead. Some of our aircraft are wifi enabled do that's a great way to stay connected and up-to-date with your work. And if you are a premium customer travelling on one of our A380 aircraft, you may just want to enjoy the onboard lounge in Business Class or the shower spa if you are a First Class passenger.
Thanks Robbina. I have enjoyed the in-flight entertainment, a specialized meal and the lounge, plus the caring and attentive service aboard Emirates — so I can personally attest to your recommendations.
If you enjoyed this post, you can….
Get updates and read additional stories on the Breathedreamgo Facebook page.
Buy Song of India, a collection of 10 feature stories about my travels in India. E-book version is now only $1.99.
Subscribe to the free — and inspiring! — e-newsletter, Travel That Changes You.