What's so special about Emirates?
Thanks to the good people of Emirates for flying me as a guest in business class from Canada to India — it was one of the great travel experiences of my life. Normally, a long haul flight of 13 or 14 hours can be a bit of a nightmare, but my business class seat (more like a mini-hotel room), Emirates' exquisite service and the ability to get up and walk to the lounge combined to make the trip more like a day dream. I wrote about this fabulous experience in Flying Emirates to India, and I've been telling friends that I felt like Homer Simpson when he flew in Montgomery Burns' plane to Chicago: they had to use an extractor to take him out of the plane!
But I wanted to find out WHY Emirates is so awesome. So I asked Emirates Canada Manager Don McWilliam, who I met at the launch of their Hello Tomorrow campaign (more about this campaign below, and in an upcoming post). So, Don, what's Emirates' secret sauce?!?
BDG: Emirates is a special brand; most people would agree on that. What's the secret sauce?
Don McWilliam: It's simple: innovative products and incredible service available to individuals on all six continents, both on the ground and in the air, coupled with incredible loyalty and reward programs for our customers. From our superb hub and soon to open Terminal 3 at Dubai International Airport (one of the busiest airports in the world), on-ground chauffeur service and Emirates signature lounges around the world, to our unique Business Rewards and Skywards programs, generous baggage allowances, all-inclusive pricing, and unparallel flight experiences – anyone who has ever flown with us knows what sets Emirates apart.
BDG: Why is Emirates a good choice for people travelling to India?
DM: Emirates offers customers amazing global connectivity, with one of the most advanced aircraft fleets in the world. Our flight from Toronto departs three times weekly – on Monday, Wednesday and Friday evenings – and connects through Dubai to nine destinations in India: Ahmedabad, Bangalore, Chennai, Delhi, Hyderabad, Kochi, Kolkata, Mumbai and Thiruvananthapuram. For Canadians on the West Coast, Emirates offers a daily flight from Seattle that also connects through Dubai, to destinations in India and beyond.
Emirates has a multi-lingual crew from all corners of the globe that, like Canada, create a true cultural mosaic. We offer passengers, in all classes, a range of meal options that cater to both eastern and western tastes. Other innovations and services to make our passengers' journeys more comfortable include 1,400 channels of on-demand entertainment on our award winning ICE system, high-speed Wi-Fi, a unique Kids Packs – which includes fun games, books, puzzles and toys, designed to keep kids entertained on long flights – and extra spacious cabins.
BDG: Emirates has a new approach to the brand and marketing. How is this likely to affect travellers and consumers? What will they find new about Emirates?
DM: Our new brand approach, Hello Tomorrow, is about connecting individuals and cultures but also thoughts, dreams and aspirations. We want to inspire people to explore the world and be curious; challenge the norm and go beyond the ordinary. With a network of over 120 international destinations and smooth, hassle-free connections through our Dubai hub, Emirates seamlessly connects people with places, wherever they are in the world. Hello Tomorrow shows that we do more than transport our customers from one place to another; we actively share and support their interests and their passions.
BDG: If my readers are considering splashing out on a Business Class ticket for their flight to India, what would you say to convince them? Is this a case where they should conserve their budget and perhaps stay at the Lake Palace Hotel a few nights instead, or is the higher fee worth the money?
DM: Everyone is different and all of our cabins offer a great flight experience for passengers, but there is truly something to be said for arriving at your destination feeling refreshed and more relaxed than you did at the beginning of your journey. I can tell you that our Premium Cabin passengers are pampered every step of the way and often think of it as an extension to their vacation.
First and Business Class passengers can also take advantage of our chauffeur pick-up and drop-off service, and enjoy Emirates' exclusive lounge network, offering gourmet food and full bar service, large plasma screen TVs, and access to fully equipped Business Centres and shower facilities, at airports across the globe. Many of our long-haul aircraft (A380 in particular) offer First and Business Class passengers fully flat, massage-equipped, beds, and a lounge for First and Business Class passengers to stretch out, socialize and enjoy a gourmet selection of on-demand beverages and canapés. The First Class cabin on our A380 even features two on-board shower spas. It's an incredible experience from start to finish.
BDG: What does Emirates represent to you? Why does working for Emirates give you such good posture? (I've met Don, he really does stand up straight!)
DM: After an extensive career in the airline industry, coming to work for Emirates has been an amazing experience. It's a breath of fresh air to work for a brand with such strength and recognition around the world, and with such an unwavering commitment to excellence. Since starting with Emirates, I've seen so much growth – our destinations network, programs and partners are always expanding, and it feels really good to be part of that evolution. It's refreshing, and I can tell you very rare, to work for an airline that is so strong financially. And, it's very easy to feel good about selling a world class product like Emirates!
[NOTE: Although Emirates provided my business class flight, the views and opinions expressed are — as always — my own. If I don't like something, I just don't write about it.]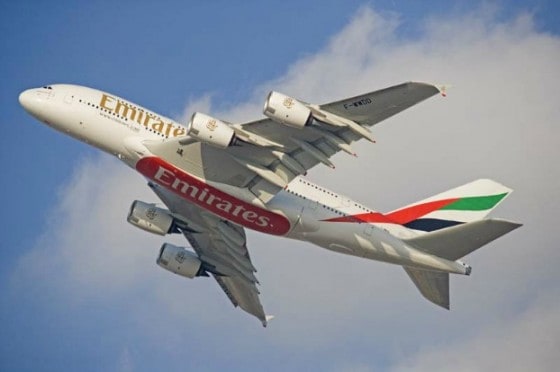 ---
If you enjoyed this post, please sign up to The Travel Newsletter in the sidebar and follow Breathedreamgo on all social media platforms including Instagram, TripAdvisor, Facebook, Pinterest, and Twitter. Thank you!