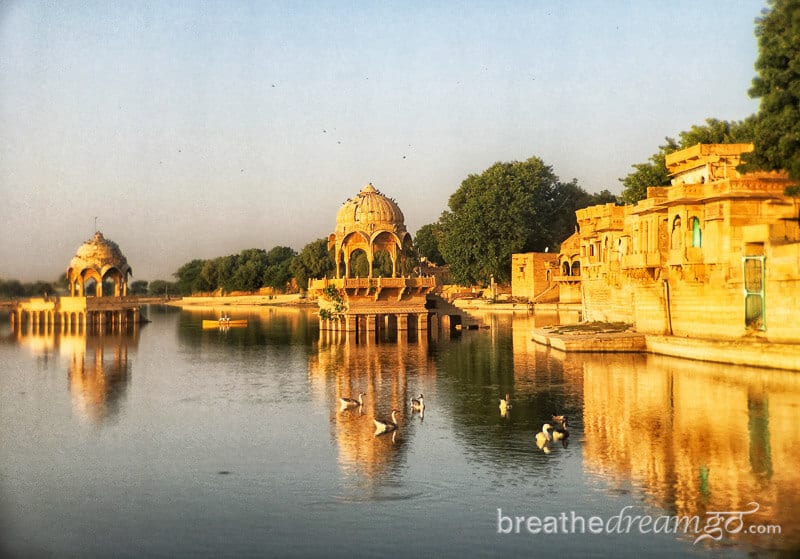 The ideal way to arrange a solo or custom India trip: 8 top reasons for choosing India Someday
I'VE TRAVELLED ALONE in India for more than three years altogether over the past 12, and I'm the first to admit it's not always easy. Though I love the freedom and adventure of solo, unplanned travel, there has been many times I wished I had someone to help me organize, plan, and make recommendations and bookings. This is exactly what the people at India Someday do: they help plan your India trip.
An India trip you will never forget
To experience their service, I travelled with India Someday on a tour of Rajasthan. The road trip started at my homestay in Delhi – where driver Ratan picked me up right from my door. We drove together for about a week, first to Nawalgarh in Shekhawati, and then to Bikaner and Jaisalmer, finally ending our trip in Jodhpur.
It was a great experience. What I loved about the service India Someday provided is that it was completely customized. I was not compelled to travel with a group, or to do activities I wasn't interested in. They gave me exceptional service — but just the help I needed. Not more, not less.
---
Special offer for Breathedreamgo readers!
India Someday offers a 20% discount off their fees to solo travellers, and Breathedreamgo readers get an additional 5% off. So, if you are a solo traveller and Breathedreamgo reader, you will get a 25% discount on India Someday's fees if you book your India travels with them. Please fill out either the long questionnaire or the short one and mention Breathedreamgo when they ask how you stumbled upon them.
---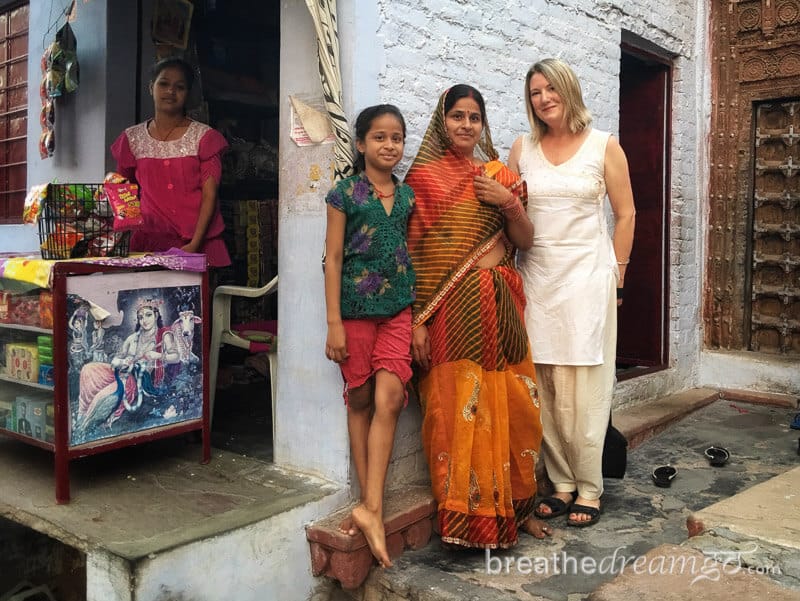 Here are the top 8 reasons I am recommending India Someday for your India trip.
1. Transparency and communication
From the start, I found India Someday to be very communicative and responsive. They use an online booking form to capture personal information, dates, and other important details to begin preparing your itinerary. Then, they send you a link to a very detailed online itinerary. The online itinerary is completely transparent about pricing. It shows exactly how much everything costs, and they do not add a mark-up, just their fee. This is amazing in India, where so many "shady" travel agents add hidden fees and commissions.

2. Completely customized itinerary
India Someday and I worked out my itinerary and route together, as I told them I wanted to visit some new places (Bikaner and Shekhawati) as well as a couple of old favourites (Jaisalmer and Jodhpur). They listened to my choices and created an ideal route and itinerary, making sure there was a balance between a couple of long drives and destination activities, so I didn't get over-tired.
Their motto is: "Your trip with a little assistance." And they say they "Help you travel your way." And I found this to be true.
3. Freedom
For each destination, India Someday provided me with a tip sheet, so I could choose what I wanted to do. They also were helpful in arranging special activities, that I myself chose, by briefing my driver Ratan. Again, they gave me just the help I needed. Not more, not less. I never felt confined to a schedule and could be spontaneous or make changes as needed (within reason, of course).
4. A local friend
India can be a challenging place to travel. Culture shock, language barriers, unexpected delays, crowds … there are so many things that can make travel in India more difficult than other destinations. There is nothing like having a local friend, someone you can call when things go wrong. My Rajasthan tour was remarkably smooth, but when I was scheduled to leave Jodhpur for Jaipur by train, I ran into a (typical) problem. My 9:30 am train was delayed by 10 hours, and I had a hunch it would be delayed again (it was, by an additional 5 hours!). I immediately called India Someday, and they arranged a car-and-driver for me. It was the best option because, two days before Diwali, everything else was booked up.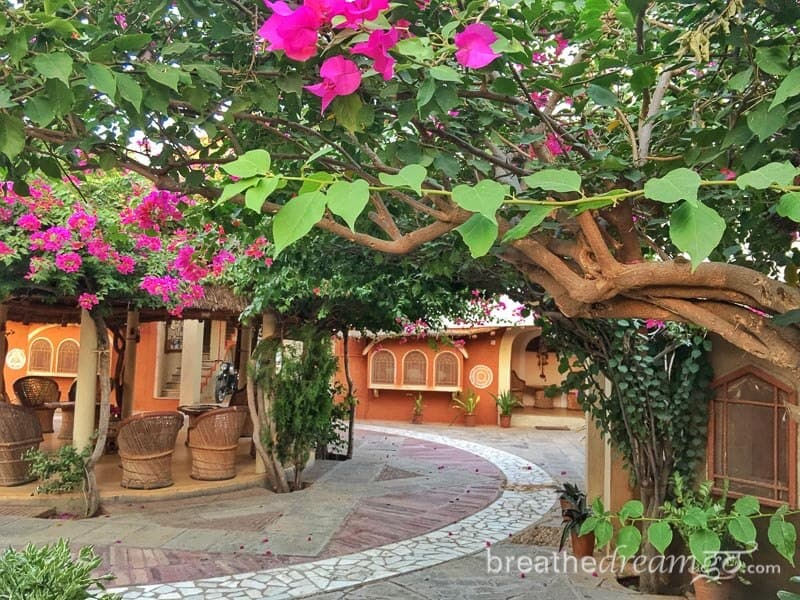 5. Hand-picked hotels and specialty accommodations.
India Someday booked me into their recommended, hand-picked hotels – all great choices that I would not hesitate to recommend. They tend to choose affordable, small, owner-operated hotels, homestays and guest houses. I also requested an eco-lodge. Here's my review of each property.
Nawalgarh, Shekhawati: Apani Dhani
At 27 years, Apani Dhani could be one of the oldest eco-lodges in India. It's a peaceful little hamlet designed on traditional Rajasthan principles. The rooms are thatch-roofed huts, food is fresh and local, and it's totally solar-powered. Bird songs fill the courtyard and the scent of farmer's fields is in the air. A lovely place to wake up and enjoy rural Rajasthan. Today is my first full day on my India Someday tour of Rajasthan. Exploring old havelis In Nawalgarh, centre of Shekhawati today! #MyLocalFriend #IndiaSomeday
Bikaner: Jaswant Bhawan
Jaswant Bhawan is a heritage property centrally located near the train station. It's large, and simply finished and retains the original character of the home. Jaswant Bhawan is lovingly managed by the family that owns the home — and they have a gift for simplicity. Only what is needed is provided, nothing more or less. I had a great sleep and also a great homemade dinner in this place, and I would absolutely stay there again.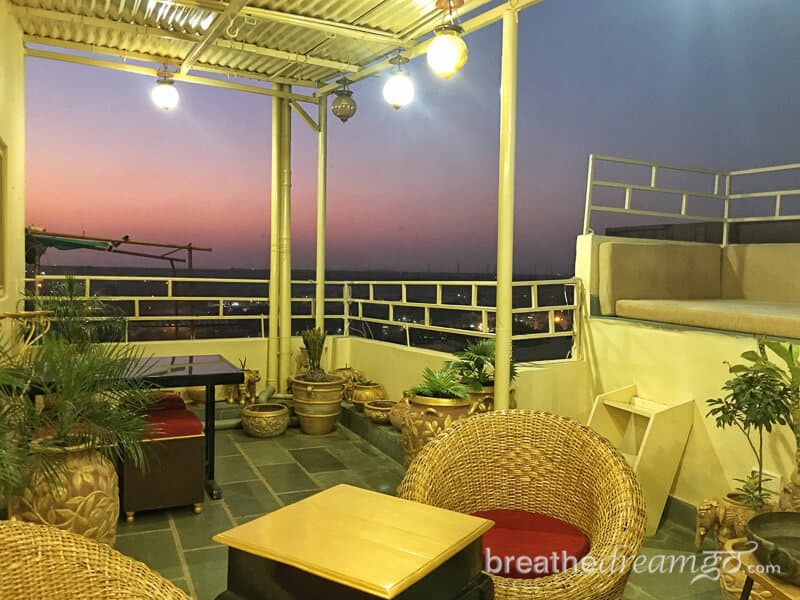 Jaislamer: Himmat Niwas
Himmat Niwas is the cleanest haveli in Jaisalmer, and it's got a great location right in the fort. A tall narrow haveli that's about 400 years old, it's been completely renovated and is now a chic, comfortable, and beautifully decorated small hotel with a lovely rooftop restaurant that has gorgeous 360 degree views. I bonded instantly with Tracy, the Australian woman who married into the family that owns the haveli. Tracy is a major reason that Himmat Niwas is such a gorgeous place: she keeps the place running like a clock. Himmat Niwas felt like home by the time I left.
5. A great driver
Drivers can make or break your trip to India. At worst, they can hijack your trip and make you feel at their mercy. At best, they can add immeasurably to the travel experience by offering information, advice, and friendship. I can honestly say that my India Someday driver Ratan was one of the best I have had in India. Hailing from Jodhpur, he knows Rajasthan well, and spoke excellent English too. In Ratan, I felt I had a partner on my rediscover Rajasthan tour.

6. The "must-dos" and the "should-dos" in every destination
India Someday will provide you with a tip sheet for every destination that includes the "must-dos." Things like Meherangarh Fort in Jodhpur and Gadisar Lake in Jaisalmer. They also list "should-dos" and dining options. I would add Rao Jodha Desert Rock Park in Jodhpur to the "must-do" list for Jodhpur, but otherwise I agreed with the recommendations. They also include insider tips such as avoiding the Sam Sand Dunes outside of Jaisalmer as they are now way too crowded with tourists to be enjoyable.
Check out this post for info on visiting Udaipur in Rajasthan.
7. India trip expertise
India Someday is not just a local friend, they are a highly experienced and knowledgeable travel partner. They really do know the destinations that they specialize in, such as Rajasthan. They have visited every place they recommend, and stayed at every hotel. Whenever I spoke with them, they gave me insider information that helped me avoid travel pitfalls and get the most out of my itinerary. For example, I got messages like this: "Since a drive from Delhi to Mandawa is 6-7 hours, I would recommend starting by 9 am at the latest."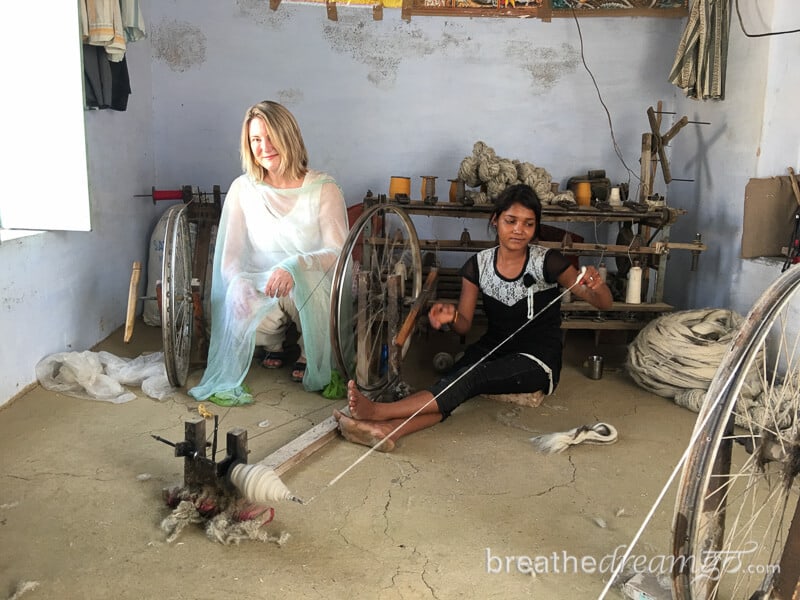 8. Authentic cultural experiences
Apart from the tip sheets, you might want to explore less touristy and more authentic cultural experiences and India Someday can help with that too. I had some personal contacts in Rajasthan who I wanted to visit, and my driver Ratan coordinated with them to make it happen.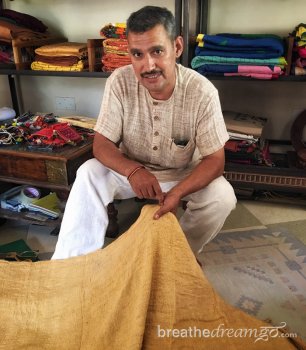 Ashok Bishnoi and the Khadi makers of Bikaner
In Bikaner, he drove me to meet Ashok Bishnoi at his store The Charkha. Ashok is the founder of The Charkha, a social enterprise business in Bikaner and Rajasthan, inspired by the ideals of his hero, Mahatma Gandhi. Like Gandhi, Ashok believes in Khandi, the homespun fabric that requires no electricity and can provide for a family, revive the local economy, and provide a wholesome means of employment to families in villages across India.
After visiting the store, and seeing all the lovely hand-made products he sells, he took me on a tour of his world, from the villages where Khadi is made to the tailors and dyers in the old city. I absolutely loved spending time in the village with these warm and relaxed people. We had so much fun simply being with them, laughing, drinking chai.
When they are working, they are working. When they are not, they are not. This is the luxury of poverty." Ashok Bishnoi
Then, we ventured deep into the heart of the old city of Bikaner, among the crumbling havelis and narrow lanes. We had to leave my car, and my driver Ratan, and take a much smaller auto rickshaw. We walked the vibrant lanes and Ashok showed me the local foods and crafts, and we visited his tailor and his dyer. It was an amazing day, one of the best I have ever spent in India. You can buy from The Charkha online and he ships all over the world.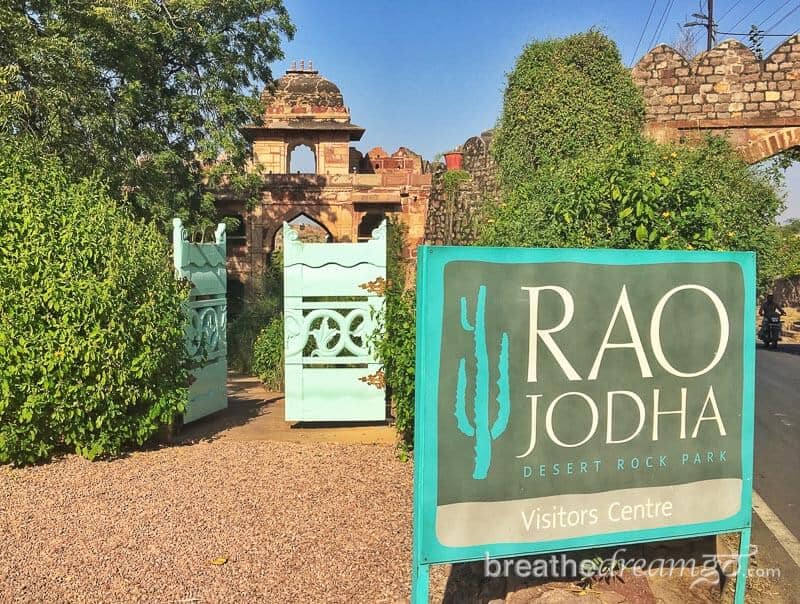 Rao Jodha Desert Rock Park
In Jodhpur, I went to visit Rao Jodha Desert Rock Park outside Meherangarh Fort. This park was created by Pradip Krishen, who is known as the tree man of India. A self-taught botanist, he has written several books, lectures on conservation and, and re-wilds barren lands, like Rao Jodha park. I saw his presentation about the creation of this park at the Jaipur Literature Festival last year. It was my number one place to visit in Jodhpur, and it completely exceeded my expectations. Rao Jodha park is a stunning, thriving, living garden full of plants, trees, birds, insects, and it is also remarkably picturesque.
So, my India Someday trip was a great success — the itinerary, destinations, driver, and accommodation far exceeded my expectations and helped me to fully enjoy travelling in Rajasthan after many years.
PIN on Pinterest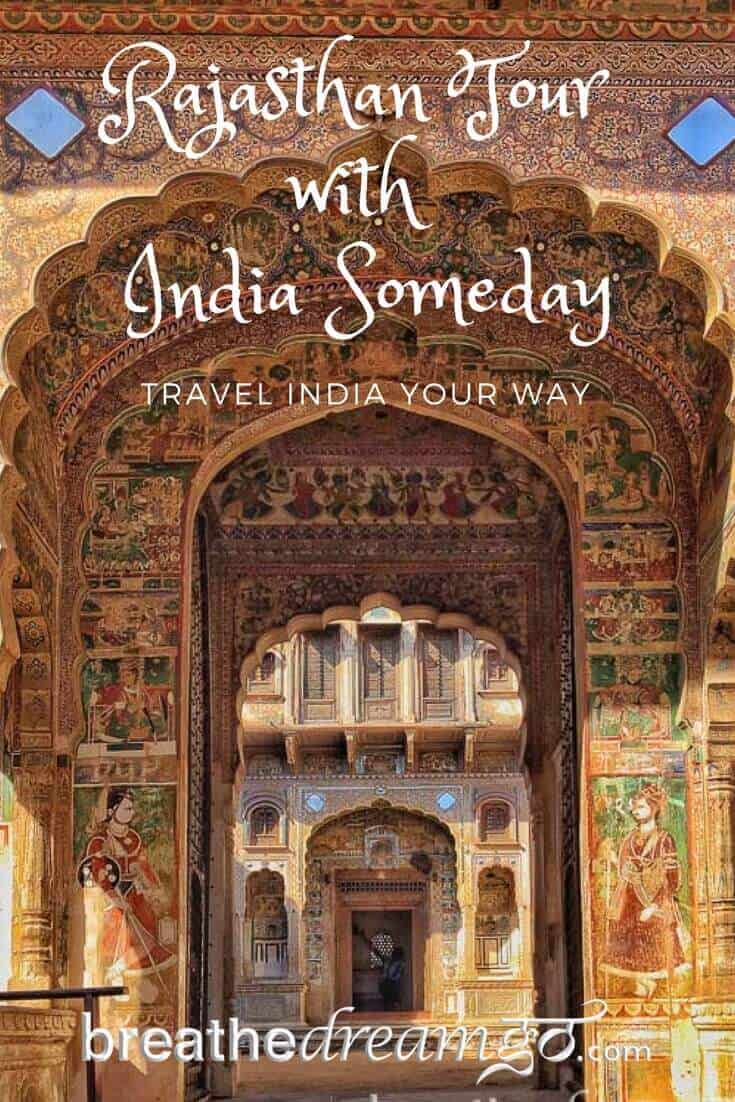 ---
Disclosure Note: I travelled with India Someday on a fully hosted India trip to experience their service. However, my opinions and recommendations are my own, based on my experience and the needs of my readers. I would not recommend a company, product, or service unless I tried it first, and believed in it. I am very happy to genuinely recommend India Someday and will be referring my itinerary planning clients to this company without hesitation. #Sponsorship
---
If you enjoyed this post, you can….
Sign up to The Travel Newsletter in the sidebar and follow Breathedreamgo on all social media platforms including Instagram, TripAdvisor, Facebook, Pinterest, and Twitter. Thank you!