The Snow Leopard: A quest in the Himalayas
The Snow Leopard by Peter Matthiessen is an adventure travel masterpiece. It is about the author's adventures hiking deep into one of the most remote regions of Nepal, on the border with Tibet, to accompany biologist George Schaller on a field expedition to study blue sheep. But the book is about much more than that. Matthiessen, a devoted student of Buddhism and a sensitive, gifted writer, had just lost his wife to cancer, and his book is an exploration of both the outer world of soaring, pristine mountains and his own inner journey through grief and awe.
I love this book for so many reasons. To start, I love Quest stories, and The Snow Leopard is a Quest in every sense of the word. First, is the physical quest itself, to Shey and the Crystal Mountain in a very remote corner of Nepal, back in the early 1970s when hiking in Nepal was not as popular as it is today. Mathiessesn and Schaller — and a changing assortment of sherpas and porters — walked 35 days through almost uninhabited regions, over snow-bound, high mountain passes, to get there. This journey is what makes the book a great adventure story.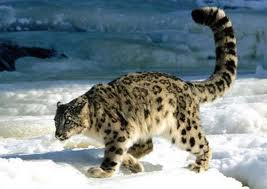 Then, there's the scientific Quest, which is to study blue sheep (though this is Schaller's quest, not the author's, and so it is tangential to the main story). And, just as compelling to me as the adventure Quest, is Mathiessen's inner quest, as a man coming to terms with his wife's mortality and the tenets of Zen Buddhism, which he is studying. His destination is Shey Monastery; he wants to meet the Lama of Shey.
And he wants to see the extremely elusive snow leopard. Though he doesn't say it in so many words, it seems that seeing the snow leopard will justify his decision to leave his children for months, within a year after the death of his wife; and help to give him back a sense of magic and wonder, a reason for living. In other words, he has endowed his quest to see the snow leopard with personal and spiritual yearnings.
But perhaps more than anything else, I love this book because it is so beautifully, and sparingly, written. Matthiessen's style is a perfect match for the austere, rugged landscape, and subsistence lifestyle and Buddhist beliefs of the local culture.
Like most great Quest stories, it is in hindsight that Mathiessen realizes why he needed to go to Shey; it is through the journey itself that he gains the awarenesses and epiphanies that make the hardships of it more than worthwhile. Like life.
And, finally, I love this book because it is set in the Himalaya — an area of the world that I am inexplicably and powerfully drawn to. Like a Himalayan mountain, this beautiful book has soared to the top of my favourite books list. A classic.
My GO Books rating is 5 / 5:  I would definitely put it in my backpack.
Author and book details
Peter Matthiessen, born 1927 in New York City.
The Snow Leopard first published in 1978; this edition published 2008 (Penguin Classics). Winner of the National Book Award in 1979.
Purchase from Amazon by clicking image, below.
If you enjoyed this post, you can….
Get updates and read additional stories on the Breathedreamgo Facebook page.
Buy Song of India, a collection of 10 feature stories about my travels in India. E-book version is now only $1.99.
Subscribe to the free — and inspiring! — e-newsletter, Travel That Changes You.