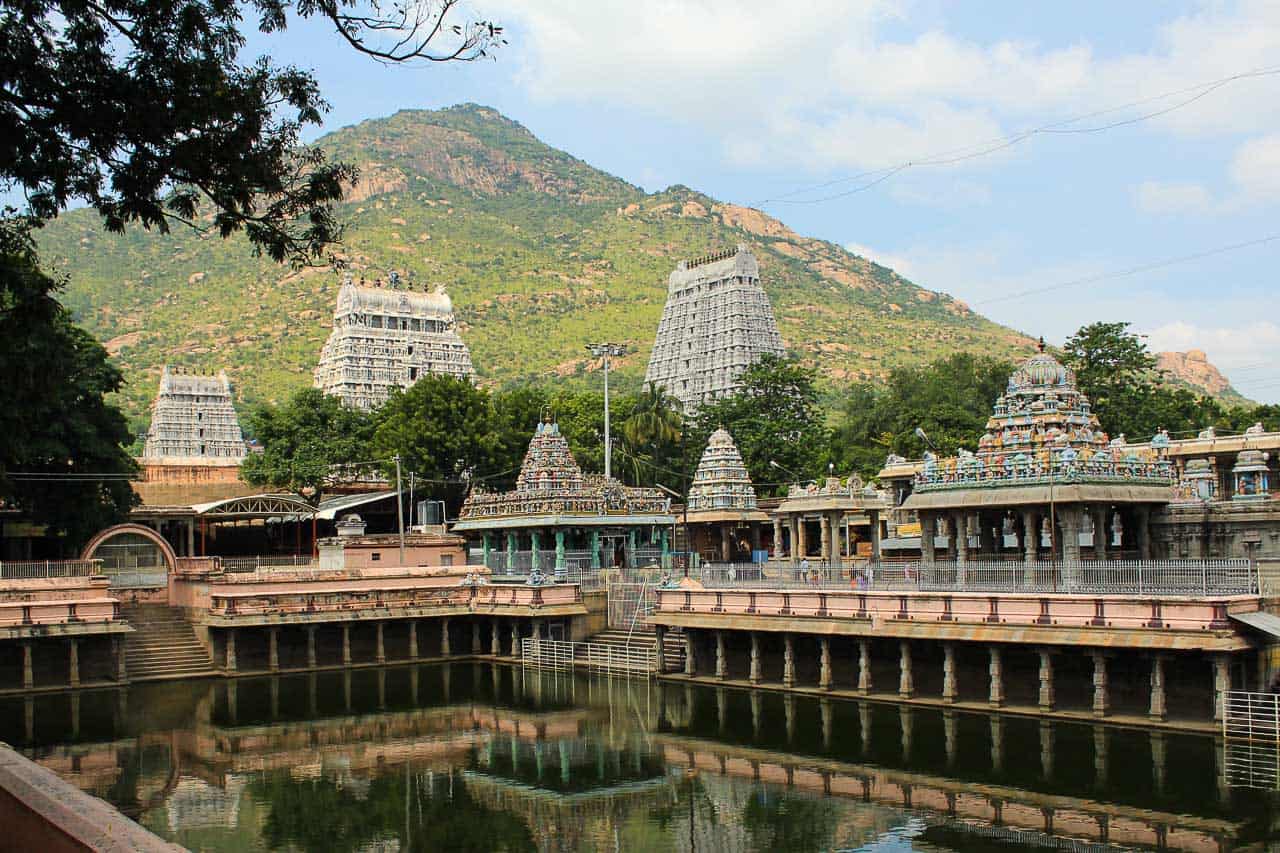 Mount Arunachala in Tiruvannamalai, and Shiva Temple
A spiritual journey to Tiruvannamalai and the Sri Ramana Maharshi ashram, South India
I WENT ON AN UNFORGETTABLE spiritual tour of South India to visit Chennai, Mahabalipuram, Pondicherry, and Tiruvannamalai in 2012, Tamil Nadu. It was a transformational spiritual journey because my visit to Tiruvannamalai was life-changing. An experience I had while meditating at the Sri Ramana Maharshi Ashram, on Mount Arunachala in Tiruvannamalai, confirmed something I have sensed all of my life. Read on to find out more!
This was also a very special trip because of the people I met, such as my guide Setu, and a man named Ramu, who rescued literally every street kid in the town. I wrote about this extraordinary man in Holding hands with children in need. Click here to learn more about the best places to visit in Tamil Nadu. Tiruvannamalai is on my list of top spiritual places in India you must visit.
On a tour of South India
The South Indian tour got off to an uneasy start due to the onset of Nilam, the cyclone that hit the coast of Tamil Nadu in 2012. Luckily, the cyclone turned out to be largely a non-event, and we set off with our guide Lotus from Wilderness Expeditions in Chennai.
On a city tour of Chennai, we went to Nalli's the famous sari store, which feels like it is preserved in time. I bought a Kancheepuram silk sari in my colours (green and blue) in case I got invited to a wedding — and was promptly invited to a wedding by a bride who at Nalli's was buying her wedding sari.
The next day we visited Kapalsheewarer Temple, saw the Chola bronzes at the museum, and ended the day at the peaceful Krishnamurti Foundation. Finally, on our last day in Chennai we stopped at the Krishnamacharya Yoga Mandiram (KYM) before leaving the city. I studied there for a month in 2006, but since then, KYM has built a new building on the site so it seemed like a new place to me.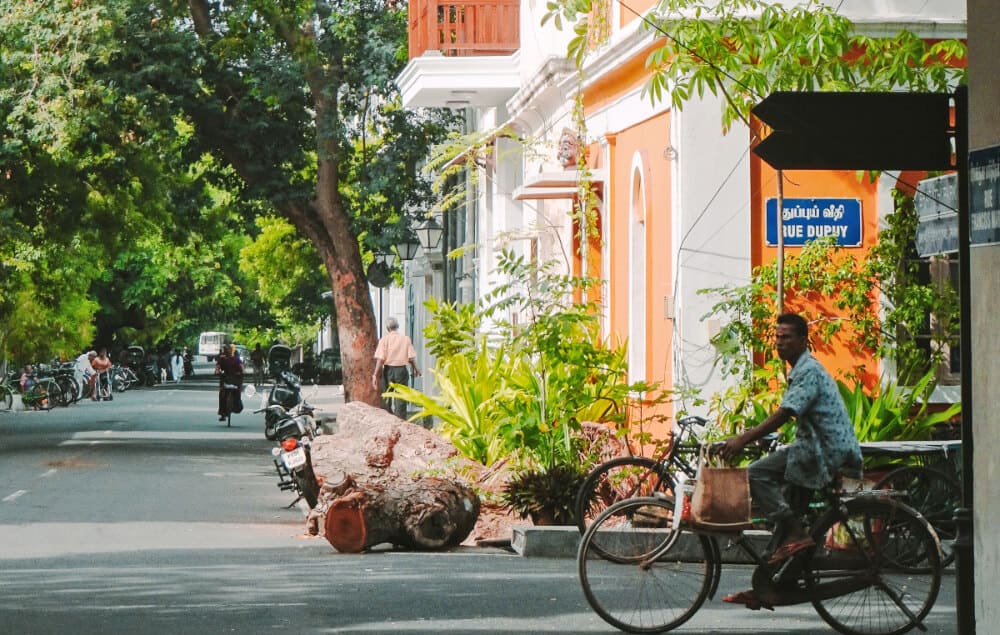 Traveling south to Mahabalipuram and Pondicherry
From Chennai, we drove south a few hours to Mahabalipuram. We spent the morning in Mahabalipuram touring the rock carvings, the highlight of which is the UNESCO designated Shore Temple. I had been there before, but it was still a treat to see these beautiful structures, caves, and carvings. From there we drove about two hours to Pondicherry, the former French colony on the coast.
I had been there before, too, and was looking forward to meditating at the Sri Aurobindo Samadhi. Pondicherry is a very special place, due in part to the very French-inspired architecture and culture, and also to the presence of the Aurobindo Ashram, which is spread throughout the French part of town. Here is where Sri Aurobindo wrote, meditated and left his body; and also where his spiritual partner, The Mother (born Mirra Alfassa in Paris, France) lived and worked, and also left her body. The Aurobindo Samadhi is the place where their remains are interred; and it is the spiritual heart of the ashram.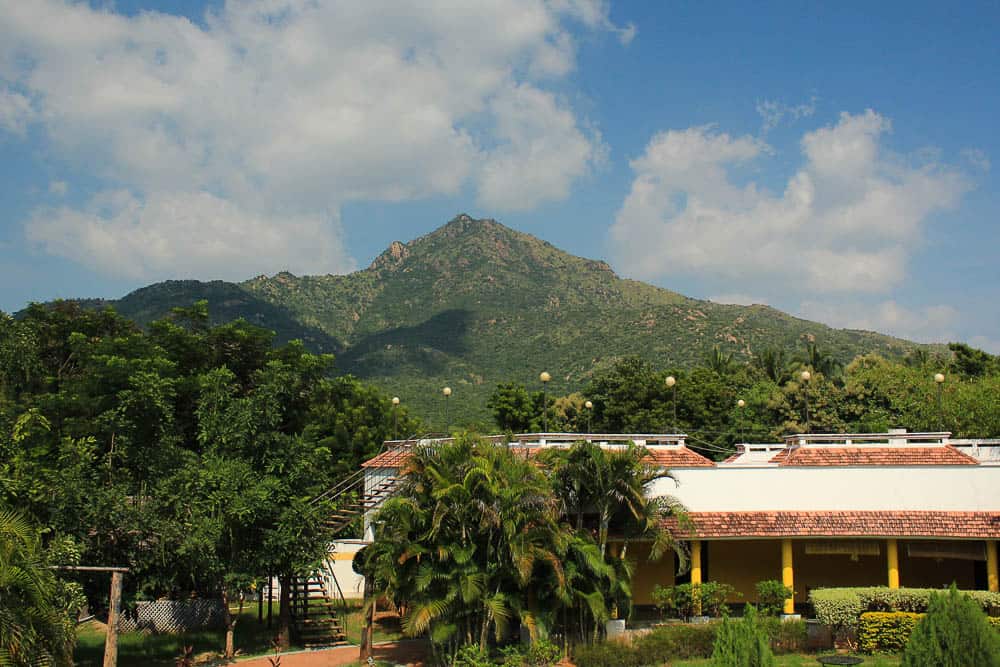 Arriving in Tiruvannamalai
After a touch of Delhi belly in Pondicherry, we left for Tiruvannamalai. I knew that arriving in a spiritually charged place like Tiruvannamalai in such a vulnerable state was, in fact, a good thing. Feeling vulnerable can make you more receptive to spiritual energy. As we drove towards Tiruvannamalai, we passed glistening rice paddies, rocky outcroppings, and people working in the fields. It was almost dusk when we reached the town, and I could see the silhouette of Mount Arunachala etched against a rose-gold sky.
We pulled into the Arunai Anantha retreat hotel and I immediately felt the peace and quiet of this very special place. I was shown into my room and I lay down on the couch and fell sound asleep for about 30 minutes or so. When I awoke I felt absolutely well. All the tension, headache, tummy ache … it had all drained from my body. And I felt deeply rested.
At the ashram of Sri Ramana Maharshi
I woke up in the shadow of Mount Arunachala, the sacred mountain in Tiruvannamalai. I had long wanted to visit this mountain, which was the spiritual home of Sri Ramana Maharshi. He meditated in a cave on the side of this mountain for 17 years; and in another cave, higher up (to get a bit further away from the towns people who were flocking to his side) for another seven years. Finally, he came down to the foot of the mountain and resided in a simple dwelling, and here people gathered to experience his presence.
His dwelling grew into an ashram, and his caves are carefully preserved pilgrimage sites. Though Sri Ramana Maharshi passed from this mortal coil on April 14, 1950, his lingering presence continues to draw many people from India and around the globe. Like me, they want to meditate in his former room, and walk up the side of Mount Arunachala to feel the sacred energy of a mountain these people consider a Shiva temple.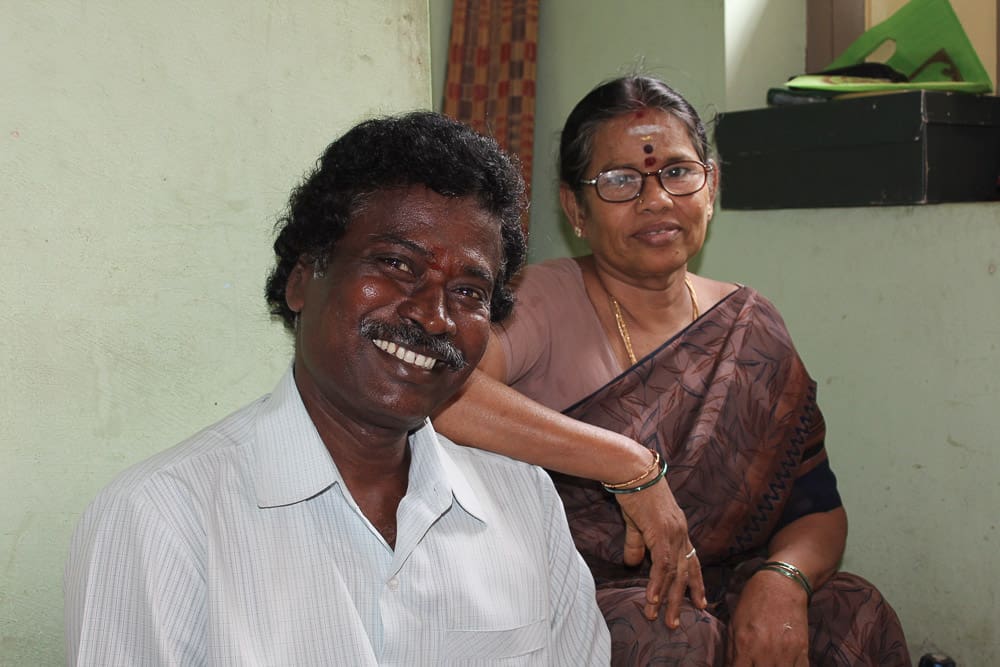 On the sacred mountain
While in Tiruvannamalai, I was very lucky to have as a guide a local journalist named S. Setu. He was one of the best guides I have had in India over many years, and I will never forget him or his family. He took me to meet them, and I was so charmed by the obviously playful and warm relationship he has with his wife. I have rarely seen a happier couple!
First, Setu took me to see the magnificent Shiva Temple that dominates the centre of Tiruvannamalai. We saw it later from up on the mountain, too. It's an enormous complex, beautifully maintained, and holds a deeply tranquil atmosphere. It sets the stage for the devotional and pious energy of Tiruvannamalai and Mount Arunachala. After that it was late, so we went to his house for chai and snacks, and that's when I met his happy family.
The next morning, we set off for Sri Ramana Maharshi's ashram, and I was very excited to finally visit a place that had intrigued me for years, especially after reading several books about India that include references to it. My hopes were high for also feeling the presence of spiritual energy there — said to be the presence of Sri Ramana Maharshi.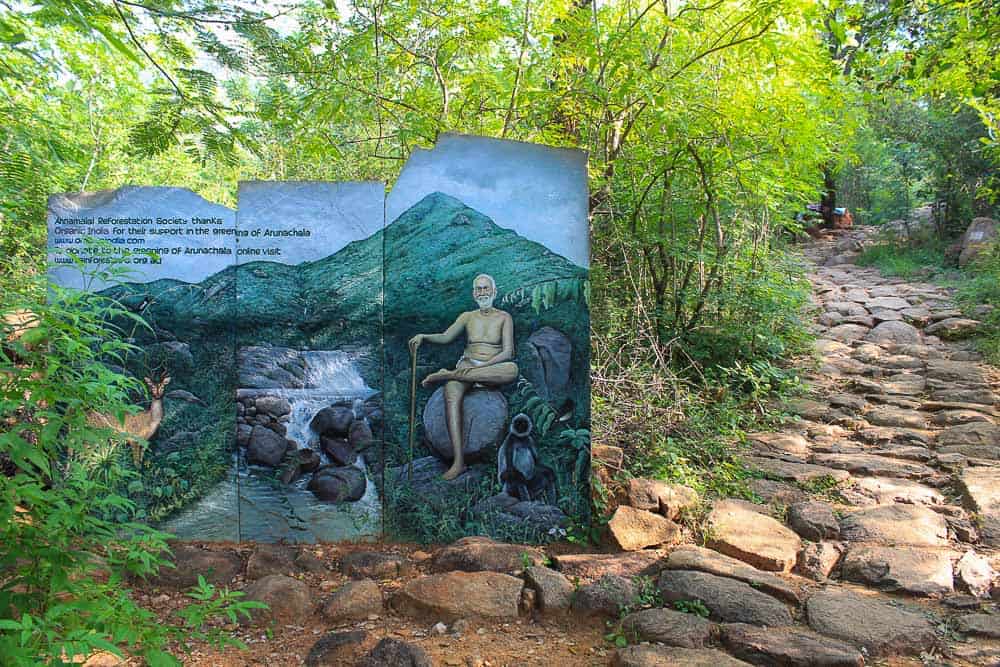 We spent most of the day at the ashram, visiting the bookstore and meditating in his room at the ashram. But the highlight for me was walking slowly and mindfully up Mount Arunachala, where we passed signs — like the one above — and crafts people making things for sale, such as clay figurines and wooden boxes. It was hot and we walked slowly, and really took our time. Setu was in no hurry, and he was excellent company, so it was a wonderful, slow walk.
On the way up we stopped at two caves where Sri Ramana Maharshi had spent years meditating. They are now enclosed and sign-posted for visitors, so you don't get to experience the same conditions as he did, many years ago. Luckily, there were very few people around, so I was literally the only person going into the cave to meditate. I lowered my head to get through the small entrance, sat down on a stone floor with my back against one wall, and closed my eyes. It was very peaceful.
At first, I could hear the sounds of birds outside in the forest, but then my meditation deepened and I became deeply immersed in my interior world. After awhile, and I don't know how long, I felt the presence of someone enter the cave. I could feel a bit of breeze as they passed and sit opposite me. I didn't open my eyes, but tried to sense the person's energy. For some reason, I knew it was a man, and I could sense very light energy, as if he was emitting light — like a lightbulb or a small sun. I felt sure he must be wearing white.
I mused this way for awhile, still aware of his presence, when I finally decided to open my eyes and see if I was right about the other person in the cave.
I opened my eyes.
There was no one in the cave.
I couldn't believe it. I felt certain someone entered, it's an unmistakable feeling.
I was dumbfounded and couldn't move for a few minutes.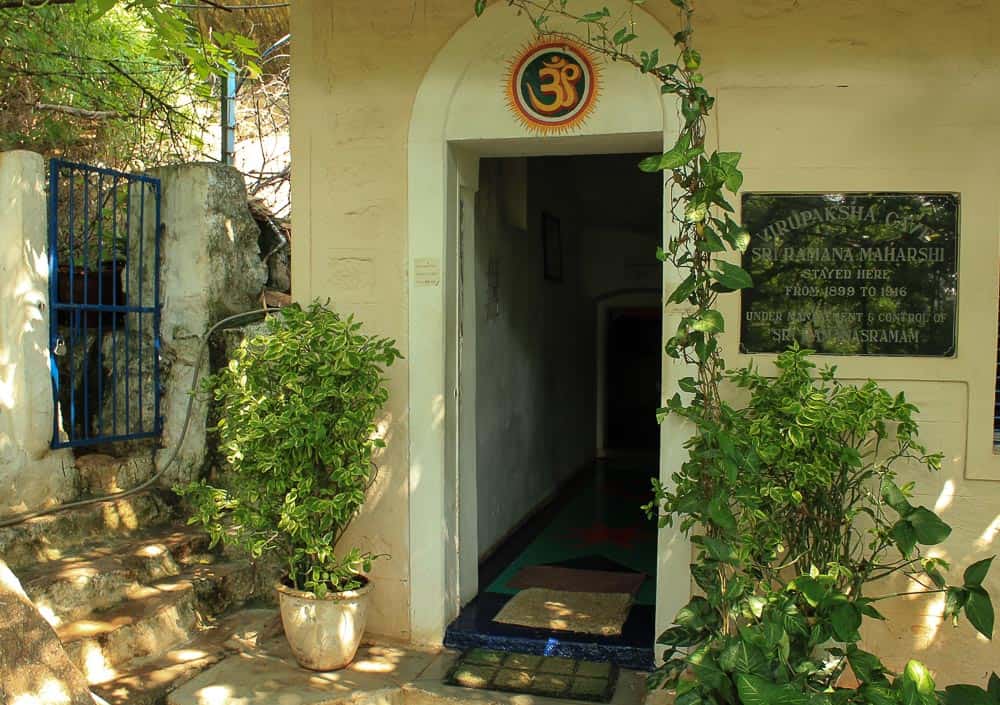 Finally, it started to dawn on me. Slowly, a realization crept into my awareness.
Someone did visit me in the cave. But it was an energetic someone. A spiritual presence. A man with a calming presence who emitted light.
Did I feel the presence of Sri Ramana Maharshi? I don't know.
I have thought about this experience many times over the years. It has really stayed with me. I've always been sensitive to energy. Since childhood, I've felt like I had a kind of satellite dish inside my chest that picks up energetic frequencies. I rely on this extra sense to guide me as I move through life.
When I am out walking, for example, if I pick up disturbing energy, I will cross the street to get away from it. If I meet someone who has energy that I like, who makes me feel calm or happy, I will nurture the relationship and hopefully we will become friends. I use it when looking for an apartment, or a hotel room, or whatever. I am constantly sensing energy about people and places and making decisions based on it.
So, I know what it's like to sense energy. But this experience in the cave was unlike anything I have experienced before or since, and it definitely made an impact on me.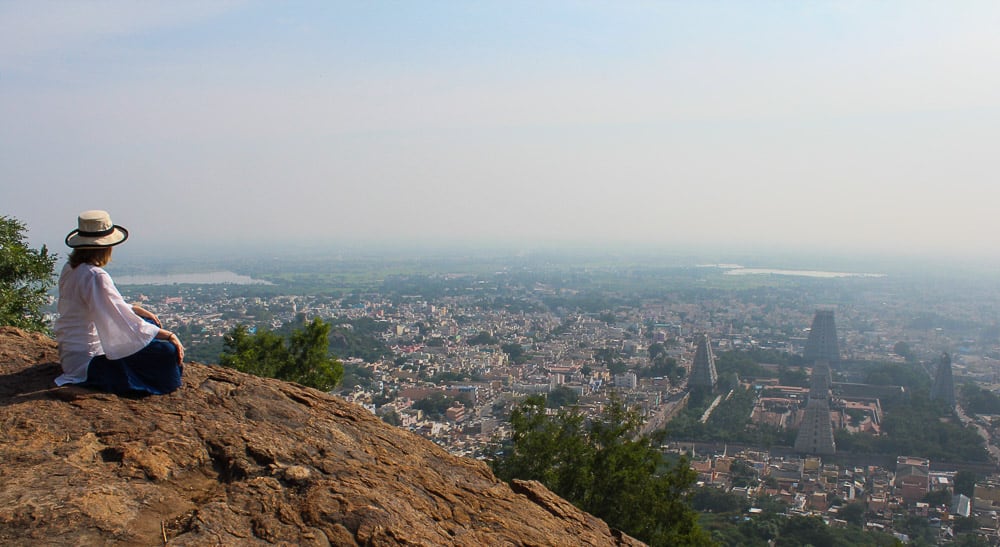 India as soul of the world
Several years ago I asked Swami Brahmdev, founder of Aurovalley Ashram, why India is considered to be such a spiritual place, especially as a destination for seekers. He said it was because it contained the extremes. The extremes of spirituality and sacredness; and the extremes of base materialism and ignorance. The sacred mountain and the shadow.
It is the presence of these extremes, I believe, that makes India so hard on foreign nerves and egos. India is not for everyone. You have to be ready. India is a generous guru, she gives you what you need; and teaches you what you need to progress. Sometimes these are difficult and challenging experiences that really test our faith — the shadow — and sometimes these are exciting and inspiring experiences that bolster our faith — the sacred mountain. They are both necessary for spiritual growth, and both should be accepted and surrendered to equally.
With this experience on the mountain, I feel I was given a faith-bolstering experience that confirms my sense of the oneness of consciousness that underlies all the duality of life, and the apparent material world. I have always sensed there were worlds beyond worlds, that matter is illusion, that we are ultimately energetic beings, drops in the ocean of consciousness. Evidently, Sri Ramana Maharshi continues to be a great spiritual teacher … even from beyond the veil …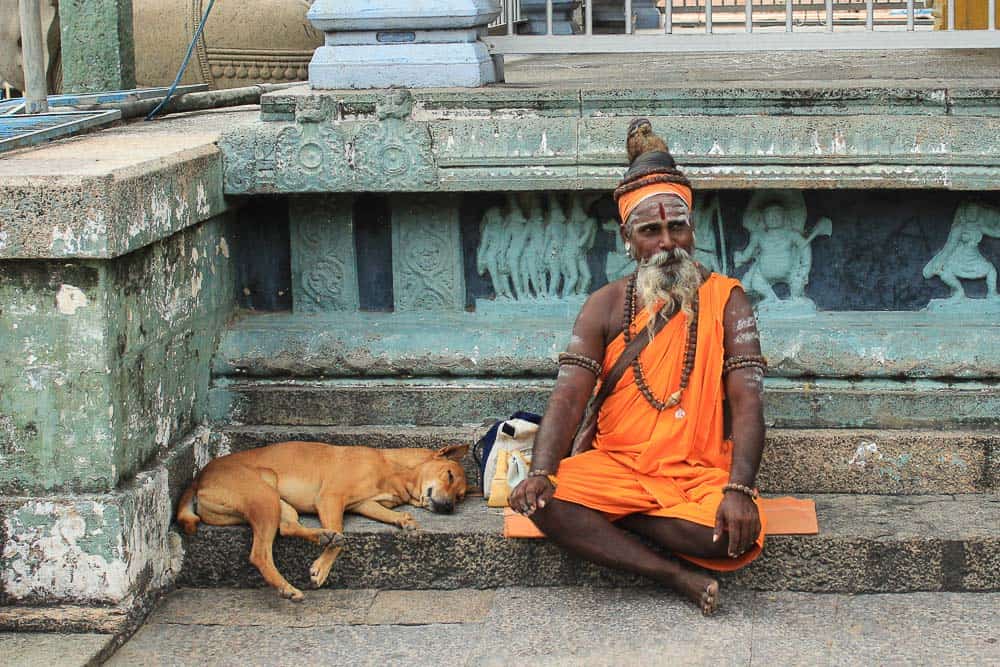 ---
PIN it on Pinterest
---
If you enjoyed this post, you can….
Sign up to The Travel Newsletter in the sidebar and follow Breathedreamgo on all social media platforms including Instagram, TripAdvisor, Facebook, Pinterest, and Twitter. Thank you!