Places to visit in Goa, Part 1
Top 10 places to visit in Goa: Part 1
TINY, TROPICAL GOA, on the south west coast of India, was an obligatory stop on the hippie trail of the 1960s and became known internationally for wild, full-moon parties on the beach. Though there is much more to Goa than hippies on the beach, it's a reputation the state has never been able to shake. Even I avoided Goa, except for two short beach vacations in the quieter southern half of the state. The truth is, there's a lot of great places to visit in Goa!
Finally I decided to give Goa a chance. I spent almost two weeks touring the state and looking for places to visit in Goa and experiences that show the more interesting, sophisticated and discerning side of Goa. What I discovered is that Goa is a historical, cultural, wellness and leisure treasure house. Here are my top picks 1 – 5. Part 2 coming soon.
Panjim and Fontainhas
Mustard cafe
Goa Arts and Literature Festival (GALF)
Koi Asian Dining and Bar
Old Goa
---
READ MORE ABOUT PLACES TO VISIT IN GOA
---
For starters, Goa has a completely unique flavour in India due to colonization by the Portuguese. In fact, the Portuguese have influenced Goan culture for hundreds years, and as a consequence the state has a large population of Catholics and a profusion of Portuguese designed churches and gracious old homes. I love these charming homes, painted in bright colours, and dream of someday owning one with a wide white verandah on a hill overlooking the Arabian Sea.
Goa is also a cultural hub, with writers and artists from all over living there, or wintering there. There's a palpable sense of multiculturalism and being at a crossroads of the world. "Everyone comes here," my friend writer Anuradha Goyal told me. She moved to Goa after living in some of India's biggest cities.
So here are some of the highlights of my tour. I hope they give you an idea of all the things you can see and do in Goa that don't require shaking your groove thang on the beach. Though you can still do that if you want, at beaches like Calangute, Baga, Anjuna and the hippie stronghold, Arambol. (The all-night-long full-moon raves of yesteryear have been outlawed, however.)
1. Places to visit in Goa: Panjim and Fontainhas
Panjim (also known as Paniji or Panji) is the capital of Goa, a small city of only 100,000 people. It strategically and picturesquely occupies the spot where the mighty Mandovi River meets the Arabian Sea. I started my tour with three days in Panjim, which most tourists bypass. I fell in love with this small city, with the colours of the houses, the expanses of water, the colonial character and the thriving arts scene.
Directly behind my hotel, the Panjim Residency (which faces the Mandovi River), is Fontainhas, Asia's only Latin Quarter. The Portuguese moved here, and settled around a spring-fed tank, fountain, in the 18th and 19th centuries and many of the houses remain in good condition. The epicentre of Fontainhas is the beautifully restored Panjim Inn and Art Gallery.
Even after dark, I felt completely safe wandering alone around Fontainhas. I ate on the balcony of the Panjim Inn, and stopped by the quirky Venite Bar. The area reminded me a little of both Havana and New Orleans, especially by the way light spilled into the streets from small, lively restaurants, and the by the way everything was enveloped in the warm tropical night air.
2. Places to visit in Goa: Mustard Cafe
There's much more to Goan cuisine than beach shacks that serve up Goan fish curry and western favourites like pizzas and fries. In fact, there's a growing foodie scene and a range of fine dining restaurants. One beautiful evening my friend Anuradha Goyal of the travel blog Inditales and I went to Mustard Cafe, in the Calangute area.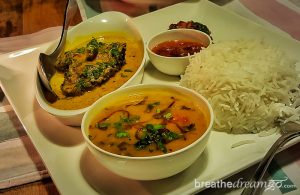 Seated in a candle-lit outdoor courtyard, we sampled a rich, spicy and delicious combination of Bengali and French cuisine, spiced with Goan flavours. Owner Poonam Singh told us she wanted to please both the people who like continental food and those who are happiest with a traditional Indian cuisine. The alchemy works, and I enjoyed every rich, flavourful dish I savoured.
Mustard was my favourite restaurant in Goa, for the romantic ambience and really flavourful, satisfying food. It's obvious a lot of care, research and attention to detail has gone into every dish. I also liked the live music, a soulful singer named Vamsee Krishna who covered Leonard Cohen's Hallelujah (making me, a Canadian, feel very at home!).
3. Places to visit in Goa: Goa Arts and Literature Festival (GALF)
One of the most surprising things I learned about Goa is how artsy it is. Numerous artists, writers, photographers, designers — and bloggers — make their home in Goa. As a consequence, there's also a lot of arts events and festivals. I happened to be in Panjim for the Inaugural Function of GALF, which was held at charming and historic Maquinez Palace.
The speakers referred to Goa as a peaceful cultural centre of India. They talked about how writers interact warmly at GALF, and how the festival provides a stress-free place to relax. They also referred to the multicultural aspect of Goa: "From a sand and surf destination to a place where east and west meet."
After listening to the opening night speakers — poets, artists, authors and journalists — I only wish I had time to attend the entire festival.
GALF highlights a couple of countries each year, and in 2015 it was Singapore and Bangladesh. (I hope they put the spotlight on Canada one of these days as we have many fine homegrown and immigrant writers from Michael Ondaatje to Rohinton Mistry.)
4. Places to visit in Goa: Koi Asian Dining & Bar
The most sophisticated of the fine dining restaurants I experienced in Goa, Koi is a journey through Southeast Asia. Owner Shefali and her team lavished careful attention to detail on Koi to create a chic restaurant right in the heart of bustling Calangute. From specially designed crockery to stunning murals to an inspired and comprehensive menu, Koi takes a bespoke approach to fine dining.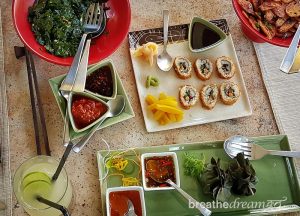 Though not on the beach, Koi is a destination restaurant with a stunning interior space and garden seating. My lunch date Anuradha Goyal of Inditales and I sampled an array of their dishes, focusing on vegetarian and fish. I was particularly delighted to find Japanese favourites like sushi on the menu — though we both agreed that the Thai curry was the most outstanding dish. But I also loved deep fried sushi, crackling spinach and sticky rice.
Kudos to Koi for creating a sophisticated space that serves inspired Southeast Asian cuisine that's both beautifully presented and full of authentic flavour. A visit to Koi is a journey through the Spice Route of Asia.
5. Places to visit in Goa: Old Goa
The 15th century Church of Bom Jesus is the centre of the UNESCO World Heritage Site called Old Goa. Several churches and a cathedral range around a wide expanse of lawns and gardens. This was the power base of the Catholic Church during the Portuguese colonial era.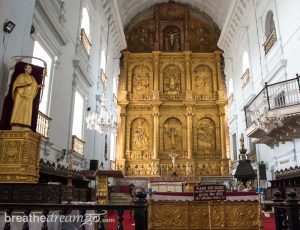 Bom Jesus is known for being the final resting place of St Francis Xavier, who died in China in 1552 and wanted to be buried in Goa. After his remains were shipped to India, it was discovered his body miraculously showed no signs of decomposition. The body apparently has remained intact and is now on display in a glass casket that sits above eye level in an alcove to the left of the altar. I was actually quite reticent to visit this church, as I find this quite ghoulish, but the casket is tastefully removed from close inspection. Thank goodness.
The other churches, and the general area, are quite lovely and of course historically significant. I enjoyed walking leisurely among them and stopping for a cold drink at a simple stand under a huge tree with a massive canopy. Goa is lush!
Thanks to Goa Tourism
While in Goa, Goa Tourism helped me create my itinerary, and provided maps, information, guides and a car-and-driver. They were fabulously helpful and welcoming, especially Yogesh Naik. My stays at Ashiyana, Devaaya and The Beach House were hosted, and my meals at Mustard, Koi and La Plage were complimentary, but that has not influenced my opinion or coverage. As always, my readers' needs are foremost in my mind. #mediatrip
---
Insider's Guide to Goa : A comprehensive ebook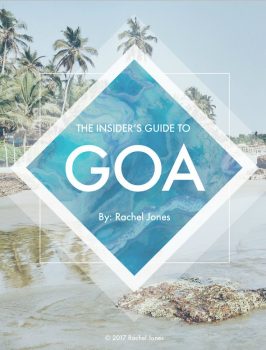 Do you have plans to go to Goa? You need this book! The Insider's Guide to Goa. Rachel Jones of Hippie in Heels​ has lived in Goa for 5 years and she put her heart into writing this 169-page comprehensive guide — which also includes lots of information about travel to India, vaccinations, Visas, safety, packing and more.
Rachel says, "It will answer all your questions, give you local insight, and show you the Goa, India that I know and love. Guide books and online listicles are outdated and strip down Goa into a few top locations. They often miss the true gems and the real local feel of Goa. I really feel confident this is the most comprehensive guide to Goa out there." You can buy it here: Insider's Guide to Goa.
---
If you enjoyed this post, please sign up to The Travel Newsletter in the sidebar and follow Breathedreamgo on all social media platforms including Instagram, TripAdvisor, Facebook, Pinterest, and Twitter. Thank you!