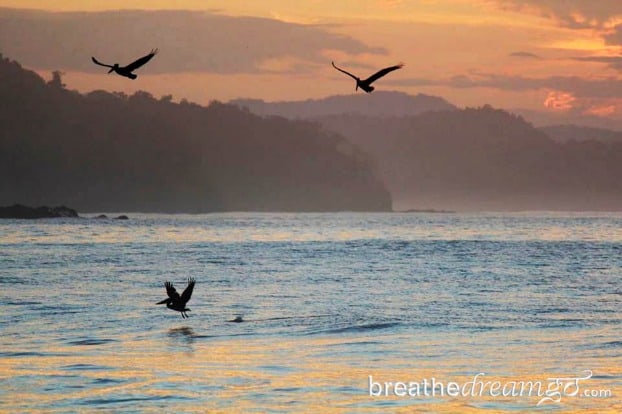 Living the good life in Costa Rica
IN INDIA, THEY SAY Namaste, or Namaskar. It's a greeting, accompanied by hands in prayer mudra, that means "I salute the divine in you." And it neatly sums up the Indian spiritual philosophy that underlies the culture. In Costa Rica, they use the term Pura Vida as a greeting, an expression, a salutation, an explanation … in fact, it is used liberally, and in just about every way possible, to express the essence of Costa Rican culture. Pura Vida means, literally, pure life and refers to a philosophy of enjoying life and living it to the fullest.
So, when a waiter brings you a tasty plate of ocean-fresh seafood, he might say, "Pura vida!" as he puts it in front of you. Or if you are standing with some Ticos (Costa Ricans) and a particularly beautiful thing happens, like a multi-hued sunset, they might exclaim, "Pura vida!" Or you and your friend might order one Guaro Sour and when two arrives the bartender might shrug and say, "Pura vida," by way of explanation.
Rain forests, hot springs, volcanoes, oh my
The Pura Vida philosophy puts the enjoyment of life at front and centre, and it's one of the reasons Costa Rica is such an attractive tourist destination. Well, along with the country's incredibly rich biodiversity, tropical climate, alluring beaches, stable government, commitment to sustainable tourism and the opportunity for seemingly unending outdoor adventures among some of the most exciting landscapes on the planet including ocean beaches, rain forests, volcanos. and mangrove swamps.
Costa Rica is a small, hilly country in Central America, with Nicaragua to the north and Panama to the south; the Pacific Ocean coastline down one side, and the Caribbean down the other. Despite its size, it still manages to contain 12 life zones, or ecosystems, about 6% of the world's biodiversity, more varieties of butterfly than Africa, and more bird species than all of North America. The country has been heralded for protecting and managing the environment with a world-leading biodiversity law.
We are at peace with nature. We feel a strong sense of responsibility about looking after our wealth of biodiversity. – Costa Rican ambassador Mario Fernández Silva
Pura Vida is obviously a powerful philosophy that no doubt is helping to inform Costa Rica's environmental policies. I learned about Pura Vida when I was in Costa Rica with five of my EcoAdventure Media colleagues in early December 2013. We met in San Jose and then each went our separate ways for a week, to follow itineraries based on our interests. You can follow our adventures on Twitter using the hashtag #EcoCostaRica and read our blogs below (at end of this blog post).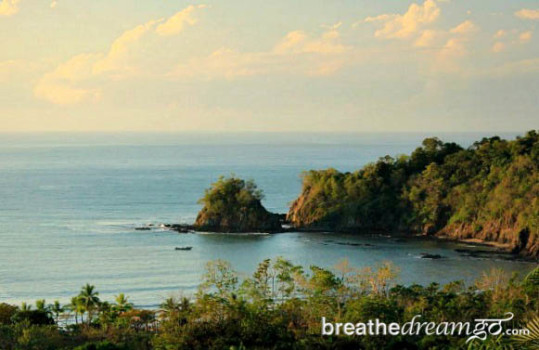 My guide Hector, from Costa Rica Tourism, met me at the airport in San Jose when I arrived on November 29, and we were together for the entire week. Hector drove me literally across the country, but first we spent two days in the capital, San Jose, a small city ringed with mountains in the centre of the country. My week-long itinerary included:
San Jose: Along with local guide Jose, we went on a walking tour of San Jose with stops at the Central Market and the Aranjuez Organic Market.
Arenal Volcano: Our road trip started when Hector drove us from San Jose to the Arenal Volcano region. We hiked through the Arenal Volcano National Park to the foot of the volcano, seeing a sloth and an eyelash pit viper along the way. We spent a night at the Arenal Kioro hot springs and spa — where I soaked in the hot springs, set among a lush tropical garden, at dusk and dawn.
Monteverde Cloud Forest: Continuing our road trip, Hector drove us from the lush rain forests of Arenal up to the Monteverde Cloud Forest. We went on the El Trapiche Tour of a sugar cane, coffee and cocoa bean family farm; walked the forest-lined paths of the Monteverde Cloud Forest Reserve and along the canopy-high hanging bridges of Sky Adventures; sampled local fare in a chocolate cafe; and delighted to be among swarms of hummingbirds at a small garden devoted to the fantastical birds.
Punta Islita: After a very long drive from Monteverde down to the Pacific coast and the Guanacaste region, we stayed for several nights at the magnificent and eco-friendly Punta Islita, one of the country's few resorts to earn a prestigious 5-Leaf rating from Costa Rica's Certification For Sustainable Tourism. From there, we toured Islita (the local village), The ARA Project (a scarlet macaw breeding centre) and the best beaches in the vicinity; and where I enjoyed a deeply relaxing massage in the forest-immersed Punta Islita spa. At the end of a fantastic week, Hector left me bobbing in the Punta Islita's Pacific Ocean-facing infinity pool to drive alone back to San Jose.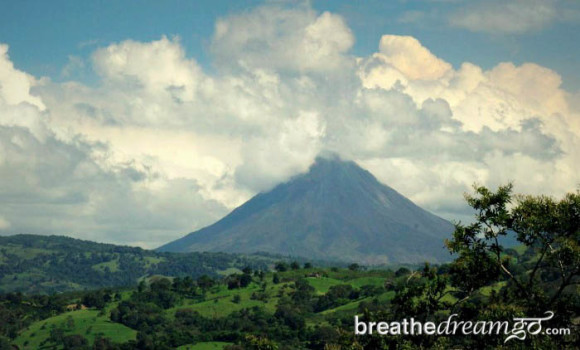 Top Pura Vida Moments
I was in Costa Rica before, years ago, and wrote about it in The best day of my life. I arrived knowing that I would have some incredible adventures in a spectacular travel destination. And I did. I will be writing about some of these experiences in more depth, but in the meantime, here are a few of my Top Pura Vida Moments.
1. Hot water bliss. I found Pura Vida soaking in the hot springs of Arenal Kioro at the foot of Arenal Volcano. This volcano erupted spectacularly in July 1968, killing dozens of people and spewing a black streak of lava down one side. While the volcano is not active now, there's still lots of geothermal activity resulting in natural hot springs and even a hot water river. Arenal Kioro has done an incredible job of containing these waters in man-made stone pools surrounded by lush gardens.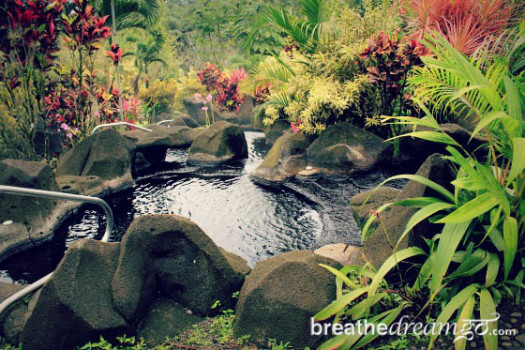 2. Above the clouds. I found Pura Vida when I woke up in Monteverde and went outside to behold the clouds from above! Monteverde is at an elevation of 1,400 metres above sea level, and clouds and mist often swirl around these mountains. As a consequence, it is a perfect place for certain mid-elevation crops, like coffee and cocoa, and for seeing an astounding variety of flora and fauna. But for me, the uplifting feeling of being above the clouds was magical.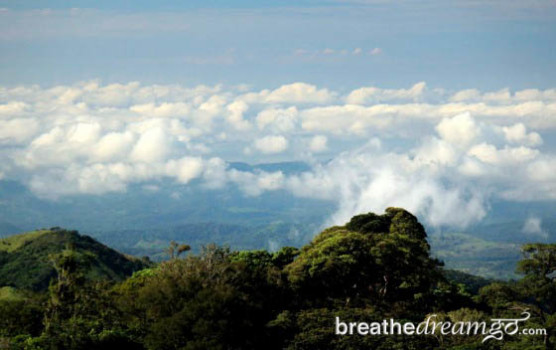 3. Birds of a feather. I found Pura Vida during feeding time at The ARA Project, a scarlet macaw breeding centre. These magnificent birds, and their green macaw sisters, were once found all over Costa Rica in plentiful numbers, but now they are on the endangered species list due to destruction of their habitat. The ARA Project is breeding them to release them — and it was pure delight watching all 23 birds they have recently released swoop onto the feeders at feeding time. See the video I shot, below.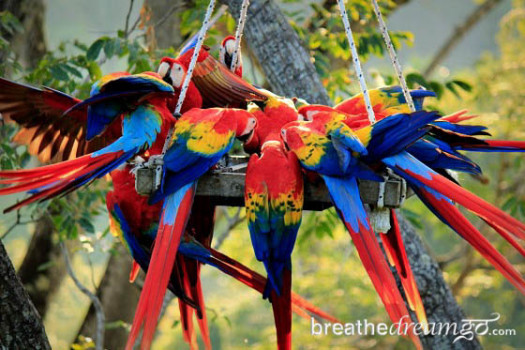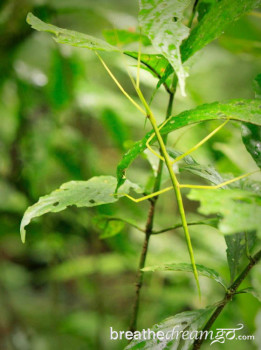 4. The fabulous world of nature. I found Pura Vida over and over again as I walled and hiked among the rain forests, dry forests, beaches and parks of Costa Rica. I saw two three-toed sloths, an eyelash pit viper, mountain water falls, too many glorious birds to mention including pelicans, herons, egrets, macaws, parrots and a flamingo, dozens of coatis, many varieties of tiny orchids — and this fella, a stick insect (also known as a walking stick), surprisingly large and almost perfectly camouflaged. A-m-a-z-i-n-g moment. Felt like I was in one of those nature shows on TV. Except in Costa Rica, you can see nature everywhere, you don't actually have to go to one of the many national parks or wildlife reserves. I saw troops of howler monkey and a sloth just by the side of a road. I saw a band of coatis on the road in the Arenal area racing up to car windows for a hand-out (which is a very bad idea — don't do it).
 5. Explosion of art. I found Pura Vida bobbing in the spectacular infinity pool of the fabulous Punta Islita, which is to be expected — but I was even more blown away when I toured the village, Islita, that the resort supports. Among many other projects, the good people at Punta Islita brought in leading Costa Rican artists to paint the buildings and teach local women new skills. This resort is not only gorgeous, it has it's heart in the right place. I will be writing more about it.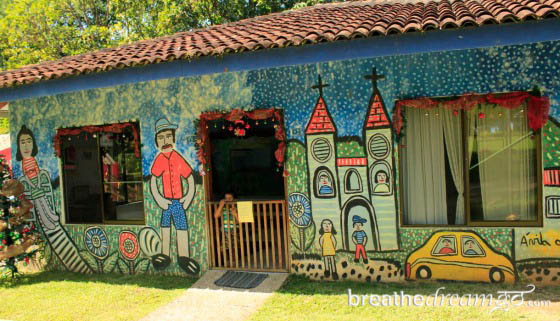 I was a guest of Visit Costa Rica but of course all views, sentiments and feelings are my own.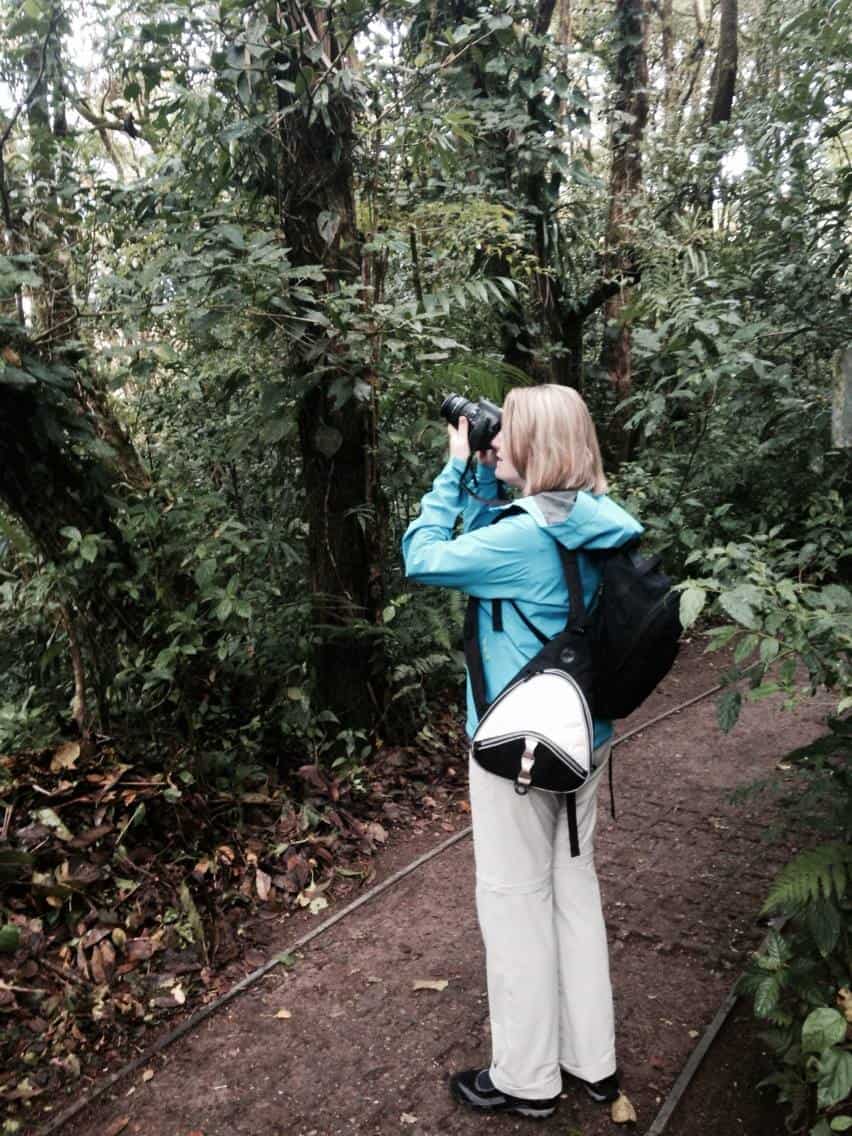 ---
If you enjoyed this post, please sign up to The Travel Newsletter in the sidebar and follow Breathedreamgo on all social media platforms including Instagram, TripAdvisor, Facebook, Pinterest, and Twitter. Thank you!