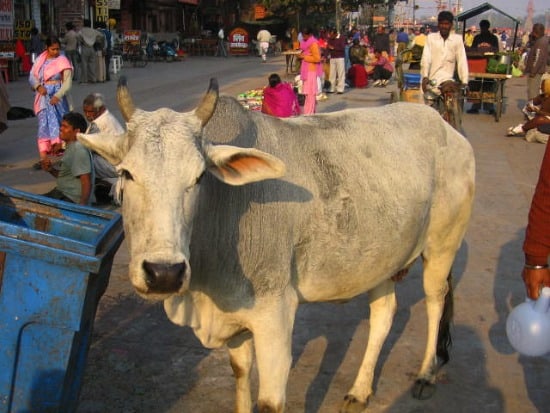 On the horns of the dilemma
The following Reuters newspaper story has been stuck on my 'fridge door for about three years, maybe more. I have never read anything that does a better job of pinpointing the problem of perception and the nature of reality.

Shocked Indian villagers watch as cow devours dozens of live chickens
When dozens of chickens went missing from a remote Indian village, everyone blamed the neighbourhood dogs. But Ajit Ghosh, owner of the missing birds, finally solved the puzzle when he caught his cow — a sacred animal for the Hindu family — gobbling them up at night. "We were shocked to see our calf eating chickens alive," he said in Chandpur, about 240 kilometres northwest of Calcutta.
"We think lack of vital minerals in the body is causing this behaviour," said Mihir Satpathy, a local district veterinary officer.
"The local vet said the cow was probably suffering from a disease, but others said Lal was a tiger in his previous life, " Mr. Ghosh said.
If you enjoyed this post, you can….
Get updates and read additional stories on the Breathedreamgo Facebook page.
Buy Song of India, a collection of 10 feature stories about my travels in India. E-book version is now only $1.99.
Subscribe to the free — and inspiring! — e-newsletter, Travel That Changes You.