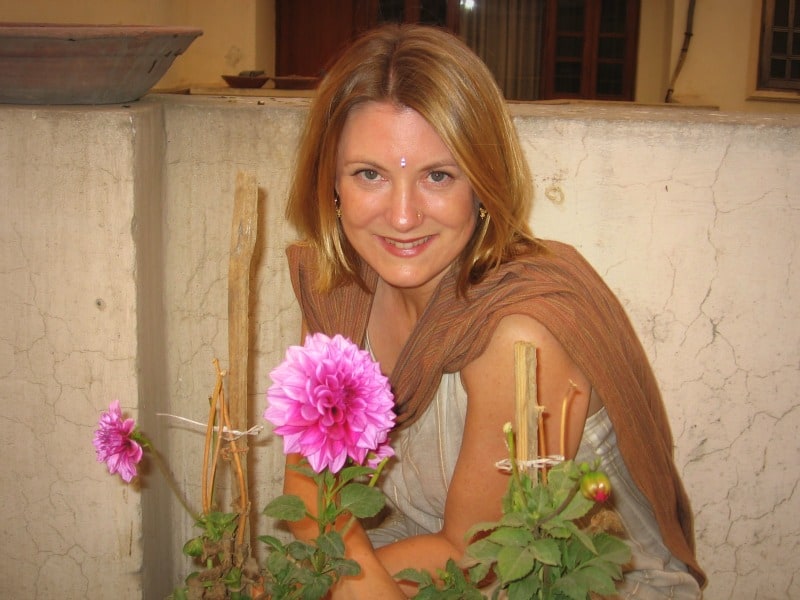 Celebrating 10 years of publishing Breathedreamgo
Ten years ago today, I hit the publish button on Breathedreamgo for the first time. August 23, 2009. It was Ganesh Chaturthi that year, the Hindu elephant-headed god's birthday, and I rushed my web builder Jennifer to be ready on time. For Ganesh is the god of auspicious beginnings, good luck, and the remover of obstacles.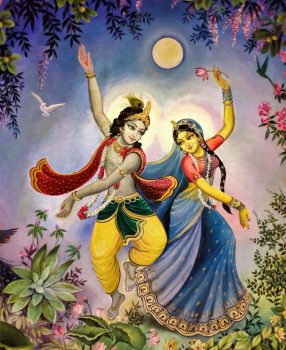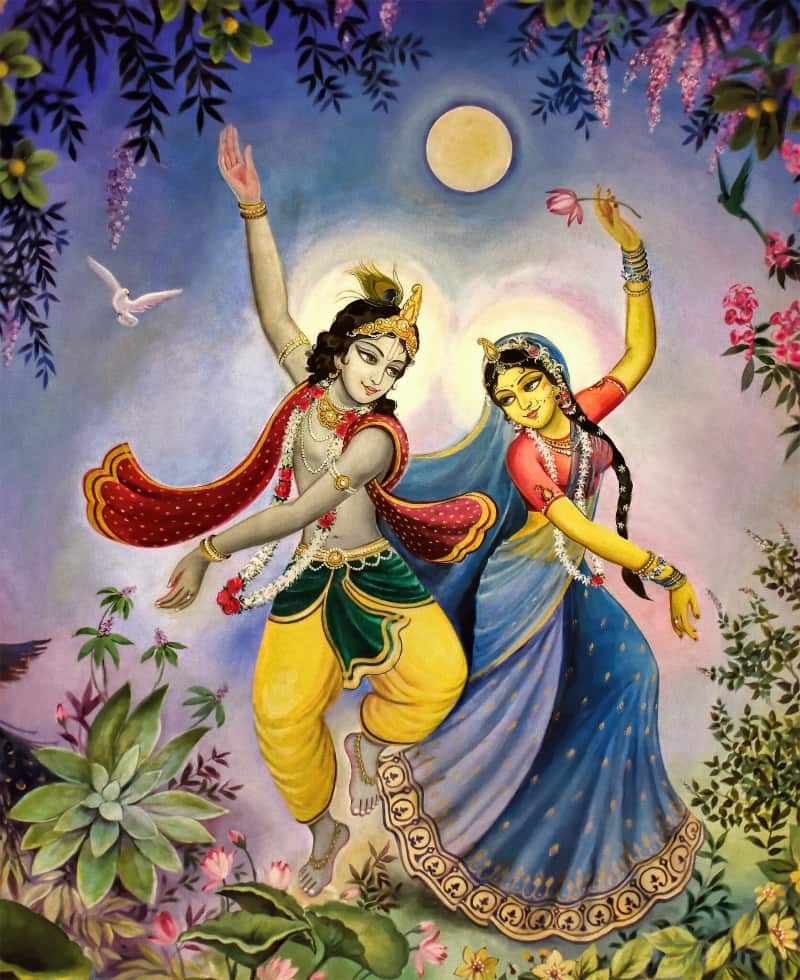 This year, on August 23, it's Krishna Janmashtami — a celebration of another beloved Hindu god, Krishna. I always feel joyful when I think of Krishna, who is often depicted as either a naughty child stealing butter, or as a young lover playing the flute and chasing gopis, or as Radha's spiritual partner. The divine love between Krishna and Radha, who never married, is held up as an ideal of selfless love and devotion — sometimes referred to as Bhakti.
And so I feel my journey in India has been one of auspicious beginnings leading to a joyful reunion with India, the country that inspires me and also spiritually sustains me. Krishna was also Arjun's charioteer and gave him the wise counsel that became the Bhagavad Gita, the book that is sometimes known as "the bible" for Hindus. There is great depth in the Bhagavad Gita, but my understanding of the message is to do your work, your dharma, with joy and devotion, and without being attached to the outcome or the fruits of your labour. Because of karma, we cannot know or control the outcome of our actions, we can only do our best.
In fact, I always approached Breathedreamgo this way. When I started, travel blogging was at best a strange hobby — certainly not a money-making profession. But that's not why I created Breathedreamgo. It was always a labour of love, an expression of my passions, and a platform to exercise my creativity and talents.
---
Scroll down to see the evolution of Breathedreamgo over the past 10 years in pictures!
---
Yesterday, I asked on social media, "What do you want to know about about blogging, travel writing, pursuing a dream career, what it's like to live in India, dealing with monkeys on a daily basis … or whatever … let me know." Four people responded with questions (and many more with congratulations, thanks!).
Question 1: Can you still pursue your passion, and your dream career, when you're over 60?
Yes, yes, and a resounding yes. We live in a youth-oriented age, largely because of the media (young people look better in photograph, I guess), and we can easily become negatively influenced. It does sometimes feel that middle-aged and older people are almost absent from the media, and it can make us feel invisible. This is ESPECIALLY true in the travel industry — which is bizarre given how many older people travel and how they tend to spend more money. I started when I was about 44 or 45, and Breathedreamgo was launched when I was 49. Many people would consider that over-the-hill, but for me, it was a time of re-birth and I feel even more energetic, passionate, and motivated than when I was young. Personally, I would not want to live with the regret of not having tried. The only failure is not trying. So, go for it.
Question 2: What's it like to live with monkeys everyday?
Where I live in Rishikesh, we have what's sometimes called the "monkey menace." My flat is on the outskirts, near a forest (Rajaji National Park is literally at my doorstep) and overlooks a large ashram (Yog Niketan) with many trees. There are two troops of monkeys who live in the vicinity — the smaller brown, rhesus macaques and the larger, grey Hanuman langurs. We have to share our space with them, and sometimes that means I have to run in from my balcony when a monkey suddenly appears. I also have to be very careful taking garbage downstairs to the bin, and bringing groceries home. I have had many near-misses with them, but so far I've been able to stay out of their way.
This troop of Hanuman Langur monkeys, in the video, won the war waged in the stairwell outside my flat in Rishikesh, to play on the roof of the ashram next door!
Question 3: How do you start travel writing or blogging, and how do you stand out?
This is not any easy question to answer. Times have changed SO much since I started travel writing and blogging in 2005. Back then, there were only a handful of professional travel bloggers – I was surprised to see 300 in one room at the first TBEX in New York City in 2010. And almost no one was making any money. Back then, getting respect, recognition, and making money as a travel blogger seemed like a huge obstacle to overcome. In fact, I didn't have much faith in myself or the profession and continued to focus on freelance writing – while some of my more confident (and smart) colleagues continued to assiduously build their blogs and platforms. Many of the people I started with have built businesses and are making extremely good money.
Nowadays, virtually everyone is a travel blogger, thanks to smart phones and social media. It felt like overnight we went from struggling to be taken seriously as bloggers to the world of the Instagram Influencer – people with millions of followers who publish a constant stream of brand-sponsored posts.
So it's a huge challenge to get started, to make a name for yourself, and to stand out in this environment. My recommendation is to have a clearly defined, and unique niche; learn about SEO; and don't bet the farm on social media.
Relevance and responsibility
The big challenge for me these days is staying relevant and also responsible. Every day, a new story is published about irresponsible travellers stomping on farmers' fields, polluting pristine beaches, or falling off cliffs in the rush to get that perfect Instagram image. This week alone a travel blogger was seen riding an elephant in Assam and another promoting tourism in war-torn Syria, so there are a lot of ethical issues to consider.
Travel is not the life-changing, rarity it once was; it's now a status symbol and commodity. More and more people are travelling for the photo opp, rather than the experience, and there are some very negative consequences of this behaviour, such as misinformation, over-tourism, and pollution.
There are cities struggling with a massive influx of tourists, such as Venice and Barcelona. There are places that have been so polluted and degraded by tourists that local authorities have had to close them, such as the beach in Thailand where the film The Beach was made. There are iconic natural wonders, such as Mount Everest, weighed down by garbage.
Over the years, I've struggled to keep up with the technological changes, the advent of youth-oriented social media channels like Instagram, the competition to publish posts that rank well in search, and the motivation to continue in the face of all of these changes and pressures. Furthermore, I want to be part of the solution, not part of the problem – so my integrity sometimes also stands in the way of financial success.
Nevertheless, I have committed to the cause of Responsible Tourism and make an effort to publish posts that steer people away from elephant riding and towards offbeat locations, and teach them the benefits of choosing to carry responsible travel products such as reusable bottles and spending time in jungles, forests, national parks and tiger reserves, and spiritual centres and ashrams.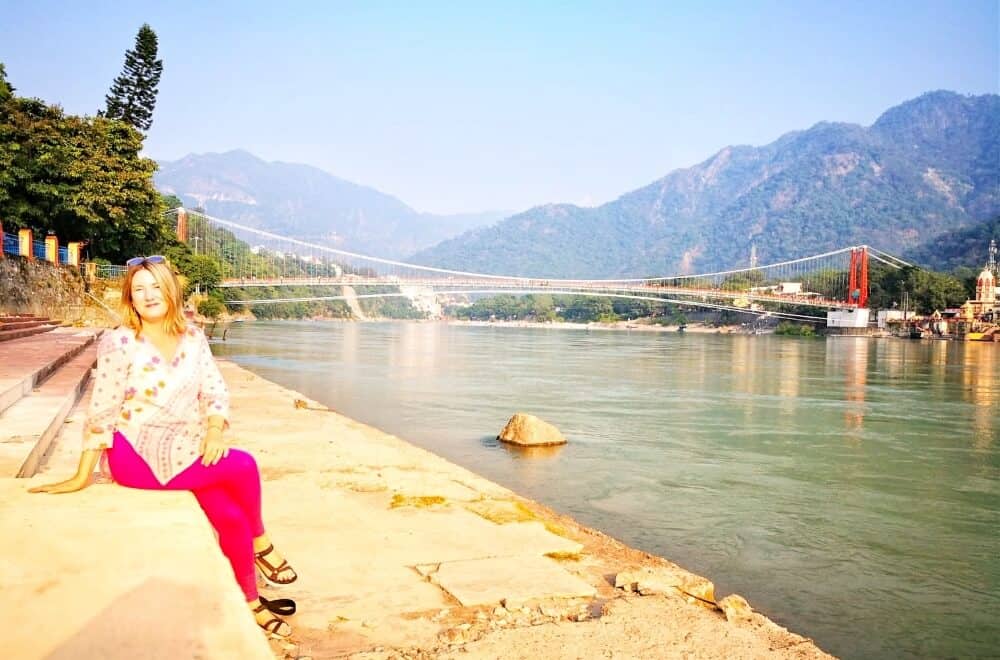 Living MY dream
Thanks to Breathedreamgo, I am living my dream ( I don't believe in THE dream). I live in a lovely apartment in Rishikesh with stunning views of the Lower Himalayas. I have some exciting travel plans ahead of me, and I feel part of a global community of friends, colleagues, and supporters. I wake up every morning feeling grateful for all of this.
But to be an honest, it's an ongoing struggle. I cannot say "I've made it!" and rest content on a bed of laurels and financial security. Far from it.
And to anyone who thinks it's been easy … I've never worked so hard in my life, I've never taken so many risks, I've never been so far out of my comfort zone …
Would I have it another way?
No way.
After losing my parents and recovering from a deeply entrenched depression, I made a decision to LIVE MY LIFE so that I would have no regrets, come what may. I made a decision to follow the call of my heart and the song of the soul. I also explored and expressed my creative fully, for the first time in my life. I wouldn't change any of this. It has enriched my life in innumerable ways.
Though this journey has not been highly rewarding financially thus far, I have made a decision to take a more practical and business-like approach to my blog and my work: I'm monetizing Breathedreamgo and developing my India for Beginners custom tour business. I wrote about this transition in Another new era for Breathedreamgo. So, a new journey has begun, to stretch my entrepreneurial wings.
Thank you to everyone who has believed in me, supported me, followed me, read my words, trusted me with their India travel planning, hired me to create content, and joined me on this journey, this walk along the razor's edge.
Note: A special thanks to my friend Ajay and his family for giving me a home in India for many years when I first started travelling here. I published my very first India travel blogs on Ajay's computer in his home in South Delhi.
The evolution of Breathedreamgo in home page screenshots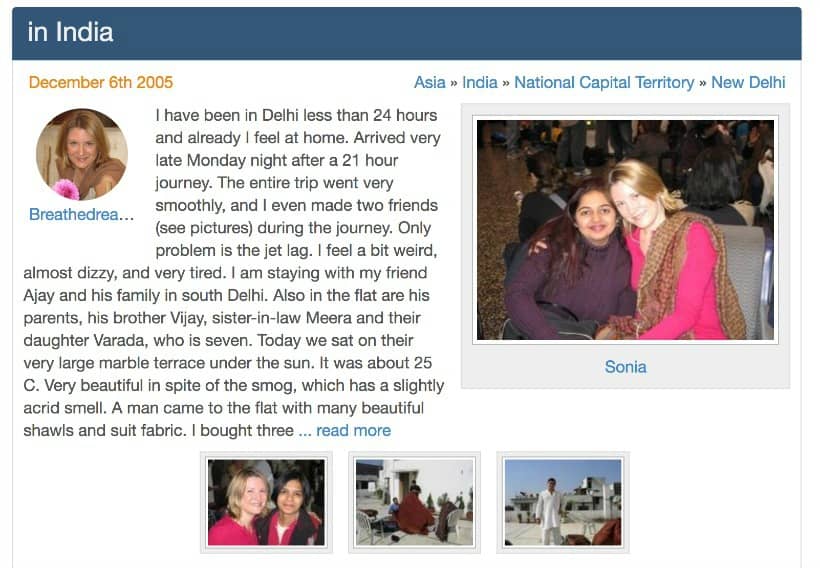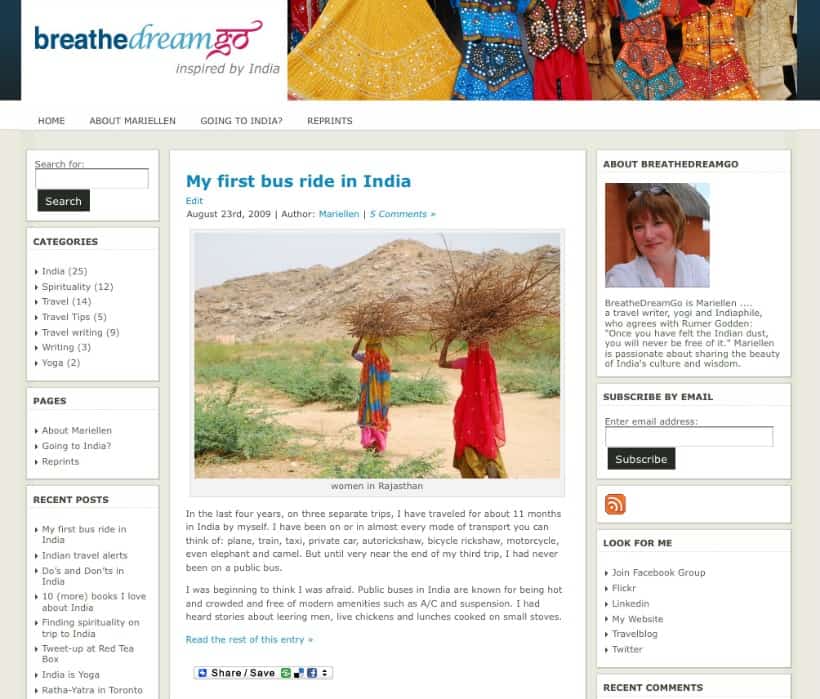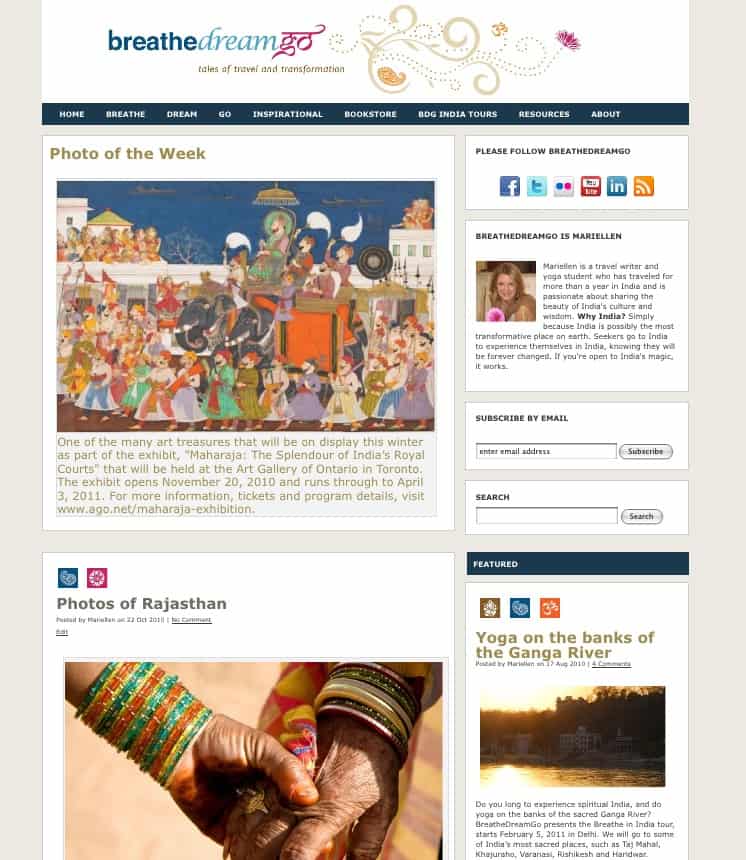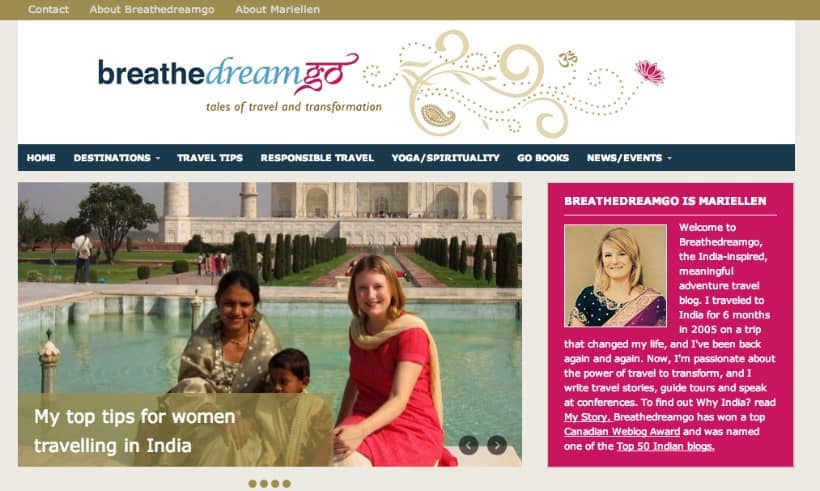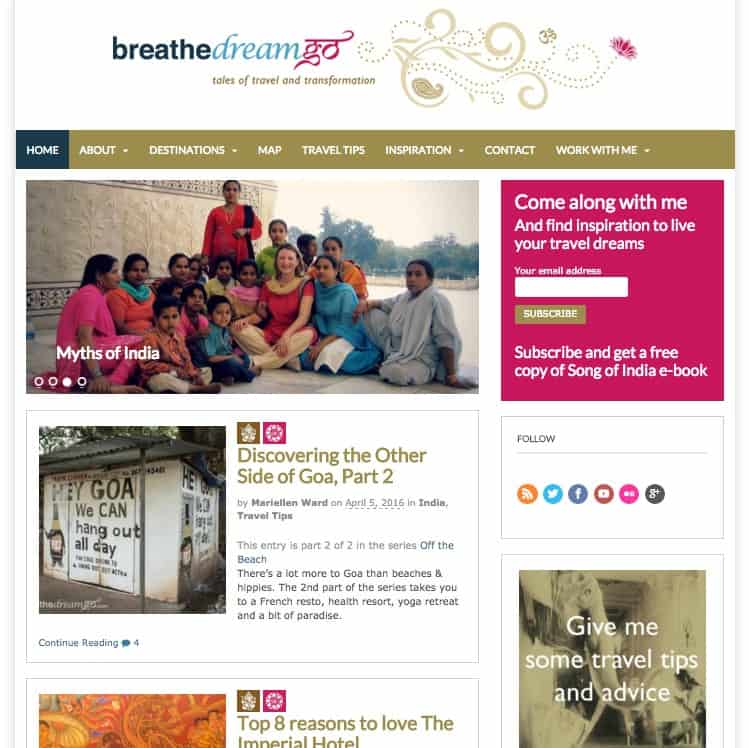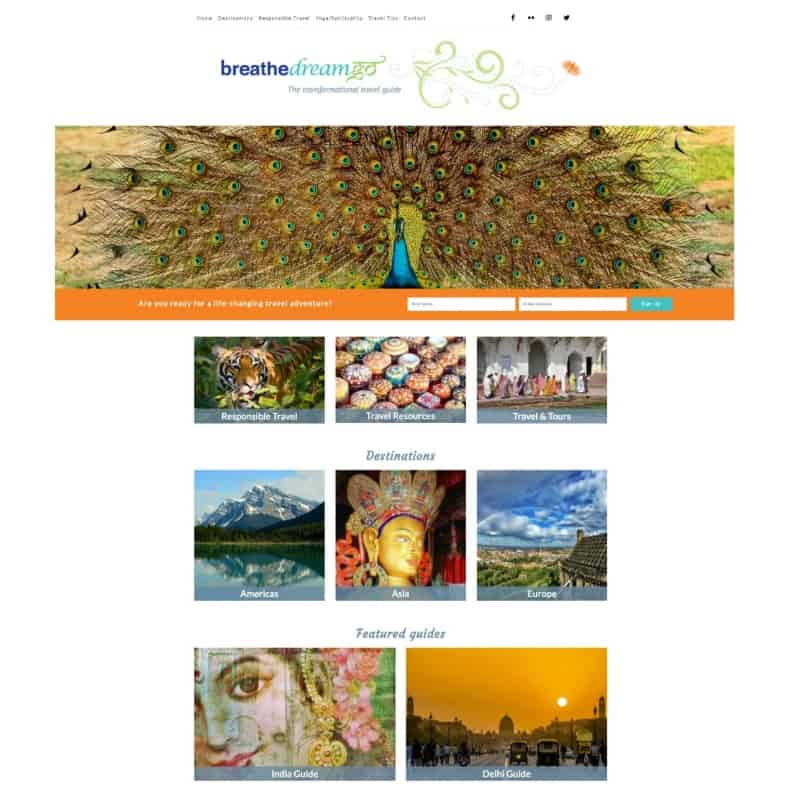 ---
If you enjoyed this post, you can….
Sign up to The Travel Newsletter in the sidebar and follow Breathedreamgo on all social media platforms including Instagram, TripAdvisor, Facebook, Pinterest, and Twitter. Thank you!