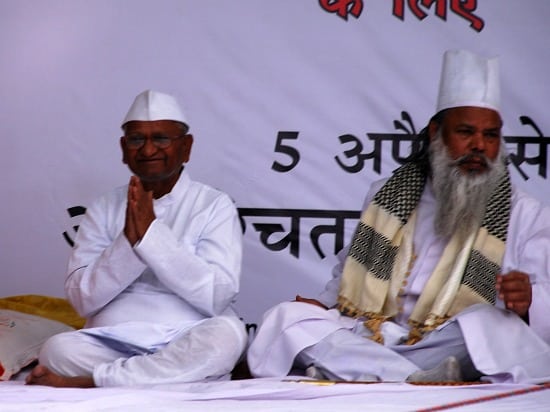 At ground zero of the Anna Hazare anti-corruption movement
Today, day three of the protest, I joined thousands of people from all walks of life at Jantar Mantar, in the centre of Delhi, to provide my support to a quiet, gentle determined man who recently declared he would fast unto death to end corruption in India. I arrived fairly early, about 10:30 am, to find a large number of people, and an almost equally large number of media, gathered together around a tent-covered stage. I was lucky to be there when the man at the centre of the action, nicknamed "Anna Hazare," was on stage. I found the atmosphere to be relaxed, positive and festive; and when I filed past the stage, I was struck by Hazare's powerful yet quiet presence. He seemed rock-solid, sitting on that stage, though he has been fasting for several days.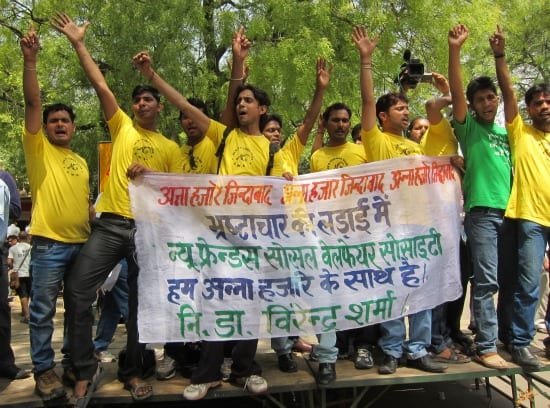 .
He is very much like a modern-day Mahatama Gandhi: a strong, simple man whose steadfast determination has created a spark — a spark that has ignited a fire in India. The anti-corruption movement is sweeping the nation. It is bigger news than the Cricket World Cup win — which is almost hard to believe.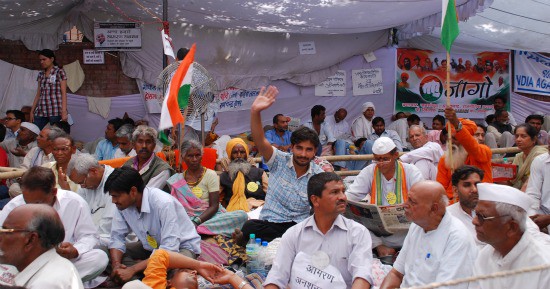 .
I truly felt I was at an historic event as I milled about the excited crowd this morning, and again when I was there in the evening. I happened to be there when the candle-lit procession arrived from India Gate, a river of people, of every age, waving flags, chanting, carrying home made signs. People seem to be fed up with the endemic corruption in India. The global climate of change that has affected places like Libya and Egypt is sweeping through India now, too.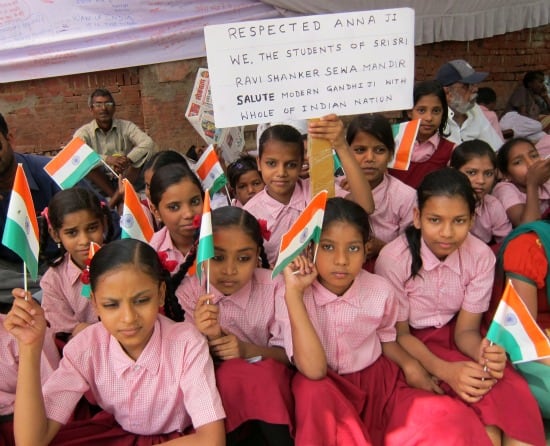 I was asked my opinion of the movement (and my country of origin) many times, and was also interviewed by several news outlets. My family in Delhi saw me on CNN/IBN!
But I also interviewed someone. When I got home in the afternoon, I suddenly decided to meet Mrs.Tara Gandhi Bhatacharjee — otherwise known as Mahatma Gandhi's grand-daughter — who lives directly across the lane from us here in South Delhi. I have wanted to meet her for many years, all the years I have been coming here, and finally I did today — for today I had a reason. I wanted to find out what she thought of Anna Hazare and the anti-corruption movement. And she said something very, very important, which I captured on video. Essentially she said, "Be the change."
What a day, what an exciting time to be in India, and what a privilege and honour to meet the Mahatma's grand-daughter, especially at a time like this. I feel I am at the centre of events in India, and observing history in the making. It is like witnessing the coming-of-age of a nation as India swells with pride (cricket) and stands up against the country's biggest plague (corruption).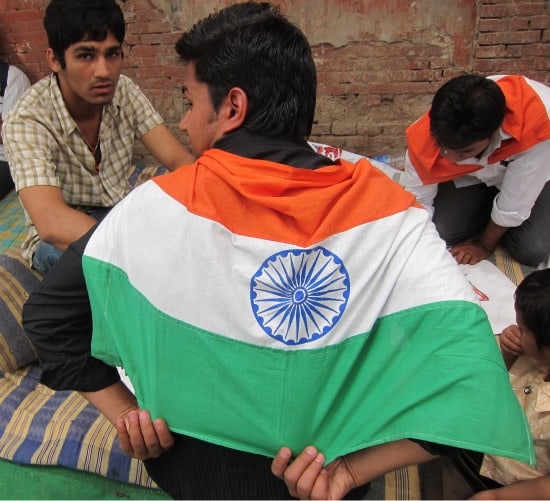 If you enjoyed this post, you can….
Get updates and read additional stories on the Breathedreamgo Facebook page.
Buy Song of India, a collection of 10 feature stories about my travels in India. E-book version now only $1.99.
Subscribe to the free — and inspiring! — e-newsletter, Travel That Changes You.