The terrible thing about tigers
This year, 2010, is the year of the tiger according to Chinese astrology — and according to the World Wildlife Fund. But though the year is over, the crisis facing the tiger is not. A hundred years ago there were 100,000 tigers in the wild. It is now estimated that, worldwide, there are only about 3,200 tigers left in the wild, putting tigers in danger of extinction.
As India has about 60% of the world's tiger population, the tiger crisis in India is particularly tragic. For many people, the image of the tiger – orange-and-black stripes flashing as it prowls with power and stealth through dense jungle foliage – is the symbol of India. Anyone who has visited India recently cannot help but be moved by the billboards that bear a photo of this magnificent creature against a black background and the words: "Only 1,411 left."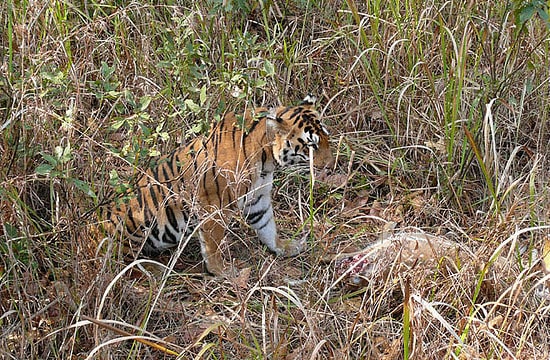 Saving tiger habitat is key
Many people and organizations are trying to ring the alarm bell before it's too late. The WWF's Tx2 campaign is hoping to double the wild tiger population by the next Year of the Tiger in 2022. You can read more about the various strategies involved in this campaign on the site What WWF is doing for tigers.
In the latest news about the crisis facing the Indian tiger, Leonardo DiCaprio has joined the fight as a spokesman for WWF. DiCaprio made headlines around the world when he arrived at the World Tiger Summit in Russia in November 2010 and donated $1 million to the cause. He will be in India in the coming months for the WWF Save Tigers Now campaign. The actor hopes to help raise more than $20 million to double the worldwide tiger population by 2022.
But it's more than just tigers these organizations are trying to save — it's also habitat. The National Tiger Conservation Authority of India (formerly known as Project Tiger) has done a lot to protect tiger habitat in India, and to try halt the many forces edging the tiger closer to extinction, such as poaching. It was founded in 1973 with a mandate to create nine tiger reserves in India. The NTCA is now custodian of 27 tiger reserves. However, in spite of their efforts, the tiger population in India has dropped by about 60% on the last decade. To read more about the plight of tigers in India, download Stripes, the magazine of the NTCA : STRIPES Mar-Apr-2010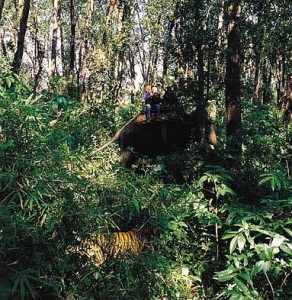 The tiger is the iconic symbol if India
It's ironic that the world's first tiger conservationist, tiger hunter-turned-protector Jim Corbett hailed from India – and started sounding an alarm as far back as the 1930s. The Corbett Tiger Reserve, India's best-known tiger park, is named after him.
It's also ironic that today, as greater numbers of people than ever are flocking to see tigers, the tiger population is declining. Recently, the government of India has announced it will restrict tiger tourism in India in a bid to halt the extinction of the nation's iconic symbol and national animal.
But if people stop traveling to tiger country, appreciation for this animal, and awareness of the crisis, may dwindle. Save Tigers Now actually encourages people to visit tiger reserves: "Income from tourism at tiger reserves can be critical to building support among local communities for tiger protection. There is never a guarantee that travelers will see a tiger in the wild, but among the best places to try are India and Nepal's tiger reserves and national parks. Look for tour operators who focus on nature travel, take travelers in small groups with expert local guides and are authorized by the park service of the country."
What you can do to help
You can help prevent the extinction of the tiger by spreading awareness; by not buying tiger-related products or products that put tiger habitats at risk; by joining the End Tiger Trade Facebook page and by donating to the Save Tigers Now campaign by visiting the site's Take Action page.
World Wildlife Fund suggests a number of ways that you can get involved, such as volunteering with WWF-India, by donating to their campaign, sending e-cards and by adopting a tiger. Learn all about how you can get involved by visiting the WWF What you can do for tigers page.
National Geographic recently aired Big Cat Week on television and they have set up a donation page for their Big Cats Initiative "a comprehensive program that supports on-the-ground conservation projects, education, and economic incentive efforts and a global public-awareness campaign."
I am hoping to travel to Corbett, Bandhavgarh, Kanha and Ranthambore parks this winter when I am in India and blog about the impact of tiger tourism, the political situation around tiger conservationism (tigers don't vote!) and the challenges and paradoxes of protecting tigers in a country with barely enough resources – or land – to nourish its 1.2 billion citizens. Please let me know if you can help this blogging awareness project in any way.
This is a story that needs telling now, while there's still a chance to save one of the world's most admired animals before it becomes merely a symbol of a bygone era.
If you enjoyed this post, you can….
Get updates and read additional stories on the Breathedreamgo Facebook page.
Buy Song of India, a collection of 10 feature stories about my travels in India. E-book version is now only $1.99.
Subscribe to the free — and inspiring! — e-newsletter, Travel That Changes You.