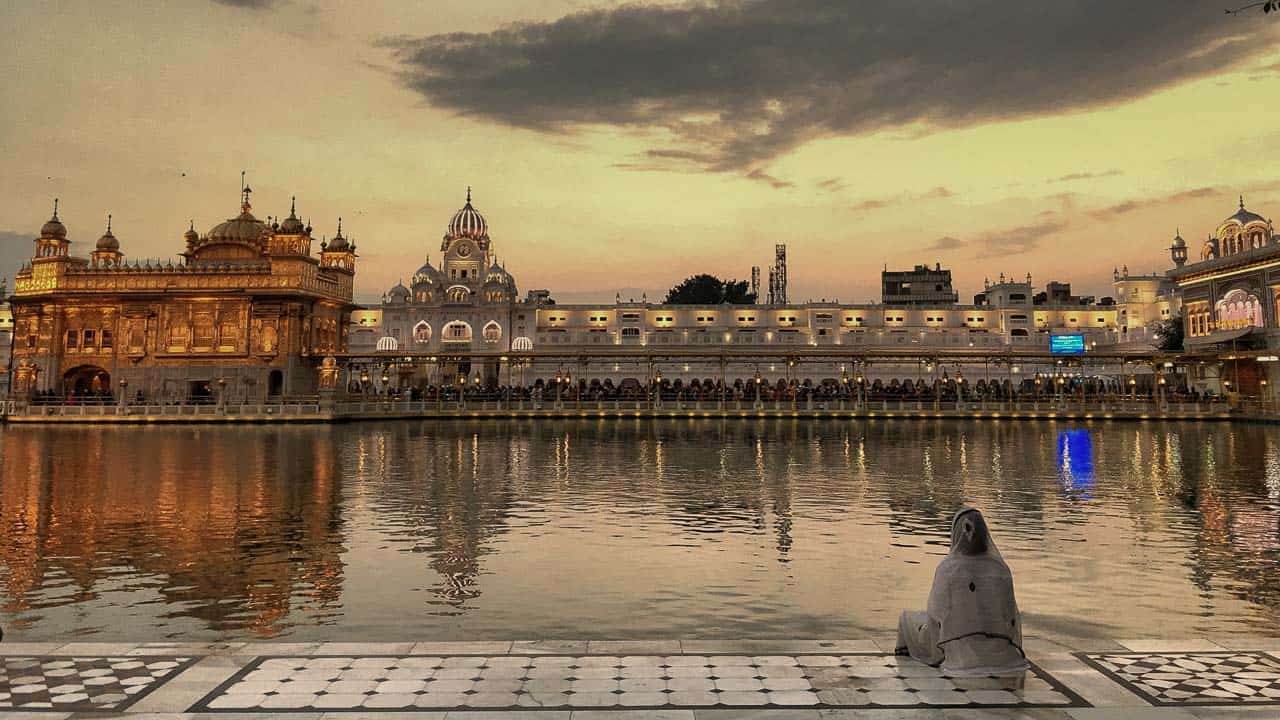 My offbeat and undiscovered Punjab journey to Amritsar, Hola Mohalla, and the famous mustard fields
IT WAS MY FIRST TIME in the state of Punjab, and I was looking forward to experiencing offbeat and undiscovered Punjab — from the sublime beauty of the Golden Temple to idyllic, rural homestays, the famous Hola Mohalla festival, and Punjabi food, the richest in India.
I thought I knew what to expect from all those Bollywood movies, Punjabi restaurants, and Indian weddings I've attended. Heroines running through fields of yellow mustard flowers. Tall, bearded men in colourful turbans dancing with abandon. Large portions of rich and hearty food like thick lassis, fluffy parathas, paneer tikka masala, and tandoori baked, well, everything. And the Sri Harmandir Sahib (aka Golden Temple) shimmering in the centre of it all. Yup, it was all there when I joined the five-day "Punjab: Beyond the Brochure" tour. Punjab was everything I expected it to be and much, much more.
Together with our tour leader, travel writer Puneetinder Kaur Sidhu, we began our spiritual and culinary tour in Amritsar at the Golden Temple, the centre of the Sikh religion. Amritsar is known as the home of this famous gurdwara, a draw for thousands of tourists and Sikhs alike each day. The city is also known as the culinary capital of Punjab. How can you not love a city that celebrates the divine, and divinely delicious food, in equal measure?
---
---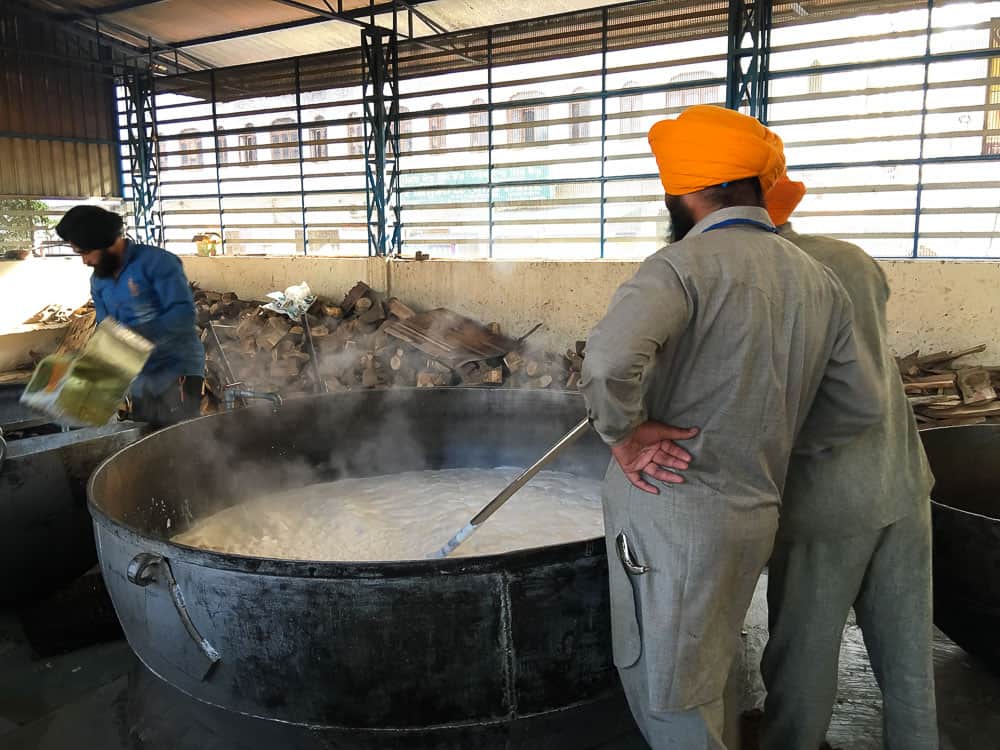 Amritsar is not a city of fine dining rooms and starred chefs, but rather tiny hole-in-the-wall joints that proffer high-calorie goodies with unabashed and unrepentant generosity. Rich kulchas, spicy choley, moist Amritsari fish, dripping sweet gulab jamun. The best food in Amritsar is found in the narrow, ancient lanes that spread out like a fine web around the Golden Temple, or the restaurants that grew from these humble beginnings.
Starting our Punjab tour at the Golden Temple was fitting because the Sikhs are intrinsically linked with the state, and because we would be finishing our tour five days later at Hola Mohalla, an exuberant Sikh festival that coincides with Holi.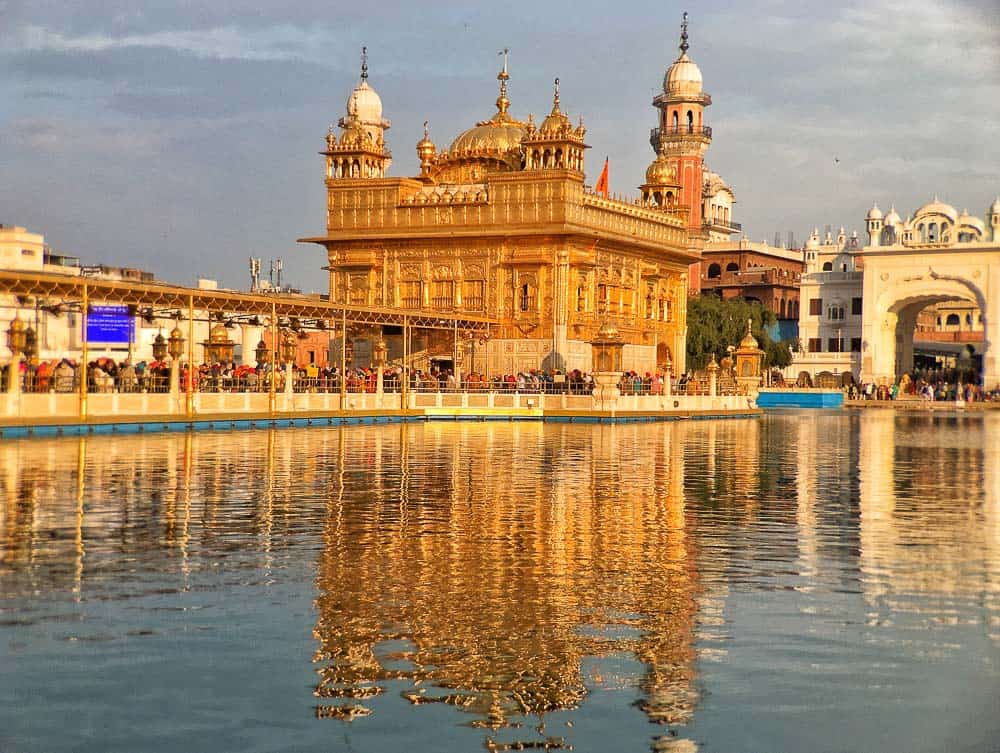 Industry and serenity at the Golden Temple, Amritsar, Punjab
The Golden Temple is one of those places that must be felt and experienced. Everything about it is massive in scale. A new white marble plaza provides a colossal gathering place in front of the main entry gate, one of four facing in each direction. Inside, the gold-leaf covered temple shimmers in the large pool. A long queue of people waits patiently to enter the inner sanctum. Several huge kitchens prepare upwards of 50,000 meals per day. And hundreds of volunteers work busily cleaning, reading, chopping vegetables, making rotis, and serving langar – the Sikh practise of offering free meals to those in need.
In spite of all this activity, however, the Golden Temple retains a deeply peaceful ambience. Like most visitors, we entered the inner sanctum first, and then walked leisurely around the pool while Puneet told us about the history of the famous gurdwara and the traditions of the Sikhs. Then we lined up for langar, and sat on the ground among the long rows as volunteers served us rice, dal, sabzi, roti, and water. Langar is designed to both feed the poor and act as a levelling agent on society. Rich and poor, famous and humble, all sit together in a spirit of oneness and equality.
From the Golden Temple we walked through the newly reconstructed market towards Jallianwala Bagh, Town Hall, and the new Partition Museum. This boulevard in the centre of Amritsar is now clean, spacious, and pleasant while still maintaining the character of the old city by utilizing only wooden sign boards painted in muted colours. Our visit to Amritsar ended on our way out of town at a local culinary legend, Makhan Fish, for platefuls of moist, tasty Amritsari fish.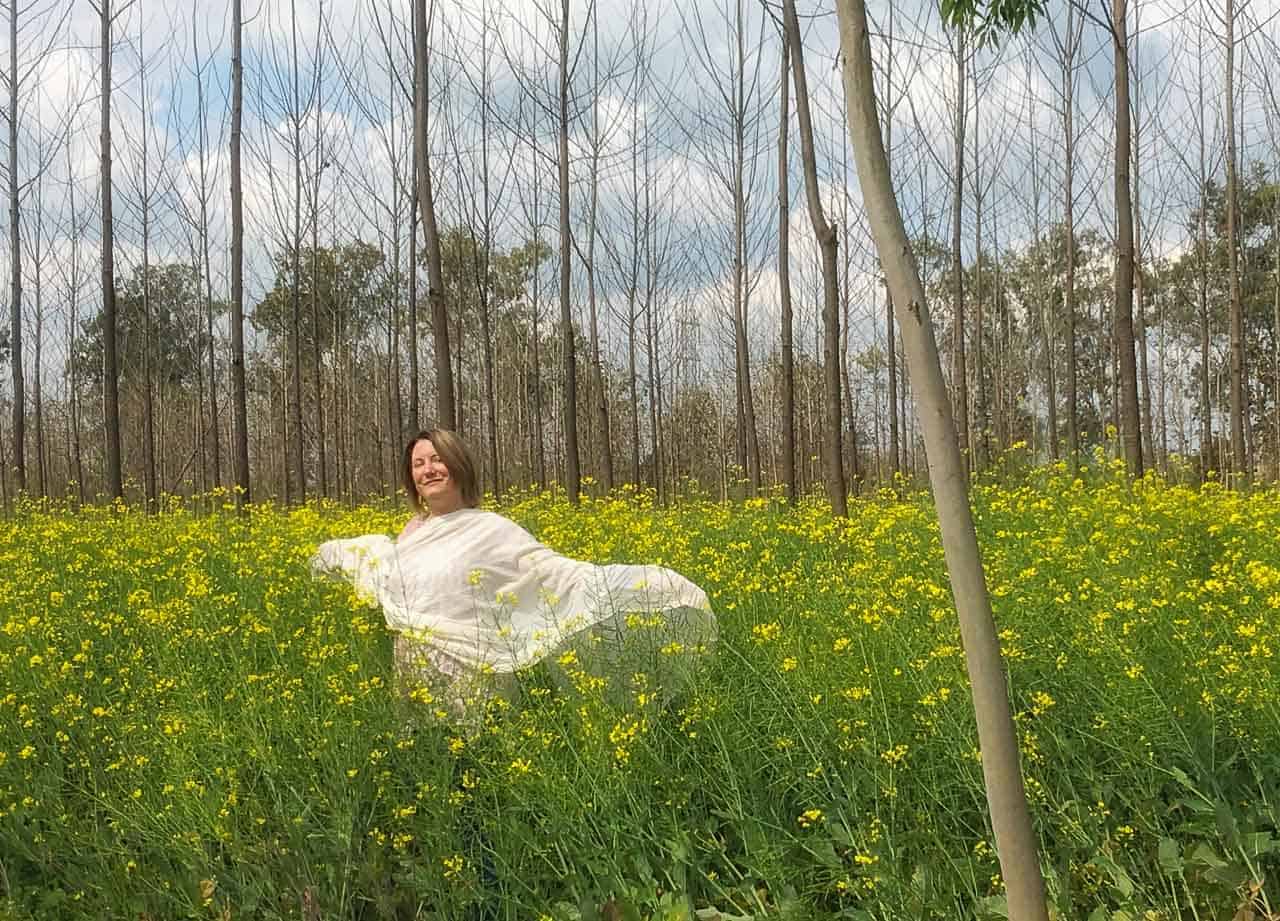 Running through the mustard fields of offbeat Punjab
The first two nights of our tour were spent at The Kothi in Gurdaspur, only about 75 kilometres north-east of Amritsar. It was damp and dreary when we arrived as it had rained heavily the night before, and the leaden clouds still hung over rural Punjab. But our enthusiasm for The Kothi was not dampened by the weather – all six group members instantly liked the quaint charm of this genteel home stay, dripping with colonial charm.
The Kothi was built by the Sangha family, who also established the tiny village of Nawapind Sardaran, in which the home stay is located. A rambling red brick building surrounds an open courtyard, and every nook and cranny contains homey knick-knacks, books, and photographs.
We enjoyed a very relaxed two says at The Kothi, walking through the village and along the river, listening to Punjabi folk songs around a bonfire, driving to local sights such as Takht-i-Akbari, in nearby Kalanaur, the almost-forgotten platform on which Akbar was crowned emperor at the age of 13, and enjoying the rustic hospitality at Toti's Dhaba, a popular roadside spot that's been serving up sweet chai and baskets of pakoras for 40 years.
But mostly we enjoyed eating the fresh, hearty fare served up in large and diverse quantities. At each meal, the table became a groaning board of local delicacies such as sarson ka saag, mukki ki roti, sweet rice and aloo vadi, parathas stuffed with aloo and gobi, fresh curd, divine kheer, white buffalo butter, and gur (jaggery), served as a digestive.
The village of Nawapind Sardaran will always hold a special place for me because it was here that I finally was able to realize a long-held dream: draping a white dupatta over my shoulders, I ran through a mustard field in imitation of Kajol in Dilwale Dulhania Le Jayenge (DDLJ).
By the time we left Gurdaspur, I felt fully immersed in the pastoral pleasures of Punjab.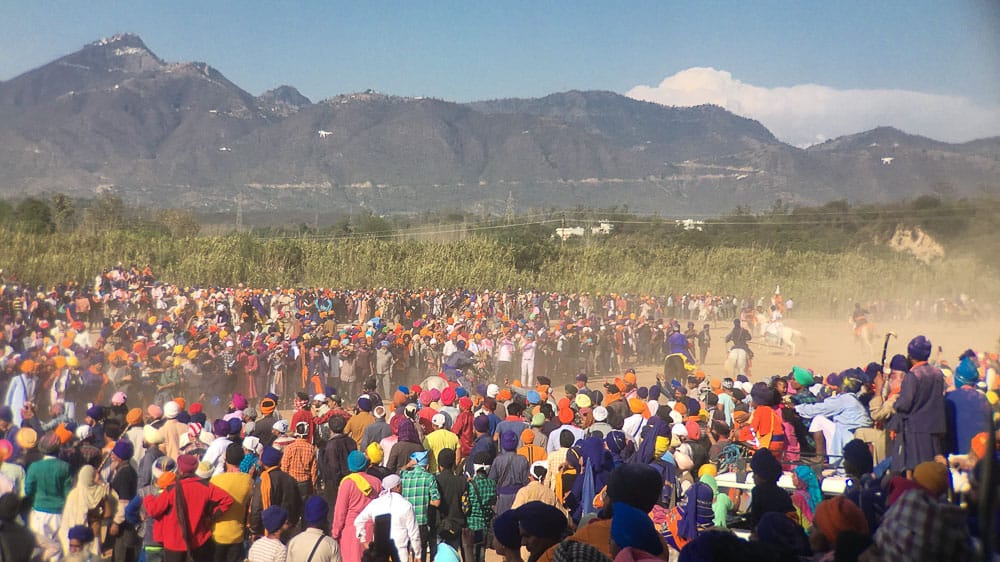 Holi, Hola Mohalla and a whole lot of fun
From Gurdaspur we drove about 90 kilometres south-east to Hoshiarpur. Our destination was Citrus County, a luxury farm stay on the outskirts of town, surrounded by a kinnow orchard that tinged the air with a sweet scent. Owned by Harkirat and Jasveen Ahluwalia, Citrus County was the first farm stay in Punjab. A large country home with rooms, plus tented accommodation, and a separate club house, Citrus County is a very relaxed and comfortable place from which to explore rural Punjab.
It's also a very hospitable spot: the Ahluwalia's were waiting for us with cool drinks, snacks on the lawn and a Holi party! A troupe of Bhangra dancers performed while guests threw colour at each other and joined in the dancing.
The Holi party helped to get us in the mood for Hola Mohalla, taking place the next day. Hola Mohalla means "mock fight" and the festival celebrates the martial skills of Sikhs in simulated battles. It was started in 1701 in Anandpur Sahib by the tenth guru, Guru Gobind Singh, to keep the warriors fighting fit.
We drove two hours south to Anandpur Sahib, and took refreshment before throwing ourselves into the melee. We jostled along in a crowded procession through town, and past the gurudwaras, to Charan Ganga stadium. Many people were dressed in blue robes and turbans with orange sashes, or white robes and orange turbans and sashes, and carrying weapons such as swords, daggers and spears. Some of the turbans were outlandishly outsized, and decorated with Sikh insignia. Groups were throwing coloured powder at each other, but no one approached us and we made it to the stadium unscathed.
When we reached the expansive stadium, with the foothills of the Shivaliks providing an impressive back drop, it was already packed. Crowds had gathered both in the stands and on the field, and I wondered how the horses would ever get through. We settled in the stands after some kind people made room for us, and soon after, the procession began
Amidst chaos and colour, ceremonially dressed Sikh officials, spiritual leaders and warriors on horseback, in cars and trucks, pushed through the dense crowds, stirring up dust that mixed with the coloured powder thrown into the air in fits and starts. Then the Nihang Singhs appeared, the stars of the show, on horseback and elephant, and by this time the 80,000 people assembled were in a fever pitch of excitement. It was madness.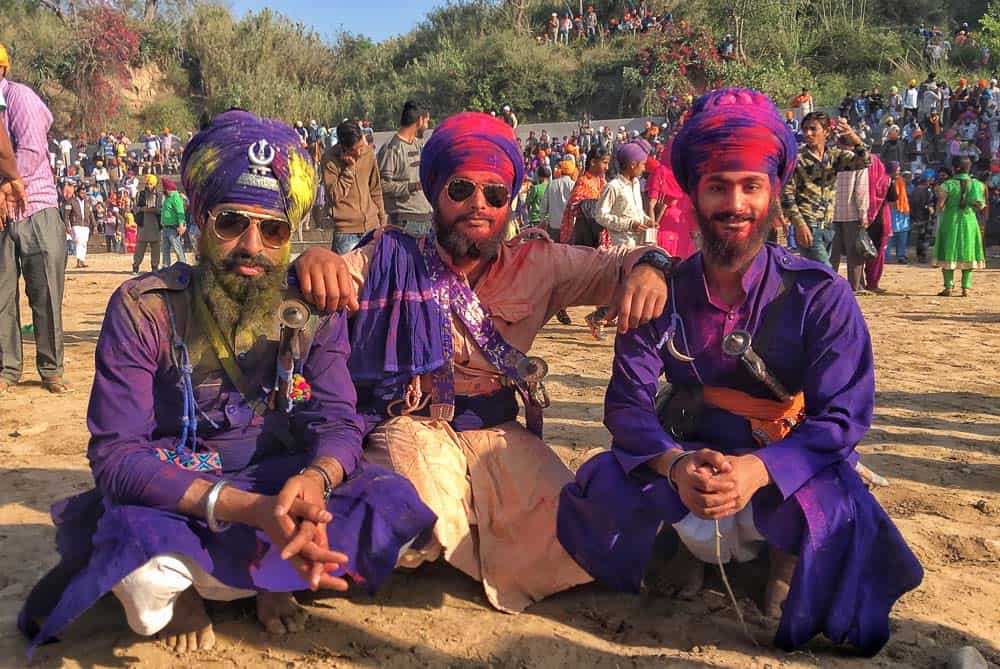 The Nihang Singhs are a Sikh order that continue to observe their traditional military lifestyle and culture. Their daring feats are the highlight of Hola Mohalla. We saw them demonstrate various war-like sports with reckless abandon, such as standing erect on two or even three speeding horses, and Gatka, engaging in mock encounters with real weapons.
We joined the crowd on the field after the demonstrations were over, and marvelled at the dedication to preserving and celebrating Sikh culture as we clicked photos of the extraordinarily dressed participants. Hola Mohalla is an exuberant, robust, and unique event – and a rousing end to our tour of the Punjab.
We drove back through the gathering dark to Citrus County, tired but happy, and enjoyed cool drinks on the lawn, followed by dinner and a bonfire. On our last night together in the Punjab, we felt we had indeed tasted the zest and effervescence of Punjabi culture. Warm, large-hearted people, hearty food and heart-felt hospitality. That was our Punjab beyond the brochure.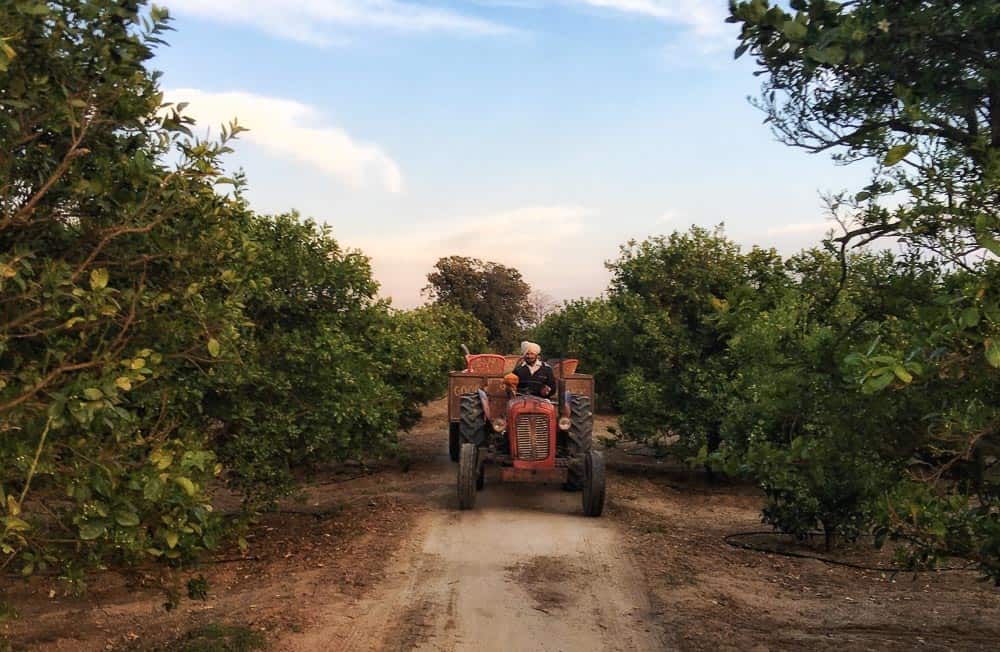 Getting to Punjab
Amritsar can be reached by road, rail or air. It's about an eight-hour drive from Delhi. Most Indian airlines fly daily to Amritsar from major departure cities such as Delhi, Mumbai and Bengaluru. By rail, there are many options, including the daily Amritsar Shatabdi from Delhi, and the almost daily (except Thursday) Swarna Shatabdi from Delhi. Likewise, Chandigarh is well served by road, rail and air.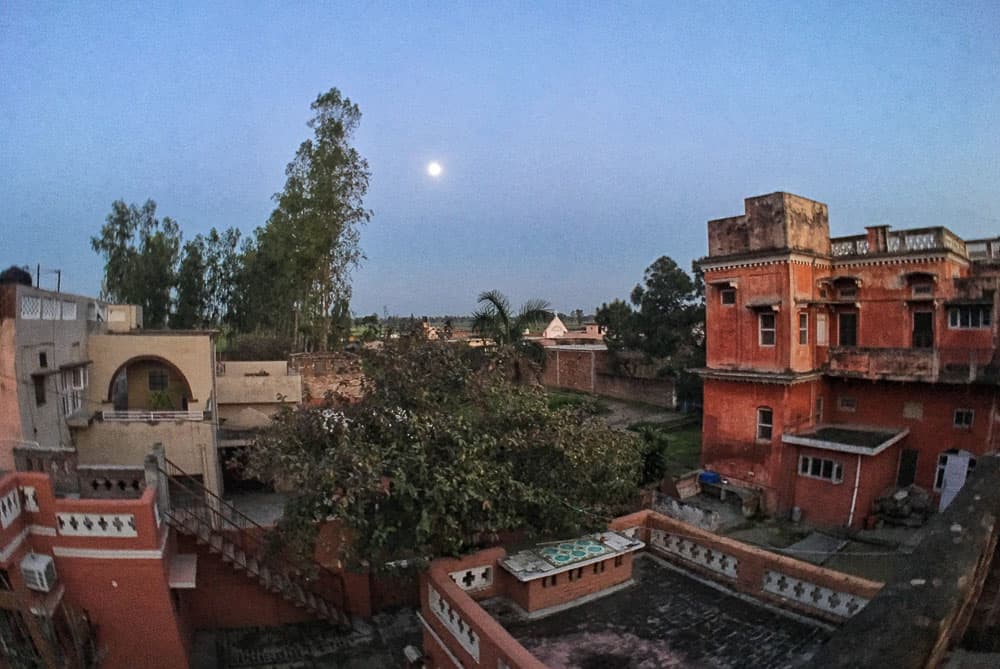 Where to stay in Punjab
There are lots of accommodation options in Amritsar, though many of them are hostels that cater to Golden Temple pilgrims. For a unique and authentic experience, try Mrs. Bhandari's Homestay in the cantonment area. At the high end, The Taj Swarna is a newly opened luxury property that combines gleaming modern architecture and high-tech amenities with traditionally inspired décor and authentic cuisine.
The Kothi Village Stay is a delightful way to experience rural Punjab. The rambling house has five rooms, each with its own character and old world charm. (Address: Village Nawanpind Sardaran, Post Office Tibri, Kahnuwan Rd, Gurdaspur, Punjab 143521. Phone: +91 187 424 3624).
Citrus County is a luxurious farm stay in Hoshiarpur. Accommodation is either in the modern house or luxury tents that circle the expansive lawn and all meals are included. Hosts Harkirat and Jasveen are happy to arrange activities such as a tour of the local village and orchard or jeep safari through a protected forest.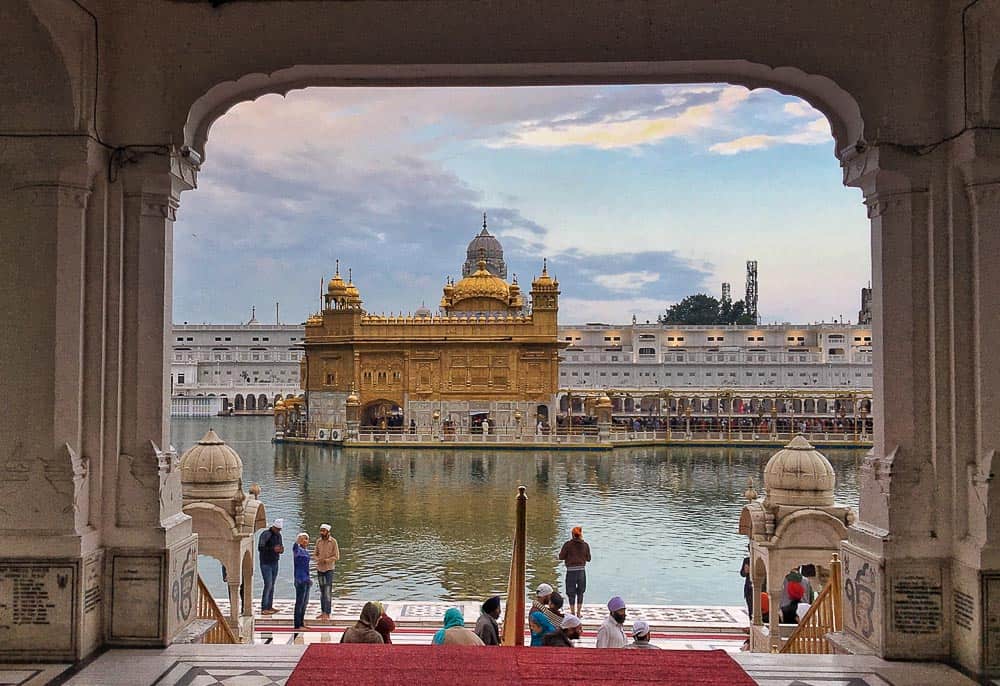 ---
Pin it on Pinterest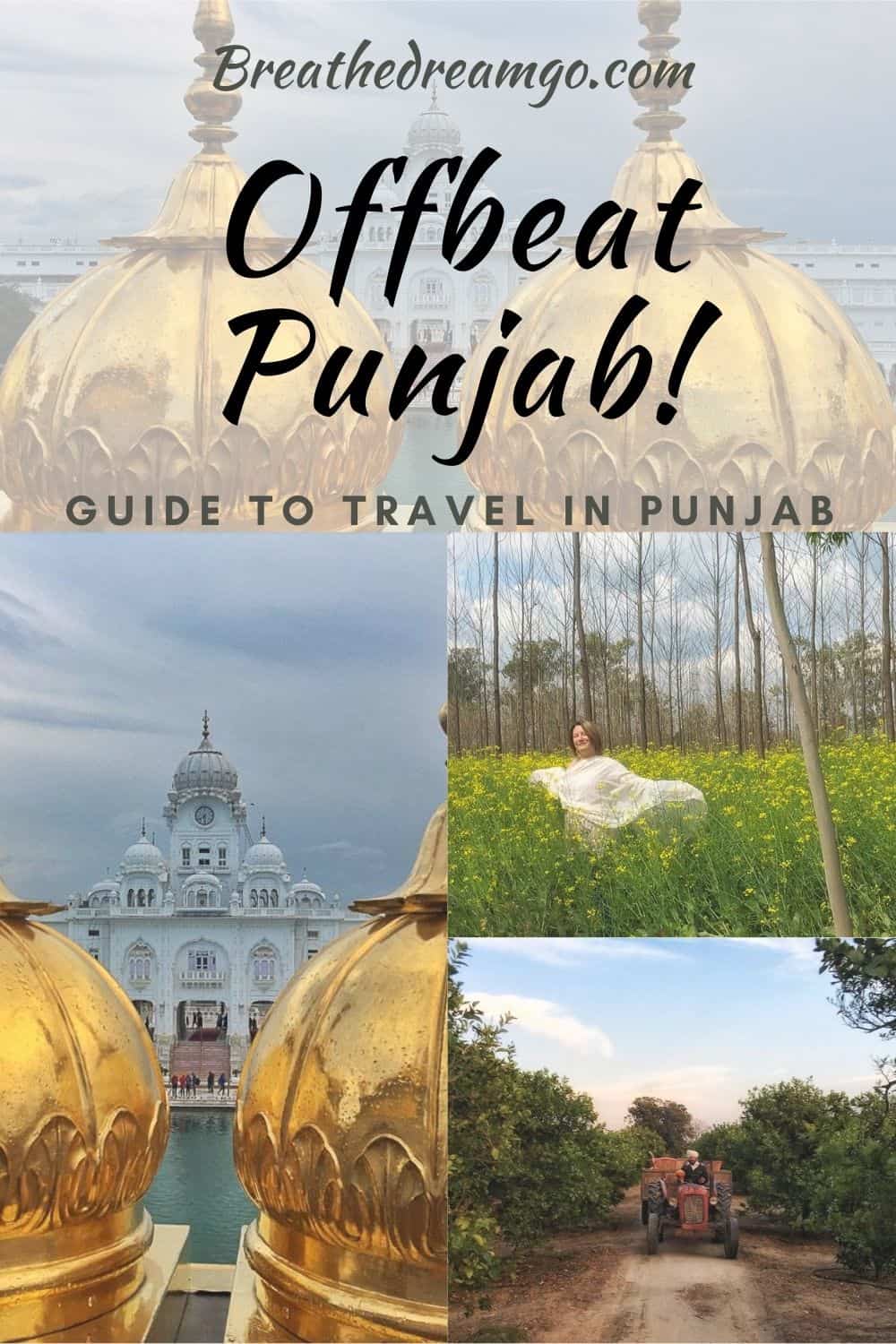 ---
If you enjoyed this post, you can….
Sign up to The Travel Newsletter in the sidebar and follow Breathedreamgo on all social media platforms including Instagram, TripAdvisor, Facebook, Pinterest, and Twitter. Thank you!