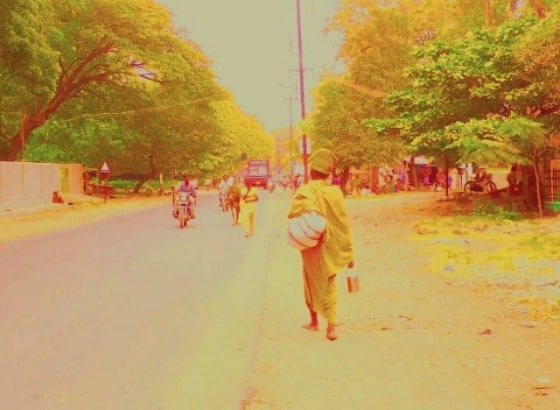 Danielle Winter: Photographer of mystic moments in India
NOTE: This guest post features the work of photographer Danielle Winter. Like me, she is in love with India; and her loving photographs allow the spirit of the place to seep through. Danielle has an uncanny knack of capturing the shimmering essence of India. Spirit as well as modesty and true humility are the hallmarks of Danielle's work. I discovered her through Facebook, where she posts many of her glowing images.
My journey's in India are about experiences in seeing, in touching upon the luminosity that resides in everything – the people of this magical country reveal this light, they are my teachers. Out of millions of moments, I share wth you 10. Photo above is of an Arunachala Sadhu, in Tiruvannamalai, Tamil Nadu. The sadhu is a meditation on the cosmic view from a down to earth place. Don't be hemmed in by the small things – go forward dressed in the goodness of your own heart. To see the rest of the photo essay…
2. Bus Stand, Tiruvannamalai, Tamil Nadu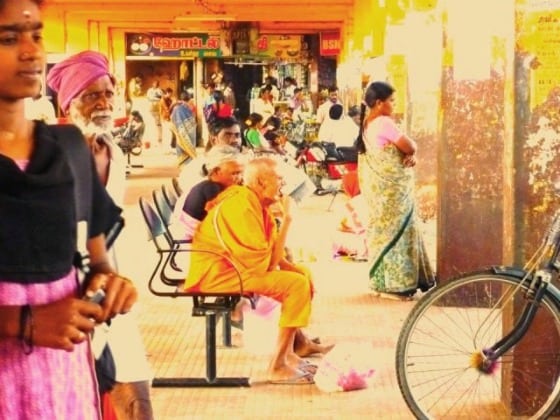 The nexus of life in India – temples and bus stands! Both require good karma – whether you want to see the gods or get a seat on the bus, previous merit is required.
3. We gave our hair to God, Tirupati, Andhra Pradesh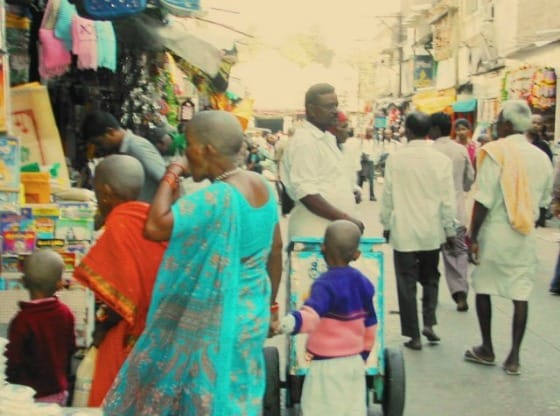 Heads are shaved, the hair donated, God and those in need of wigs are served. They may have given their hair to God, but I'm not that brave – under cover of hair I feel safe.
4. Gateway to the Town Temples, Tirupati, Andhra Pradesh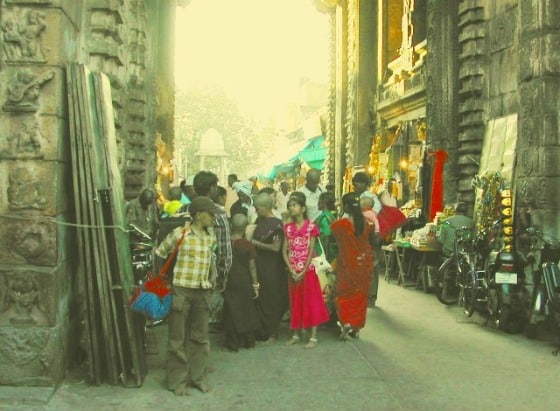 This young pilgrim need not give up her hair; she is already in shanti rasa; in rhapsody with God. Her gaze looks beyond form and ritual – she sees through the material world.
5. The Sabrimala Express Leaves Mylapore, Tamil Nadu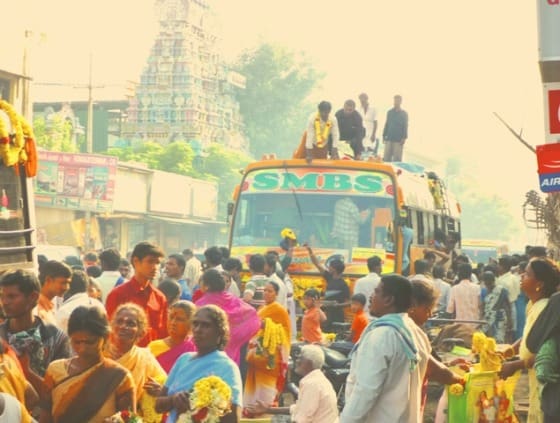 The fervent pilgrims to Sabrimala jostle hard for space – theirs is a hard won penance; 41 days of rough and tumble living.
6. Carnatic Music Shop, Mylapore, Tamil Nadu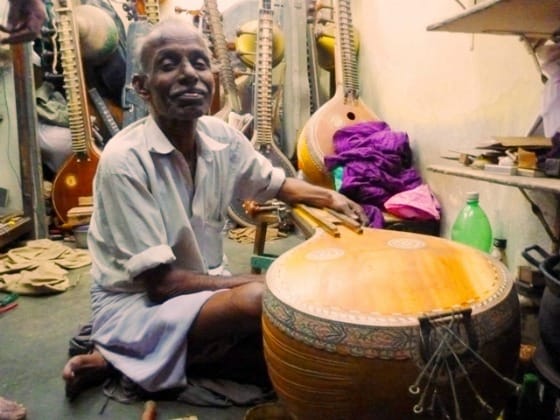 This fine soul has the serene deportment of one who is a wellspring of knowledge, of one who loves the the veena and sitar as deeply as he loves his own children.
7. Dhashashwamedh Ghat Aarti, Varanasi, Uttar Pradesh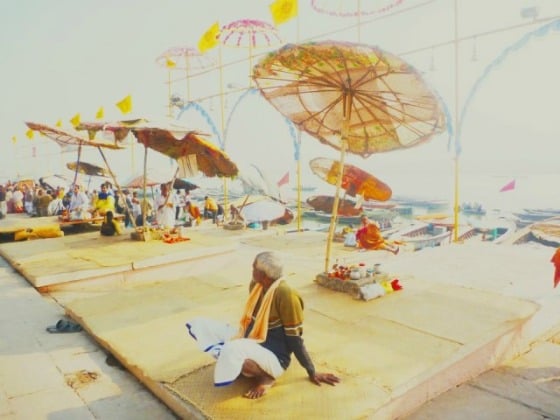 In the late afternoon just before the din of majestic sounds and billowing smoke arises, in the midst of the nightly cacophonous symphony — I found that my mind became still.
8. Brother and Sister, Varanasi, Uttar Pradesh
This camera shy brother and sister were determined and poised, he stood a little in front of her, his sweet courage enabled her to peek from around from his shoulder and offer a demure smile.
9. Workers at Teatime, Old Delhi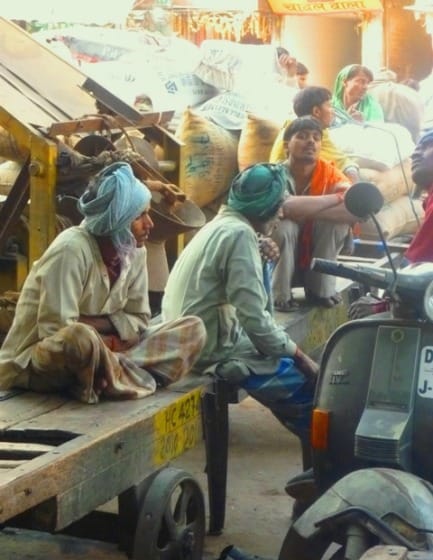 A break in a back breaking day, time for chai and a few moments of calm. Tea wallas whiz through the crowds with small tumblers of the sweet milky elixir, dusk will arrive and the work carries on.
10. Bylanes, Old Delhi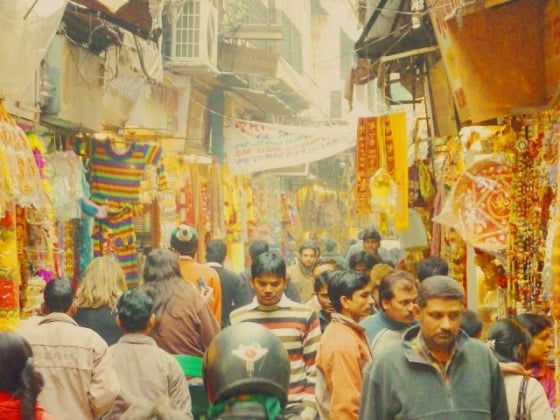 In a magnificent array of humanity spread out across the city, the back alleys are alive – cheek to jowl – the inhabitants work, they play and they live, the golden glow of Old Delhi envelopes me in a film of timelessness.
Danielle Winter is a visualist, storyteller and a traveler from New Zealand.
I saw the rabbit in the moon when I was four, and have followed

A mystical path since then. I am a visualist, story teller, and a traveler.

Born in the south island of New Zealand, I was raised by many people

And have lived in many places. Life is my muse, and as

Often as possible it is life in Mother India that fuels

My love of image-taking; the essence in ordinary moments

Is what I endeavor to capture.

Pink tinged Udaipur. Photo credit: Danielle Winter
---
If you enjoyed this post, you can….
Sign up to The Travel Newsletter in the sidebar and follow Breathedreamgo on all social media platforms including Instagram, TripAdvisor, Facebook, Pinterest, and Twitter. Thank you!