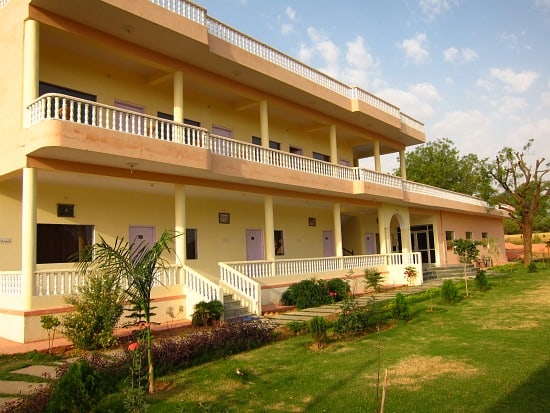 Best budget hotel in Ranthambhore
The Farm Villa in Sawai Madhopur, near Ranthambhore national park, Rajasthan, is peaceful, authentic, friendly and clean — and a unique budget accommodation option for exploring the area and visiting one of India's most famous tiger reserves. It's brand new and hasn't been advertised or marketed as yet… so how did I find out about it?
From a friend of course, in typically Indian fashion. Here's how it works: you tell your friends you want to go to Ranthambhore National Park to see a tiger and they immediately launch into helping you. Before you know it, you have an appointment with the director of Tiger Watch in Sawai Madhopur, to find out about the real tiger situation in Ranthambhore from someone who is on the ground — and you get an invitation to stay at a new guest house.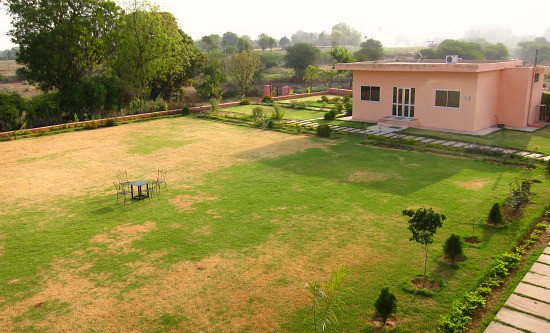 So, off I went by train to Sawai Madhopur, the town adjacent to Ranthambhore. It's an easy four hour trip from Nizamuddin station in central Delhi, and it was fun to be on the train while India was playing Pakistan in the Cricket World Cup semi-finals. Most of the men in 2AC were following the game by mobile or by laptop with Internet stick. (It is now possible to get a high-speed Internet stick in India. That's new since my trip last year.)
The Farm Villa owner Satish Jain met me at the train station and welcomed me as if I was an old friend. We traveled a short distance outside of Sawai Madhopur — in the opposite direction of Ranthambhore Road and the "tourist strip" of hotels and tiger camps — out into real, authentic rural India. The simple, two-storey guest house was built in the middle of a real working farm owned by Satish Jain's family. It is an absolutely peaceful place. The road is quite a distance away, so the only sounds you hear are from cows or birds, the occasional motorcycle and, once, a truck blaring Hindi dance music.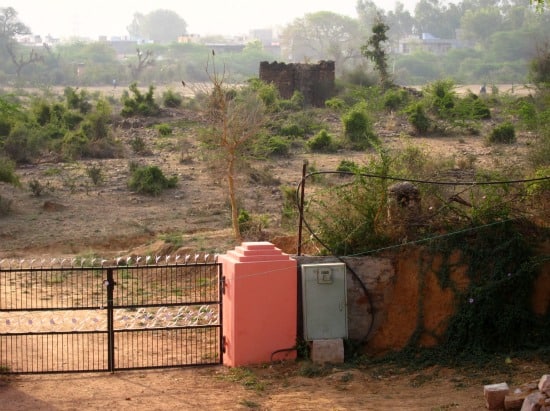 I chose an upstairs room and was served tea on the terrace in front of my room. I sat in a teak chair, with my feet up, and watched the birds on the lawn and the unfolding rhythms of the peaceful countryside. I saw people driving goats and cattle on the earthen road that runs beside the farm; I saw women in bright saris balancing gleaming brass water jugs on their heads, and I saw the staff tending to the vegetable garden in the back and the flower garden in the front. And that's about it! It spent a lot of my time at The Farm Villa similarly — and very happily — composed.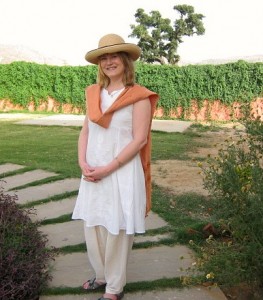 The Farm Villa is my kind of place; it is exactly the kind of accommodation I look for in India: it is small, owner-operated, reasonably priced, clean, friendly and gives you an authentic experience. It is like staying at someone's home, and in fact I met Satish's family — wife and three children — several times. The first night, we had dinner together, like a family — which is what I am used to in India, and what I prefer.
All of the staff are from the local village, and they are well-trained and very sweet. The food, cooked by Mukesh, a local man, was fabulous: absolutely fresh and flavourful and not at all oily. Like home cooked food, but even better.
All of this is by design. Satish is carefully creating The Farm Villa to offer guests a very specific cultural experience. He is very particular about ensuring that people feel at home, and that they experience the local culture. Satish was a Ranthambhore guide for 15 years and he knows the park inside and out. He has seen tigers hundreds of times, and can provide guests with any and all information they need — but he is just as quick to offer me a tour of the old city of Sawai Madhopur and his village; and to show me around the farm and the traditional farming methods.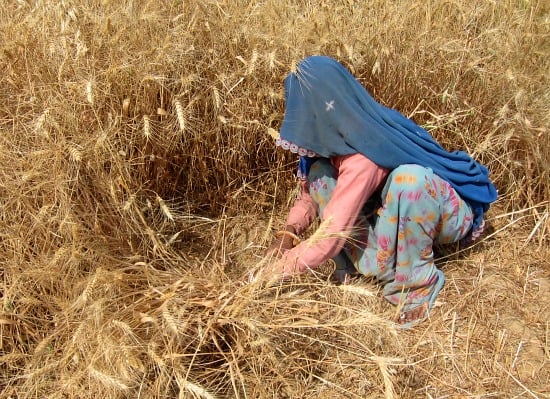 I watched women working in the fierce sun with simple tools harvesting wheat by hand. In the old city, I walked through the market, and people greeted me with calm curiosity and friendliness. I felt very relaxed and took loads of pictures (not always possible in Indian markets, where usually people are pestering you to buy something). I bought Rajasthani-style bangles and had chai in a shop owned by Satish's uncle. When we stopped in his village, all the local children started screaming and following me. I felt like Bono.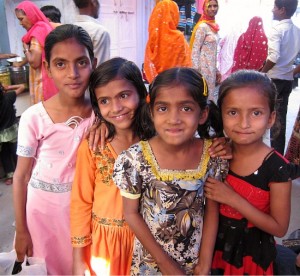 I loved my stay in rural India, and found it hard to leave! The bed at The Farm Villa was THE BEST I have slept in during my year+ in India — thick mattress, fluffy pillows, light duvet — and I was able to sleep, rest and recover from jet lag and the busyness of Delhi. (The shower, however, was lukewarm and somewhat ineffectual; and as the guest house is new, there are some finishing touches needed, especially in the way of decor.)
Most importantly, The Farm Villa gave me the perfect base from which to go to Ranthambhore — but more about my tiger reserve adventures in my next blog!
Satish and The Farm Villa sponsored my stay and I continue to uphold the integrity of Breathedreamgo by ONLY writing genuinely and honestly about my experiences. I can honestly recommend The Farm Villa if you are after the same type of experience that I value. If you want a glitzy, five-star palace with cool, polished staff, expensive decor and stiff formality, The Farm Villa is NOT for you.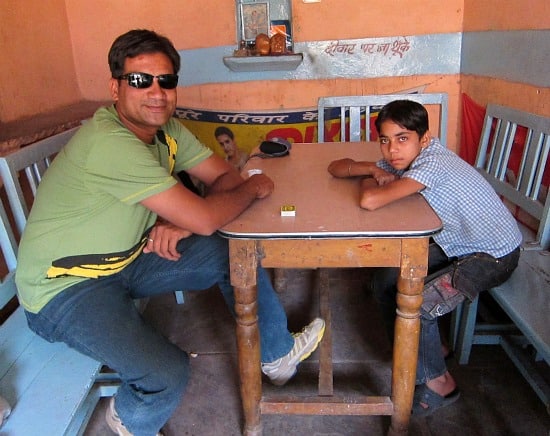 If you enjoyed this post, you can….
Get updates and read additional stories on the Breathedreamgo Facebook page.
Buy Song of India, a collection of 10 feature stories about my travels in India. E-book version now only $1.99.
Subscribe to the free — and inspiring! — e-newsletter, Travel That Changes You.