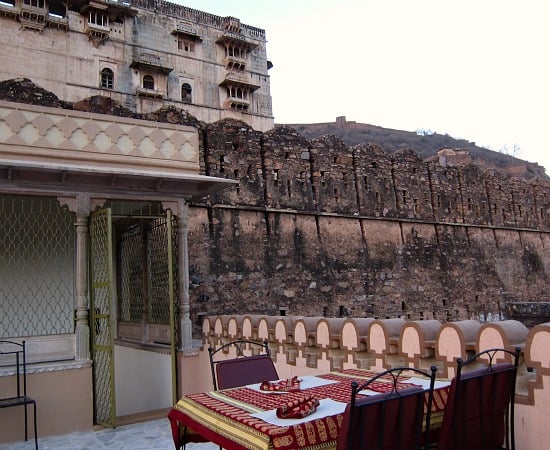 A very special place to stay in Bundi
I had great expectations for Bundi Vilas. It is the highest rated hotel in Bundi on Trip Advisor, Lonely Planet gives it an excellent write-up and I had met owner JP Sharma in Delhi — and knew him to be an intelligent, professional man with excellent taste and a deep-seated commitment to tourism in Rajasthan. I was not disappointed. From the moment I came out of the twisting narrow alley leading up to the heveli and saw the soaring archway that marks the entrance, I sensed something special. Again, my intuition and India's magic led me to a very special treasure, the kind of accommodation that is itself a destination.
And, of course, it helps that Bundi Vilas is located deep in the heart of the old city of Bundi — a town filled with fascinating architecture, exquisite art, elaborate stepwells and an ambience that is reminiscent of medieval Europe. You can read about Bundi in my post, Bundi: Exquisite jewel needs polishing.
Traditional haveli brought back to life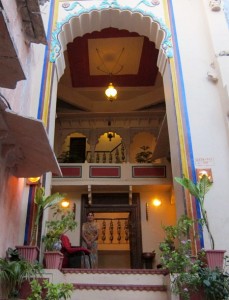 Bundi Vilas is small, only seven rooms, in a rescued haveli. When JP bought the ruined building, his friends and colleagues thought he was crazy. But it appears he knew what he was doing. He restored it, bringing it up to modern standards in places where it matters — lighting, air conditioning and bathrooms — but otherwise decorated it in a tasteful, inspired and authentic Rajasthani haveli style.
But the ingredient that transforms it from a lovely place to stay into a home-away-from-home is the management: Anita, Jaya and Arun Sharma — JP's mother, younger sister and brother. They are a sweet, refined and caring Brahmin family who originally hail from a nearby village. I felt very cared for while I was there, and spent time with all family members, as you can read in my post Bundi: Exquisite jewel needs polishing.
The perfect writer's room
I went to temple on Navaratri with Anita and Jaya, and shopping and to see an ancient Shiva temple with Arun. I watched the India Team win the Cricket World Cup with Arun, and ran down to see the Gangor procession with Jaya. I never felt alone in Bundi; onthe contrary, I felt I had met friends.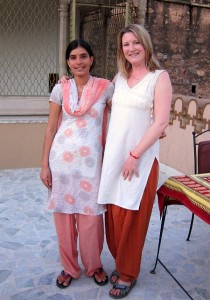 Jaya and I decided we felt like sisters — funny because my real sister's name is Victoria, which is essentially Jayaa in Hindi — and I told her when (if?) she gets married, I will come to her wedding.
The rooms are each unique and as I was the only guest the day I arrived, I had some trouble choosing. One room, the largest made me feel like royalty; but in the end I settled on the princess-in-the-tower room, which seemed to me to be an eminently suitable writer's room. It had many small windows in three directions, a sturdy desk, and was on the roof, facing the rooftop terrace. A quiet spot, and I did my yoga practise ont he terrace in the morning before breakfast. Quiet, that is, except for the squeal of monkeys.
A word about the monkeys of Bundi. Yes, they are a nuisance, but I never felt in danger, I never felt threatened. At Bundi Vilas they have really though of everything. They even employ a young man with an air rifle to chase them off the roof, because the rooftop terrace is also the open-air restaurant. And it is one of Bundi Vilas' best features.
Bundi Vilas lies in the shadow of Garh Palace, right up against the mountain the supports it. This is the gothic castle that Rudyard Kipling said was "made by man in uneasy dreams …the work of goblins." At night, when darkness falls, golden spotlights light up the facade of the Palace, and monkeys clamber across its surface. It is truly macabre, and spooky … and wonderful. I have rarely been anywhere with such ambience!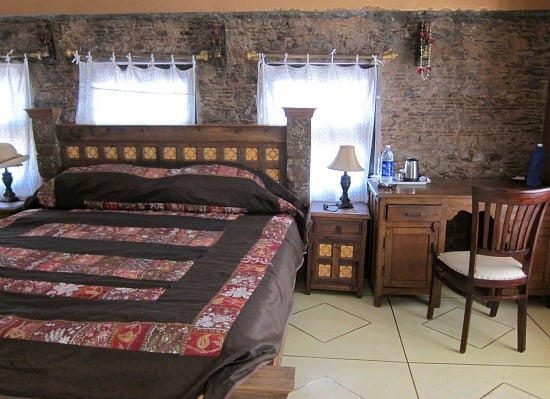 They serve delicious food, family style — so you don't get a choice, but there is enough variety to keep anyone who likes north Indian food happy. As they are Brahmin, the food is completely vegetarian, but they will serve you beer or Indian wine if you so desire. When they realized I actually like spicy food — unlike many foreigners it seems — they spiced up the food for me and it was perfect.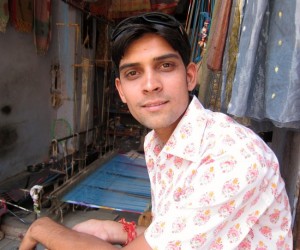 I felt so comfortable in my rooftop room. I felt I could write a book there. I pictured myself a kind of modern day Georges Sand, scribbling away with a feather tip pen, inpsired by the ghost of Kipling who spent some time in Bundi.
Bundi Vilas is definitely on my list of favourite places to stay in India.
NOTE: I was hosted by Bundi Vilas for my stay — but only because I pursued this request. I wanted to stay there for the reasons listed above, and the Sharma family's kind offer to host me in no way influenced my assessment or description.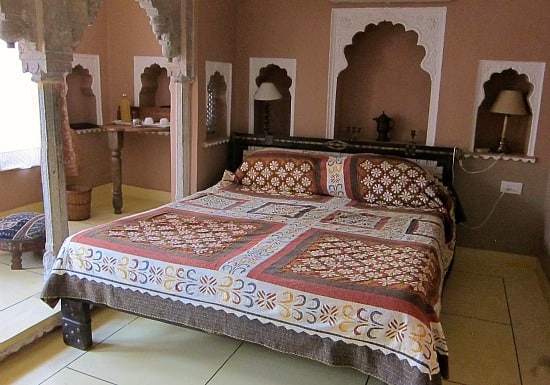 ---
If you enjoyed this post, please sign up to The Travel Newsletter in the sidebar and follow Breathedreamgo on all social media platforms including Instagram, TripAdvisor, Facebook, Pinterest, and Twitter. Thank you!