Ban on tiger tourism causes an uproar
August 2012: Last week, the Supreme Court in India ordered an interim ban on tourism in "core zones" of more than 40 tiger reserves. This news has caused an understandable uproar among conservationists and the travel and tourism industry — and there are people speaking out on both sides of the issue. I never saw a tiger when I was at Ranthambhore National Park, one of the India's premier tiger reserves, in 2011. But I developed a keen interest in the fate of the tiger, India's iconic animal symbol, and wrote about my visit in Looking for India's tigers in Ranthambhore. Below, I interview two tiger conservationists in India to get their views on whether banning tiger tourism will help or hinder tigers — whose numbers are quickly diminishing. Time is running out for this magnificent animal and for many other species — not to mention the few forests and wild, natural places left in India.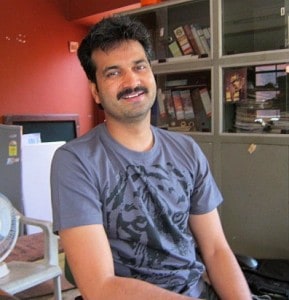 Goodwill for tigers
I interviewed Dr. Dharmendra Khandal, director of Tiger Watch, when I was at Ranthambhore, and he told me he is pro-tourism, as long as it is well-managed. Yesterday, Dr. Khandal emailed a PDF report to me, Transformation of Life, which you can access here, about the transformation that has taken place in the lives of the local people who depend on tiger tourism around Ranthambhore national park. In it, Dr. Khandal writes that the controlled tourism trade in Ranthambhore, "has created both a goodwill for the tigers and a lobby of all the people benefitting from tiger tourism." The 100-page document sketches the history of tiger conservation and tourism in Ranthambhore, and precisely how it benefits the local economy, and profiles 59 people and organizations that thrive because of tiger tourism. Many of the people profiled have had their lives turned around because of the tiger tourism industry, such as Hemraj Meena, who began life as a "simple villager" and is now one of the most sought after guides by wildlife enthusiasts and wildlife filmmakers. The document makes for inspirational reading!
[Note: Dr. Dharmendra Khandal is portayed as a real-life super-hero, as well as scientist, in this National Geographic article, Cat Fight.]
Wake-up call
When I was in India, I got to know Indian conservation journalist, author and artist Ananda Banerjee, who is actively involved with the National Tiger Conservation Authority (formerly Project Tiger). I asked him about the news, and this is what he told me: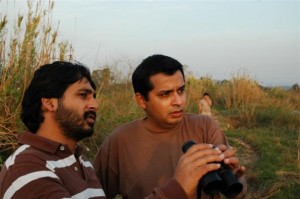 Q. Ananda, what is your interpretation of the ban?
A. This is just an interim order and the National Parks are anyway closed for the monsoon months. This court order should be a wakeup call for both the tourism industry and the respective forest department to set their house in order. The court will act on the 'eco-tourism guild-lines and regulations' which is drafted by the Ministry of Environment and Forest with public consultations, which shall be the final order.
Q. How will this affect tourists who want to see a tiger in India? How about the local population?
A.One is never assured of a tiger sighting in India because of the nature of our forests unlike Africa. Also, the government never once said that they want a complete ban on tourism, it has asked for regulation. So some resort owners are making a mountain out of a molehill. There is a need for regulation as resorts have come up in a haphazard way, blocking traditional animal migratory routes or forest corridors, which connect one forest patch to the other.
Tourism will not be affected, but regulated, so the local population who do the menial jobs — guards, drivers, cleaning and washing etc. — will continue to do so without any social upliftment.
Q. What's the best way to ensure the tiger's survival in the wild?
A. The best way is to save its habitat. Less the 4% of tiger forest is left in the country.
Q. Do we have to choose between the tiger's survival and the human need for space, safety, etc.?
A. Unfortunately yes. Our development demands is not only pushing the tiger to extinction, but a whole lot of other species, too.
We should remember that there is much more to see and enjoy in a forest. The tiger is just incidental. One should enjoy nature to rejuvenate oneself. Wilderness is something spiritual and personal.There is too much obsession with the tiger, especially with its numbers, but sadly no one is that obsessed with its habitat – the forest. Save the forest first, the tiger and all other species will automatically be saved.
Unfortunately there is no 'eco-tourism' here in India. All nature/wildlife tourism is sold as eco-tourism, which is also just tiger tourism — and with no regards for the resources they are drawing (for example ground water, power and proper waste management).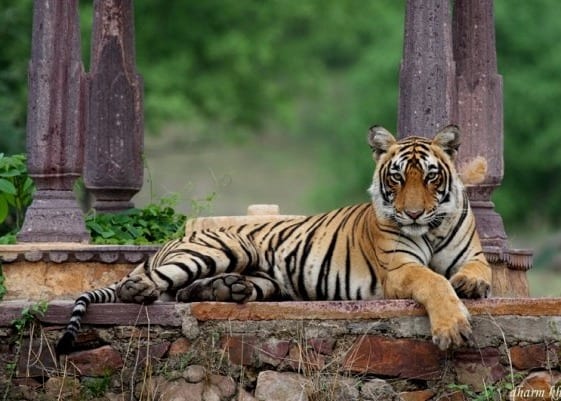 What do you think?
Are you for or against tiger tourism? After my experience at Ranthambhore, interviewing Dr. Khandal, and getting to know Ananda Banerjee, I am pro-tiger tourism. I think if it is regulated and well-managed, it can help bring attention to the plight of tiger, other species and the forest habitat, as well as provide a good livelihood for many people. Plus, it is a great tourism draw in a country that frankly should be attracting way more tourists and travellers. For balance and a different perspective, here's a blog by my Twitter friend Rushikesh, For the eye of the tiger, that persuasively argues against tiger tourism.
If you enjoyed this post, you can….
Get updates and read additional stories on the Breathedreamgo Facebook page.
Buy Song of India, a collection of 10 feature stories about my travels in India. E-book version is now only $1.99.
Subscribe to the free — and inspiring! — e-newsletter, Travel That Changes You.