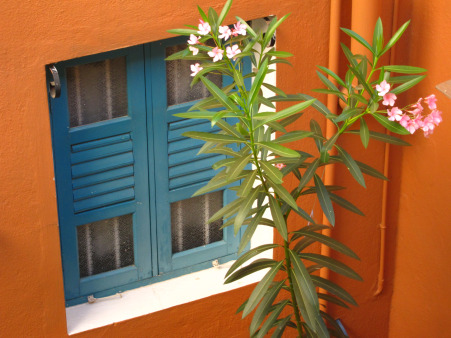 The comforts of home in a small hotel
Casa Piccola Cottage is one of those special places that I always endeavour to find in India. It is a wonderful combination of safe, peaceful, clean, comfortable, affordable, charming and most of all friendly. To be considered for inclusion into my list of special places to stay in India, a hotel or guest house has to be owner-operated — and the owners have to be friendly, helpful and provide personalized service.
Casa Piccola Cottage has all of these qualities in abundance — as well as a central location in Bangalore (Bengaluru), the fastest growing city in Asia. Although I stayed almost a week at Casa Cottage, I never ceased to be amazed at the complete change in ambience I expeienced after walking through the front gates. The guest house is only a couple of short blocks from several of the busiest roads in Bangalore, but inside is an oasis of calm.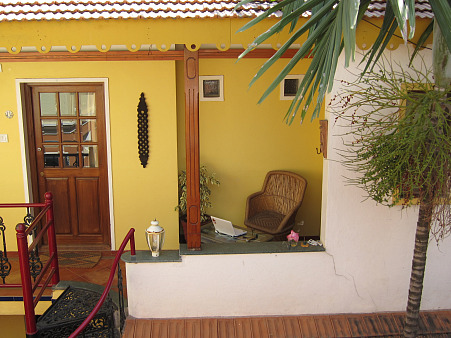 The owners, Benjamine and Bhushan Oberoi, bought the heritage property about 10 years ago when it was in a state of delapidation, and restored it, added to it, and gave it a new lease on life. It was built in 1915 when Bangalore was home to a sizable British community of mid-level civil servants, and was known for years as "Mary Flanagan's house." Apparently, Mary was a British woman who lived in the house until she was very elderly, and was known for driving around town in a 1928 Ford driven by a chauffeur who was as old as her.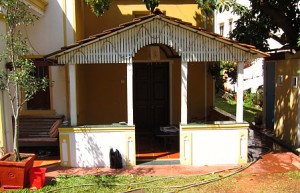 The property was abandoned for years when Benjamine and Bhushan bought it from a descendant of Mary Flanagan's, and they almost it razed it — until, luckily, their builder said it could be saved. The Oberoi's have done an excellent job of both retaining the property's charm, and heritage value, while transforming it into a haven of comfort for guests, most of whom come from Europe.
But it's not just the guest house that is special: the Oberoi's are two of the loveliest and most helpful people I have yet come across in my many months of travel in India. Benjamine is originally from France. She came to India more than 30 years ago to finish a PhD in education; met Bhushan, married and settled here. Now, she has lived in Bangalore for 30 years and is considered an "old Bangalorean." Bhushan grew up in the magnificent Imperial Hotel in Delhi, where his father was a director. He moved to Bangalore to open a restaurant, and now he owns several in the city.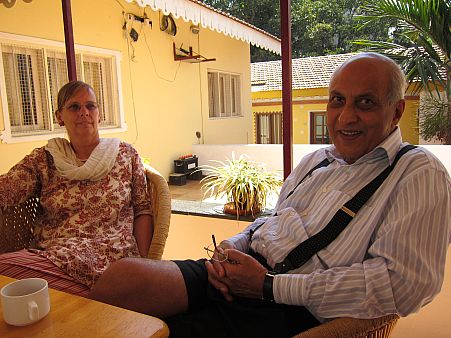 Together, they make a great couple and add so much to the experience of staying at Casa Cottage. Bhushan is a refined man with the inbred tastes of someone who grew up amid five-star elegance; and Benjamine is a passionate, can-do person who loves to roll up her sleeves and will seemingly do anything for anyone. She not only helps guests with taxis and shopping, she has been known to help them find schools for their children. When I was there, I saw her getting busy to help a couple of young French students who were having trouble with the Indian school they were enrolled in; I saw her meeting with a potential employee to help run an NGO; and, generally, I saw her making each guest feel cared for with warm, personalized attention.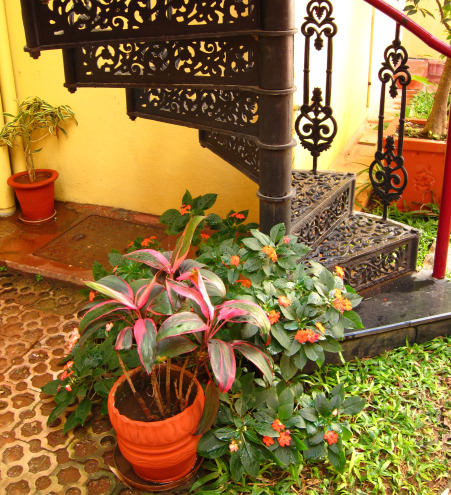 Benjamine and Bhushan enjoy meeting the challenge of helping people with very specialized requests. Recently, Benjamine helped an artist find a very particular tree she wanted to paint; years ago she helped put a Nepali boy through school: he has become a kind of adopted son to the Oberoi's, who have two sons of their own.
To the Oberoi's, customers are guests. "When our guests are happy, we are very, very happy," Bhushan says.
Benjamine is not only a good hotelier who knows her city, and everyone in it, inside and out; she is also a consultant to an NGO, SEVAI. SEVAI, or Society for Education, Village Action and Improvement, was founded in 1975 by K. Govindaruju to develop sustainable communities and work towards the integrated development of the rural poor in south India. SEVAI focuses its services in the villages and slums of Trichirapalli (more popularly known as Trichy) and the coastal Nagapptinam area of Tamil Nadu.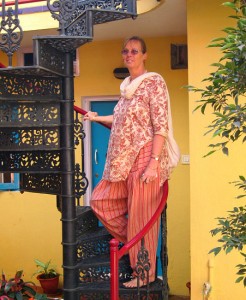 Benjamine is passionate about making sure her guest house feels like a home to her guests; and she is equally as passionate when talking about the NGO work she does. I am planning to visit Trichy with Benjamine in the future and I will write more about the work of SEVAI — which provides education for poor children, programs for handicapped children, health care, and a watershed management project that created a lush green area where once there was only drought and desolation.
"People need to have heart in whatever they do … and things will change," Benjamine says. I can believe that whatever Benjamine is involved in will surely change for the better.
If you enjoyed this post, you can….
Get updates and read additional stories on the Breathedreamgo Facebook page.
Buy Song of India, a collection of 10 feature stories about my travels in India. E-book version is now only $1.99.
Subscribe to the free — and inspiring! — e-newsletter, Travel That Changes You.