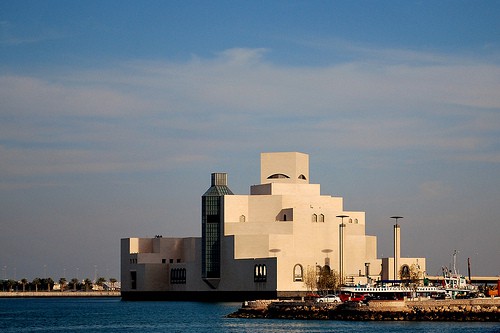 Flying Qatar Airways Business Class: A review
One of the best flights of my life was flying Qatar Airways Business Class from New York City to Delhi, India. Qatar Airways has often won the award for World's Best Business Class, and I definitely found out why on my flight! So here is my (glowing) Qatar Airways review.
I was met on arrival in New York at the Qatar Airways counter, and escorted to my seat by a smiling young man. I felt so welcomed, and so cared for by the attentive staff! The service on Qatar Airways Business Class is unsurpassed, they really go out of their way.
I loved my seat, which was private and had every amenity you can think of. It felt like home-away-from-home. There was a toiletries bag waiting for me with slippers, eyeshade, creams, earplugs — everything you might need on a flight. A blanket and large-sized pillow was also waiting, because the comfortable seat becomes a lie-flat bed at the push of a button. This makes Qatar Airways Business Class seats ideal for long flights — such as my 12-hour flight from New York to Doha, Qatar.
Flying on Qatar Airways, the world's five-star airline
Qatar Airways is one of the world's fastest growing airlines and also one of the most highly regarded. The company's tag line is "the world's five star airline" — and it has earned that distinction by winning the World's Best Business Class, World's Best Business Class Catering and Best Airline in the Middle East five consecutive years. Qatar Airways Premium Terminal Doha was named one of the world's most amazing airport lounges by Travel Leisure Magazine. Qatar also has an excellent safety record and flies, among other planes, the fuel efficient Boeing 777. All in all, I was thrilled to fly Qatar from New York to Delhi, with a short stop in Doha, capital of Qatar.
Qatar was re-launched in 1997, and currently flies a modern fleet of 94 aircraft to 98 key business and leisure destinations across Europe, Middle East, Africa, Asia Pacific and North and South America. Its fleet size is continuing to grow, along with an expanding global network of destinations.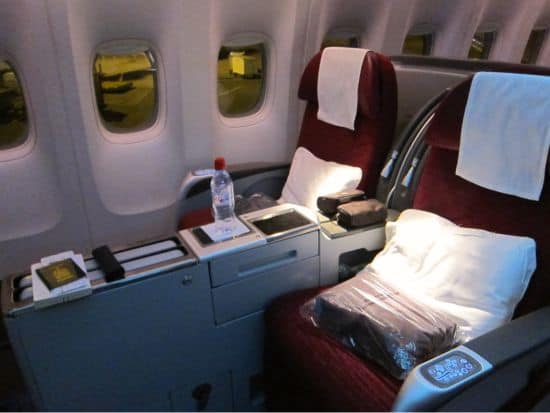 Flying in comfort to India
Every time I travel to India, I have a completely different adventure and experience. I always learn something, I always change in a big way — but I never know ahead of time what's going to happen, what I'm going to learn, or how I'm going to change.
Good news for me — and perhaps a sign of things to come — my trip got off to a good start by flying on Qatar Airways. I had never flown Qatar Airways before, but many people told me they loved the airline, and had the best flights of their life on this airline. Now I know why!
The sky's the limit on Qatar Airways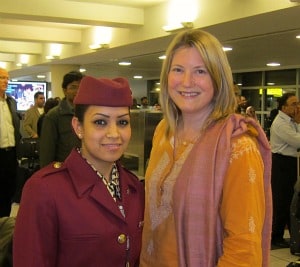 I started my flight in New York, and hgd to fly from Toronto to JFK airport. I had never flown to JFK in New York before and I was a bit worried by the size of the airport and the intense security checks. So when I reached the Qatar Airways counter and was greeted by name — "Passenger Ward?"– by a young man with a big smile, I felt so relieved and so welcomed. It was instant. I knew everything would be okay and that I would have a great flight, and I did.
I was lucky, I was upgraded to Business Class — and Qatar wins the award for best Business Class every year — but I honestly don't think it matters. The great thing about Qatar is the people. I loved the staff. They were friendly, genuine, helpful. I talked to several different people and they all said the same thing: Qatar is a great company to work for. You can tell by how relaxed the staff are that this must be true.
But of course the ability to lie flat and sleep on a 12-hour flight is a truly great thing, and I really appreciate that I was able to do that in Business Class. Also loved the service, the fresh food, the multimedia options. I watched Avatar and ate seafood and salad and felt very content.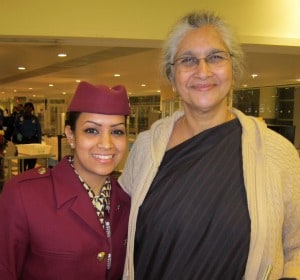 I landed in Doha at night and therefore didn't see much, but I could discern desert sand and scrub by the side of the runway, which contrasted with the modern, glittery skyline in the distance. Downtown Doha is only five kilometres from the airport. The airport is very modern and slick, and seeing women in black burquas and men in traditional dress (long white robes) in that setting also offered an experience in contrasts. I had Qatari sweets in the lounge and watched Al Jazeera (in Arabic) — which I though was very cool as Al Jazeera is based in Qatar.
So finally after about a day of travel I landed at the new airport in Delhi — which I was really looking forward to, but was too tired to notice. All I can tell you is that when I came out of the gate a young man suggested I hop aboard the golf cart that was waiting — and oh boy, am I glad I did. It's a LONG way from the gate to the baggage pickup.
And of course leaving the airport I was met with India. My driver's rattling taxi got stuck behind an autorickshaw, and when he finally pulled ahead, he opened the window to release a stream of abuse at the auto driver. Tarp covered "homes" lined the side of the road, and many tiny stands selling chai, fruit and who knows what else were manned at 4:30 in the morning. When I arrived at the house, the guard was sound asleep with a Delhi dog curled up at his fight. Home sweet home.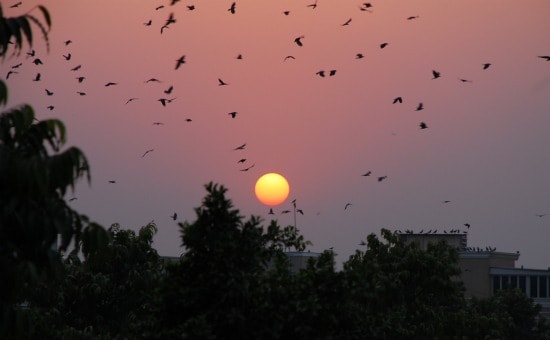 All about the only "Q" country
In preparation for flying on Qatar Airways to India, I researched Qatar (pronounced KAH-ter). The first thing I discovered is that it is the only country in the world that begins with a "Q." Qatar is located on a flat peninsula that sticks out into the The Persian Gulf and is one of the wealthiest countries on earth (on a per capita basis), thanks to oil. Many people, like me, know Qatar chiefly because it is home to the highly regarded Al Jazeera news network.
In my research I found out a few interesting things:
I discovered that guests must drink two cups of Qatari coffee, neither more nor less (and must hold the cup with the right hand).
Souq Waqif (the main souq in Doha) has been completely rebuilt to "look old."
The Qatar Visitor site includes a detailed list of things to see in do in the capital city, Doha — and says that Qatar basically IS Doha, as 50% of the country's population resides there.
Dave and Deb of ThePlanetD wrote about architect I.M. Pei's greatest buildings and included the Museum of Islamic Art in Doha on their list.
Qatar is a constitutional monarchy. The country is controlled by Sheik Hamad bin Khalifa al-Thani, who deposed his father in a bloodless coup in 1995, and has brought in many reforms — including suffrage for women. Politically, Qatar is called the Switzerland of the Middle East, which I think means they try to get along with just about everyone. Certainly by winning the right to host the World Cup for 2022; by funding Al Jazeera; and by turning Qatar Airways into one of the world's leading airlines, Qatar is working hard to transform itself from an unknown pearl-fishing centre to a leading global citizen.
---
NOTE: I flew as a guest of Qatar Airways. However, I would have said the same things even if it wasn't. Urooj, Ricky, Natalie and all the rest of the Qatar staff I met were exceptional.
---
If you enjoyed this post, you can….
Sign up to The Travel Newsletter in the sidebar and follow Breathedreamgo on all social media platforms including Instagram, TripAdvisor, Facebook, Pinterest, and Twitter. Thank you!