My life in Tokyo, Japan
One night, many years ago, I dreamt I moved to Japan. I had just moved in with my boyfriend in Toronto and we were buying furniture and decorating. After that dream, I bought black lacquer bedroom furniture and Japanese prints for the walls. Then, he was offered a job in Japan.
We flew to Tokyo on Valentine's Day, on Singapore Airlines, my one and only first class flight so far. When the beautifully attired air hostess offered me Johnnie Walker Blue Label, I thought she was mistaken about the colour of the label.
On Valentine's Day, I landed at Narita International Airport to begin my new life. My life in Japan. I had never been to Japan before, never been to Asia before, when I agreed to move there. Tokyo was my first Asian megalopolis. The population of the greater Tokyo area including Yokohama equals Canada.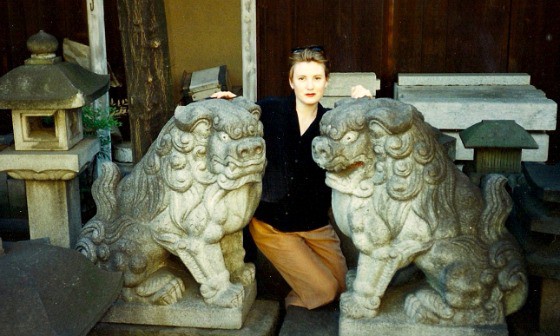 Our first home in Tokyo was a compact suite in a chic hotel in Ginza, the world's most expensive real estate. I met Oliver Stone in the lobby, and heard that Annette Benning and Warren Beatty were staying there. We ate at the Japanese restaurant only once, as guests of the manager, because it was alarmingly expensive. But I still remember that meal, the exquisite morsels of seafood, the rarefied atmosphere.
Every time I set foot out the door, I felt like I walked into the path of a wind machine. Crowds of people, densely packed buildings, one business on top of another like urban tetris, plus all the unknowns of a strange and foreign culture.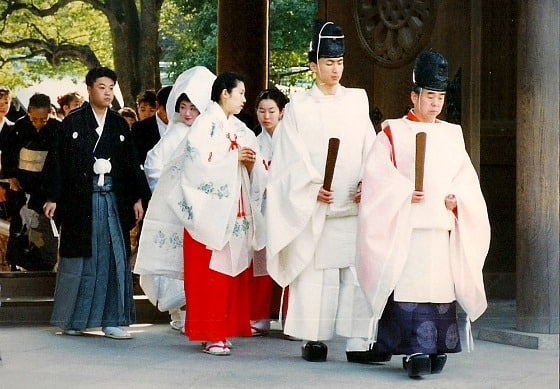 Just prowling the Ginza alone. Several massive department stores line the main thoroughfare, and in the basement food halls I bought fresh tofu out of buckets and fish fresh from the sea. At lunch, I did a circuit of every restaurant that had a "set menu" — a bento box containing tempura, rice, pickles and fish, either cooked or raw in the form of sushi or sashimi — usually at a fraction of the cost of an evening meal.
Soon we started looking for an apartment. Our real estate agent was a Canadian from Parkdale in Toronto who took us to see about a dozen massive apartments with ball-room sized living rooms. This in a densely packed city of tiny apartments and houses. But we were not diplomats and didn't need to entertain. So he took us to about a dozen smaller apartments with views out the windows of busy streets and multi-layered highways and I felt boxed in, breathless.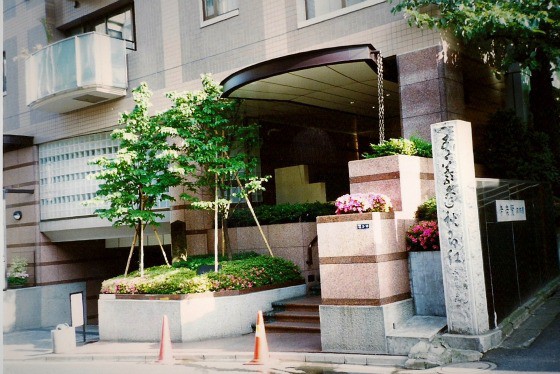 Then he took us to a new building in Nishi Azabu, across from a Buddhist cemetery. It had two bedrooms, a tiny kitchen, a big-enough living room and all the windows faced the cemetery greenery. I loved it, though whenever I smelled smoke, I quickly closed all the windows. Buddhists in Japan cremate their dead.
I loved my ultra-modern, light-filled apartment with computerized toilets, heated floors and a space-age control panel in the front hall, but when I think of my time in Japan, I don't think of me in the apartment. I think of me:
riding the subway or the bus,
exploring Tokyo,
taking Japanese lessons,
eating in small restaurants that specialized in just one type of Japanese food,
trying to shop at the Daimuru Peacock, the Japanese grocery store near the apartment.
I learned to cook a Japanese meal, I mastered a few phrases, I grew bold riding buses all over central Tokyo, I made friends with several other ex-pat Canadians and made one very large and important discovery about myself: I thrived on culture shock. I saw how it affected some westerners, mostly Americans for some reason, who closed themselves in and stuck to a routine that revolved around the Tokyo American Club. But I discovered I loved being an ex-pat, and immersing myself in the culture as much as I could.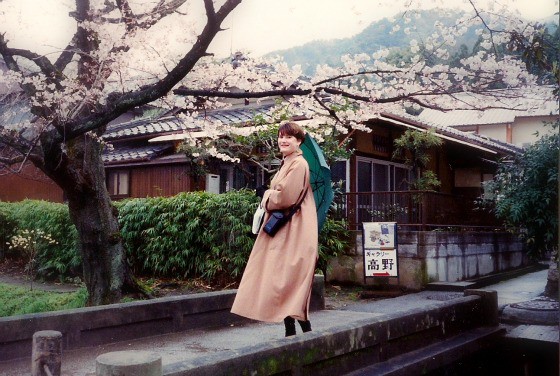 In the spring, I travelled alone to Kyoto during hanami, when the sakura (cherry) trees are in bloom. I stayed in a 300-year-old ryokan (Japanese inn) and slept on the matted ground. In the morning, a woman in a kimono left her slippers at the door and padded in, kneeled down, and rolled up my futon. At dinner, she brought in a small, low table and kneeled while she served me tiny morsels of delicious vegetarian food, a specialty of Kyoto. I ate alone, looking at the traditional Japanese garden, feeling I had been dropped into the essence of the culture.
In Kyoto, I saw Geisha on their way to appointments, experienced the Japanese tea ceremony and toured as many temples as I could in two days. I also visited Osaka, where I are one of my favourite dishes in Japan, aside from sushi of course — okonomiyaki. You can read more about the cuisine of Osaka in this food guide.
I took the bullet train home to Tokyo, passed Fuji-san (Mount Fuji) on the way, and felt proud of myself for a successfully negotiated solo adventure.
Every day in Tokyo was an adventure; every time I left the house I learned something new, saw something new, tried something new. I used a squat toilet for the first time in a tiny washroom in a small park on the way to the ex-pat grocery stores; I went to a conveyor belt sushi restaurant; I saw a Shinto wedding at a Tokyo temple; I ate fugu (blowfish), which is highly poisonous if it's not cut right, and afterwards my lips went numb.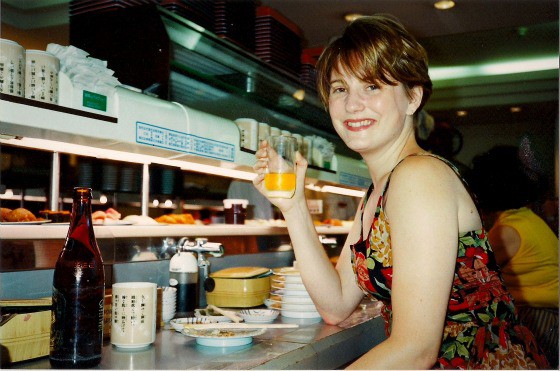 After a few months, it began to dawn on me that while Tokyo was a big, modern city with a subway system, cars, elevators, hotels — it was not a western city. Here was my mistake: Tokyo was modern, yes; but western, no.
Here was my mistake: Tokyo was modern, yes; but western, no.
Bank machines closed soon after the banks closed. Beer, underwear, flowers and many other items were sold in vending machines. Streets had no names, and buildings no postal addresses, as I knew them. Social etiquette was strict, detailed and confusing. After while, I realized that I didn't understand the culture at all and I started reading books like Ruth Benedict's famous The Chrysanthemum and the Sword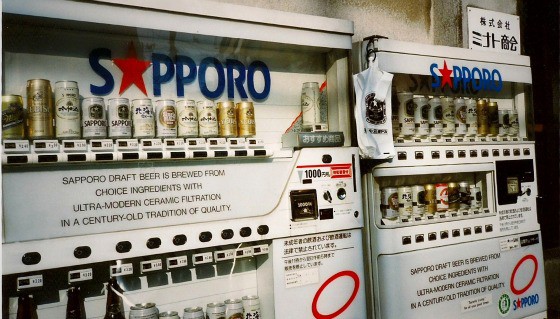 Little by little, the mysteries of Japan's culture began to unfold, like the sakura blossoms in spring. Spending almost an entire year there, going through the seasons and the festivals, traveling and living, all helped my understanding and appreciation. But, in the end, I'm not sure I was really the wiser. Japan will always be a fascinating and exciting place to me, but ultimately inexplicable.
---
MORE READING ABOUT JAPAN
---
If you enjoyed this post, you can….
Sign up to The Travel Newsletter in the sidebar and follow Breathedreamgo on all social media platforms including Instagram, TripAdvisor, Facebook, Pinterest, and Twitter. Thank you!