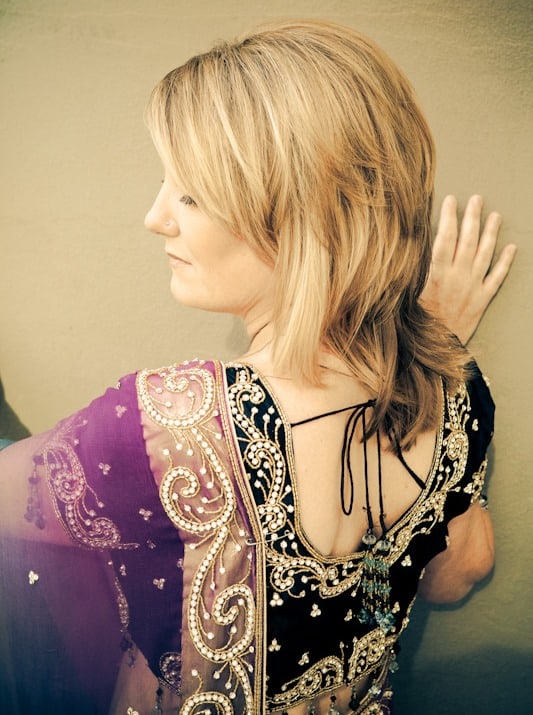 What's it like to be a (blonde) Bollywood movie star?
I wanted to find out what I would have to go through, and how I would look, after a "Bollywood" transformation.
It all started with the clothes. I knew I needed a really fabulous sari or lehnga, so I went to visit my friend Manish Mahtani at Nucreation, a large clothing store on Gerrard Street, in the India Bazaar, in Toronto. Nucreation has an entire upstairs floor devoted to wedding and party clothes — and the selection is dazzling. It's a bit like walking into a fantasy land; a gorgeous room filled with flowing, glittering, colourful clothes fit for a princess from an oriental fairy tale. I will be writing another blog all about this store, and the family behind it, soon — with photos of a model wearing some of the fabulous creations.
Read on to find out how I was transformed – with the help of three talented people and of course a gorgeous sari.
The transformation begins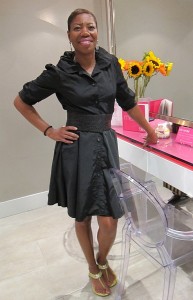 Manish put me in the charge of Chaity, a cheerful young women with disarming dimples, originally from Bangladesh. I told Chaity my needs — something really fun, not formal, and no yellow, red or purple — and she made a beeline for a shelf of high-end saris that were less bridal and more modern. She pulled out a pale mint green sari — a very non-traditional colour — with a deep coral border that was gorgeous; I loved it immediately. And then a gradient-hued sari the colour of an indigo sky with rhinestone trim like sparkling stars. "No purple," I reminded her, but she insisted I try it on.
The blouse is always the tricky part of a sari. Usually, a piece of cloth is stitched to the end of the sari, and used to custom-make the blouse (you have to take it to a tailor). This sari came with a blouse, which worried me, until I tried it on and it was a good fit. Then, Chaity expertly draped me in it. I emerged from the dressing room, looked in the mirror and knew this sari was the one, purple section and all. I simply had to have a few adjustments made to the blouse — just to make the sleeves a bit tighter — at a tailor on Gerrard Street, recommended by Nucreation.
When the sari blouse was ready, I arranged with photographer Andrew Adams of Katha Images for the shoot. Andrew is a specialist in Indian weddings, and travel photos from India — which I often feature on Breathedreamgo — so I knew I was in good hands. I have written about him in Andrew Adams: Indian wedding magic.
I had my hair done by Kenlyn Alexander at Blo, The Path, in downtown Toronto, and she gave me a really fun, very flattering style with lots of back-combing in the crown. Kenlyn is not only a great hairstylist, she knows a lot about fitness and image consulting, too. Plus, she's a really positive person.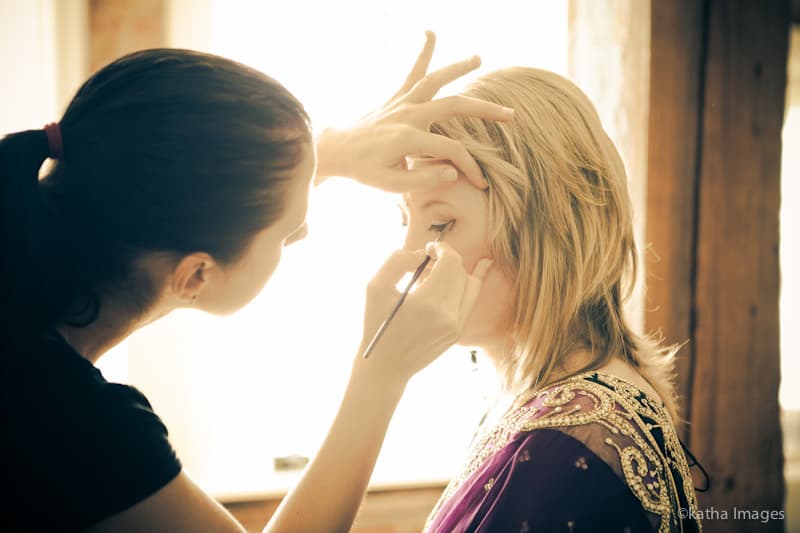 After the hair was done, I had my makeup done at Andrew's studio by professional makeup artist Olga Kirnos. Olga used to live in Delhi, so it was fun to be with two other Canadians who share my passion for India. Olga concentrated on the eye makeup, even adding false eyelashes, and went with pale soft colours for the rest of my face — which I loved. It was both a 60s look that matched my hair, and also the right look for an Indian costume. I was seriously impressed with Olga's dedication to her art: she has an enormous makeup kit that includes 70 brushes and a large bag full of false eyelashes. She's got a very light touch, and she's a sweet, engaging person. Olga does makeup for weddings, editorial spreads using professional models and all kinds of other functions, and I could see that she probably gets along with just about everybody.
I was really happy with my sari, hair and makeup, so I started the shoot in a very good mood. I loved the way it all came together — and seemingly effortlessly, like I was under a lucky star. Things don't always go so well, but for this shoot, the stars fell into place. And then working with Andrew was a breeze. I am not a professional model — in fact, I am very shy in front of the camera — but he put me at ease and just made it seem fun. He is a true professional and it was fascinating to watch him at work. He uses a minimum of equipment and concentrates instead on lighting. He kept noticing the light — coming from the window in his studio, or in a stairwell when we went outside his building — and kept asking me to stand or sit in the best light. Light is something I have never really noticed before; or at least not to that degree of specificity, so it was quite "illuminating!" You can see more of Andrew's work by visiting his website Katha Images.
And here's the final product, the culmination of three talented people and a gorgeous sari. This is my favourite photo from the shoot, below. Thanks Andrew, Manish, Olga and Kenlyn for helping me achieve a dream!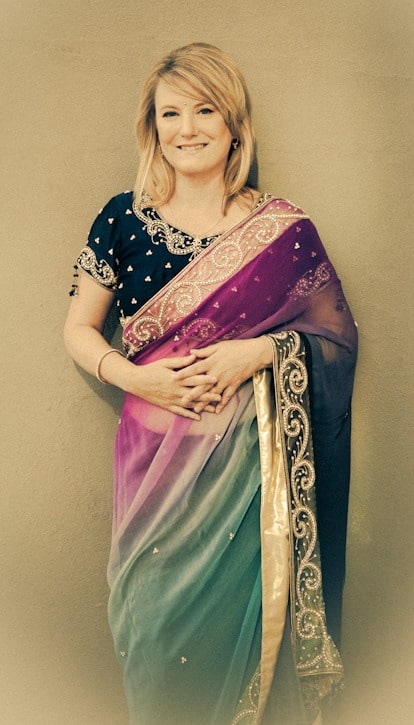 ---
If you enjoyed this post, please sign up to The Travel Newsletter in the sidebar and follow Breathedreamgo on all social media platforms including Instagram, TripAdvisor, Facebook, Pinterest, and Twitter. Thank you!