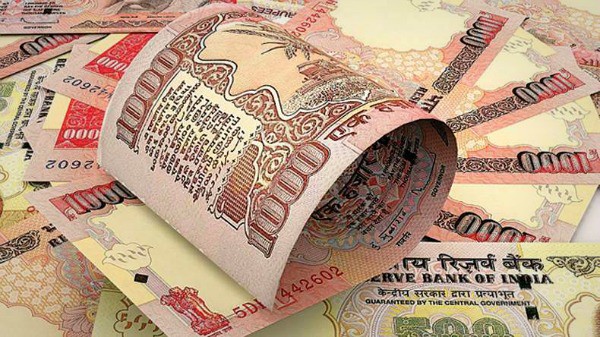 Demonetisation: What to do about the cash shortage in India
Tourists and locals all over India are struggling to find cash in the wake of demonetisation. Here's some background information and some tips on what you can do to cope.
ON NOVEMBER 8, 2016 at about 8 pm in the evening, Indian prime minister Narendra Modi made a surprising announcement. He said that at midnight that night, all 500 and 1,000 rupee notes would be "demonetized." In other words, 86% of the paper currency in India suddenly became useless. Welcome to demonetisation.
This surprise announcement took (almost) everyone off-guard – as it was intended to do. According to the Indian government: "The suddenness of this move is expected to bring about significant changes in the economy and not only help provide impetus to the overall development of the Nation but also clean up the system. Real estate and education will become more accessible to the common man. The terrorist and money laundering activities will suffer a major setback. The nation will continue to reap the benefits of this step for years to come."
Be that as it may, everyone in India, including tourists, are struggling to cope. The biggest problem is finding enough legal tender – cash – to pay for day-to-day things like food, restaurants, chai, taxis, tickets, entrance fees, souvenirs, hotels that don't accept credit cards, etc.
The government expects the "transition phase" to last about 50 days, until about the end of December, 2016. Many more 10 and 100 rupee bills need to be printed; the new 2,000 rupee notes need to be printed; and the ATMs need to be re-calibrated to the accommodate the new 2,000 rupee notes as they're a different size. In a country the size of India, with 1.3 billion people, this is a staggering endeavour. [NOTE: Some news agencies think it will take 4 months not 50 days.]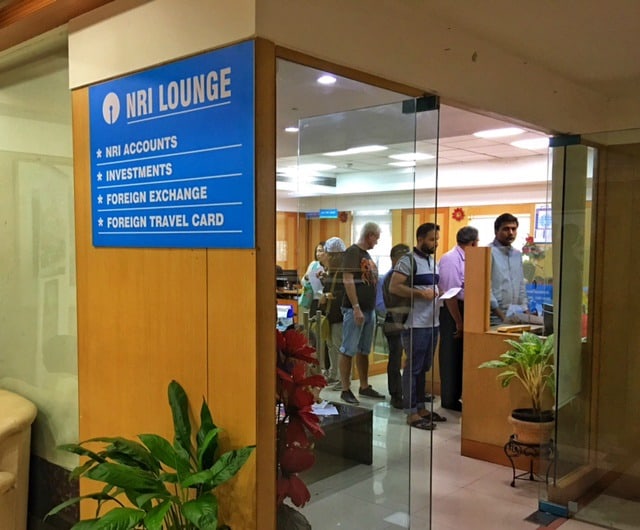 My first few days of demonetisation
I was in Delhi when demonetisation was announced, and flew to Goa two days later. I had a small stack of 500 rupee notes and only about 200 rupees in small, legal notes. I was not worried, however, as all the announcements assured me I would be able to exchange my 500 rupee notes at the airport. I went early to Delhi's domestic airport, as I was planning to eat lunch there too, but to my dismay there was no facility for exchanging my notes and as a consequence I went hungry.
However, I was still hopeful that the airport in Goa would be able to exchange some notes for me. Unfortunately, that was not the case and if not for the kindness of a handsome stranger, I would not have been able to get to my hotel in Panjim. A very nice man I met on the plane gave me a ride to the Panjim Inn on his way to Candolim Beach. The Panjim Inn let me pay for everything, including taxis, by credit card. In the meantime, I lined up at several bank machines for up to half an hour, only to find the cash had run out.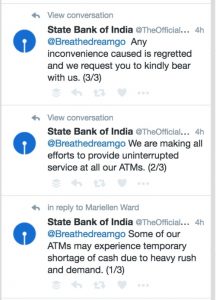 I was able to exchange my notes however. I was given the advice to go to the main branch of the State Bank of India. Sure enough, on the second floor, there was a spotless, air conditioned "NRI Lounge" that allowed me to exchange 4,000 worth of 500 rupee notes. I had to fill out a form, provide a photocopy of my passport, and wait about half an hour.
From Goa I went to Hampi, where my guide Rajesh suggested that I visit an ATM in a small town. Another stroke of luck: no lineup at all at the Canara Bank ATM he suggested, and I was able to take out a total of 4,000 rupees in two withdrawals of 2,000 each (all in 100 rupee notes). I did this for two days. Each withdrawal has a $7 fee altogether, so it's costly. But at least I had cash.
From Hampi I went to Udupi, and again, I found an ATM with a small line-up that allowed me to take out two 2,500 withdrawals (all in 100 rupee notes). So, as I write this, I have about 12,000 in 100 rupee notes … and I wonder if I'm the richest person in India!
TOP TIP: So, my top tip is go to a village or small town ATM. Less people competing for the cash means more likelihood of success.
In the meantime, I asked friends and followers on Facebook for advice and tips. I have found the "official" announcements are not as accurate as on-the-ground- reports. The official announcement might say that you can exchange your money at the airport, but that doesn't mean you can. I have curated the best tips, below, with the proviso that I am not guaranteeing that any of these strategies will work.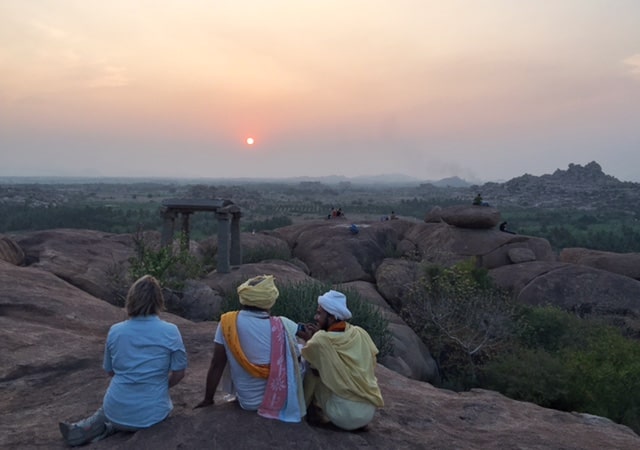 When in India … go with the flow …
As always when it comes to travel in India, going with the flow, and adjusting your expectations, is the way to go. At the best of times, India will push you to the limit and challenge your ideas, biases, perceptions and just about everything else. Demonetisation is just adding another new challenge to the mix: the challenge of money and being able to pay for even basic survival.
My advice is first of all to remember that India is a massive country with massive social issues that the present government is trying to deal with. Try to keep the bigger picture in mind — what India stands to gain from this bold stroke — and have some compassion, goodwill, and patience. And second, try and see this as a learning opportunity. You may find that you are more resourceful or resilient than you thought. You may discover that people are kinder and the world is more abundant than you thought.
I was really worried the first few days … and then I just decided to relax, surrender, remember that EVERYONE else in India is also struggling with this issue and that I would be okay. As always, surrendering turned out to be the right thing to do. It was after I surrendered, and stopped worrying, that I found the "magic" ATM near Hampi.
And since I've been following this story very closely, I've seen quite a few people facing difficulty … and then being the recipient of kindness and generosity. This is true for both Indians and foreigners in India.

Tips from travellers in India
From my experience, and the people I've heard from on social media, these are the some of the best things to do. But remember, the situation is changing daily. New provisions are coming into place, some things are getting easier and others harder. The currency withdrawal limit just dropped from 4,000 rupees per day to 2,500. But this didn't seem to apply when I used my foreign debit card to take money from an ATM: I was able to take out 5,000 (in two 2,500 withdrawals).
Use your credit card as much as possible to pay ahead of time for hotels, train tickets, airplane tickets etc. Cleartrip allowed me to pay for tickets with my foreign credit card. On the Indian Railways site, I paid for train tickets with my PayTM account.
Check the airports. The Airport Authority of India (AAI) recently announced it would allow the opening of currency exchange counters by scheduled commercial banks at its airports across the country until December 31. UPDATE: Airport exchange counters can't keep up with demand says Times of India.
Try finding ATMs in small towns and even villages near tourist centres. As a foreigner, you can take out more than the current daily limit of 2,500.
State Bank of India main branches have NRI Lounges for exchanging money.
Open a PayTM account. As a foreigner, you cannot add money to your account, and your limit is 10,000 rupees. If you have a friend in India, you can give them money, and they can move money into the PayTM account. Of course, the challenge will be giving them the money … but if you can find a way to do it, PayTM is very useful for paying for train tickets, and mobile recharge and many other things.
Download taxi apps like Uber, Ola and Meru. I was able to set up Meru so that I can pay via my foreign credit card. Other apps let you pay with various mobile wallets.
Bring small denomination American notes such as $5, $10 and $20 bills into the country, and 100 Indian rupee notes if you can get them.
Ask the guard at the ATM what time the machine is reloaded.
Follow the hashtag #ATMswithCash and try downloading Walnut App (@getwalnutapp on Twitter). It has a function that apparently shows ATMs that have cash.
NOV. 25 UPDATE: Government announced that foreigners are limited to exchanging currency worth 5,000 rupees per week; and that there's no more exchange of old 500 and 1,000 rupee notes allowed as of Saturday, November 26. Times of India.

Janice: Tripzuki is really great for booking boutique hotels.
NOTE: Stayzilla is awesome for booking homestays online, too. And of course you can use Airbnb. If you click on the link, you can get $40 credit to use when booking through Airbnb. I've stayed in some great Airbnb places, in Delhi and Mumbai.
Anne: We found money changers in the markets who will take American dollars, though the rates are poor. Things are beginning to ease up, but it's anyone's guess as to when normalcy will return. Advice to anyone coming would be to bring plenty of American $20 bills and pay your accommodations in advance if you can.
NOTE: Agoda is a great site for booking hotels in India and Asia.
Tim: For foreigners with old rupees to exchange: Put on your best shirt and your most confident attitude. Walk straight into the bank and ask to see the manager. Discuss how the system for exchanging old notes takes no account of foreigners without accounts, even though they have receipts to prove legitimacy. Ask if there is not 'something' that they could do to help in this most special of circumstances….
Rachel: People think rupees are totally closed currency but actually you can bring money in just not meant to take it out. My parents just brought 50,000 from our small town bank in Ohio when they visited. You can check your bank to order the notes, but only take them in 100's as banks outside India won't have new 2,000 notes. Rachel Jones is a travel blogger based in Goa, India and publishes the popular Hippie-in-Heels travel blog.
Dominique: Western Union is the solution. You pay them online and go to the office to pick up your new money, up to 15,000 rupees. Bring copies of passport and visa. Dominique Mallee Meeroff, workshop leader & Heart Listening Practitioner, HeartListening.co.
[NOTE: This does not work everywhere. You have to find a Western Union location that has enough currency. Several people on my Facebook page said it didn't work in Delhi or Mumbai.]
Hanna: I would recommend any travellers to book their accommodation in advance online and then be prepared to exchange money at the airport on arrival. Unfortunately, most local super markets and stores don't accept foreign debit cards, some accept American Express. Paying online or with PayTM seems to be one of the most viable options at the moment.
Colleen: We are currently in Delhi and have been here for just over a week. Today we successfully managed to withdraw 2,000 rupees (the maximum amount allowed) after queueing for only half an hour. Thus time last week, it could have been six plus hours, so maybe things are improving now that the machines are getting calibrated to cope with the new sized notes.
Leela: ATMs in Varanasi are giving 2,000 rupee notes in windows of time, and lines are not long. Things are getting better now. The ATMs are sporadically working. The lines are not big, but they do run out of money. I haven't had any problems getting money for the past 4 -5 days. Before that I was broke for a week.
Sian: I was in Delhi yesterday. Two Western Union and Thomas Cook all claimed they had no cash. Indian press is reporting many of the banks are saying they have no cash but are in fact reserving it for their high net worth clients (at a 25% commission!). Suspect the foreign exchange places are doing the same. Many banks do not offer foreign exchange and there are queues that go on for hours and hours to get into the bank. Limit for foreign exchange at the airport was £50. If you are an overseas citizens of India, you can pay money into your account, but cash withdrawal is limited to 24,000 a week and you can only get this from your own bank, not other banks. The rules are very complex and not straightforward. Best to Google rupee demonetisation for full story. Most banks appear not to offer foreign exchange. There is no getting away from the fact that being a tourist here at the moment is tough as no proper provision appears to have been put in place.
If you have any tips to share, please leave a comment below and let us know what worked!
For further viewing / reading:
My GovIndia: Official newsletter on Demonetisation
Newsx: Here's why the replacement of demonetised notes will take 4 months, not 50 days
New York Times: India offers relief from chaos
Global Gallivanting: What demonetization means to tourists
Indian Express: A tourist's story
The Quint: In Pahar Ganj, Delhi talking to tourists
Reserve Bank of India: FAQ
NOTE: This post contains affiliate links. If you make a booking or purchase after clicking on these links, you will be helping to support Breathedreamgo.
If you enjoyed this post, you can….
Get updates and read additional stories on the Breathedreamgo Facebook page.
Follow Breathedreamgo on Instagram.
Follow Breathedreamgo on Pinterest.