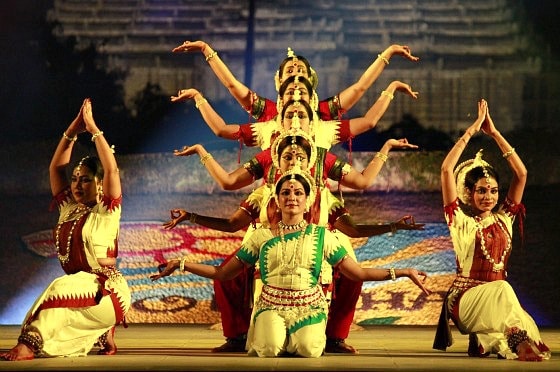 Odissi dancing brings Indian sculptures to life
I recently wrote in my first blog about my trip to Odisha (Orissa) that I was extremely impressed by one particular program at the Konark Festival. After Meera Das and her troupe, the Gunjan Dance Academy, performed, I wrote on Facebook that if I disappear, it is because I have moved to Cuttack, Odisha to study with her. I felt swept up in the performance, by the energy, reverence, creativity and passion. All the dancers moved together in harmony. Though Meera Das is the leader, the guru, she did not grab the limelight — she has the grace, humility and talent to allow herself to become part of the ensemble.
Afterwards I found out my host in Odisha, Mrs Mohanty, is Meera Das' cousin, and she said she could set up an interview. When I walked into the lobby of the Swosti Hotel in Bhubaneshwar, and met in her in person, I was initially confused. Was this demure, feminine Indian lady the same bold dancer I saw on stage? I asked her husband, who accompanied her: Are there two Meeras, two different women? And he agreed, yes, there is.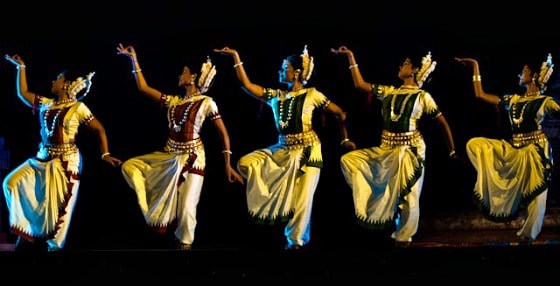 But as Meera talked about her life and her passion for dance, I could see her boldness, her confidence appear. And when she moved, to show me a few small postures, then I could see the dancer in the woman.
"I never knew I would be doing this as a career, though I had a tremendous inclination towards music and dance. Even from the age of three or four I loved music; my parents used music to soothe me when I cried. But women in Oriya culture don't have careers."
She told me she is lucky that her husband supports her. It was an arranged marriage and she never saw him until they day of the wedding. They have one son, who is 15 years old.
Follow my South Asia Sojourn from October 2012 to May 2013 — a six-month blogging trip through India, followed by a search for my family roots in Ireland. Subscribe to Breathedreamgo in the "Get updates by email" box to the right.
I wanted to know more about Meera and also about the program she danced at the Konark Festival. I don't know enough about Odissi dancing to decipher it, but I could easily see that it was choreographed specifically for that venue.
"I choreographed it two years ago, but added to it specifically for the festival. It was inspired by a feeling of respect for the Sun Temple. I am so happy you felt it."
But not only was it choreographed to pay reverence to the great temple, lit up behind the stage; it was also inspired by the actual sculptures that adorn the temple.
"Stone sculptures come alive in Odissi dance. The second number, Nrutta, was a pure dance number, no expression, strong foot work and sculptural. The girls holding instruments as depicted in the dance, comes from the Konark Temple," she said.
"If you quietly observe the Sun Temple sculptures, you can feel there is a heart inside, a movement inside. Look at the sculptures and see that they're lively. Observe silently and they may start talking to you. The aesthetic sense in Odissi comes from those sculptures."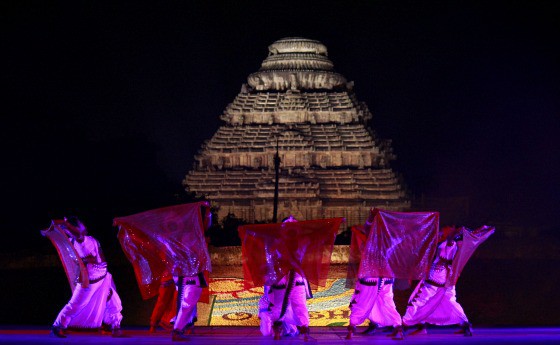 There is something very special about Odissi dancing, in my view, and I asked Meera if she could explain it.
"Odissi is the dance form of Orissa. We don't have other dance forms. What I feel now is that Odissi is the best: the attire, softness, grace and lilting movements of the dance. To me, Odissi is the most graceful. Odissi uses foot, lilting torso, the postures, the mudras. You can see them in the temple sculptures."
Clearly, Odissi dance is born directly from the rich and ancient culture of the state of Odisha. That is part of the secret. But the thing that makes Meera Das stand out is something else: heart and soul.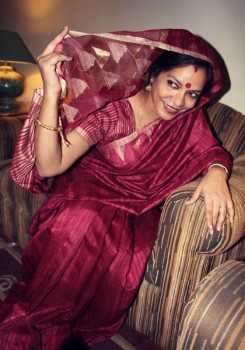 Meera has been dancing for about 24 years — she is a very youthful looking 42 — but she says it's only in the last five years she has figured out that it's all about dancing from the heart; dancing for her soul. She no longer cares what others think, no longer worries about what her detractors say. "Dancing brings me joy that I never found in money and other things. It's coming from my heart. I don't really understand it. But it's like an energy drink! Without dance I can't breathe, I can't exist.
"I dance it for the audience," she said, "The audience is god. I see dance as a prayer, not a performance. When you do it from your heart, it affects the audience. Then you can communicate and connect. I came to know this through years of experience."
Meera told me she comes from a modest background, in a tribal area of Odisha. She always loved music and never really cared for anything else. When she became interested in the traditional dance form of Odisha, which is Odissi, she naturally wanted to study with the greatest proponent, Guru Kelu Charan Mohapatra — but her family could not afford it. Destiny intervened and the government opened the Odissi Research Centre, under the direction of Mohapatra.
At first she was in the far corner and felt unnoticed. But then one day he chose her to come to the front, and she stayed there. He was hard on her, but she realized it was done with love and care.
"I believe in destiny," she said, making a gesture across her forehead with her hand — to indicate, I assume, if something is written on your forehead, it is your destiny.
Meera is very youthful looking, full of positive energy. "Dance keeps you young because you exercise. But happiness inside yourself keeps you healthy and cheerful.
"I'm naturally happy. Sometimes I feel sick in the morning. But when I hear the sound of the students stepping, I forget my sickness and want to join them."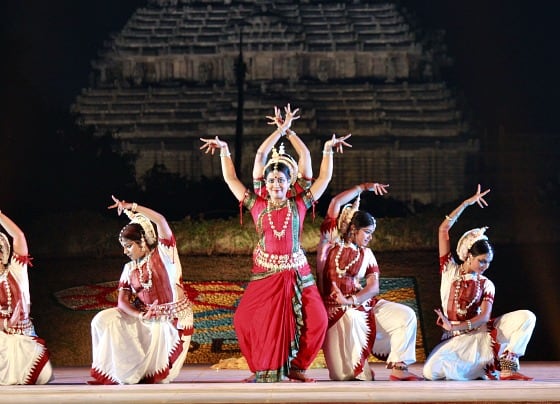 I was very impressed with the way Meera and her 11 students on stage moved together in such joyful harmony. "We hold hands and chant for two minutes before performing, and I give them my energy, I inject my energy into them." As she said this, she grabbed my hands and I could feel her strength and energy. "You're a guru!" I said.
And in that moment I realized I was absolutely bang on when I saw her perform and instinctively wanted to become her disciple. Maybe I will. Maybe that impulse was my soul speaking.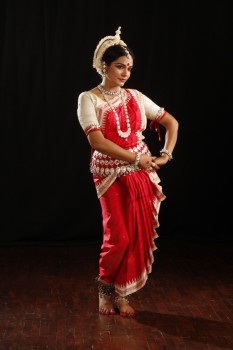 "I try to do what my soul says. It is very important to listen to your soul it will never misguide you," she said. "Keep working, have patience, if you are doing something good, people will recognize you. Do it from your passion and it will energize you."
After meeting Meera in real life, I realized that she is full of love; she is a conduit of love, and it moves through her when she dances. Where does it come from, I asked?
"My father," she said, unhesitatingly. "I am a late child of my father. He was 52 or 54 when I was born — and he pampered me like anything; he gave me a lot of love."
Three years ago, he died hours before she was to leave for a tour in Asia, and naturally she didn't want to go. But her mother said to her: he would want you to go. So she went and danced; and when she came off the stage, she cried.
She still feels he is with her; she gets a lot of energy from him, and says she doesn't feel sad. But she obviously feels a lot of emotion as her eyes reddened as she talked about him, openly and passionately, without holding back. She is a lovely person, beautiful, feminine, strong and full of life. She is obviously doing what she was put on earth to do.
---
If you enjoyed this post, please sign up to The Travel Newsletter in the sidebar and follow Breathedreamgo on all social media platforms including Instagram, TripAdvisor, Facebook, Pinterest, and Twitter. Thank you!