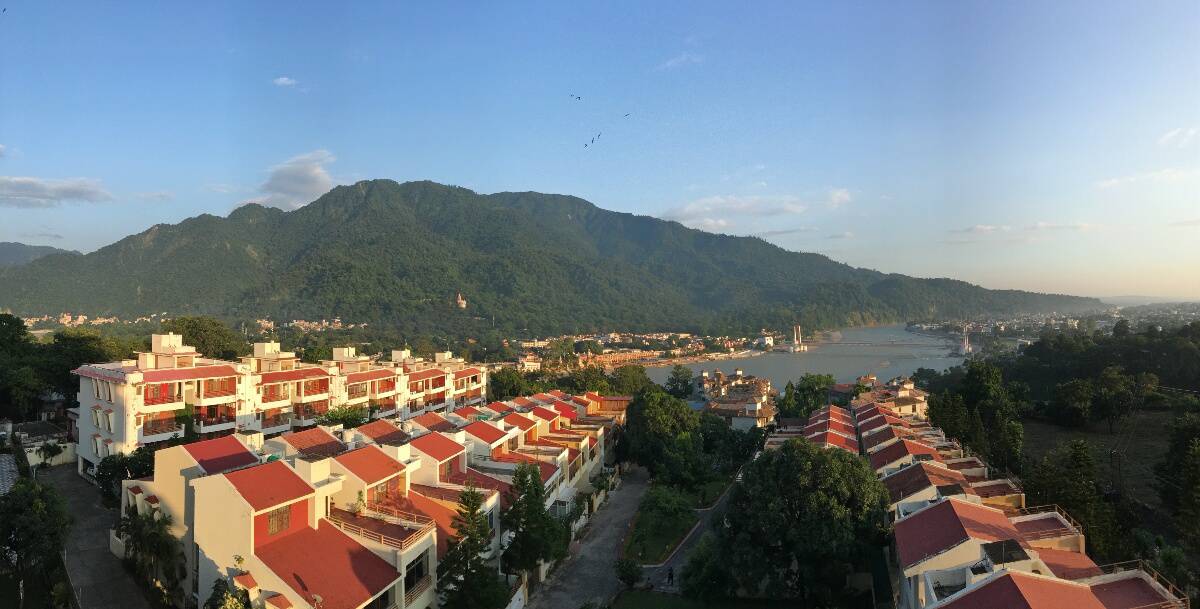 Ayurveda treatment in Rishikesh: Panchakarma at Golden Healing Journeys Rishikesh Homestay
Have you ever wanted to try Ayurvedic healthcare, and get an Ayurveda treatment in Rishikesh, India? Ayurveda is the ancient Indian system of healthcare that's based on observations of nature, and that seeks to bring your body into a state of wellness and balance using natural remedies. The primary method of Ayurveda treatment is known as panchakarma, a series of treatments that take place over two to four weeks, typically. Rishikesh, the Yoga capital of the world, is also home to many Ayurveda centres as well. In other words, Rishikesh is a good place for health and wellness.
Luckily for me, I was "stranded in Rishikesh," where I rent an apartment, when the lockdown was announced in March 2020. I was very lucky to be in my home in India when the sudden lockdown was announced, and I'm very grateful. However, after six months, and towards the end of the monsoon, I was feeling very run down by the heat and humidity, the pandemic isolation, and the underlying stress most of us felt about the uncertainties of life at this time. So, I decided to undertake an Ayurveda treatment in Rishikesh, a three week panchakarma, with Golden Healing Journeys Rishikesh Homestay.
---
SPECIAL DISCOUNT for Breathedreamgo readers. If you are interested in taking a healthy break at Golden Healing Journeys Rishikesh Homestay, the company is offering a 25% discount. For an additional Breathedreamgo discount, please contact me.
---
Golden Healing Journeys is run by my friend and neighbour Madhav Anand, and it is right next door to where I live. I met with him and we carefully went over the protocols to assure my safety during the treatment process. He also arranged for my consultation with Ayurveda Dr. Hari Neelakandhan Pallatheri, which was done via video chat. After the consultation, Madhav arranged my treatment, special diet (vegetarian, no gluten, and designed for weight loss), and had my room ready. I stayed in Vayu, a room with a double bed, ensuite bath, balcony, and a spectacular view of the Rishikesh valley and the Ganga (Ganges) River.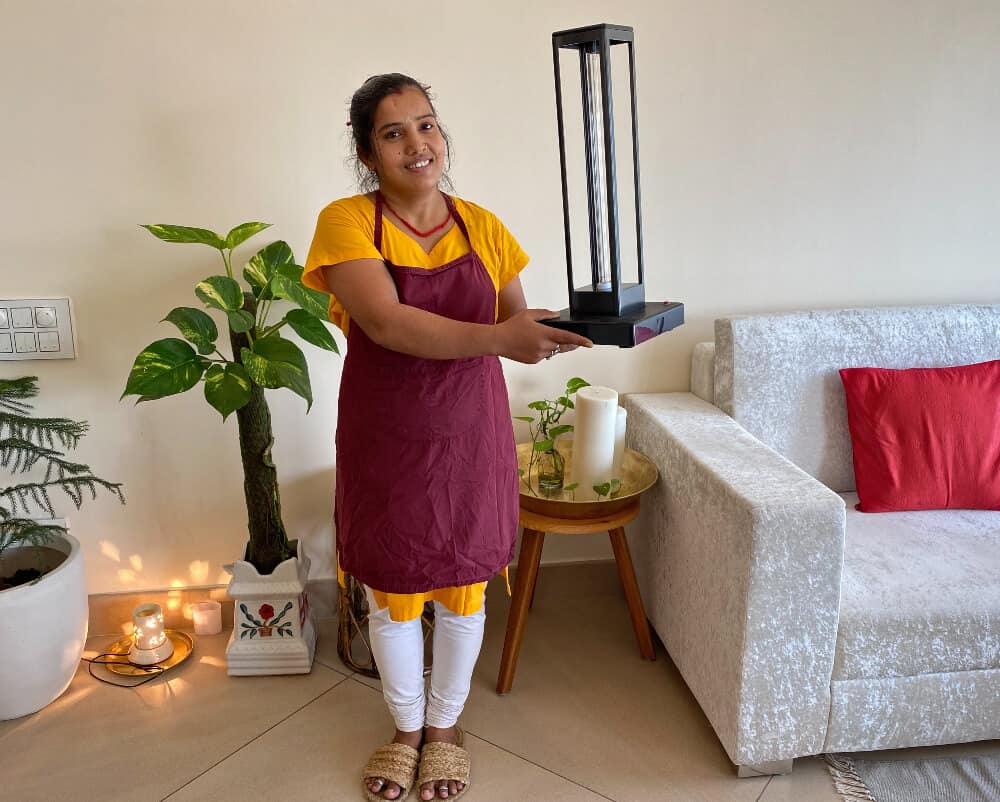 You can read more about the COVID readiness protocols here, but I was particularly happy with two things: treatment therapist and cook Kalpana stayed on the premises during my entire treatment and a large UV light was used to disinfect rooms every day, and the treatment room after each use.
My Ayurveda treatment in Rishikesh
What is panchakarma? The literal translation is "five actions" and what that means is they use various ways to clean out your system over a period of three weeks or more. Each treatment is tailored specifically to the patient, and intended to bring you back into a state of balance and harmony. When you are well, and in balance, you are much less likely to fall ill.
I chose to do panchakarma at this time, the end of monsoon (September 2020) because I was feeling low, lethargic, bloated; I was gaining weight and having indigestion problems; and I desperately needed a change after six months of isolation in my apartment in Rishikesh.
My weight at the start of pancharkarma was a record, all-time high for me at 73 kgs. I couldn't wear most of my clothes because they were too tight, and I felt depressed. My goal weight is 60-65 kgs. For my height of 5'7″ and age / bone structure, apparently 63 kgs is the ideal.
Read on to find out the incredible benefits of my Ayurveda treatment in Rishikesh!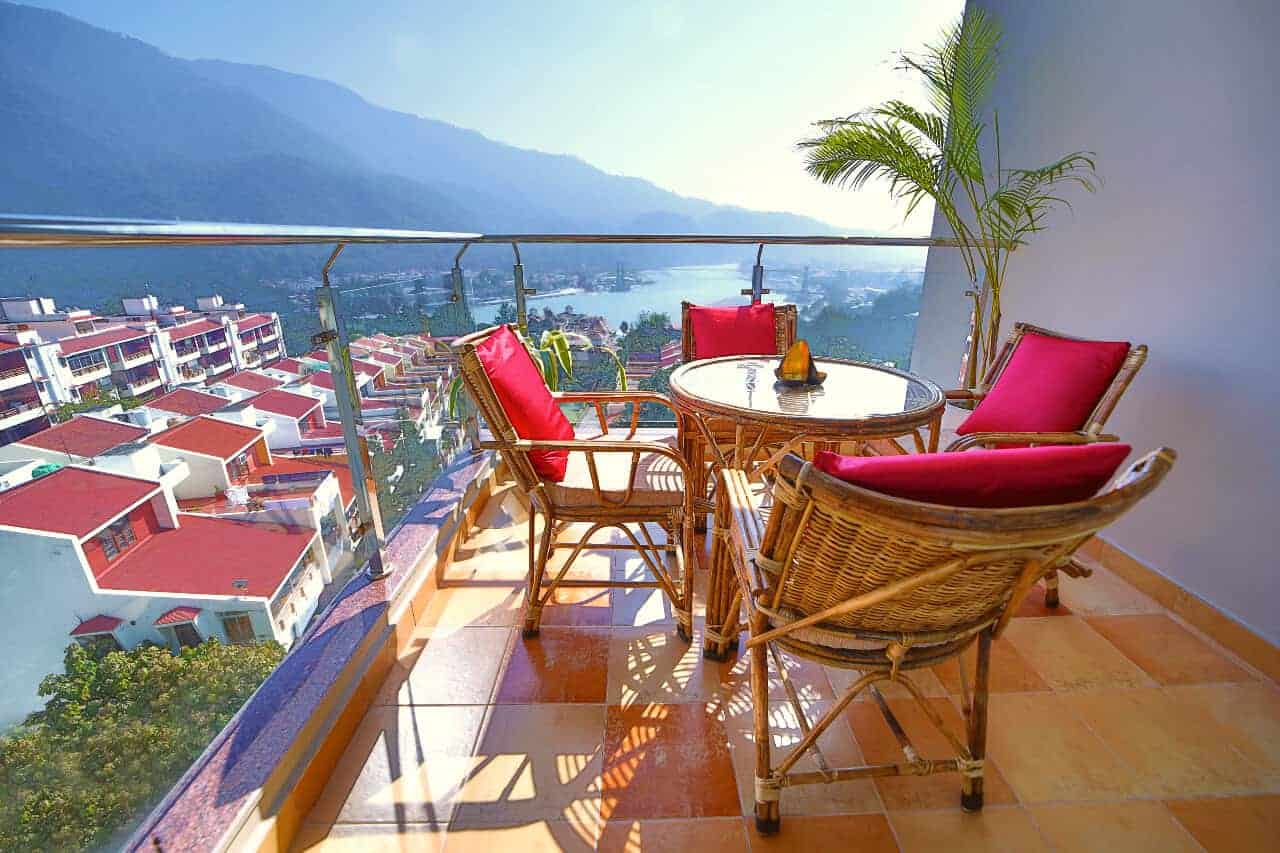 Making a commitment to heal
Committing to this program of doing an Ayurveda treatment in Rishikesh, and deciding to put my health and self care first was a HUGE decision for me. I tend to be a bit of a workaholic, which is because I am generally flying by the seat of my pants. I am always concerned about how I will pay the bills, and worried that if I let down my guard, I will flounder. The pandemic has exacerbated this tendency because it decimated my career and livelihood in travel. So, I spent the first six months stressed out, slaving over my computer to keep my blog alive, and worried about, well, everything.
So I would say the first step in the healing journey is to make a decision and make a commitment. I decided to take all of September off — and called it Self-care September.
The Ayurvedic doctor, Dr. Hari Neelakandhan Pallatheri, met with me via video conference and I told him about my symptoms, past medical history, dietary restrictions (I'm gluten free), and goals for the treatment program, plus he examined my tongue (typical for Ayurvedic diagnosis.) After the consultation, he spoke with Madhav and they created my three-week panchakarma treatment plan.
I started the next day with lunch, and in the late afternoon a two-hour treatment, followed by a shower, rest in my room (watching the sunset), and then dinner. This schedule remained essentially the same for the first 12 days. From the very first day, I felt I was in very good hands and that my personal needs — such as my need to eat gluten-free — were taken care of. The homestay is calm, serene, spotlessly clean, and with touches of luxury. It's very much a sattvic (harmonious) environment.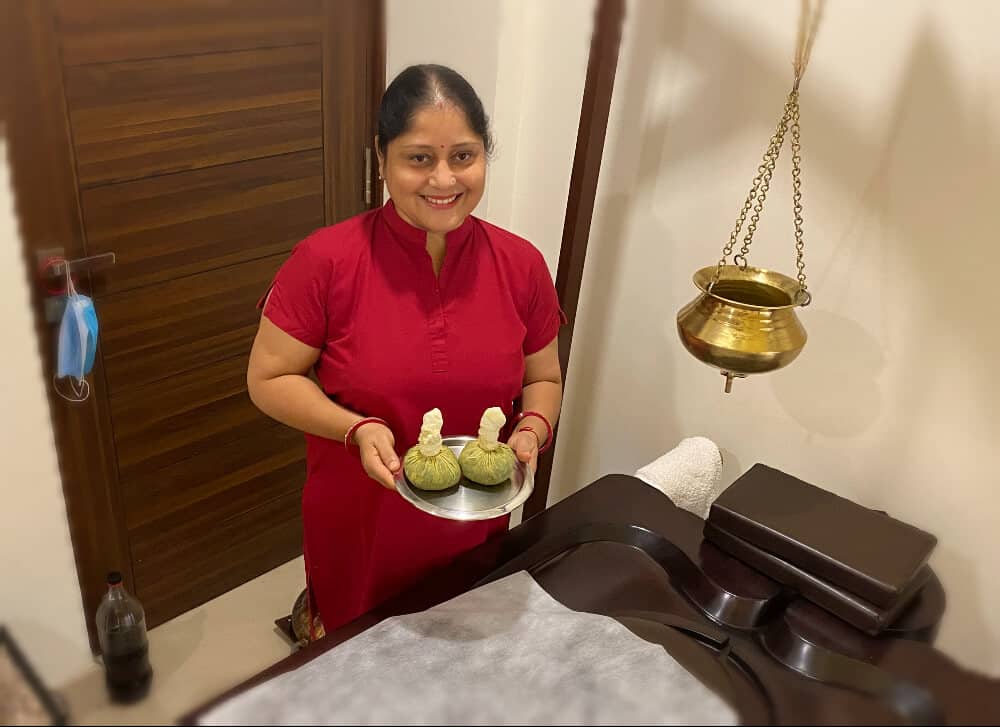 The Ayurveda treatments
A typical treatment starts when I enter the treatment room wearing disposable underwear and a thick white, terry cloth robe (both provided by the homestay). It's right across the hall from my room, Vayu, so very convenient. Treatment starts with a chant, and head and shoulder massage. After that, I inhale steam with eucalyptus oil, and the abhyanga massage starts.
Kalpana, the main therapist, is much stronger and does a much deeper oil massage than I have ever experienced in Ayurveda before. She is assisted by Kavita, a lovely young woman with gentle energy. The two of them work together for the oil massage, and it's a very relaxing experience.
After the oil massage, they perform a potli massage, with bundles of herbs and leaves that are heated. Kalpana picked the leaves herself in the nearby forest! Finally they do a very strong and vigorous massage using a paste of herbs and oil. It is deliberately very vigorous to increase circulation and break down fatty tissue.
On other days, we skip the steam inhalation and the last treatment is shirodhara. Shirodhara is truly wonderful! You lie on your back with eyes covered, while the therapist pours warm oil on your forehead in a steady stream for approximately 20 minutes or so. It's extremely relaxing — I almost always go into some kind of alpha state or fall in a deep sleep. Finally, I inhale some herbal smoke to end the treatment.
At this point, I am covered in oil and dark brown herbal paste, what a mess! And so directly into the shower I go, in my own room. I brought my own shampoo and shower gel. I takes two-three shampoos to get the oil out of my hair.
Afterwards, I sit in a clean robe and sip tea on my balcony, reading and watching the spectacular view of the Rishikesh valley and the Ganga River. The sun goes down, the sky darkens, and lights start to come up. It's enchanting.
The last week of my three-week treatment included "purgation day" and various basti treatments, which are something like enemas. These treatments are extremely deep cleaning, they thoroughly clean you out!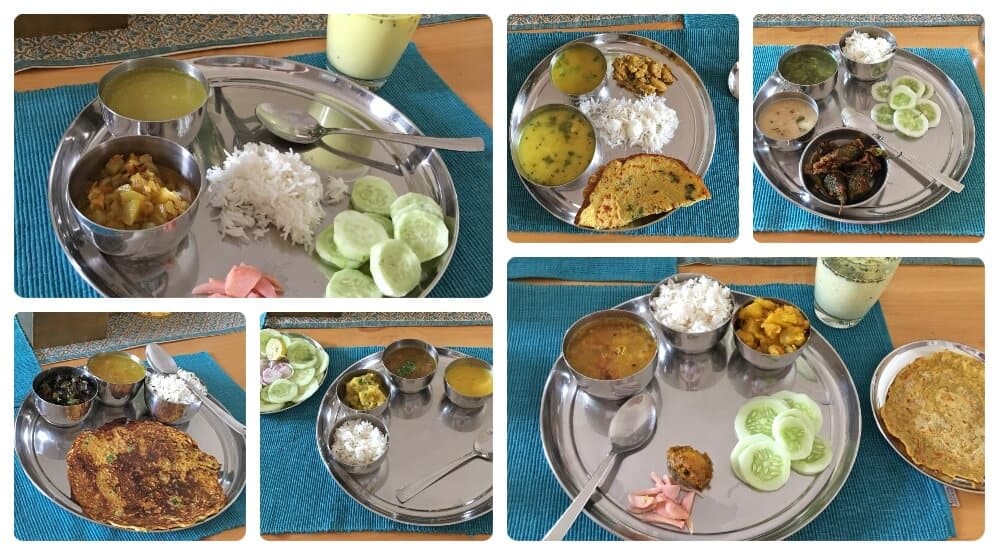 Meals at the Ayurveda Homestay in Rishikesh
I've had meals at many different ashrams and Ayurveda centres throughout India, and they are usually watery, bland, and easy to digest. Typically, nothing to write home about. There have been a few exceptions such as the good food at Anand Prakash Yoga Ashram and Kairali Ayurveda resort in Kerala. So the bar is low … but even if it was higher, I would still rave about the food at Golden Healing Journeys Rishikesh Homestay.
Though the food is also easy to digest, healthy, and vegetarian, they also make sure it's flavourful, well made, and that there's a good variety. Typical meal is rice, dal, and a vegetable dish, but there are always additions like creamy beet or spinach soup, cucumber raita, pickled ginger, and rotis or chapatis. For me, they make gluten-free rotis such as besan cheela with chopped vegetables and hari chutney. Some of the more memorable dishes included stuffed bitter gourd and a creamy kari vegetable dish.
I found the food very fresh, tasty, and satisfying. Though light and digestible, I always felt full after every meal. They are very particular about the quality of food served. For example, fresh milk, directly from nearby cows, is delivered every day and made into yogurt and buttermilk. Almost everything they serve is homemade — such as mango pickles — and even some of the medicines used in treatment.
Also, the meals are served in a very comfortable environment. Personally, I have always preferred to sit on the floor, and I find the seating very comfortable. Madhav always ate with me, and we had many good talks about health, philosophy, Yoga, travel — so many things!
NOTE: A word about fresh. In the Ayurveda world, fresh food is strongly recommended. They don't suggest any packaged food at all. Everything should be as close to its natural state as possible, and homemade, too.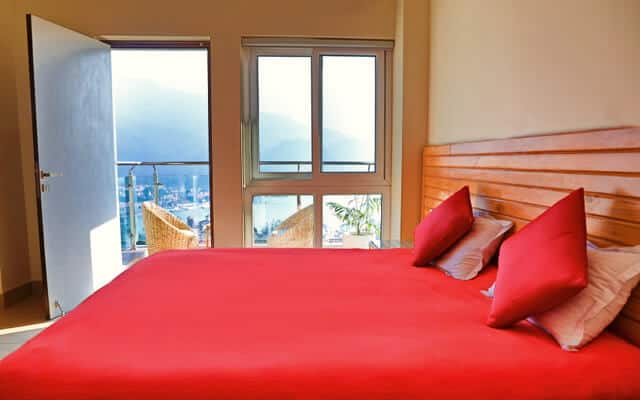 My Ayurveda healing journey in Rishikesh: A journal
On Day 1, the first day of my treatment, I moved into the room Vayu at about noon. Since I live virtually next door, I slept most nights at home, so I just brought over toiletries, a light robe, and some casual clothes. Plus, books! My plan was to relax and read in the afternoon after treatment — time to read is truly a luxury in this day and age.
For the first two weeks, my routine was the same. I arrived at 12:30, had lunch at 1 pm, relaxed, had my treatment between 3:30-5:30, and then sat on my balcony after showering until dinner time at 7 pm. About 8 pm, I would head home.
By Day 4, I was starting to notice a difference. I could feel it was doing me a world of good — to get out of the house, to have someone massaging me with caring hands, and to get a break from cooking and cleaning. I felt the fear, tension, and isolation of the first six months of the pandemic. The new routine gave structure to my day, and I was getting out and engaging with people. I felt less lonely and isolated, and I felt I was moving past the paralysis I had been feeling.
On Day 5, I noted my first transformational day. After five days of deep tissue massage, plus my first shirodhara treatment, I was starting to feel like myself again. So much tension was melted away! I slept very deeply.
If you don't know shirodhara, it's amazing! You lie on your back, and the therapist directs a gentle stream of warm oil onto your forehead for about 20 minutes. It puts me into a healing alpha state, and I usually fall asleep. Pure bliss. (Though washing the oil out of my hair afterwards is a bit arduous!)
It was on Day 5 when I realized what a treasure Kalpana is. I asked her to help me lost 10 kgs, and she looked me in the eye and said very sincerely, "I will give my 100%." She absolutely meant it, and I felt it. I was very moved.
After this, I started to feel very positive. I realized what a dark place I had been in, how I had almost given up hope, and how heavy and tired I felt. But from Day 5 on, I started to dream again, of future travels, of wearing nice clothes, of feeling good — and slim — and like my old self. I finally felt motivated to make some lifestyle changes such as less sugary foods, more exercise, and more self care.
On Day 6, I told Madhav about some of the negative patterns and feelings I was holding on to, and how my core strength had basically given out. I was losing my posture and my energy was really low. Fears and insecurities were taking over, and I didn't like who I was becoming. My old nemesis — feeling alone in the world and abandoned — was constantly dogging me. My digestion was bad and I was gaining a lot of weight, plus bloating every day.
After telling Madhav all this, he designed a Yoga program for me to increase my core strength. We rolled out our mats in the spacious living room, and worked together on a sequence. I felt motivated to actually do it, finally — I have been avoiding Yoga and especially using my core muscles.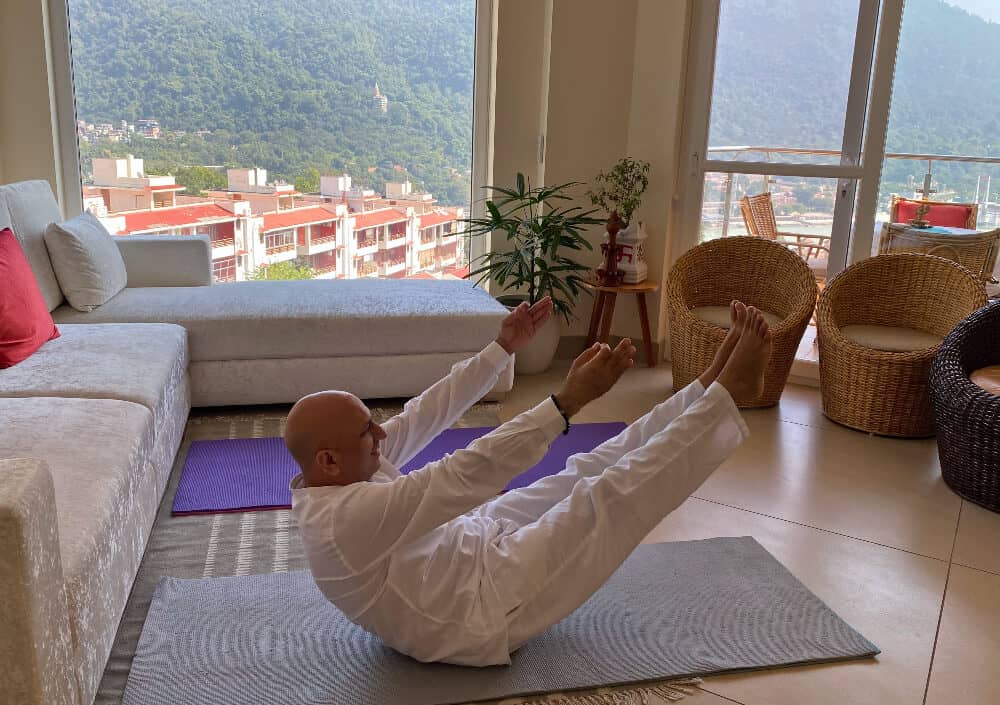 Day 8 was the start of the second week and I was starting to notice two big changes: I was feeling much more positive and I was losing weight and getting slimmer! Madhav explained that one of the treatment techniques — where the therapists vigorously rub your body with herbal paste — actually helps to break down and "melt" fat. It may sound incredulous, but one morning I woke up and noticed the bumpy flesh on my upper arms was gone! I had this since menopause, and it literally disappeared overnight.
The second week of treatment was very much like the first and I fell into a very relaxing rhythm of taking light meals and getting treatments in the afternoon at the Ayurveda homestay. Everything seemed to get easier as the daily ritual became a habit. I loved having the time to relax, catch up on reading, and not cook any meals!
With Week 3, the more intensive cleaning processes started, and my routine changed. Day 15 was "purgation day," the most difficult day of the treatment process. Arrived at 7:30 am with completely empty stomach and had to eat a kind of herbal jam that tastes quite nasty. Afterwards, spent most of the day relaxing in my room sipping hot water, sweating, and going to the toilet 8 times. I spent the entire day re-watching The Crown on Netflix to get my mind off the discomfort. It wasn't fun, but it was necessary and by 4 pm I was done. I was getting hungry, and had a shower, and felt relatively normal by about 5 pm.
The next day was a relaxing day with a super light treatment. I woke up extremely hungry, which Madhav and the doctor said was a really good sign.
On Day 17, I arrived at 11 am for my massage treatments, had lunch, and then basti. Basti is a kind of enema where warm oil or a herbal decoction is poured into your colon. I had four small oil bastis in a row, and on the last day, Day 21, the "big basti" — which is an herbal decoction that makes you go to the bathroom and completely cleans you out!
Later, I was super hungry after this treatment, too, which means my digestive fire was coming back. It's really wonderful to eat when you are really hungry.
During the basti treatments, I felt more irritable than usual, which apparently is normal. These treatments can release pent-up emotions such as anger. But as I've done panchakarma before, I didn't go through as much emotional turmoil as previously.
After the panchakarma, I continued to consult with the doctor, eat lightly at the homestay, and take Ayurvedic medicines. The panchakarma really cleans you out, and then you need a post-panchakarma period of time where you build yourself back up. So the entire treatment is really more like 6 weeks.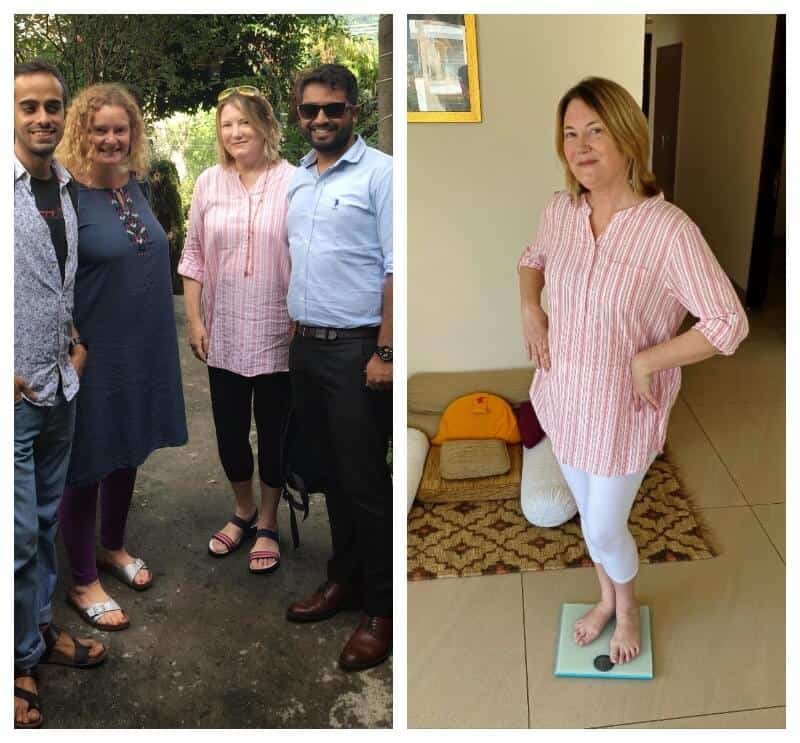 The benefits and summary of my Ayurveda healing journey
The benefits of the Ayurveda treatment I did at the Golden Healing Journeys Rishikesh Homestay are nothing short of miraculous. I am a new person. I have emerged from the lethargic, negative, fearful mindset I fell into over the monsoon, lost weight, and feel newly motivated and energetic.
As I write this, I am continuing to lose weight, but so far I have lost about 3 4 kgs or 7 9 pounds, plus I have really slimmed down. My face and waist are both much slimmer as I lost a lot of bloating. I can now wear all of the clothes in my closet except one or two tight-fitting kurtahs.
This may seem like a small thing, but for me, it's important. I have been slim most of my life and always loved clothes. Part of the reason I felt so low this summer was because I felt I didn't look good in my clothes.
But even more importantly, I feel so much more positive, energetic, excited, and ready for the future. I feel like my old self, my usual energetic, positive self. The change is noticeable not just to me, but to those who know me.
It also helps that I did the treatment at the end of the monsoon. By the time it was over, the weather was changing, and cooler, less humid days of October were starting.
Together, these two changes — the Ayurveda treatment and the weather — have completely reinvigorated me. I feel this treatment was the perfect cure for the pandemic blues, and I am so glad I did it and so grateful to Dr. Hari, Madhav, Kalpana, and Kavita for taking such good care of me.
The team were so caring and thoughtful throughout the experience, and especially on the big cleaning days (purgation day and big basti day). They hovered around like mother hens making sure I was okay, bringing me extra towels, checking on me. I felt completely cared for and supported, and I think this was an important element of my healing journey.
At Golden Healing Journeys Rishikesh Homestay, I would say it's the combination of the comfortable — even luxurious — environment and the knowledgeable, caring team that works the wonders.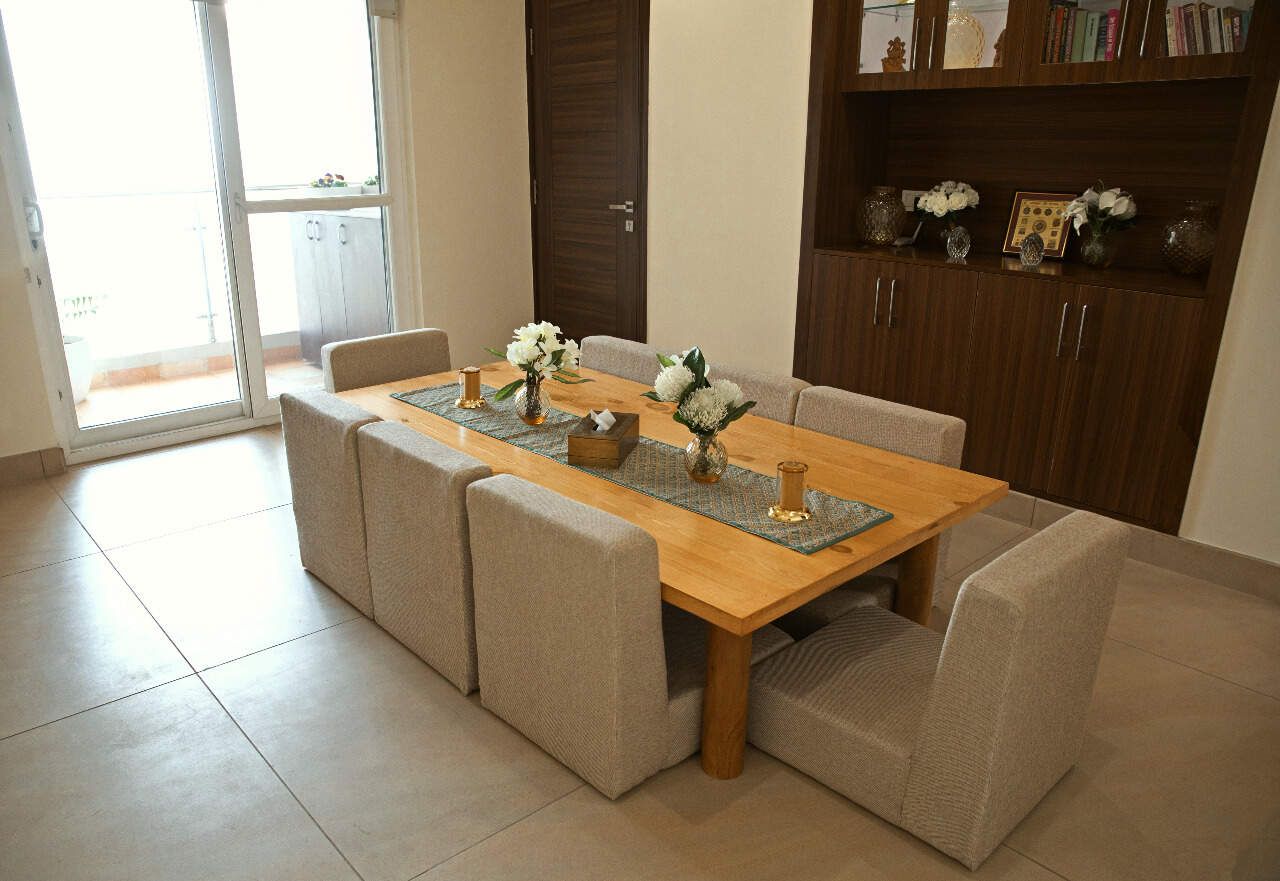 ---
If you enjoyed this post, you can….
Sign up to The Travel Newsletter in the sidebar and follow Breathedreamgo on all social media platforms including Instagram, TripAdvisor, Facebook, Pinterest, and Twitter. Thank you!