The Tough Drops Tour of the Pacific Northwest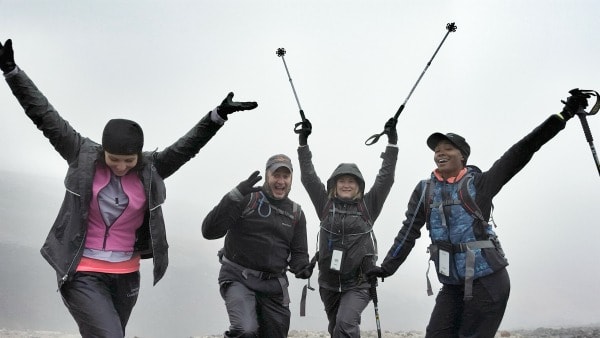 A behind-the-scenes glimpse of a travel blogging campaign and the amazing glass that inspired it
THERE WAS A MOMENT during my week-long tour of the Pacific Northwest when I started to notice the surfaces we were walking, hiking and climbing on. Have you ever noticed the surfaces of your travels? I noticed things like: the scrubby, scorched earth of a volcano's mountainsides, the smoothness of rock eroded by waterfalls, tiny multi-coloured claystone hills, the jagged peaks of a premier climbing rock.
Have you ever noticed the surfaces of your travels?
And it was at this moment when the theme and metaphor of the campaign hit home. I was on the Corning Incorporated "Tough Drops Tour" to test the toughness of the Gorilla Glass 4 on the Samsung Galaxy S6. During the course of the Tough Drops Tour, I walked, hiked and climbed on many "tough" surfaces across the Pacific Northwest of the United States, taking photos all along with my Galaxy S6 — and this was exactly the point. It's these kinds of surfaces that can be so hard on smartphones and other devices if and when you drop them.
Corning, the makers of Gorilla Glass, hit on a brain wave when they conceptualized the Tough Drops Tour and contacted me and three other travel bloggers to form the "Gorilla 4." Who else but travel bloggers would know the agony and the ecstasy of journeying to amazing places — places that are sometimes difficult to get to — loaded down with precious, breakable gear?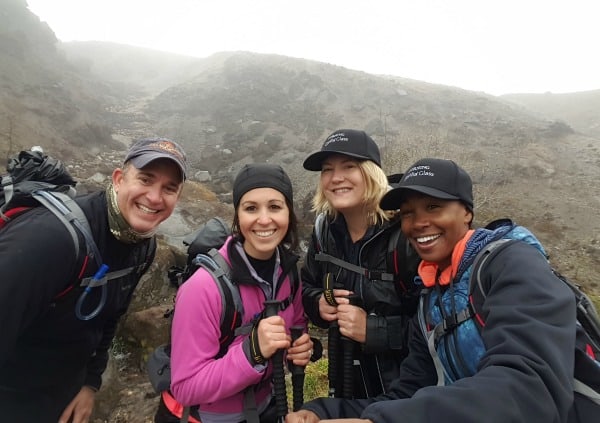 Travel bloggers JD "EarthXplorer" Andrews, Teri "Travelista Teri" Johnson and Beth "Wanderful" Santos and I met with representatives from Corning and Brodeur Public Relations, at the lovely RiverPlace Hotel in Portland, Oregon to begin our trip. Here's where we went over the following week:
Columbia Gorge and Multnomah Falls
Lava Lands Cave
Sylvia Beach
Yaquina Bay Lighthouse
Cape Disappointment and the Astoria Column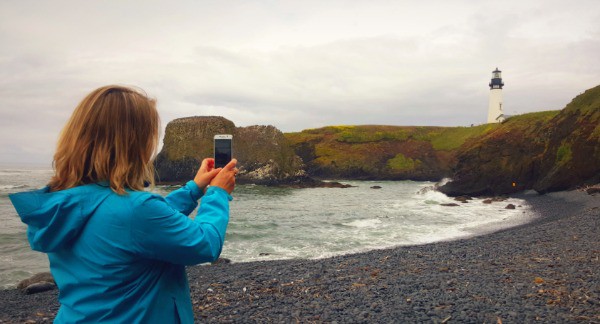 So … what the heck is Gorilla Glass?
It was while scampering over the surfaces of these incredible places that I connected the dots and began to take an interest in the thinking behind the campaign — and in Gorilla Glass. Made by Corning Incorporated, Gorilla Glass is a cover glass made to help protect smartphones, tablets and other electronic devices. Gorilla Glass 4 is the newest version of Gorilla Glass. This version was specially formulated for a specific purpose — to help protect against damage from drops.
I wanted to know how Corning Incorporated came up with Gorilla Glass, and especially Gorilla Glass 4, so I asked Lisa Noni, a Senior Development Specialist with Corning Incorporated. Lisa spends about half her time at work looking at broken glass. Her background is in Material Science and Engineering and she's been with Corning for about 16 years, including four years with Gorilla Glass.
Lisa's job at Corning is to test and develop Gorilla Glass, and part of what she does is look at broken smart phones and other devices to find out how they broke. This is the science of Fractography.
By looking at the surface of the glass, you can find out exactly how it broke," Lisa says. "This is the cool part of the job, the reason that drew me to this field."
Gorilla Glass was originally launched in 2007 to replace the plastic used to cover hand-held devices. Plastic scratched and was not very durable. Gorilla Glass was developed with twin goals in mind:
To be damage resistant.
To provide retained strength, which means Gorilla Glass is better at retaining its damage resistance after it is scratched or chipped.
Our devices are our life-lines," Lisa said. "If you drop your phone and can't use it, it's a big problem. We're trying to make people's lives easier."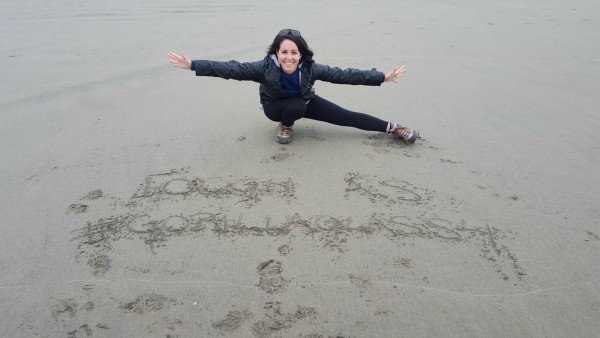 Each version of Gorilla Glass that has been introduced has improved it in different ways. Gorilla Glass 4 was developed to respond to the number one consumer complaint about glass-covered devices: breakage! By looking at the surface of damaged cover glass, Lisa and her team discovered that it was sharp contact damage that caused the breakage. In other words, it's when devices are dropped on rough surfaces, like paved sidewalks, that they sustain the most damage.
This led Corning to start testing Gorilla Glass with 180 grit sandpaper, which they found closely mimics the same type of damage they saw in real world situations. And it led Corning to invent Gorilla Glass specifically to improve drop performance on rough surfaces.
And as I discovered on the Tough Drops Tour, Gorilla Glass 4 is indeed a marvel of engineering. Among other things, it actually bends. But when I asked Lisa, "What's the most amazing thing about Gorilla Glass?" she said, "That it's been used on about three billion devices!"
The eureka moment and the birth of a travel blogging campaign
The science behind the development of Gorilla Glass 4, and its improved ability to withstand damage from drops on rough surfaces, inspired Corning's Gorilla Glass marketing team to come up with the idea of the Tough Drops Tour.
I spoke with Gorilla Glass brand manager Akshay Gupta about the genesis of the campaign. "Our strategy for the brand is to make people aware of Gorilla Glass and its benefits," he said. "The story of Gorilla Glass 4 is about 'tough drops' so working with travel enthusiasts and outdoor adventurers was a natural fit."
The Gorilla Glass marketing team made an appearance at the Women in Travel Summit (WITS), where Lisa Noni demonstrated the glass. The participants were very enthusiastic and WITS founder Beth Santos began talking to the Gorilla Glass marketing team about working with travel bloggers.
What if we could send bloggers to the North Pole?"
From there the idea began to take shape. "We knew we wanted to offer valuable and relevant information to the bloggers' audiences, and we knew we wanted to bring Gorilla Glass 4 into a real-life situation," Akshay said. "In a brainstorming session, we wondered: What if we could send bloggers to the North Pole?"
Continuing to explore the notion of metaphorical heights and tough surfaces, and bringing more practical considerations to the idea, the team decided that Akshay's home state of Oregon provided more than enough variety. "Oregon, and the Pacific Northwest, has an astonishing array of surfaces, from volcanic mountains to high desert to rugged coast," he said. "And all within about 200 miles."
The team discovered that the 35th anniversary of the Mount St. Helens explosion was approaching. They also knew the Samsung Galaxy S6, with Gorilla Glass 4, had just come out. And thus the Tough Drops Tour was born, and all the details began to fall into place.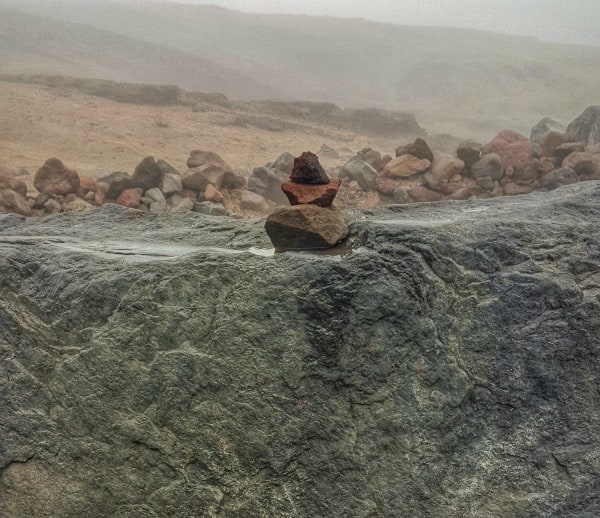 "It really felt like the stars aligned," Akshay said. "We planned the itinerary to include Mount St. Helens and as many wonders of Oregon and surfaces as possible. The Galaxy S6 has an incredible camera, perfect for photographing the locations."
From there, they interviewed travel bloggers and put together the "Gorilla 4," each member bringing a different strength: JD Andrews and photography; Teri Johnson and video, Beth Santos and community and Mariellen (me) and writing.
The campaign has performed better than expected."
"This was all new for us. We are a technology company!" Akshay said. "Our goal was to create a campaign that was true to the brand, that had a relevant story line and that was more audience than product focused. We added a contest to give away Galaxy S6 phones to drive engagement and created a micro-site to showcase the stories, photos and videos the Gorilla 4 were creating. We wanted to strike a balance between conveying the brand message and creating engaging content, and we feel we really succeeded. The campaign has performed better than expected."
I asked Akshay for his final thoughts about the campaign and about the unique opportunity of working with travel bloggers. He told me he was fascinated to see the bloggers experience the tour and watch the creative process unfold. "The content synced up with the message and the audience," he said. "A lot of good thinking by a lot of good people went into the campaign.
"For us the Tough Drops Campaign was a new frontier. We were communicating in a different way, on a unique platform and in a new medium. We're still learning, but we feel working with travel bloggers has given us the opportunity to get our message out in a new and authentic way."
The Gorilla Glass marketing team is already starting to look at a second Tough Drops Tour … perhaps with an international component. And that's the best possible outcome for a travel blogging campaign.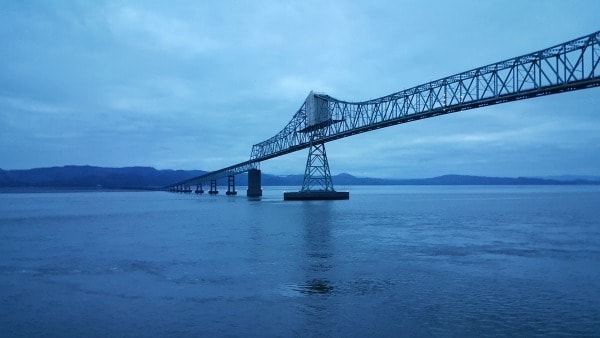 And finally, some soft surfaces
During the Tough Drops Campaign we hiked, walked and climbed over many surfaces, some of them quite challenging. But we also enjoyed some incredible hospitality, great meals and wonderful hotels. I would like to highlight two of them.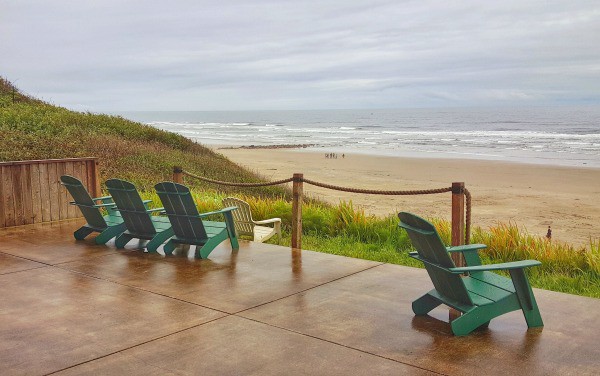 Sylvia Beach Hotel
We pulled into the ocean-side parking lot of the Sylvia Beach Hotel, Newport at dusk, as mist and wave rolled together towards us over the wide beach. After spending close to a week in the interior of Oregon, which is surprisingly desert-like in places, I was thrilled to be on the Pacific Ocean. Even more exciting was the hotel itself.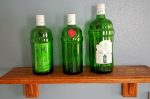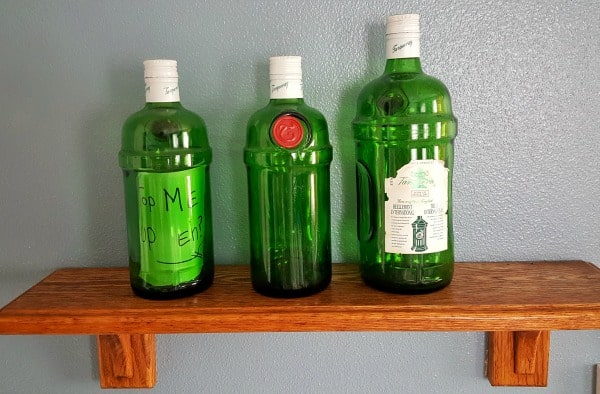 A simple clapboard building right on the beach, it's the rooms at the Sylvia Beach Hotel that are the draw: each one of the 20 rooms is decorated to represent a different author, from Shakespeare to Dr. Seuss. I stayed in the F. Scott Fitzgerald room, a corner room with a partial view of the ocean that had a charming 1920s look-and-feel that I loved.
Photos of wife Zelda, a Tiffany lamp and a row of empty Tanqueray Gin bottles (one with a note in it that read: Top me up eh?) were just some of the many touches that gave the room a vérité feel. I fell asleep reading a book of Fitzgerald's letters, written at the time he was writing The Great Gatsby.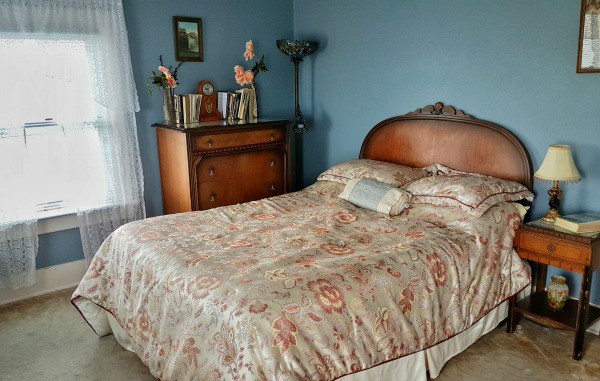 Cannery Pier Hotel, Astoria
From Newport in central Oregon we drove up the coast to the historic town of Astoria, situated in the Columbia River estuary, where the mighty river meets the Pacific Ocean. To my delight, we drove right out onto a pier, almost under the bridge that crosses over the river from Oregon into Washington State. The Cannery Pier Hotel, as the name suggests, is in a former fish canning plant that has been beautifully converted into a stylish and comfortable hotel.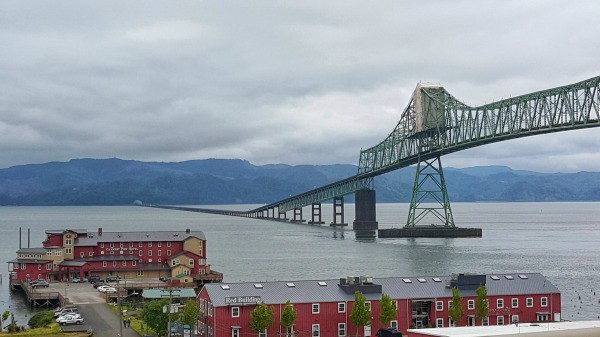 I loved the Cannery Pier Hotel for many reasons, not the least of is that it's right on the water. Literally. My room had a window seat overlooking the Columbia River, complete with blanket and binoculars. I could imagine spending a LOT of time there, drinking tea, watching the tides and mists, thinking, dreaming, writing… it appealed to me on so many levels! I also loved the big claw-foot tub, with a window that opened into the spacious room. I soaked in the tub and was able to see the river view out the picture window.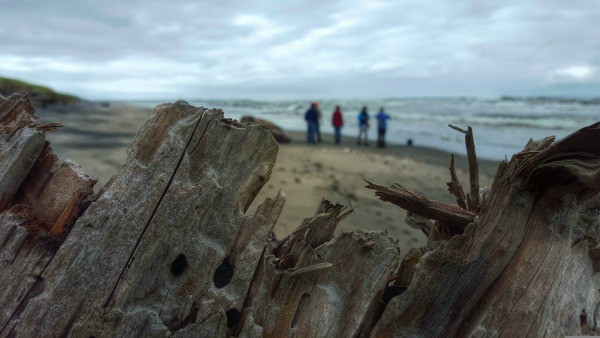 The journey ends
Appropriately, our journey ended in the historic and very charming town of Astoria, near the place where Lewis and Clark ended their famed continent-crossing journey in 1805. We spent a day exploring the area, including a visit to Cape Disappointment, a walk on the beach and a guided tour of the Lewis and Clark Interpretive Center. Our final "Tough Drop" was a gentle one: we climbed the Astoria Tower, and after capturing the amazing views with the cameras on our Galaxy S6 smartphones, floated paper airplanes into the breeze.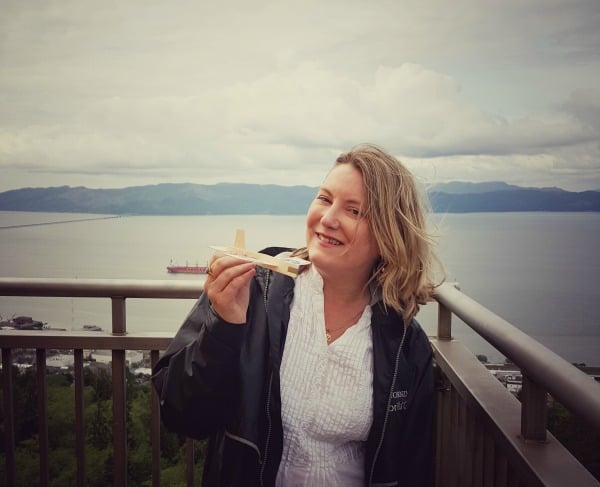 The Tough Drops Tour was a wonderful experience. We were given the opportunity to explore the Pacific Northwest with the good people of Corning Incorporated — who provided us with an inspiring, workable and creative metaphor. Nothing tough about that!
---
If you enjoyed this post, please sign up to The Travel Newsletter in the sidebar and follow Breathedreamgo on all social media platforms including Instagram, TripAdvisor, Facebook, Pinterest, and Twitter. Thank you!