Mount St. Helens: Rebirth of a sacred land
Hiking the tough terrain of Mount St. Helens on the 35th anniversary of the volcanic eruption
NEAR THE TOP of Mount St. Helens, where the 1980 volcanic eruption blew the top of the mountain off 35 years ago today, the barren rocky landscape was streaked with rivers of hard, black basalt lava flows, and cloaked in thick grey clouds. It was eerie, very calm and there were no visible signs of life.
You could easily mistake this for a devastated region. The May 18, 1980 eruption was the deadliest and most destructive volcanic event in the history of the United States. Fifty seven people were killed, 250 homes, 47 bridges and many miles of railways and highways were destroyed. But if you saw only death and destruction, you would be missing the real story of Mount St. Helens.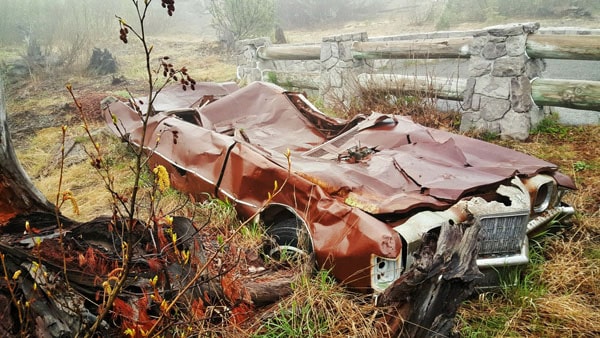 I was on the mountain as part of a campaign to experience the toughness of the Corning Gorilla Glass 4 on the Samsung Galaxy S6 phone. This glass was formulated to improve protection against drops. And the Mt St. Helens Monument is indeed a tough drop environment.
---
The Tough Drops Campaign was sponsored by Corning Incorporated to test the Gorilla Glass 4 on the Samsung Galaxy S6 on a customized itinerary through the Pacific Northwest of the United States. Along with travel bloggers JD Andrews of EarthXplorer, Beth Santos of Wanderful and Teri Johnson of Travelista Teri, I hiked mountains, climbed rocks, explored caves and stood in awe at the beauty of nature.
---
It's a tough terrain in two ways. One is the barren, scorched landscape — what was left behind after the volcanic eruption, which blew the top off the mountain, reduced the elevation of the summit from 2,950 metres (9,677 feet) to 2,550 metres (8,365 feet) and created a 1.6 kilometre (1 mile) wide crater.
And it was also tough because our team — which included four travel bloggers and five guides — went on a very long, uphill hike and I was frankly worried about whether I would make it. I have a tough time in elevation, I'm not in the best of shape and also unused to such long hikes.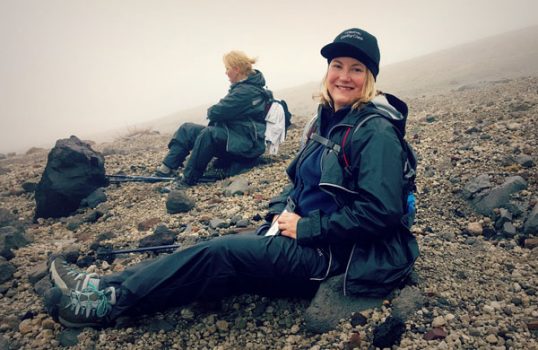 But I discovered two important things, both due to the caring attention and knowledge of our passionate and dedicated guides.
From all of the guides, and especially Dr. John Bishop, a botany professor from the University of Washington, I learned to see the new life that is taking root on the mountainside. With his help, I saw tiny plants clinging to the ground, lupins, willow, Indian paintbrush. I saw a lark, a few insects, several waterfalls.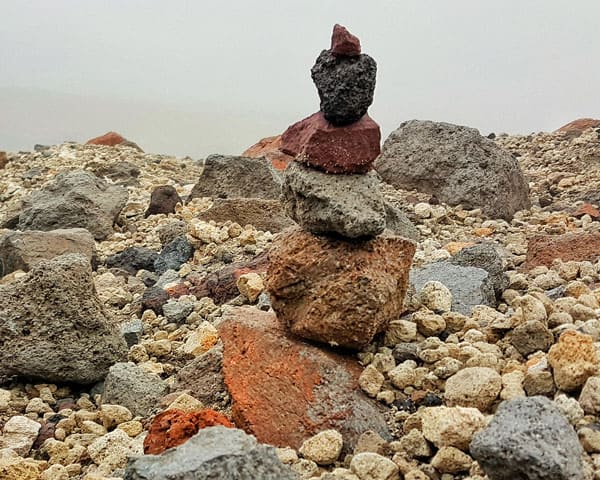 I also saw cairns of rock, made by other hikers. And although the day was overcast and cloudy, the sun shone through just for a moment and I saw the shining turquoise-grey waters of Spirit Lake.
I stopped for a moment, alone, and absorbed the incredible quiet. I suddenly felt the landscape pulsating with life, and began to sense the sacredness of this mountain and this region of the Pacific Northwest of the United States.
Though the volcanic eruption was massively destructive, wiping out the entire ecosystem of the mountain, the Mount St Helens story is not about death and destruction: it's about transformation and rebirth.
Life is returning to the region, though it is very different than what was here before. This is a story about the resilience of the human spirit, the cycles of nature and the transformative power of life.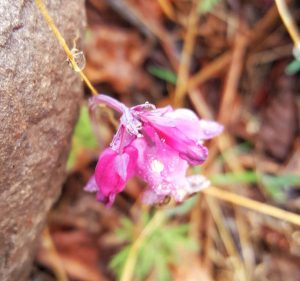 The other important thing I learned was about my own resilience. As I was huffing and puffing up the mountain, a lanky Mountain Steward named Ron Benton, who was with us as a guide, gently taught me to walk with a resting step. He told me that all experienced climbers use this step: you take a second to rest your front leg, and let your weight land on your back leg.
I started to use this step, and coordinate it with yogic breathing. Soon, I fell into a meditative rhythm, and with Ron's help and encouragement, I caught up to the fast hikers who were way ahead of us. And not only did I catch up, but I was neither sweaty nor out of breath.
At the end of the day, when we were back at the bottom of the mountain, we took the time to say a heartfelt goodbye to our guides, Dr. John Bishop, Amy Tanska, volunteer programs director of the Mt St Helens Institute, and volunteer guides Lindsay Karr, Linda Bedard and Ron Benton. They are all passionately dedicated to preserving and sharing the beauty of this sacred place, and brought it to life for us by showing us the life that is there.
Ron and I hugged, and I thanked him for giving me the skills and the confidence to overcome my fears, and turn into a difficult day into a triumph. He told me that he saw how I was transformed, and that after I found my rhythm, I radiated. Much like Mount St Helens, as new life blossoms on the formerly barren mountainsides.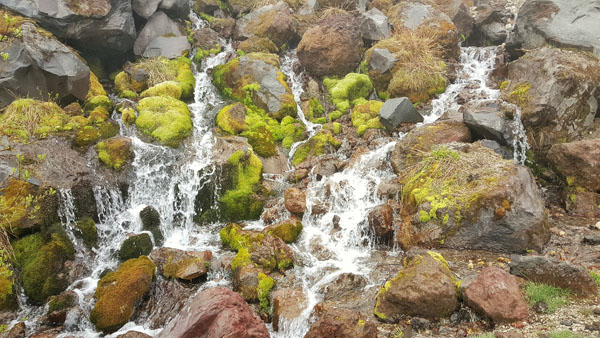 Thanks to Corning Incorporated for giving me the opportunity to be one of only about 200 people who have ever hiked up this particular side of Mount St Helens. I was able to capture the many beautiful signs of life I saw along the way with the Samsung Galaxy S6 phone. This phone has the added toughness of Gorilla Glass 4, which was formulated to protect against drops — and that was certainly a tough drop environment.
You can win a Galaxy S6 or travel card
You too have the chance to win one of these remarkable Samsung Galaxy S6 phones plus a $1,000 Travel card, just click here for details.
If you enjoyed this post, you can….
Get updates and read additional stories on the Breathedreamgo Facebook page.
Follow Breathedreamgo on Instagram.
Follow Breathedreamgo on Pinterest.