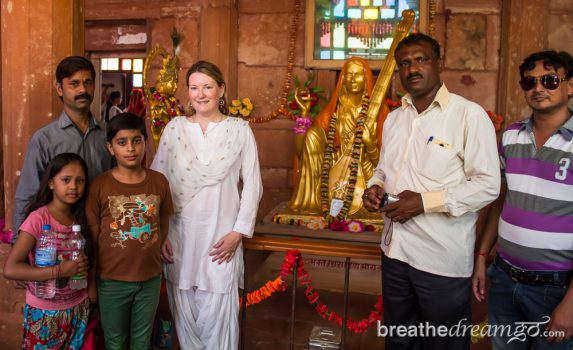 Finding gold in Mirabai's palace in Rajasthan
I'M ON AN INDIAN TRAIN, tucked into a second-class berth, lower. Above me a man is snoring loudly, and across from me a handsome man with greying hair, in a crisp kurtah, is reading "The Secret," in English, which seems like an incongruous book for an Indian man to read in India. It's late, the train is dark but for running and reading lights, and I'm relaxing with an e-book. I can't fall asleep because I have to get down at Ajmer in central Rajasthan in the middle of the night.
---
Read the Mirabai Expedition series:
Part 1: Walking in the footsteps of Mirabai
Part 2: Uncovering the feminine in Merta, Rajasthan
Part 3: The footsteps of royalty in Chittorgarh, Rajasthan
Part 4: Releasing the bonds of love in Dwarka, Gujarat
---
The train is late. Not much, but instead of arriving at 1:15 a.m. in Ajmer, I arrive at 2 a.m. Arriving so late at a train station is my biggest worry about this itinerary, but my travel agent arranged for one of their best drivers to meet me there. And sure enough, Avtaar is waiting when I step down. So relieved.
I'm not settled into my hotel in Pushkar — Inn Seventh Heaven — until 3 a.m. I chose to stay at Inn Seventh Heaven in Pushkar because I was there before. It's a five-storey haveli, all in white, with a whimsical inner courtyard that features birds playing in a fountain, swing seats and a device that sends food from the kitchen on the main floor up to the rooftop restaurant by pulley. It's on to my first list of favourite hotels in India.
I'm in Mishti, the same room I loved before, with its stained glass windows, heavy wood furniture and Rajasthani decor. And, like before, I eat all my meals on the roof. One of the waiters from 2010, Raju, is still here, though he seems older. I learn that he's had two kids since then.
It's nice to be back at Inn Seventh Heaven, but it's not the same. Either I've changed or the place has changed, or perhaps both. It's still beautiful, but I find the staff a bit more jaded and laconic (except Raju) and the renovations to the roof, to add a storey, ruins the open-to-the-sky atmosphere of the restaurant that I previously loved. Back then, I was recovering from heartache and staring up at the sky was my solace.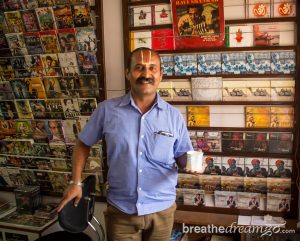 On my first day in Pushkar, Avtaar meets me and we walk together through town to meet someone that Anoop, owner of Inn Seventh Heaven, suggests I talk to about Mirabai. So we walk out of the haveli, around the corner and we are in the busy market that wraps around most of the lake. We go straight to meet Ravi, of Roots of Pushkar music store, and luckily he's there and happy to chat.
As a music lover, Ravi knows Mirabai primarily through the songs and bhajans she wrote, or that were written about her. He brings out three CDs, two beautifully produced (by Roots of Pushkar) with great cover art and booklets, and I buy them all. Then he calls his brother-in-law, Milap, in Merta City, and arranges for me to have a tour of the Mirabai temple the next day.
I have come to expect this kind of over-the-top helpfulness in India, but I hope I never take it for granted. India can be challenging and frustrating in so many ways, but the people usually make up for it. I have never met more warm and helpful people anywhere.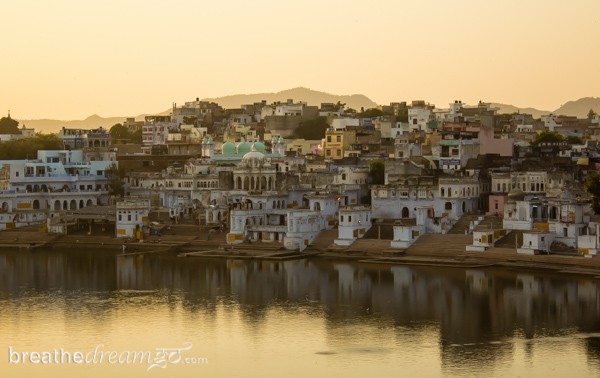 Merta City is about an hour's drive from Pushkar, and I actually arranged my trip to be there for the annual Mirabai Festival. Somehow, I missed it but Ravi says it's not worth attending because the music is electronic. And then he makes a face, like he has just discovered a fat fly in his chai, and that says it all. So, I no longer feel bad that I missed the festival and give myself up to enjoying being back in Pushkar, back in Rajasthan and hot on the Mirabai trail.
Together, Avtaar and I walk around Lake Pushkar just as the sun begins to set. Sunrise and sunset on Lake Pushkar are both magical times. Temple bells ring, people leave their worldly concerns behind to gather peacefully on the ghats and the mirror-like lake glistens in the soft and changing light. The only disturbance is a "fake priest" who tries to extort money from me, unsuccessfully, in exchange for a fake puja "for your family." I can't understand why Pushkar hasn't clamped down on these guys. They really make a trip to Pushkar annoying.
But after successfully dodging a couple more, we do a complete circumnavigation of the tiny lake and it's dark when I arrive back at Inn Seventh Heaven.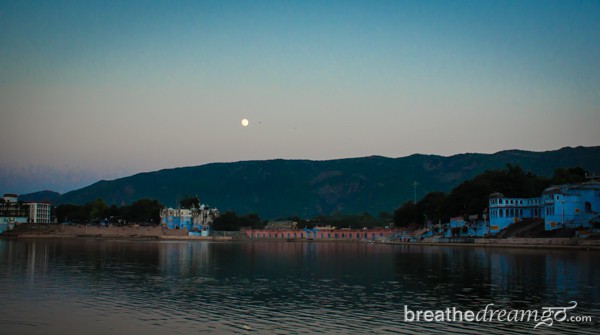 Finding Mirabai at Merta City
Avtaar and I meet the next day for our drive to Merta City, Mirabai's birthplace. I'm really excited to explore the second stop on the Mirabai Expedition, and the unknown journey that awaits. We drive out of Pushkar and past the vast desert-like fields that host the annual Pushkar Camel Fair. Within an hour, we are in Merta City and look to meet our guide.
We park in a very narrow lane, beside a temple, and find Milap and his young son waiting for us. They escort us upstairs to their home, a spotlessly clean, light-filled and spacious flat over an electronics store. We meet his wife and daughter, too, and enjoy chai together.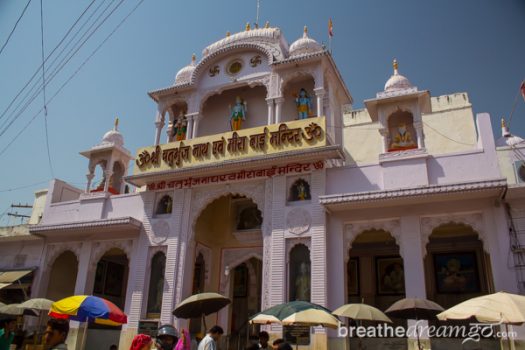 Milap, his son and his daughter accompany Avtaar and me to the Mirabai Temple. I started as one, and now I am part of a five-person entourage. We walk for about 10 minutes along a narrow road through a busy market in the hot sun, and suddenly, in the middle of all that bustle, we are at the Mirabai Temple.
I am immediately impressed with the place — by the size, the design, the beauty of the temple. Inside the atmosphere is tinged with green light because of the green plastic roof. A serene statue of Mirabai faces across a checkered tile courtyard towards the inner sanctum, the Krishna temple. She is frozen in an adoring gaze of love and devotion.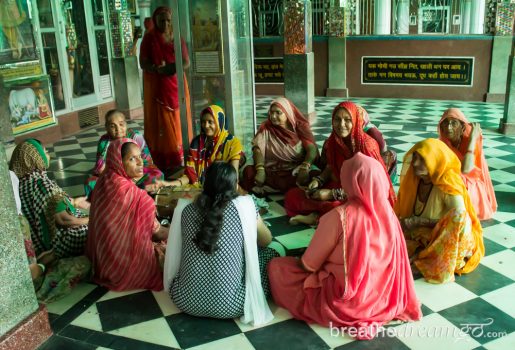 A group of women sit in the courtyard playing music and singing Mirabai songs. After darshan in the Krishna Temple, I join them on the floor to experience the camaraderie of women and the music of Mirabai. It's a wonderful and exhilarating experience. I feel warmly welcomed by them. One woman hands me a pair of cymbals while others move aside to make room for me. The woman leading the singing catches my eye and signals for me to join in.
Women sing Mirabai songs in her temple in Merta City
I am beginning to get an idea of Mirabai — the joy and love she engendered, and the femininity of her creativity and devotion. And I am delighted to see that she is still honoured today in her birthplace, in a very real and kinesthetic sense.
As we are leaving the Mirabai Temple I feel very full, very satisfied with my Mirabai experience. But much to my surprise, Milap tells me we are going to the Mirabai Museum next door. This is news to me. I had no idea. The Mirabai Museum never came up in my research.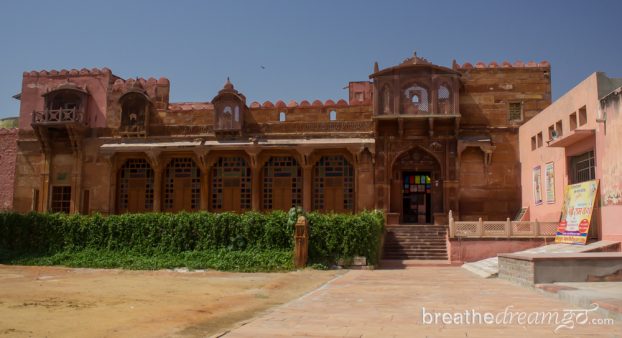 Striking gold at the Mirabai Museum
I discover it's a fairly new museum in a very old building. The Mirabai Museum is in fact housed in the former palace that was her home. I am dumb struck, because I thought her house was in ruins. It turns out the house she was born in is now in ruins, but the red sandstone building I am entering is where she grew up.
We enter through a thick, medieval-looking gate, into a sizable courtyard. At the back of the courtyard is the palace. It is not a big palace, but it is impressive enough. Even more impressive is the care and thought that went into preserving the name of Mirabai in this museum. Her life is plotted with signboards, portraits and paintings throughout the lofty rooms. In the main room — perhaps the throne room? — there is a beautiful, gold-coloured statue of Mirabai placed behind a railing and in front of a portrait of Krishna.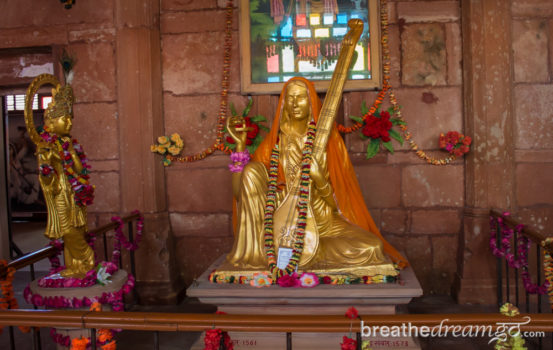 I am really impressed with this display; it evokes the quality of devotion and reverence that Mirabai represents. As I'm standing at the barrier, paying homage to Mirabai and also trying to imagine her actually living within these rooms, I am introduced to two local journalists. It seems like a coincidence they are at the museum at the same time as me.
I continue to walk slowly through the museum, enjoying the spacious rooms, naturally cool even in the heat of the day, and filled with delightful images of feminine beauty and heartfelt devotion. My entourage continues to grow as I walk, with the journalists and several young local people joining us.
In one room, a kind of hallway filled with portraits of Mirabai, painted in wildly differing styles, the locals point at a romanticized oil painting with an unmistakably European air. "Mona Lisa," they say, indicating that the painter of Mona Lisa also painted this portrait. "I don't think so," I say, unsure about whether to burst this beloved myth.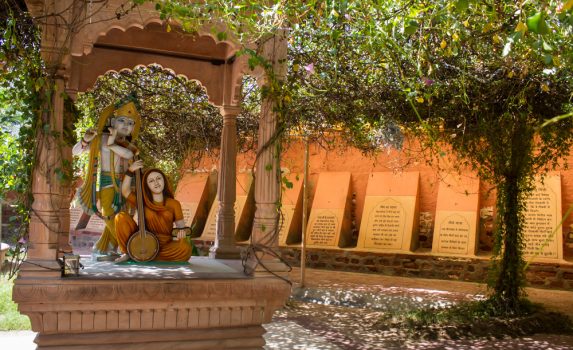 I make my way through about four or five rooms filled with displays on the life of Mirabai, and enter a bookstore and library, where I am asked to sit at a table. Soon after being seated, a local politician strides in and takes the central seat with an air of self-importance, aided and abetted by his youthful sidekick. He's introduced to me as Anil Thanvi, chair of Merta City council.
We sit around the table, me beside the Anil Thanvi, the two earnest journalists across from us, and Avtaar, Milap, his children, and the rest of the entourage milling around us. The journalists — C.R. Prajapati from the Rajasthan Pratikia and Arif Ansari from the Navjot Daily News — begin interviewing me about my interest in Mirabai, and I start talking, first with tentative, polite and praiseworthy remarks about Indian culture and spirituality. But soon I'm launching into a robust diatribe about women's rights.
"Mirabai was a strong woman who followed her calling. She gave voice to her gifts and we still honour her today for her devotion. She is a role model for Indian women today, who deserve to be supported and respected."
By the end of my speech, I am practically fillibusting. When I stop, I briefly think about how this will play in Rajasthan. "Crazed foreigner criticizes India," screams the headline in my mind.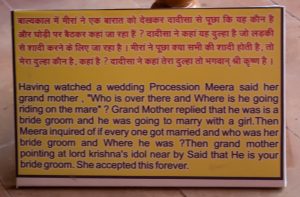 Meanwhile, the politician is ignoring all of this and insisting I visit his home and accompany him to a function. I insist that my program is set, pointing to my driver, and shrugging helplessly. Then they hand me a statue of Mirabai, shake my hand and take photos. I feel like I'd been given the key to the city — which, in a way, I have. For this was Mirabai's birthplace, the city of her youth.
As I walk out through the massive, medieval museum gate into the glare of the noon day sun, I remember the story about how Mirabai stood in this same spot, with her mother, and watched a passing marriage procession. "Where is my groom? Who will I marry?" she innocently asked her mother, who pointed to an image of Krishna, and said, "Krishna is your groom." This idea stuck with Mirabai for the rest of her life.
Milap's 10-year-old daughter and I take pictures of each other posing as "strong women," with our hands on our hips and I hope she takes the attitude with her, for the rest of her life.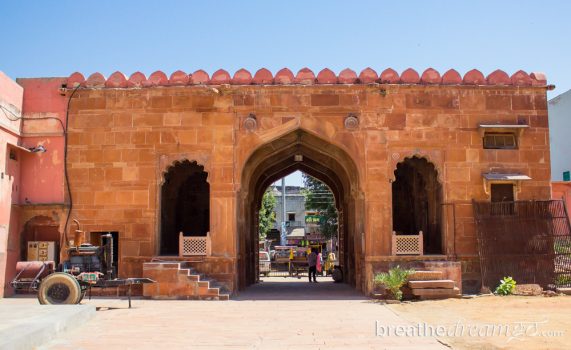 ---
If you enjoyed this post, please sign up to The Travel Newsletter in the sidebar and follow Breathedreamgo on all social media platforms including Instagram, TripAdvisor, Facebook, Pinterest, and Twitter. Thank you!