Susan Sarandon and Geena Davis: The patron saints of transformative travel
Years ago, during a dark time of my life, I spent a lot of time on the couch, with my tabby cat Sydney beside me, watching movies. I bought VHS copies of a few favourites that I watched over and over again, and they sat piled up beside my TV. Thelma and Louise was at the top of the pile. I watched the movie so many times I've lost count. I know every scene and every line.
Louise: "You've always been crazy, you've just never had a chance to express yourself before."
Thelma: "Something's changed in me and I can never go back."
Thelma: "I feel so alive, I've never felt so alive, know what I mean?"
So when I got a chance to go to the Thelma and Louise 20th Anniversary Reunion Tour at Roy Thomson Hall in Toronto, I jumped at it. I watched Susan Sarandon and Geena Davis being interviewed on stage and had the good fortune to meet them afterward, thanks to tickets from the Fairmont Royal York Hotel, a sponsor of the event.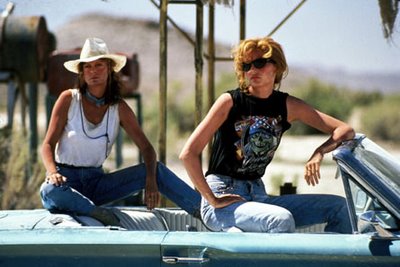 For women, there's something very special about Thelma and Louise, and I wish a woman had interviewed them on stage, rather than theatre critic Richard Ouzounian. He liked the film, but he didn't seem to FEEL it — not the way I did, and not the way many, many women did. However, both Susan and Geena came across as very real, down-to-earth and honest. They did not look or act like "movie stars," but as real people, with children, who know they had a very special and significant experience in making Thelma and Louise. When I met them afterward, I genuinely liked them, and felt especially that I would love to go off on a wild adventure with Geena Davis. Or even just shopping!
During the on-stage interview, Geena Davis spoke about how the film changed her life; how it made her more aware of issues facing women, and, especially, the under-representation of women in film and the media. In fact, she founded an institution (The Geena Davis Institute on Gender in Media) dedicated to redressing this imbalance. She spoke about how there is a lack of female perspective in the media; and a lack of imagination in creating female roles.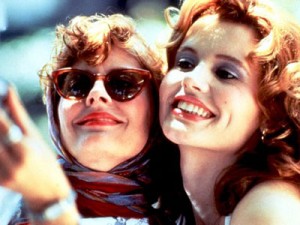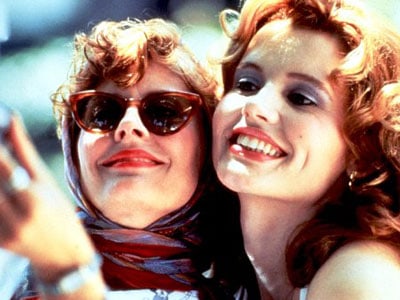 Geena also talked about having an epiphany when she was auditioning for The Accidental Tourist and felt everything was going wrong, until she realized that everything was actually evolving as it was supposed to — the make-up artist poked her in the eye with a comb, which upset her, but she was supposed to be upset in the scene she was auditioning. She realized everything works in your favour. And of course she got the part.
The best part was when women in the audience were invited to ask questions. Their questions were far more meaningful and Susan and Geena came alive answering them. I particularly liked Susan Sarandon's answer to the question, "What have been your favourite mistakes?" She said, "I'm here because all my plans failed. Really, you learn the most from what goes wrong and what's unpredictable. Success is not where you end up. Success is not a goal, it's a muscle. You learn to use it. Success is really just having a life that's joyful, and where you're present and that's authentic. And you can make tons of mistakes … that's what makes life interesting. I like all of mistakes, I just wish I'd done them faster, but they've all been good."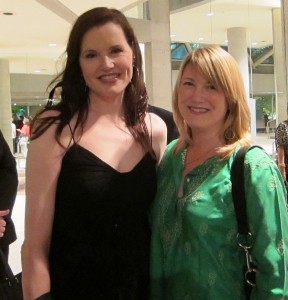 I enjoyed my evening, remembering while they showed scenes from the film, why I liked it so much; and remembering with bittersweet feelings those days before I got off the couch and started following my dream. When I met Geena Davis afterward, I found her to be very approachable and told her about how I used to watch that film over and over again — and about how I finally did get up and go. Perhaps watching Thelma and Louise planted a seed in me.
Watching Thelma and Louise, back in those dark days, did something very important for me. The movie made me feel validated and inspired and gave me hope. I loved watching Thelma transform from a shadow of herself into the full-blown version; and watching Louise come to terms with her past. I loved watching the two of them travel through changing landscapes, experiencing small poignant moments and large life-changing epiphanies.
But most of all I loved the satisfaction I felt from watching two women bond in friendship and "call the shots," as my friend Mary Lynn said. Thelma and Louise is a very empowering film, in spite of the ending — in which they drive off a cliff into the gaping maw of the Grand Canyon. Unlike most films, these free, powerful and determined women go unpunished. It is one moment of satisfaction after another as they elude their pursuers, leaving them and their lives of brittle disappointment in the dust, never giving up on their quest to gain and retain control over their lives and their power to choose — until the final moment of the film when Thelma beseeches Louise to "go, just go."
I totally understand.