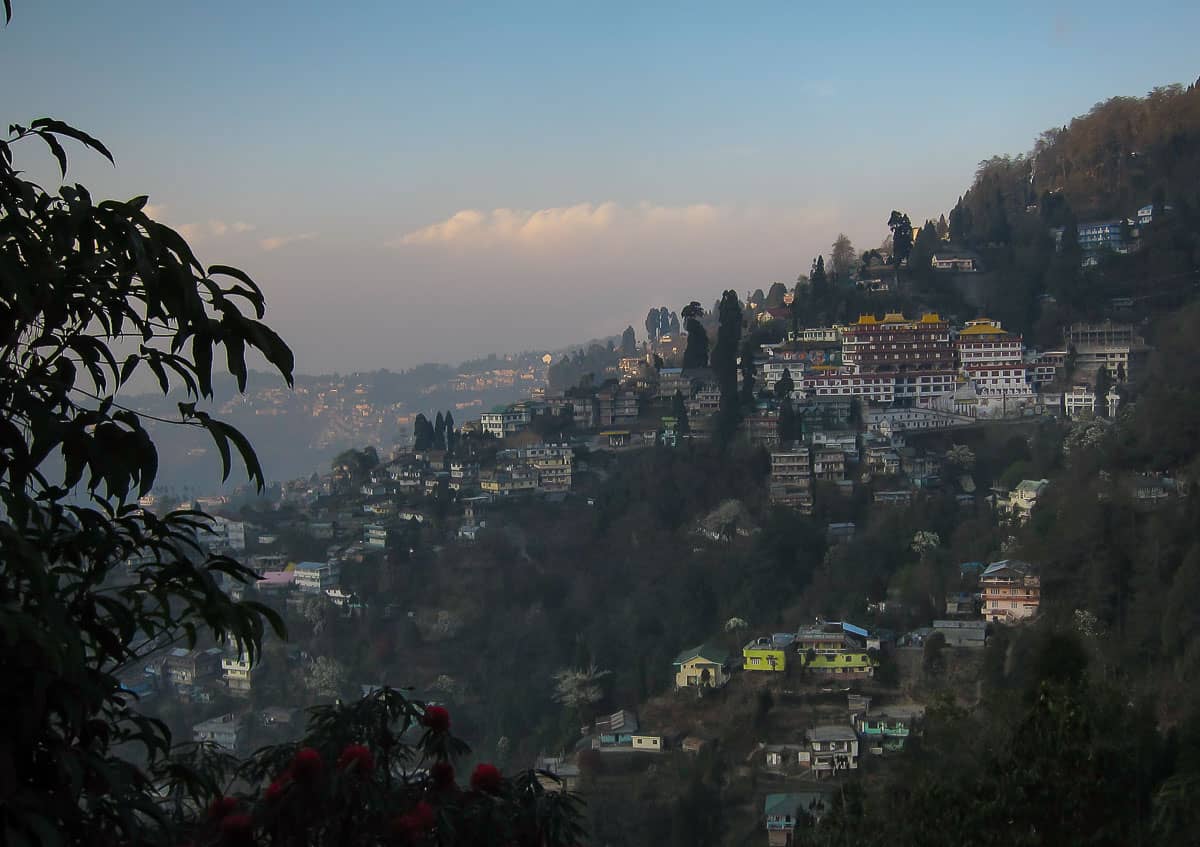 Darjeeling, Queen of Hill Stations in India
THE HILL STATIONS OF India are famous for their romantic allure and offering respite from the heat of the plains, and among them, Darjeeling, Queen of Hill Stations, is one of the most charming. With emerald green tea gardens spreading out in every direction, Raj-era architecture and traditional hotels, one of the last remaining toy trains wending its way up to the town, and mist-swirling ambience, Darjeeling has a lot to offer visitors who are looking for something special.
I had long wanted to visit Darjeeling and when I was researching and planning my trip, I set my heart on staying at the Windamere Hotel and getting up at 4 am to drive from Darjeeling to Tiger Hill to watch the sun rise light up Kanchendzonga (also known as Kanchenjunga) and the great Himalayan range on my 50th birthday.
Unfortunately, my guide Paras told me that the previous two weeks were cloudy and misty every day, and there was almost no visibility from Tiger Hill. He even suggested cancelling or postponing. But it was my birthday, and I was determined to at least try. I hardly slept due to a minor case of mountain or altitude sickness, and really didn't want to get up at 4 am — especially since I was prepared to be disappointed. But I made the effort, and Paras was waiting for me in a jeep.
We drove one hour to Tiger Hill in the dark, and joined dozens of other people waiting on the hill, in a parking lot or on a viewing platform. Paras made sure I got a good spot, out of the wind for it was really chilly. I had a thermos of tea, the weather looked good so … I waited … and sure enough after waiting in the cold half-light for 30 or 60 minutes, the sun suddenly burst into view in the east. Everyone clapped and shouted and the white Himalayan mountains in the west — especially the massive five-peaked Kanchendzonga — started turning various glorious shades of gold and rose as the sun cleared the horizon and climbed into the sky. It is indeed one of nature's greatest shows on earth and I felt a good way to mark a milestone birthday. I felt truly elated watching this spectacle, it was a dream come true.
READ: Top 10 reasons to visit the Himalayas.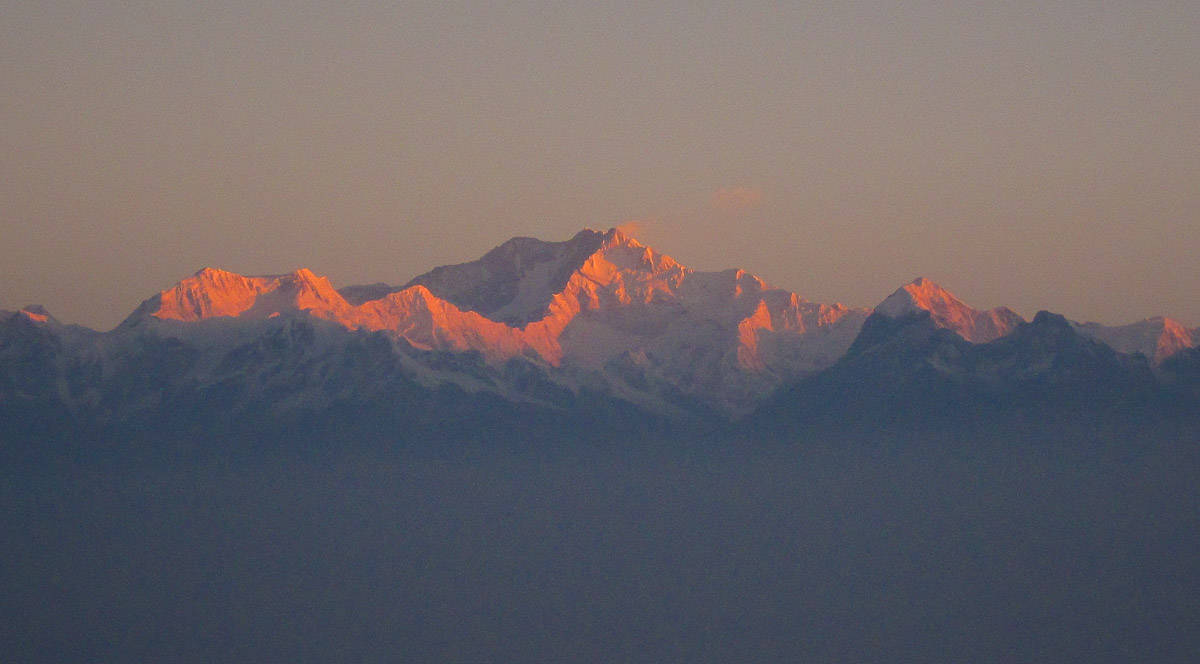 The Tiger Hill Himalayan spectacle
Seeing this sun rise from Tiger Hill was on my must-do list; and so was seeing Mount Everest. I accomplished both on my birthday, as Everest is one of the peaks you can see from Tiger Hill (though it is much further away than Kanchendzonga and therefore much smaller). Kanchendzonga is the third highest mountain on earth, and it is so wide that it dominates the skyline in this part of India — that is, when it is visible. I saw it the morning of my birthday, and was lucky enough to see how it dominates Darjeeling's horizon, but then it disappeared into swirls of mist and cloud for the next six days that I was in Darjeeling and Sikkim. I never saw it again. Apparently, the mountain people say that the mountain chooses who it reveals itself to, so I feel blessed to have seen it at all.
From there, my amazing guide Paras suggested we wait until the crowds leave and walk part way down Tiger Hill, which is located within the boundaries of a nature reserve. He was always making fantastic suggestions such as this, and I loved the walk down almost as much as the sunrise. We got to see the mystical mountain (Kanchendzonga) from various lovely spots and visited a very old and sacred hillside temple dedicated to the goddess Durga. Paras works for Help Tourism a wonderful company that's a pioneer in eco and community tourism in India's north-east
Luckily for us, we arrived just as the morning puja was taking place. There were only three other worshippers there, all women — which was fitting as it was International Women's Day. I felt very moved as the women and the Pandit welcomed us whole-heartedly into the ceremony, and I could feel the sacred spiritual energy of this small, venerable temple that clings to the mountainside facing Kanchendzonga. When the Pandit placed a tikka mark on my forehead and wrapped a red and gold cloth around my neck, I felt deeply blessed. My birthday celebrations were complete. I thought to myself that this simple temple, set in a natural environment and deeply imbued with sacred energy, suits me so much more than the big, bustling and famous temples. I didn't go to Kalighat in Kolkata, and then was treated to this amazing puja on my birthday. "Ram never makes a mistake," so the saying goes.
So that was how my first morning in Darjeeling started. My nights were spent at the Windamere Hotel. This is what the Windamere Hotel is like.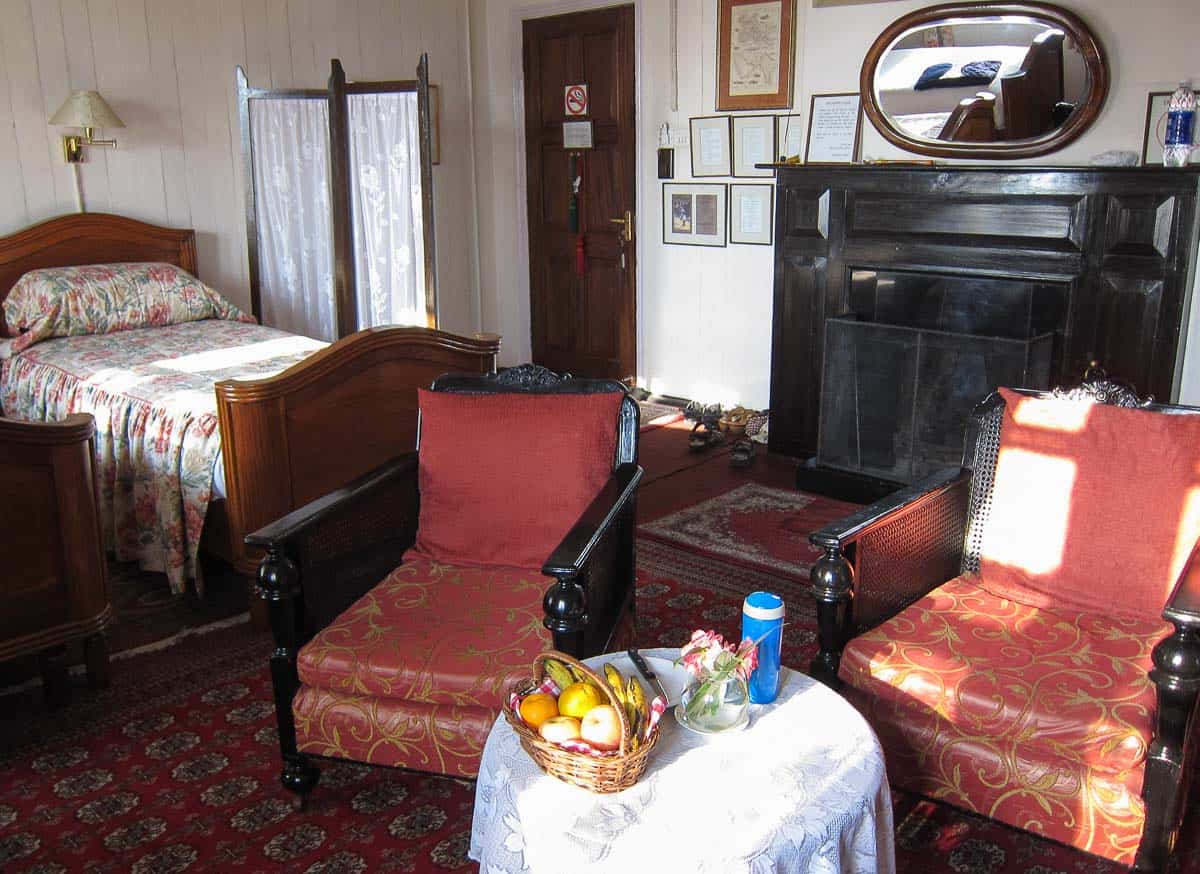 The Windamere Hotel, Darjeeling
When I was a young girl, I went through a phase where I was entranced by Victorian England. One of my favourite movie was The Little Princess with Shirley Temple as the daughter of a wealthy British officer who is sent to the front during the Boer War. She lives in luxury at a private girl's school in London until he goes missing and all his money is lost. Abruptly she is relegated to living in the attic with another urchin and working as a maid to pay off her school fees. The crusty old gentlemen in the house next door takes a liking to her, and in the middle of the night sends his Indian manservant – who dresses in formal Indian wear, including a turban, and sports a parrot on his arm – to outfit her room with a thick comforter, a luxurious bathrobe, a roaring fire and a table full of good things to eat. She wakes up to this wondrous miracle, and accepts it all with unquestioning enthusiasm. I have always loved this scene, and being at the Windamere Hotel made me feel like a princess, and is if I had woken up in that scene.
The Windamere Hotel has joined the ranks of very special places I have discovered in India, which I wrote about and listed in Best hotels in India. Established in the 19th century as a boarding house for bachelor English and Scottish tea planters, the Windamere was converted into a hotel just before the outbreak of the Second World War. The hotel works very hard to retain the old-fashioned charm and attentive service it has always been famous for. Like Darjeeling itself, it is steeped in stories.
One of my favourite stories is that the Chogyal (King) of Sikkim met his young, beautiful American wife Hope Cooke in the hotel drawing room in 1958. It's an incredible, romantic, and almost fairy-tale like story. The Crown Prince Palden Thondup Namgyal of Sikkim, 36, was widowed when he met 19-year-old Hope Cooke at The Windamere. They married in 1963 and Hope Cooke became the Gyalmo (Queen Consort) of Sikkim. You can read more about their story, and the sad ending here.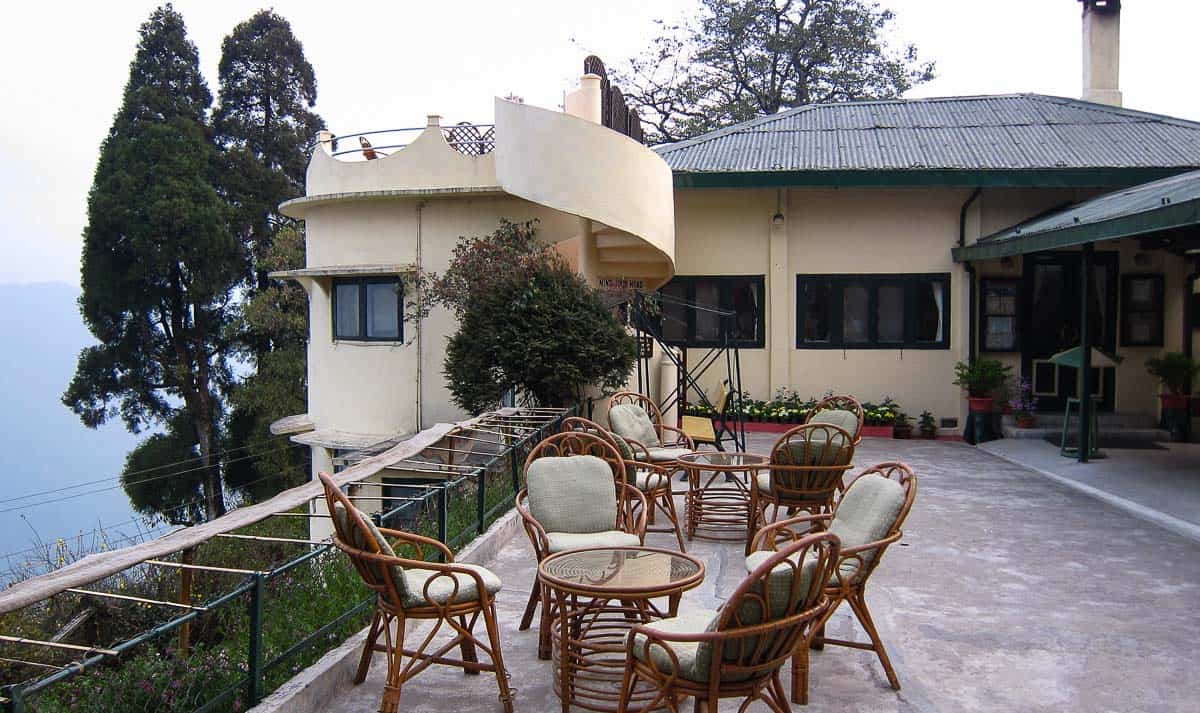 The entire hotel is reminiscent of an English country house, heavy with wood work and light with chintz. The attention to detail and homey touches are astonishing: a hot water bottle in your bed each evening, a gong that announces breakfast, lunch, tea service and dinner, laundry delivered in a quilted cloth folder, white-gloved waiters, a coal fire in your room each evening.
The Windamere also has the most favoured location in town, almost at the top of Observatory Hill, Darjeeling's highest point. The only thing higher is the Mahakula Temple. The sound of the temple bells and the temple's peaceful vibes only add to the Windamere's already considerable charms. I would say that of all the hotels in town, the Windamere must have the most spacious grounds and best views. Though there are at least two other upscale hotels in town, none offer the wide-open vistas you can find at the Windamere.
This hotel conjured my past in so many ways. In some ways, it reminded me of my family cottage growing up, and in some ways of the England I imagined when I as a child. So many stars seemed to align for me here. The first night I arrived I looked out my window at a single bright star in the mauve dusk (must have been Venus) and I felt "I have been here before." I don't know whether it was in reality, in a past life or in my imagination.
And it's not just the hotel of course, it's Darjeeleing itself. From the time I was about three years old, my grandmother, Nana, and I used to have tea parties. She bought me a plastic tea set when I was about three; and a china set when I was about seven or eight. I loved having tea with my elegant and kindly grandmother, who was a very good story teller along with being a very stylish woman (she wore simple Wallis Simpson-style A-line dresses in shades of taupe adorned with large but tasteful costume necklaces, rings and bracelets and had long tapered nails). Stories and tea went together, and they have both become important to me. I grew up to become a writer and a tea drinker (a tea lover!). So going to Darjeeling was a kind of pilgrimage for me in several ways.
When I first arrived in Darjeeling, I kept saying to my guide, Paras, "I can't believe I am finally here!" My time there was magical partially because of Darjeeling itself, partially because of Paras, and partially because I was staying at the Windamere Inn.
Darjeeling is a special place because of a serendipitous meeting of location and history. Situated way up in the Himalayan foothills, it is presided over by the mighty massif Kanchendzonga. The British discovered that the elevation and conditions were precisely suited to the cultivation of tea, so they began importing tea plants from China and slowly but surely established a thriving tea industry. The town of Darjeeling was home base to the British tea planters and eventually became the summer residence of the British Raj, whose capital in India was steamy Calcutta until 1911. When the summer heat grew intense, the British Raj in Calcutta made the arduous journey into the hills to find relief in Darjeeling's temperate climate.
Even to date, Darjeeling retains the flavour of the colonial past and gives the town a historically rich texture. The "toy train," which runs on the world's smallest gauge — it's ancient steam engines pull two tiny blue bogeys — still runs between Darjeeling and Siliguri. Several times a day you can hear it's comforting whistle as the train pulls either into or out of the station. Train enthusiasts come from all over the world, but perhaps especially from Britain, to experience this train, which has been in operation since the mid 1800s. It is the same train which carried the British Raj.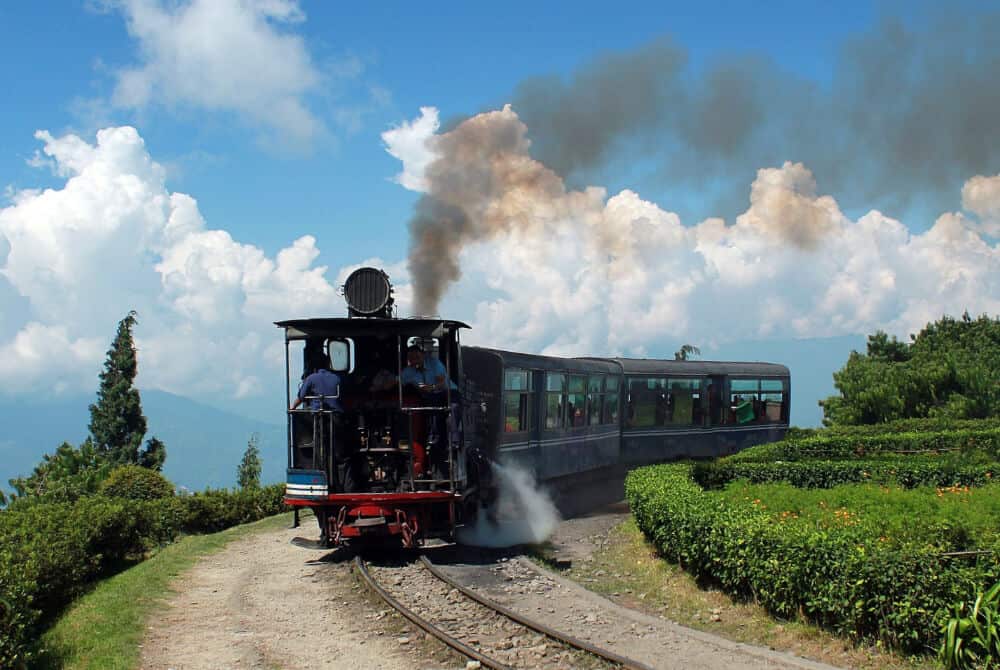 Taking a ride on the Toy Train in Darjeeling
I took a joy trip on this train, riding for about an hour from Darjeeling down to Ghum. To be honest, though it was very slow and I was occasionally sprinkled with soot from the charcoal-powered steam engine, I much preferred it to the bumpy road. If and when I go back to Darjeeling, I'm taking the little train! In most places, the train runs alongside the road and in front of houses and stores. Often, the buildings are only an arm's length away. I felt like I could have reached out and grabbed a bag of chips from one of the little stalls along the way (except I wasn't hungry).
For me, going to Darjeeling really was all about the tea, so I was thrilled to visit my first tea garden. Paras and our driver Ashok made our way through the narrow, crowded winding streets of Darjeeling to the outskirts of town. Darjeeling has become a sprawling city that seems to cling precariously to the side of a mountain. You are always traveling either up or down, and there's a world of difference between being in the crowded market areas and the many tea gardens that stretch out in every direction covering many hillsides for miles and miles.
In a very short time we reached Happy Valley tea estate, one of the oldest and highest-elevation tea garden in Darjeeling. First I toured the factory, which is basically a functional museum. All the equipment is vintage and seems to be in perfect working order as tea is processed here during the season (which hadn't started yet — I was about a week or two too soon for the "first flush" picking.) Then we went around back and walked out into the tea garden, which was one of the absolute highlights of my stay in Darjeeling.
We walked for about half an hour or more, past the collection of small houses where the tea workers live and out into the tea gardens. At that elevation we could see for miles, and we were completely surrounded by carefully trimmed tea bushes growing in a luxuriant pattern. From a distance, a tea garden looks like a thick deep green carpet. The air was fresh and clean and the atmosphere calm, sunny and very happy indeed.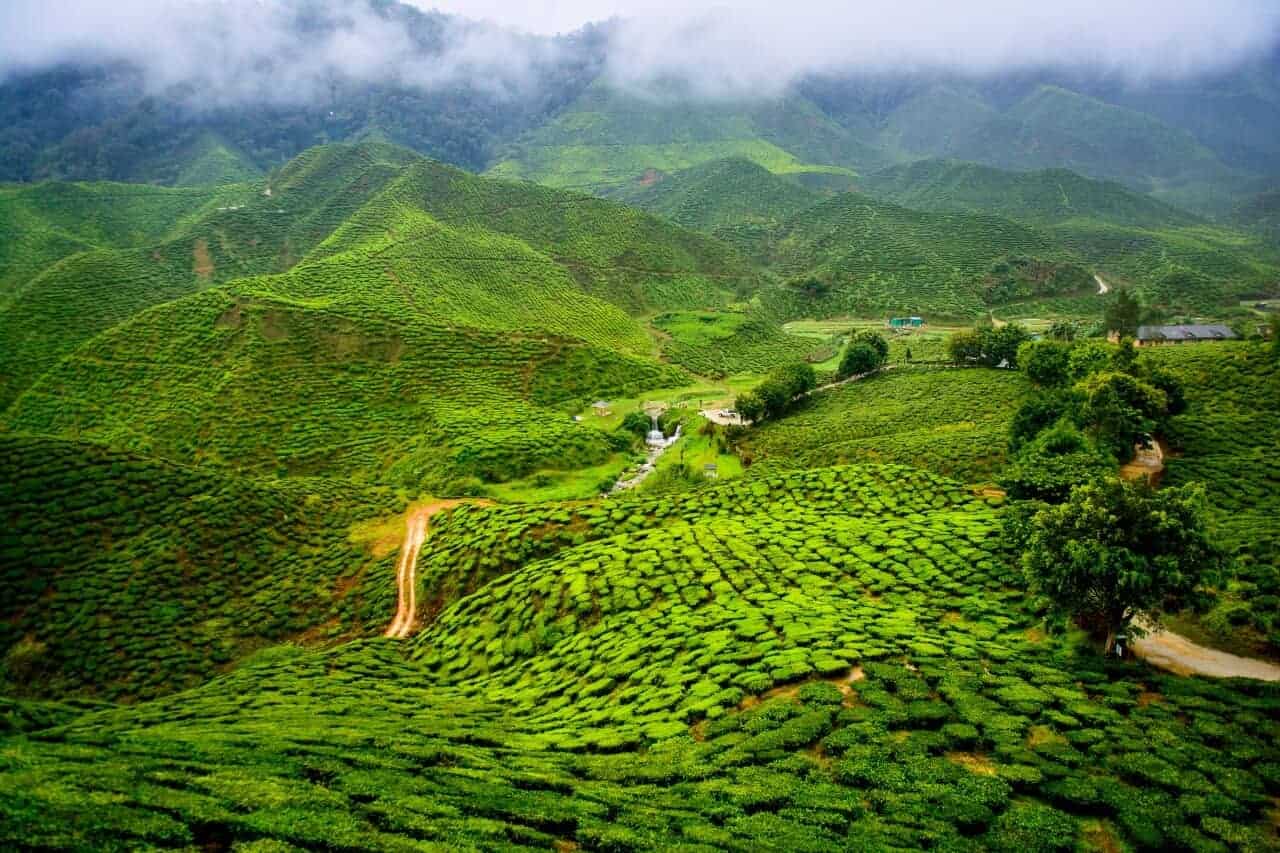 I have always loved tea — like many people, I find it very refreshing — and was not at all surprised to be among tea gardens and feel that the "spirit" of the tea plant is very positive, soothing and uplifting. I'm so glad I was able to travel to Darjeeling and discover this for myself.
While in Darjeeling I was very privileged to meet and interview a number of remarkable people. The first was the Mother Superior of Loreto Convent School. Darjeeling is famous for its many outstanding schools, but I was keen to visit Loreto because of its long history in India, Irish connection and because it was Mother Teresa's order before she left to start Missionaries of Charity in Calcutta. In fact, Mother Teresa was on the train between Calcutta and Darjeeling when she was hit with the epiphany that completely changed her left: she realized that she wanted devote her life to the poor of Calcutta.
Mother Superior showed me around the school and we had a good chat about spirituality. She is of Irish origin, energetic and charming, and can count an open mind and the Irish "gift of the gab" among her best traits. I liked her immensely. Though Loreto was originally founded by an English woman — named Mary Ward (!) — and started in India by a group of Irish nuns, she is the only "foreigner" at Loreto now. All the other teachers and students are from India or Nepal.
I went from Loreto to the Missionaries of Charity house and orphanage and spoke to two beautiful nuns who told me they take care of about 45 adult women who have nowhere else to go. Walking through the compound, I noticed that many of them seemed to be mentally disabled, though very friendly and warm. The children in the orphanage had all been moved down to a lower and warmer elevation for the winter and weren't back yet, so I didn't get to visit the orphanage, and also I didn't take any pictures.
So, I had a busy two-and-half days in Darjeeling, but still had lots of time to relax in my fireplace heated room and on the breathtaking terraces of Windamere, to shop for tea, to walk the mall and to drink tea, of course. From Windamere I went to Sikkim … but that's another entry for another day … and then came back to the Darjeeling area (to Kurseong) for my last day in the north-east. In Kurseong, I met the "king" of Darjeeling tea, and drank tea with him while sitting in his drawing room in the shadow of an enormous stuffed Bengal Tiger his grandfather had bagged. But that's another story and you can read it here in Tea in Darjeeling!
---
Pin it on Pinterest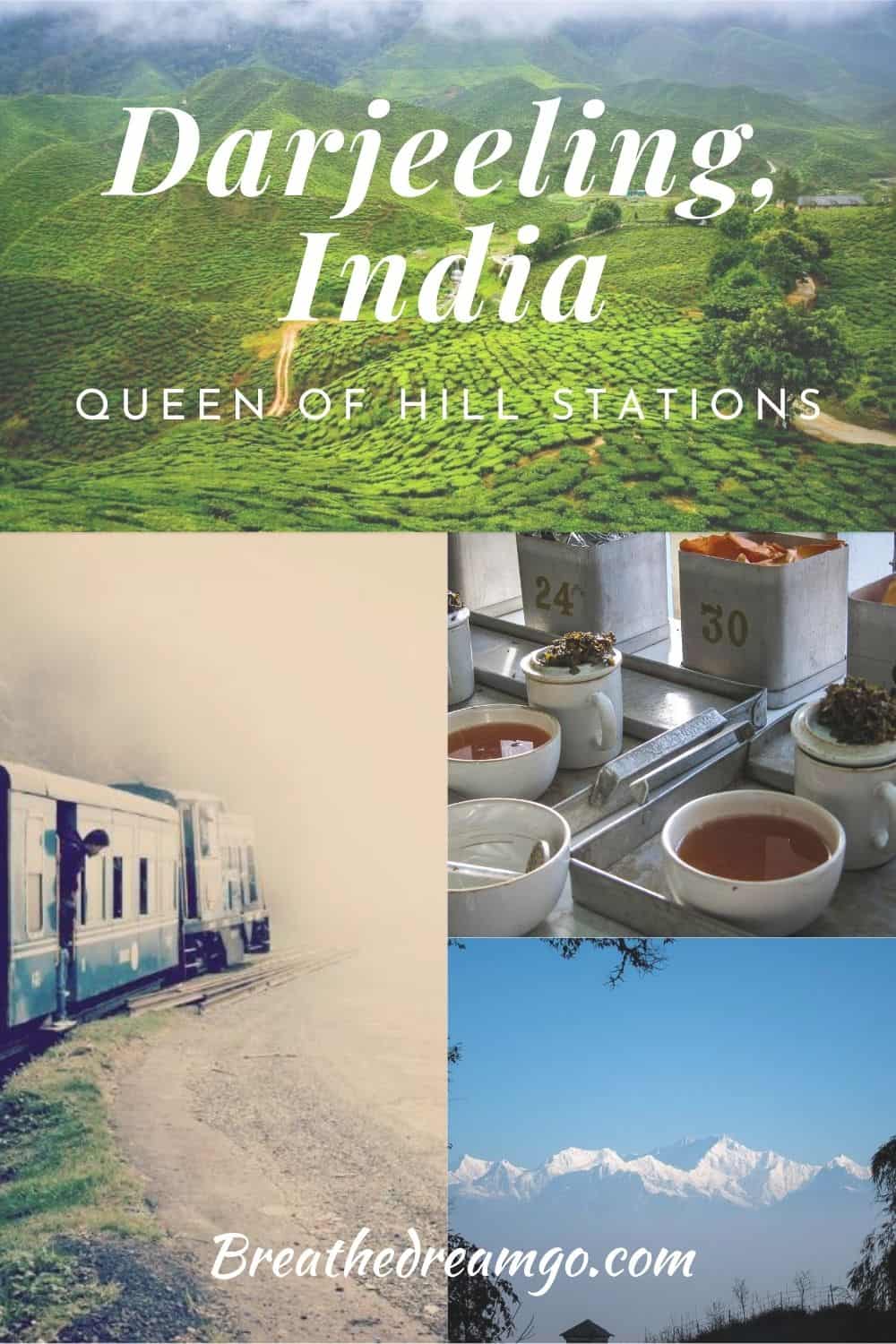 ---
DISCLOSURE NOTE: Stop two on my India Tourism-sponsored road trip was three nights in Darjeeling. While in Darjeeling, I was a guest of IndiaTourism. But as always, views expressed are my own and are in no way influenced by accepting a press trip. I will not compromise the editorial integrity of Breathedreamgo.
---
If you enjoyed this post, you can….
Sign up to The Travel Newsletter in the sidebar and follow Breathedreamgo on all social media platforms including Instagram, TripAdvisor, Facebook, Pinterest, and Twitter. Thank you!