Because it is the travel stories we tell that engage, inspire and motivate travellers
This is an open letter to the International Conference on Travel and Technology, the India travel & tourism industry and anyone else who could stand to benefit from understanding the contribution that professional travel writers / bloggers / photographers / videographers can, and do, make to promoting travel online.
Rajasthan, land of kings (and queens), is filled with heroic stories, fairy-tale architecture, blazing colours and stark landscapes; it is a feast for a traveller, photographer or storyteller. This is me, above, standing at the entrance to Mehrangarh Fort in Jodhpur, Rajasthan. You may notice that I am moved by touching the small, red sati prints — for these are the handprints of Maharaja Man Singh's wives as they left the fort to be burned alive on his funeral pyre. The Maharaja was killed in battle in 1843, and no doubt he was a very brave man. But can you imagine the bravery required for this ordeal?
This is just one of the many stories I have shared over the past seven years as a travel writer / blogger and India traveller. It is stories like these that grab people's attention, engage their imaginations and motivate them to travel.
And this is why I have concentrated most of my time and effort as a blogger on storytelling; and why I think travel writers / bloggers offer so much to the travel & tourism industry. To a potential tourist, there is a lot of power in seeing an "average" foreign woman in India, standing at a site like this and relating the stories that shaped the culture.
The medium is not the message
I was inspired to write this blog post by the International Conference on Travel Technology conference, which is apparently the "first of its kind" in India. While I am excited that India is beginning to catch up to the west in terms of using the internet and social media to promote travel & tourism, I am dismayed to see there are no travel writers, bloggers or content specialists on the speaker's list; and the only nod to blogging on the agenda is worrying: "Blogging: an inexpensive medium to generate leads and value for your website."
I hope the travel industry in India does not make the same mistake that so many others do in travel, publishing and other industries; I hope they do not confuse the message and the medium. Technologies are just PLATFORMS for telling stories. It is not the technology or platform that grabs people and engages them, it is the content, the stories. It is the content creators — the writers, photographers, vloggers — who supply the stories that engage people on their blogs and social media platforms. And it is the content creators' personalities that supply much of the draw — for it has been aptly stated that people follow personalities online.
It doesn't matter how adept you are at utilizing the latest technologies and platforms if you don't know how to tell a story. Without a story, you're just putting your marketing "bumf" online — which is usually not very compelling. On the other hand, if travel and tourism boards, organizations and companies work with passionate and talented bloggers, and give them the freedom to do what they do best and the renumeration they deserve, I believe that magic can happen.
Capturing the magic of India through story
India is a land of stories. The culture rests on two storytelling epics, the Mahabharat and the Ramayana. And there is so much of traditional and ancient India on display and available when you visit, from the temples of South India to the forts and palaces of Rajasthan to the ashrams of Rishikesh. It is the historical, mythological and spiritual depth of India's culture that attracted me in the first place, and that captured my imagination. I had always wanted to be a writer, since childhood, but didn't find my subject matter or my voice until I visited India for the first time in 2005.
But now I've been writing and blogging for more than seven years, since I started travelling in India in 2005 (including almost four years on Breathedreamgo). The entire time, my efforts have been driven by passion for "meaningful adventure travel," travel in India and Indian culture and causes. I've learned to be a travel blogger on the fly, not as part of a strategy or plan … but almost accidentally. I'm not technically inclined, I'm not interested in sticking to a schedule or following a lot of "blog building techniques." No, I just like telling stories, and following my interests and passions. So I am absolutely thrilled  — and frankly surprised — about reaching the #1 spot on Google for my search term, India travel blog. Nice to see storytelling rewarded in this day and age.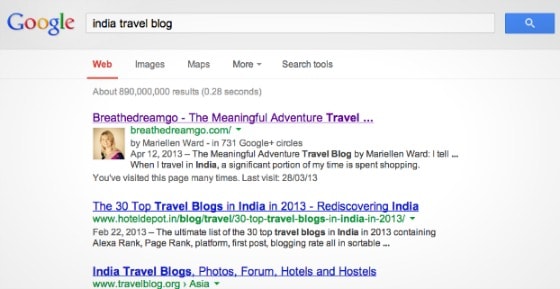 Create something compelling
At about the same time I started writing this blog post, the Travel Bloggers Exchange (TBEX) conference rolled into Toronto. I sat down with speaker Sheila Scarborough of Tourism Currents, who will be presenting at the ICTT. We talked about travel blogging, the tourism industry and India.
Sheila agreed that many in the industry are savvy with the tools, but don't know how to best use them. "People who are good storytellers know the hard part — how to make characters, cultures and places come alive. With technology, you can tell those stories to the whole planet. But … you need to create something compelling. India has amazing stories to tell — interesting people, amazing colours, renowned cuisine. So tell me."
Sheila is presenting two sessions at the ICTT: "Online reputation management – art of listening and responding" and "Changing technology and marketing trends for the future of tourism." I hope that working with professional writers is an upcoming trend!
Success stories
In my opinion, the best travel bloggers follow their passions and tell stories. They attract engaged readers and followers, and inspire and motivate them to travel.
And how do I know this? From watching many of my colleagues grow and flourish, and work very successfully with brands and destinations. There are too many successes to name, but a few stellar examples include:
Expedia's Kids in the City Family Travel Guides
So, the point is that people find stories compelling; Google rewards quality content; and readers respond to personalities. I just hope the attendees of the ICTT, and other such conferences, recognize that without story, and storytellers, you're just adding to the noise.
If you enjoyed this post, you can….
Get updates and read additional stories on the Breathedreamgo Facebook page.
Buy Song of India, a collection of 10 feature stories about my travels in India. E-book version is now only $1.99.
Subscribe to the free — and inspiring! — e-newsletter, Travel That Changes You.