June 21 is International Day of Yoga, or Yoga Day (IDY2018)
Happy Yoga Day! June 21 is Yoga Day around the world, where people take part in Yoga classes and do Yoga poses, and celebrate all things Yoga. I've written about International Yoga Day (or International Day of Yoga, as it's properly called) previously, and explained the background of Yoga Day and the principles of Yoga.
I have written many blog posts about staying in Yoga ashrams in India, plus an interview with a Yoga master, and an early post called What Yoga Is. I also wrote about how Yoga provided me with a window into Indian culture when I first started travelling in India.
In other words, Yoga is a big part of my life and I do like to recognize Yoga Day.
Ode to joy
When I have to fill out a form that asks for my religion, I say Yoga. And it's true, it is my religion, in a way. Yoga is an art and science – a technology – that has given me some very important tools. These tools have helped to keep me calmer, and more centred, focused, and connected than anything else I have discovered. They're indispensable to me, as I try and live a (relatively) sane, productive, disciplined life.
Many westerners and non-Indians don't realize that Yoga is much, much more than a system of Yoga poses or exercises. Asana, the physical practise of Yoga, is just one of eight aspects – often called the eight limbs of Yoga, or Ashtanga. And to some people, Asana is the least important of the eight.
Yoga is feeling the joy of the moment
The present moment is the gift of Yoga
As I progressed on my Yoga journey, I slowly discovered the vast potential of Yoga. Now, 25 years after I started to seriously pursue it, I feel that Yoga is about being with "what is."  It helps ground me, connect me to how I'm feeling, opens me up to transformation (the possibility of changing how I feel), and mostly, helps me feel the joy inherent in the present moment.
That's what Yoga is to me. It's a conduit to joy.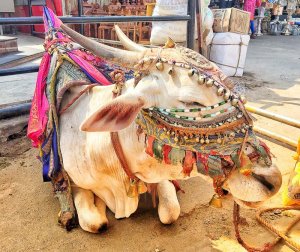 Yoga for me is a way of being in the world, an attitude, a source of strength, a well of refreshing water. Someone said it helps, "strengthen the body, calm the mind, and soften the heart."
Through breathing, moving, and meditating, I have learned how to still my mind, relax my body, and change my mood. At the best of times, I can attune myself to the joy and wonder of existence in the present moment. And feel the presence of the flow of life-force energy. In other words, I can feel that I'm alive. Which makes me very happy, grateful, and yes, joyful.
This to me is far more valuable than any of the goals that an Asana-centric practise might propose – such as being able to put my leg behind my ear.
Yoga is available to everyone
Yoga is available at any time, to everyone. It doesn't take money, skill, flexibility, special equipment. It's an attitude adjustment more than anything else, and it just requires your breath and your attention.
Yoga is a tool. It unlocks potential. The potential of anyone who takes the time to understand what Yoga really is.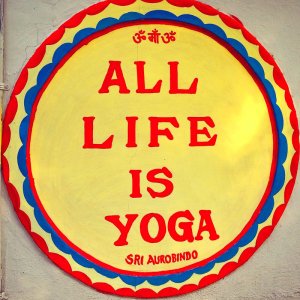 I laugh when I hear people say they suck at Yoga because, to my ears, they are saying they suck at being. But I understand why they say it, why they think Yoga is an elite athletic and cultural art form with all kinds of righteous shoulds attached to it. That's the way the popular culture presents it.
But in my experience, that's not the intention of Yoga.
Hinduism does not have an evangelical tradition, and as one of the six schools of Hinduism, Yoga doesn't either. I am not interested in trying to talk anyone into Yoga, and no else "should" either. In fact, Yoga is antithetical to "should."
Yoga is something that catches you … or it doesn't. But if it does, it can transform your life.
Happy Yoga Day!
---
Please PIN it on Pinterest

---
If you enjoyed this post, you can….
Get updates and read additional stories on the Breathedreamgo Facebook page.
Follow Breathedreamgo on Instagram.
Follow Breathedreamgo on Twitter.