Things to do in Goa, Part 2
Top 10 things to do in Goa: Part 2
Tiny tropical Goa, on the south west coast of India, was an obligatory stop on the hippie trail of the 1960s and became known internationally for wild, full-moon parties on the beach. Though there is much more to Goa than hippies on the beach, it's a reputation the state has never been able to shake. Even I avoided Goa, except for two short beach vacations in the quieter southern half of the state. The truth is, there's a lot of great things to do in Goa.
But finally I decided to give Goa a chance, looking for things to do in Goa. I spent almost two weeks touring the state and looking for places and experiences that show the more interesting, sophisticated and discerning side of Goa. What I discovered is that Goa is a historical, cultural, wellness and leisure treasure house.
For Part 1, top picks 1 – 5, please click here. Below are my top picks, 6 – 10.
6. La Plage
7. Ashiyana Yoga
8. Devaaya Ayurvedic Retreat
9. The Beach House
10. The peaceful south
6. Things to do in Goa: La Plage and the boutiques of Ashvem Beach
According to the Love Guide to Goa, La Plage is the epicentre of chic in this small state. Imagine a French restaurant on the beach with cuisine inspired by it's tropical location. You sit under a beach umbrella with your feet in the sand, admiring the view of the shimmering ocean as you nibble on beetroot and mango carpaccio.
The thing I liked most about La Plage was that they have fun, and they don't try too hard. In fact, they make chic look easy.
I sat down with one of the owners, Serge, who's originally from France but has spent 18 years in Goa. He told me they redo the look of La Plage every year. When I was there, the theme was bordello and the colour was black.
They also change about 60% of the menu. "It's good," Serge said. "Every year when you walk in, it's a new place."
La Plage started out with just six tables, and it's grown in size and sophistication over the years. The menu is a unique blend of both local ingredients and classic French cooking techniques. I tried beetroot and mango carpaccio, filet of tuna in soy sauce, and seared mackerel filets in a tomato / caper sauce. The fish of course is straight from the sea, bought fresh every day. Every dish was note perfect and so was the setting.
It's also fun to walk down Ashvem Beach and see beach boutiques selling designer beach wear — including one owned by Jade Jagger. Ashvem Beach is the epicentre of chic in Goa indeed.
7. Things to do in Goa: Ashiyana Yoga
Ashiyana Yoga was perhaps the biggest surprise of my Goa odyssey. It's a lush, serene and gorgeous yoga retreat just back from Mandrem Beach, across a quaint bridge over a slow river. I have almost always headed to the Himalayas for yoga, and had no idea that Goa could be so yogic. Three short days at Ashiyana Yoga was long enough to be truly a transformative experience.
What makes Ashiyana so special? I had the wonderful opportunity to ask the founder himself, Chris, who was there during my stay. He told me his heart spoke loudly to him when he found the property — even though it was not exactly what he was looking for — and that he started small to create a "home away from home for stressed-out westerners."
Over time, the retreat grew to encompass numerous styles of rooms that range from simple beach huts to truly fantastic suites. I was given the fantasy-like Jaisalmer Suite, and it was my first hint of the magic to be found here. How did they know about my deep connection to the Golden City? My second clue was a treatment I received shortly after arriving from the healing hands of Renita. She used craniosacral therapy to release a tight neck muscle that was paining me for months.
I truly loved just about everything about Ashiyana. The hearty, vegetarian buffet meals, the lush location, the community feeling that imbues the entire compound and of course the yoga. There are several yoga shalas throughout the property. The biggest, enclosed in mosquito netting and surrounded by rain forest, is where the drop-in classes take place. Most people go to the morning class at 8 am, before breakfast, and the afternoon class at 4 pm.
Ashiyana also holds well-regarded yoga teacher training modules; and an on-site spa offers a wide range of treatments, including Ayurvedic treatments. You could easily book in here and not need to leave. Nor want to.
Highly recommended.
8. Things to do in Goa: Devaaya Ayurvedic Retreat
Ayurveda is usually connected with Kerala, but Goa has at least one serious Ayurvedic treatment centre: Devaaya Ayurvedic Retreat.
I dropped in to Devaaya just for one day and night while driving from North to South Goa. Devaaya is picturesquely set on Divar Island, which is just about in the middle of the country, east of the capital city, Panjim (Panji). It's a pleasant drive as you pass Old Goa and have to take a ferry over to the island. Divar Island has a rustic charm that reminded me a bit of rural France. You can feel the pace slow down as soon as you set foot on the island.
We drove along some country roads, past tiny settlements, until we came to the Devaaya. Enclosed by a wall, Devaaya is made to look like a Portuguese village, surrounded by fields and rivers. Guests stay in brightly coloured small houses dotted throughout the property, which features many amenities such as a large swimming pool, tennis courts, a gym and much more.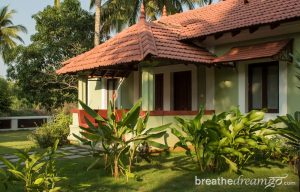 In the centre is a large and gracious building, which is where the Ayurvedic treatments are given. It's one of the nicest Ayruvedic treatment centres I've ever seen, and the treatments were excellent.
While I found the accommodation a bit tired and the decor dated (the rooms need a make-over), and I was disappointed with the food (some of which didn't seem healthy, nutritious nor Ayurvedic to me), I loved the outdoor sunrise yoga and the Ayurvedic treatments.
Devaaya offers a very high standard of Ayurvedic treatment, at least equal (or in some cases, better) than anything I have experienced in Kerala.
9. Things to do in Goa: The Beach House
The Beach House is, yes, on the beach. But it is not in any way a typical beach resort or even yoga retreat, especially for Goa. From the 1970s architecture to the serious approach to holistic health, to the emphasis on juicing and detoxifying, The Beach House has more of a California vibe. And it's definitely for people who are serious about their health and want to undertake a rigorous program.
The home of a former pharmaceuticals executive who built it for his retirement, The Beach House has a nice location, but the steel-and-glass architecture might put some people off. The rooms are in a similar steel-and-glass building, with dark tinted windows and an airtight design. You literally have to sleep with the air conditioning on, as you can't open the door due to the mosquitoes. This was by far my least favourite aspect of The Beach House.
But this place is not for people who want a beach or resort experience. It's for people who are managing a condition like diabetes, or who want to lose weight, or who need help balancing their hormones or who are serious about detoxifying.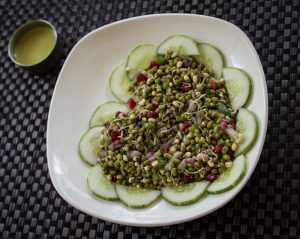 When you arrive, you are required to fill in a lengthy intake form and undergo a medical assessment before starting any of the programs. Your days are spent in a white robe, shuttling between yoga classes, treatments, doctor appointments and customized meals — or just juice if you're doing the juice fast — garnished with a handful of supplements. You have to be very dedicated.
The Beach House is unique by any standard, and not for everyone. But for those who need or want a complete cleanse in a sunny location on the beach, this is the place. The Beach House has many loyal fans, many of which come back again and again for tuneups.
10. Things to do in Goa: The Peaceful South
Ahhhhh South Goa, you have long occupied a special place in my heart. While the party hungry hordes head north, a much smaller trickle of people with peace and community on their minds head south. I have spent time on Palolem, Patnem and Benaulim beaches before, but on this trip I discovered Agonda.
The beaches of South Goa attract people with an interest in spiritual consciousness. They love the quiet — even on Friday night there is only soft music emanating from the beach front restaurants — and the immersion in nature. South Goa is less developed and still has a village feeling, and lots of forests. The Arabian Sea is warm and was calm and inviting when I was there. Swimming was like being embraced by the goddess.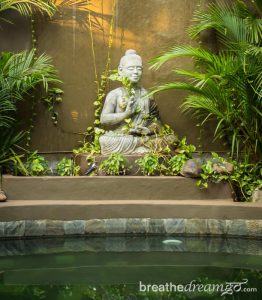 On a very small scale, there are lots of simple yoga shalas, Ayurvedic massage shacks, and healing workshops. You often see people doing yoga on the beach, or joining together in meditation circles. At Agonda, you don't just get paradise, you get community, and a chance to continue your trans
I dreamed myself into the perfect beach hut — on stilts, facing the beach, surrounded by a garden and run by the warmest people imaginable — and met three like-minded women about my age, from Canada, UK and USA. I will always remember my five days at The Secret Garden as some of the happiest of my life.
---
READ MORE ABOUT GOA
---
Insider's Guide to Goa : A comprehensive ebook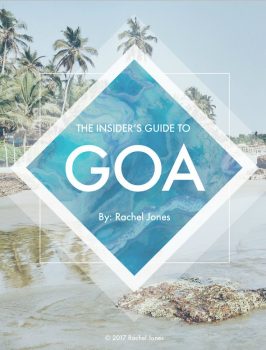 Do you have plans to go to Goa? You need this book! The Insider's Guide to Goa. Rachel Jones of Hippie in Heels​ has lived in Goa for 5 years and she put her heart into writing this 169-page comprehensive guide — which also includes lots of information about travel to India, vaccinations, Visas, safety, packing and more.
Rachel says, "It will answer all your questions, give you local insight, and show you the Goa, India that I know and love. Guide books and online listicles are outdated and strip down Goa into a few top locations. They often miss the true gems and the real local feel of Goa. I really feel confident this is the most comprehensive guide to Goa out there." You can buy it here: Insider's Guide to Goa.
---

Thanks to Goa Tourism
While in Goa, Goa Tourism helped me create my itinerary, and provided maps, information, guides and a car-and-driver. My stays at Ashiyana, Devaaya and The Beach House were hosted, and my meals at La Plage were complimentary, but that has not influenced my opinion or coverage. As always, my readers' needs are foremost in my mind. #MediaTrip
---
If you enjoyed this post, you can….
Get updates and read additional stories on the Breathedreamgo Facebook page.
Follow Breathedreamgo on Instagram.
Follow Breathedreamgo on Pinterest.