Home-away-from-home in Delhi
In India, I live in a nice residential neighbourhood in South Delhi. It is surrounded by one of the major 'ring' roads of Delhi to the south and a huge park and sports complex to the north.
Here are some pictures I've taken, to give you a slice of South Delhi life.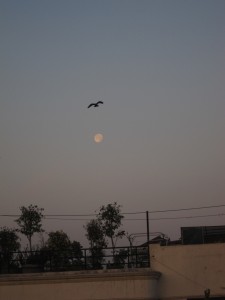 I woke up very early and walked out on to the huge, white marble terrace. To my left, the sun was rising, a giant fiery red-orange ball against a hazy dove-grey sky; while to my right the pale white moon glowed softly at almost exactly the same level. It was one of those unexpected moments of sublime beauty that I've come too expect from India.
The sunrise picture below and the moon setting picture, left, were taken virtually at the same time.
With these pics, I think it makes it very clear how the sun and the moon came to represent very different things to early mythologists — the fiery sun representing the active, male principle; and the pale, cool sun representing the passive, female principle.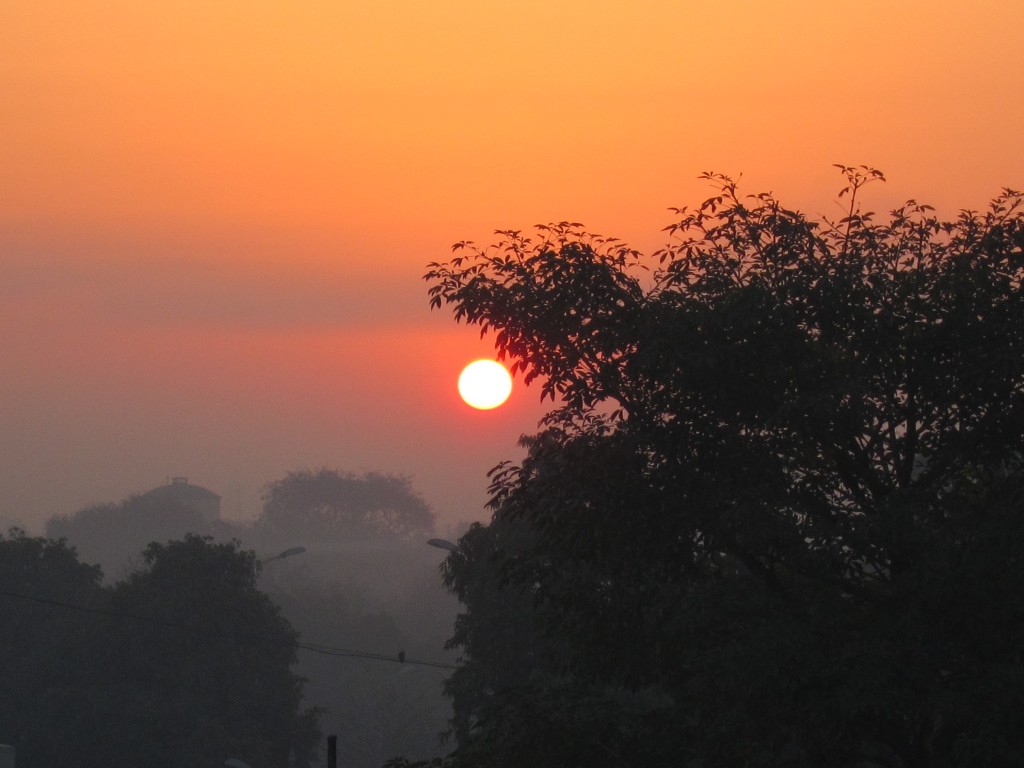 This apartment features a massive white terrace, four floors above street level. It is an oasis, and the family spends a lot of time out there, drinking tea, being together and playing with the children. Several times each day, the pigeons are fed. I love this picture, below, because I feel it epitomizes the Hindu ideal of living in harmony with nature.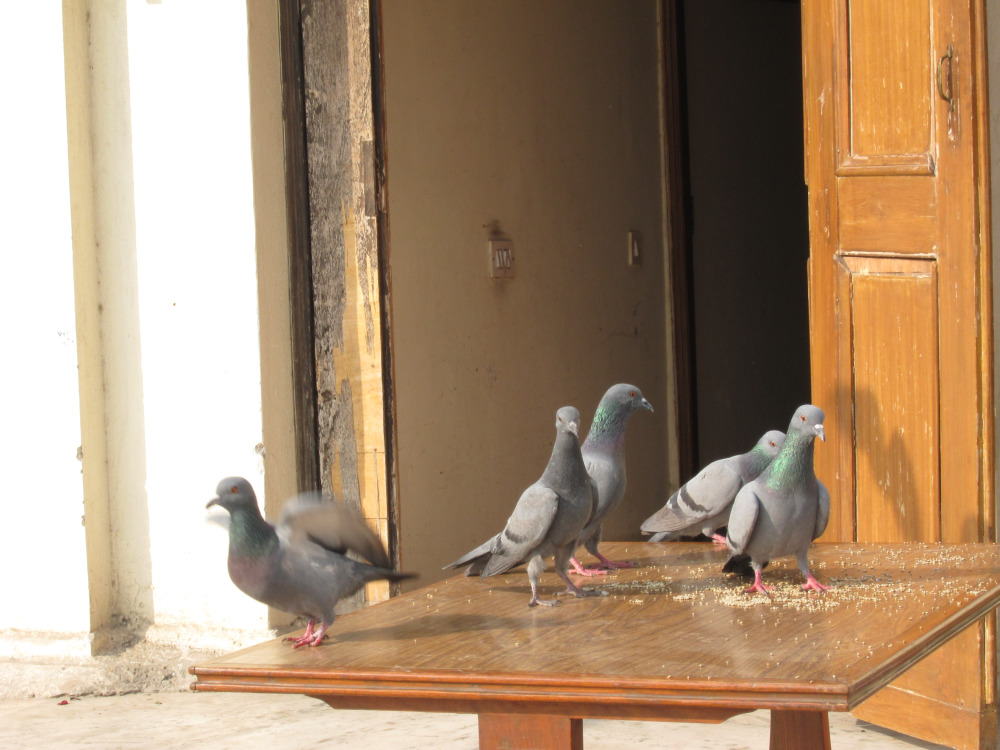 I went for a long walk to, and through, the Asian Games Sports complex, where the Commonwealth Games will be held, and snapped this classic pic of boys playing cricket. This game is being played at a posh club, but you can see these spontaneous games all over India — in empty fields, abandoned lots, wherever they can find space.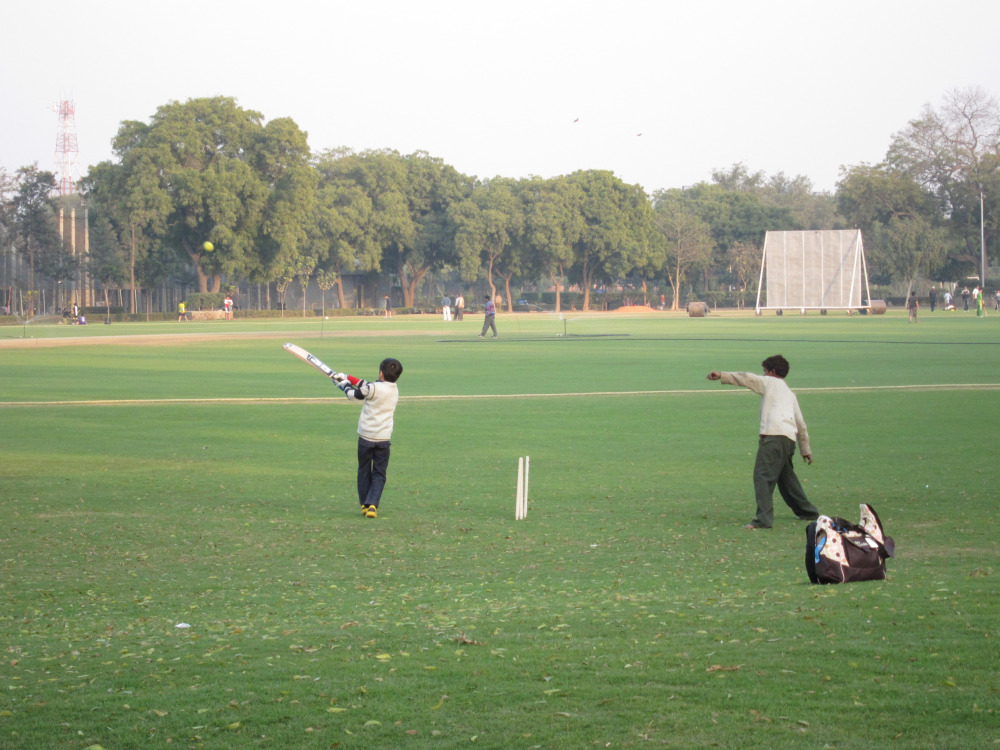 Below are two picutres taken right outside the door of the bulding. Note the ancient-looking iron, filled with hot coals, the dhobi-wallah is using to iron on the side of the street. The fruit seller is selling  to one of the house servants, the boy in red — the fruit in India is delicious, fresh and tasty.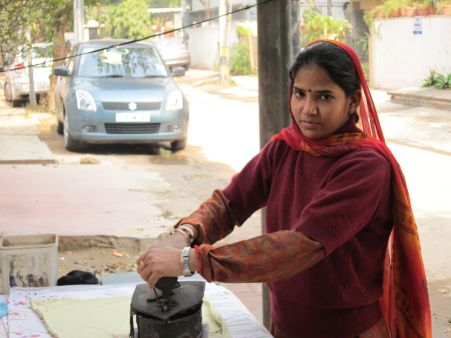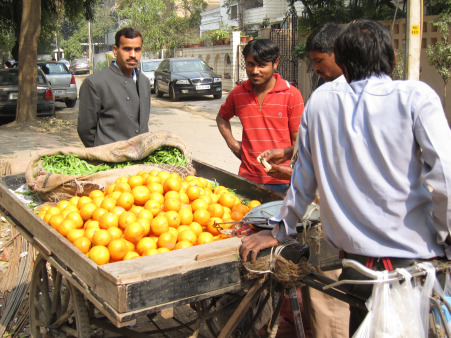 This is my favourite taxi driver, Gurim Singh (spelling?), below. The first time I came to India, more than 10 years ago, I didn't know how things worked and I made lots of mistakes! (Still do…) I called a taxi from the nearby taxi stand, and after I got home, I "mistakenly" asked him to wait. I had no idea he was still sitting there until an hour later when my boyfriend looked over the terrace and saw him. My friend went downstairs and paid him for the waiting time, and I was so embarrassed I never wanted to face him again. But over the years, we have become friends and he often drives me to Sivananda yoga centre, which is hard to find. The other day, I was coming out of a beauty salon that's about a kilometre away and he saw me and said, "I will drive you home," which I really appreciated as I had just had a pedicure! He wouldn't take any money; it was meant simply as a kind gesture. He made me feel, well, at home!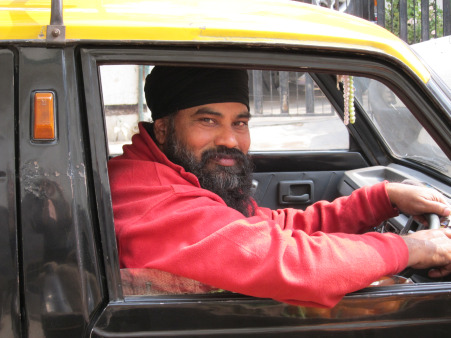 All over India, there are an an uncountable number of shrines and temples, from the simplest roadside offering to enormous complexes that take all day to tour. This beautiful silver Ganesh, for example, was nestled in the roots of a tree by the side of the road that leads from my house to the Asian Games park. India is a pluralisitc, secular democracy in theory, but in practise it is largely Hindu, and it is usually Hindu gods and goddesses you see all over the cities, towns, villages and countryside. Hindus venerate nature, and sometimes it seems that almost every inch of the country is a sacred place.
Finally, I went shopping one day this week near Qutb Minar, one of the prime tourist attractions in Delhi. I snapped this pic, below, from the shopping centre across the street. The Delhi sky often turns pink as dust blows in from the red Rajasthan desert, and it is often hazy and foggy, too, especially in winter. I think I became enchanted with Delhi initially the day I visited Qutb Minar for the first time, shortly after arriving in India in December 2005. I was there at dusk, and the sky turned pink, bathing the ancient tombs and tower in fairy tale ambience. This was the moment I felt I had finally arrived in India, a long cherished dream; and the moment I began to fall in love, too. The love affair continues…
If you enjoyed this post, you can….
Get updates and read additional stories on the Breathedreamgo Facebook page.