My top 7 tips for travel in India
I often get emails from women traveling to India for the first time, and they are justifiably nervous about landing by themselves in Delhi at midnight. So, this post is for you. It is a collection of my best tips and advice. You should also check out My top safety tips for women travelling in India,  10 Tips for Women Traveling India , my post Planning to go to India? and Top 5 Myths about India.
1.Go with an open mind and heart
Be cautious, but don't be nervous. Be open, but don't be naive. Yes, India is overwhelming to the first-time visitor and most people experience culture shock (you can spot first-timers by the deer-in-the-headlights look they have on their faces.) I have said in other posts on this blog (Traveling solo in India) that India is like the cave Yoda sends Luke into: you will only find what you bring with you. So, don't bring fear. Most Indians are the nicest, friendliest and most helpful people you will ever meet. Even when they are trying to part you from your rupees, they are mostly very nice about it. (Always remember that there are many very poor people in India who have not had the advantages, nor the opportunities, that we in the west have.)
2. Arrange for airport pick-up
Try to get someone to pick you up at the airport when you land. Many good hotels and guest houses will arrange this for you.
3. Stay in a residential neighbourhood
In Delhi, don't stay in Pahar Ganj (the backpackers ghetto) or Connaught Place, the commercial centre of Delhi. Stay in one of the many very nice, leafy neighbourhoods of South Delhi. There are lots of mid-range small hotels and guest houses popping up nowadays. Search on sits like TripAdvisor for B&Bs and Specialty Lodging and on Airbnb. Look for places in: Green Park, Hauz Khas, Jorbagh, Greater Kailash, Saket, South Extension, or anywhere on the new Metro line.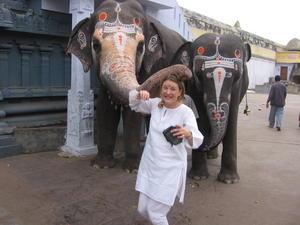 4.Wear Indian clothes
Don't bring very many clothes (aside from bras and underwear: read my Packing list for India). I wrote a blog post called 10 Tips for women traveling in India and my number one tip is to head straight to Fabindia after landing and buy several cotton salwar kameez sets (also known as suits). They are modest, comfortable, inexpensive and they will help you blend in a bit more. I also find that Indians tend to be more respectful of women whom they deem to be suitably dressed. Personally, I wear Indian clothes, including saris, almost all the time I am in India.
5. Find other like-minded travelers
It is easy to meet other travelers in India, especially if you use the Lonely Planet Guide (as everyone tends to go to the hotels, restaurants and attractions listed in the "bible" of travelers in India). But you can also look for other travelers on IndiaMike (there are usually monthly meet-ups in the big cities such as Delhi and Mumbai). The fantastic Journeywoman site — which caters to women travelers — has lots of resources for women going to India, including a service called Her Mail that connects women travelers with female locals. Also check out SoloTravelerBlog, a great site with lots of inspiring articles about the joys and benefits of traveling solo (personally, I think it's the only way to go!) and Wanderlust and Lipstick for more India travel advice — even a guide book for Women Traveling to India.
6. Book a tour
There is a lot to be said for having someone guide you on your first trip to India. I tend to book all my own travel — it's easy these days as Indian Railways and my favourite airline, Jet Airways, offer online booking — but for those who want to take a tour, take a look at the Goway Travel. They specialize in customized tours to India and they offer a very special tour, called Splendours of India, ideal for first timers who really want to experience the best of India. Gap Adventures and Intrepid Travel also offers lots of small-group tours to India. If you decide to take the train — and you really should, it's a great way to travel in India — check out my Resources page for links to several very helpful articles about taking the train in India.
7. Get to know your destination
Read books about India, and by Indian authors and check out my Do's and Don'ts. India has a rich historical and cultural past and it is still largely a traditional society, in spite of all the mobile phones, Bollywood glamour and Levi jeans. Find out as much as you can about Indian society, as it will make travel easier. Many foreigners get frustrated by the way business is conducted in India — but it is futile and a waste of energy to get hot-and-bothered. Much better to try and understand, show some respect for an ancient culture (that is much wiser than the west in many ways) and go with the flow.
---
If you enjoyed this post, please sign up to The Travel Newsletter in the sidebar and follow Breathedreamgo on all social media platforms including Instagram, TripAdvisor, Facebook, Pinterest, and Twitter. Thank you!