From Calcutta to Delhi
A while I ago, I wrote a blog post that listed my Top 10 Books on India (thus far). This is the second installment in my series, Books I love about India. The list includes my all-time favourite book (number 1), several masterpieces, some ripping adventure tales, humour and spiritual pilgrimage and more. There is some fine reading on this list, if I do say so myself!

1. Kim by Rudyard Kipling. It's a masterpiece. I read it with my jaw on the floor. I have been reading for, oh, 43 years, give or take, and I have never read a book that is so in the moment. You tramp along with Kim down the streets of Lahore, on the Grand Trunk Road, through Himalayan passes. Every sound, every smell, every gesture, every accent is evoked. The dust swirls around you, the smell of cooking food entices you, the fresh air of the mountains revives you. Kipling knew the road in India, and he knew how to capture it in words. And Kipling is not just a master of description — he is a master story-teller. Like India herself, this story is bold, complex, subtle and ambiguous. Though it is not an easy read, it is hugely rewarding. I will be reading it again soon.
2. A Rope in the Water by Sylvia Fraser. I read this book just before I left for India the first time; and I am re-reading it now. The story engrossed me the first time; it's her writing skill that captures me this time: vivid descriptions, intelligent insight, great story-telling and a journalist's skill for reporting. She also has a sensitive feel for the culture of India and keen spiritual understanding She can do it all. I don't want to give anything away … but when she tells the story about the rope in the water, I get shivers. That story has really stuck with me. I also got shivers when she gets an astrology reading done and reveals her birthday, March 8, which is also mine. I find it very compelling that Sylvia Fraser and I have so much in common … we are both female writers from Toronto, born on March 8, who went on pilgrimages to India to deal with trauma from the past. I also ended up in many of the same places she did — without meaning to! But even if your birthday is not March 8 and you haven't been to India, this is still a great read by any yardstick. And if you are looking for an authentic spiritual quest, read this before Eat, Pray, Love.
3. No Full Stops in India by Mark Tully. Actually, anything by Mark Tully. I also have India in Slow Motion and India's Unending Journey. Tully (which means drunk in Hindi!) was the chief correspondent for the BBC in Delhi for many years. He's a good writer and he knows India. His most recent, India's Unending Journey, is by far the most personal. It's about his own psychological and spiritual journey as he learns from India to be "certain about uncertainty." I can relate. Compelling reading.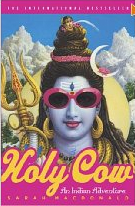 4. Holy Cow by Sarah MacDonald. A classic. Every time I think of the iron scene, I start chuckling as I picture Sarah's face hidden by her hands so the very serious servants won't realize she's actually bursting with laughter over the missing iron. I laugh even more since I experienced living with servants in a Delhi household. (But servants in an India household are a bit more light-hearted than those in a foreigner's household, methinks.) Oh, just read the book. It's both hilarious and also moving as she traces her own relationship to India from reluctance and disdain to head-over-heels, unabashed love.
5. Slowly Down the Ganges by Eric Newby. Eric and his wife took a slow boat down the Ganges in the days before India's modernization began. It's a fascinating journey, written in precise detail that makes every agonizing minute they are dragging the big tin boat over rocks and sandbanks almost painful to read.
6. The God of Small Things by Arundhati Roy. Had to start this book a second time before I really got into it. It creeps into you like rain forest dampness. Very evocative and very powerful. While the setting is Kerala, in tropical southern India, it could be anywhere rural and stifling. I thought of the American deep south more than once. Strikingly original writing.
7. Twilight in Delhi by Ahmed Ali. This book, a "cult classic," was apparently very hard to get for many years. Ahmed Ali was a Muslim writer and professor from Delhi who was out of the country when partition was announced and Pakistan was created. He was not allowed back into India and had, instead, to settle in Pakistan. It is a prose poem dedicated to the twilight days of "old" Delhi, when the Muslim area of the city flourished. It not only captures a bygone era, it also relates some moving personal stories.
8. City Improbable edited by Khushwant Singh. Bombay/Mumbai and Calcutta/Kolkata seem to get all the press, but there are those of us who are quite taken with Delhi. It's a fascinating, historical, multi-layered city that sometimes seems, well, improbable. This is an excellent collection of entertaining and informative essays.
9. Calcutta edited by Geoffrey Moorhouse. The history of Calcutta, from its founding in 1690 by Job Charnok, an agent of the East India Company, is inextricably linked to the history of the British in India. Calcutta was the capital of the British Raj until it was moved to Delhi in 1911. The tales Moorhouse chose make for fascinating reading. They cover many eras, many subjects and include well-known authors as well as excerpts from the diaries of English women who came out to be with their husbands (or to find husbands).
10. Rajasthan Getaways by Outlook Traveller. Oh, I was glad I had this book when I was traveling by myself in Rajasthan. Published in India, it's much more than a simple guidebook. The book is primarily a series of essays written by talented writers who love India's most-visited state as much as I do.
If you enjoyed this post, you can….
Get updates and read additional stories on the Breathedreamgo Facebook page.
Buy Song of India, a collection of 10 feature stories about my travels in India. E-book version is now only $1.99.
Subscribe to the free — and inspiring! — e-newsletter, Travel That Changes You.