7 photos that make me laugh, think and dream
The hand prints of women about to commit sati; an off-duty Naga Sadhu; a dish inspired by the last dinner on the Titanic … just three of my 7 Super Shots. I'm highlighting seven photographs in a game of blog tag. Thanks to Kit Whelan of Seek New Travel for tagging me to participate in 7 Super Shots from HostelBookers. I have never met Kit, but I am convinced we are related as my grandmother's maiden name was Whelan … and because I would WANT to be related to Kit!
So, without further ado here are my seven super shots. I hope you enjoy viewing them even just a seventh as much as I enjoyed taking them!
1. A photo that makes me dream
The photo above was taken from my hotel room across Lake Pichola, in Udaipur, Rajasthan, India — one of the dreamiest places I have ever been. It's all Maharajah Palaces and winding bazaars and rooftop restaurants. I want to live there. Maybe I will ….
2. A photo that tells a story
On a different trip to Rajasthan (I've been about five times!), I had my friend take this photo of me touching the sati hand prints at the entrance to Mehrangarh Fort in Jodhpur. The wives of a Maharajah killed in battle made these hand prints on their way out of the fort to be immolated on his funeral pyre. This practise was called sati, and is illegal in India today. Thank goodness.
3. A photo that makes me laugh
In 2010 I went to the Kumbh Mela in Haridwar, India. It's the largest spiritual gathering on earth and attracts millions of pilgrims, pandits, sadhus and others. I spent one afternoon hangin' within the Naga Sadhus — India's famous naked holy men — where I snapped this.
4. A photo I am proud of
I snapped this at the beginning of my walk along the entire length of Marine Drive in Mumbai, where I ended up at dusk at Chowpatty Beach. I'm just surprised this is so awesome, that's all I can say. I wish I could figure out how I took it, so I can take more like it.
5. A photo that takes my breath away
Truly, I don't have the photographic skill for this category. You have to SEE the world's third-highest mountain, Kanchendzonga, looming over Darjeeling, India to believe it. And it doesn't happen often that you get a clear day like this. I was very lucky, the day I went up Tiger Hill to see this mountain at sunrise … luckier still because it was my birthday.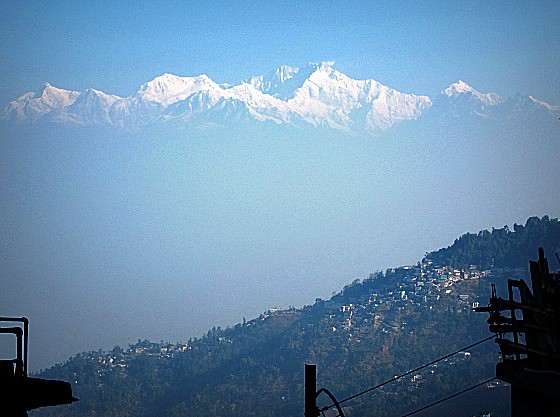 6. A photo that makes me think
When I first traveled in India, in 2005-06, I had just started blogging. My readers wanted me to write a post about what India's "really like." So one day I walked from my hotel room in Chennai directly east until I got to the beach and snapped whatever I saw. I made a photo essay of the result, and this was one of the photos I took.
7. A photo that is mouth-watering
I hope you don't get the idea from this photo that I don't like Indian food! Nothing could be further from the truth. I just don't take a lot of food shots and this one turned out well, so…. It's very recent, from last weekend, in Halifax. I went there to cover the Titanic centenary events, and each night ate a Titanic-themed dinner. This is Oysters a la Russe from the 5 Fishermen restaurant. I don't eat meat, but I do love seafood.
Now, it's your turn
I am nominating the following 5 Travel Blogs to take part:
2. Legal Nomads
4. Wild Junket
If you enjoyed this post, you can….
Get updates and read additional stories on the Breathedreamgo Facebook page.
Buy Song of India, a collection of 10 feature stories about my travels in India. E-book version is now only $1.99.
Subscribe to the free — and inspiring! — e-newsletter, Travel That Changes You.