There's no bling like Indian bling
India is a shopper's paradise. You just can't beat the combination India offers: an incredible variety of gorgeous items, often hand-made, at temptingly low prices. For higher cost items, such as pashmina shawls, make sure you know what you are buying; and that the dealer is reputable. Here's a list of the top 10 things to buy in India.
Shopping in India: Top 10 things to buy
1. Textiles. India is famous for cotton and silk clothing, bed covers, table cloths and wall hangings. Many of these come adorned with hand beading and/or hand embroidery and will make you feel like a princess.
2. Jewelry. Indian women love jewelry, and the bigger and more ornate the better. There is an astounding variety of real and costume jewelry – to go with your princess look.
3. Pashmina shawls. Real pashmina is a type of cashmere wool that comes from pashmina goats in the Himalayas. It is very costly. So, if someone offers you a pashmina for the equivalent of $10, it's probably a blend (at best).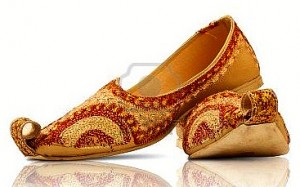 4. Shoes. From inexpensive leather juttis (traditional embroidered slippers) to crystal-beaded, high-heeled evening sandals, shoes in India are fun and frivolous … and very tempting.
5. Scented products. India is, of course, the land of incense. And attar, a type of natural perfume extracted from flowers, herbs, spices, or barks, has been in use in India since ancient times.
6. Tea. The champagne of tea, Darjeeling, comes from the hills of North-east India; and Assam and Nilgiri teas are excellent too.
7. Arts and crafts. Throughout India, traditional artisans make lovely rugs, furniture, pottery, clothing, textiles, jewelry – usually with unique regional variations. And all of it is for sale in Delhi, so you can buy at the end of your trip.
8. Books. India publishes a LOT of books in English, at very affordable prices (though quality is sometimes sacrificed).
9. Ayurvedic products, such as skin care and herbal remedies. Several commercial brands, such as Biotique, Himalaya and Shahnaz Herbal, are readily available.
10. Music and movies. Classical Indian and devotional music CDs, and Bollywood DVDs, are a great buy and make for a long-lasting souvenir.
If you enjoyed this post, you can….
Get updates and read additional stories on the Breathedreamgo Facebook page.
Buy Song of India, a collection of 10 feature stories about my travels in India. E-book version is now only $1.99.
Subscribe to the free — and inspiring! — e-newsletter, Travel That Changes You.