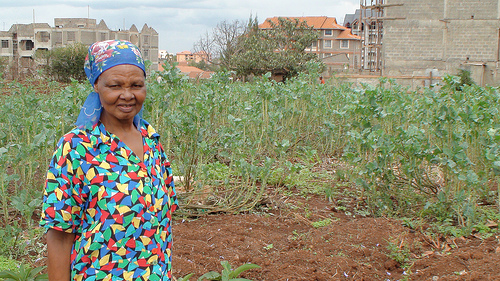 Finding hope in the Kibera Slum, Kenya
In this guest post by bloggers Bernard Pollack and Danielle Nierenberg of Border Jumpers, we're travelling to Africa for an inspiring story about how people, especially women, are growing food in the unlikeliest of places — the slums — and, in the process, feeding their families, making extra income and displaying the strength of women. The story is pertinent to India, which could also benefit from such innovative strategies to combat hunger and poverty; and which is also witnessing the empowerment of women.
By Bernard Pollack and Danielle Nierenberg of Border Jumpers.
Nowhere is it more apparent that women feed the world than in the largest slum in Kenya. Packed full of people, Kibera slum in Nairobi is populated by anywhere from 700,000 to a million people. In an area of of about 225 hectares, the equivalent of just over half the size of Central Park in Manhattan, the women we met are growing food not just to feed their families, but to also to generate income.
Some of the women we met earlier this month are raising vegetables on what they call "vertical farms." Instead of skyscrapers, however, these farms are contained in tall sacks, filled with dirt. The women received training from the French NGO Soladarites to start their sack gardens and now grow a variety of vegetables, including greens like spinach and kale.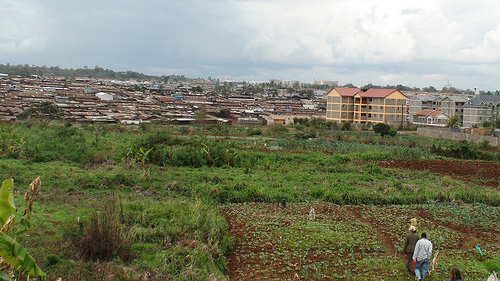 And more than 1,000 of their neighbors are doing the same thing. A skill that came in handy over the last few years as election violence spread through the slum in 2007 and 2008 when there was conflict in the slums of Nairobi. No food could come into these areas, but most residents didn't go hungry because so many of them were growing crops—in sacks, vacant land, or elsewhere.
Just across from Kibera another group of farmers, most of them women, have been growing food more nearly two decades on a plot of vacant land. They don't own the land where they grow spinach, kale, spider plant, squash, amarynth, and other vegetables. Instead the land is owned by the Kenyan Social Security Administration, which has allowed the farmers to farm the land through an informal arrangement.  They've been forced to stop farming more than once over the years, and although they're getting harassed less frequently, they still face a number of challenges.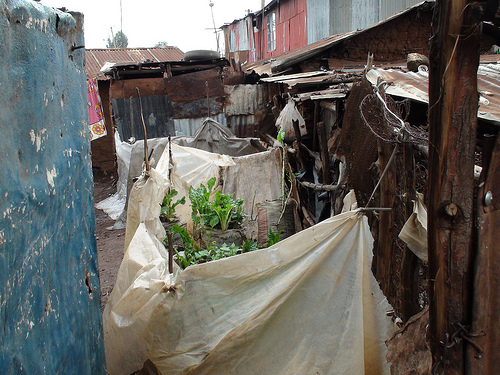 The biggest challenge is a lack of water and fertilizer for their crops. For many years, they've used wastewater (sewage from an underground pipe they tapped into) for both irrigation and a source of nutrients. Although this wastewater can carry a number of risks, including pathogens and contamination from heavy metals, it also provides a rich—and free—source of fertilizer to farmers who don't have the money to buy expensive store-bought fertilizer and other inputs. And because of longer periods of drought (likely a result of climate change) in sub-Saharan Africa, the farmers didn't have to depend on rainfall to water their crops.
But even with the loss of their main water supply and nutrient sources, these farmers are continuing to come up with innovative ways of raising food—and generate income. With the help of the organization, Urban Harvest, the farmers are not only growing food to eat and sell, but, perhaps surprisingly, becoming a source of seed for rural farmers. Kibera's farmers have always grown fodder for livestock feed for both urban and rural farmers, but by establishing a continual source of seed for traditional African vegetables, they're helping dispel the myth that urban agriculture only benefits poor people living in cities.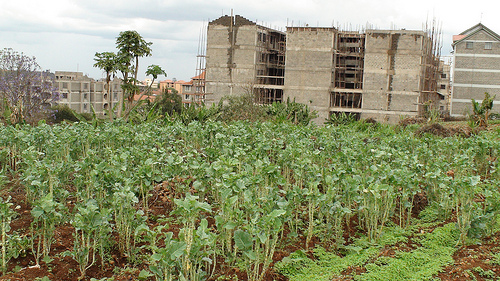 Using very small plots of land, just a quarter of an acre, and double dug beds, the farmers can raise seeds very quickly. Fast-growing varieties like amarynth and spider plant take only about three months to produce seeds, with about 3000 Kenyan shillings in profit. And these seed plots—because they are small—take very little additional time to weed and manage.
The future for these farmers continues to be uncertain. Their land could be taken away, the drought could further jeopardize their crops, the loss of waste water for fertilizer could reduce production, but they continue to persevere despite these challenges.
Bernard Pollack and Danielle Nierenberg are blogging about their travels at Border Jumpers, which began in October 2009 in Addis Ababa, Ethiopia. Their goal is to bring stories of hope and success from nearly every country on the continent to as large an audience as possible. In each country they are looking at innovations and projects working to alleviate hunger and poverty. Danielle is also blogging daily as co-director of the Worldwatch Institute's Nourishing the Planet project at NourishingthePlanet.
If you enjoyed this post, you can….
Get updates and read additional stories on the Breathedreamgo Facebook page.
Buy Song of India, a collection of 10 feature stories about my travels in India. E-book version is now only $1.99.
Subscribe to the free — and inspiring! — e-newsletter, Travel That Changes You.