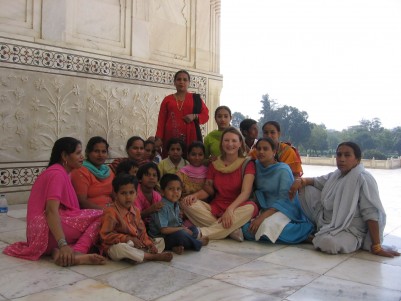 Jumping off the cliff
When I was 45 years old, I put everything I owned in storage, gave up my apartment and went to India for six months. It was the first time in my life that I had done anything like this. But it was time. I had always wanted to go to India and, after losing both of my parents, I knew it was now or never to go after my dreams.
Was I scared?  You bet. But it was the "healthy" kind of scared – the kind that rises up from within and first whispers, then roars: if you overcome this, you will be forever changed. So I went. I jumped off the proverbial cliff to see how the universe would respond.
I will never forget peering out the window of the plane into the midnight blackness as we began our long descent into Delhi. All I could see was strange, random groupings of flickering orange lights. The familiar grid pattern of bright, even, white light you see when flying over a western city was nowhere in sight. I had no idea what to expect. I was on the greatest adventure of my life and I knew it.
And then I landed, and smelled Delhi's acrid-pungent air for the first time and I knew everything would be okay. And it was. I spent six glorious months on a magic carpet ride. The universe held out loving, embracing arms and caught me.
Feeling safe among warm, friendly people
While all the stereotypes about India are true – it is crowded, dirty, noisy, chaotic and poor – it is also unfathomably rich in culture, tradition, spirituality and beauty. The ancient wisdom culture of India is alive in so many ways, but especially in the friendliness of the people. It's the people of India that make traveling solo such a wonderful – and safe – experience. I can't imagine kinder, more helpful, happier people.
Indians know how to enjoy life. They know how to be in the here-and-now, and appreciate time with family members and friends. They have a gift for relationship – and everything in India is relationship-driven. A poor shop owner would rather lose a sale than lose time with his family.
So, while traveling in India can be challenging due to crowds, chaos and delays, you will always find friendly people willing to engage in deep, meaningful conversations on philosophy, religion, values and other thought-provoking topics; and you will always find people willing to help you in any way they can. Personally, I would rather be in India with its dirty, late trains and warm, friendly people, than in a country with clean, super-efficient trains and reserved, aloof people.
If you go to India, my advice is to go with an open mind and an open heart. Take all the precautions, of course – especially with drinking water – but don't go with fear in your mind or heart. I always say that India is like the cave that Yoda sends Luke into. "What will I find in there?" Luke asks. "Only what you bring with you," Yoda answers.
[Note: Originally published as Recommended: Travel solo in India by Solotravelerblog.]
If you enjoyed this post, you can….
Get updates and read additional stories on the Breathedreamgo Facebook page.
Buy Song of India, a collection of 10 feature stories about my travels in India. E-book version is now only $1.99.
Subscribe to the free — and inspiring! — e-newsletter, Travel That Changes You.