Connecting to childhood imagination
When I was a child I painted huge colourful murals on my walls – always something I considered exotic and oriental like genies coming out of bottles and turret-topped palaces and stone fortress-like cityscapes. Imagination was more important than reality, and I stoked the fires of my imagination with fabulous tales from the Arabian Nights, incredible stories from the Greek Myths and any other magical tales I could get my hands on. I sensed there were worlds hidden within the known world; things were not as they seemed. I stared beneath the surface of the lake at the cottage and watched the swaying seaweed and the crayfish swimming backwards and the choreographed schools of small fish. In those moments I felt I disappeared, and only my attention on the secret underwater world was real.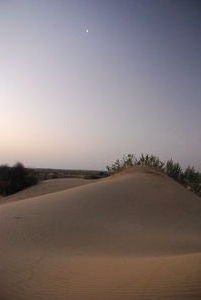 Real life has its allure and can trap even the hardiest seer with distractions, heart break, loss, struggle. But what happens when you look up; when you look beyond. You can see the world as you did, if you're lucky, when you had the innocence to see clearly.
You can find a place that, impossibly, looks like your bedroom walls. A place with stone turrets, an ancient fort and a wide open expanse of desert that contains worlds within worlds. Barren beauty is perhaps the most beautiful of all because you have to actively look for it. It draws you in with its subtlety and suggestions, it's quiet power; and it rewards you with a jeweled night sky beaming love and life.
With the right sight you can see the beauty around you, the face of God in nature, in an elephant-headed diety, and the golden eyes of the sun reflecting back towards you. And for some short time you can feel the truth of love, that we are in nature's embrace, we are all connected, all one. Imagination and the right attitude can open up the world, open up your heart, and let you see with the heart's eyes.
And when you see with the heart's eyes, you will again see like a child.
If you enjoyed this post, you can….
Get updates and read additional stories on the Breathedreamgo Facebook page.
Buy Song of India, a collection of 10 feature stories about my travels in India. E-book version is now only $1.99.
Subscribe to the free — and inspiring! — e-newsletter, Travel That Changes You.